People like discounts. There is no possible way you wouldn't accept a coupon code or an exclusive deal if it is offered to you. The same goes for in the online environment. Anything that is given away for free should be appreciated at its best.
Coupons are not only the ones you see in magazines and newspapers for groceries or just for saving a couple of bucks on your next shopping session.
Get rid of these misconceptions and learn more about such offers in the online world with the help of this article provided by the team behind wpDataTables. A WordPress coupon code plugin can entirely change the way you used to perceive online businesses. Read more about this topic below.
Table of Contents
How important a WordPress coupon code is?
Using a WordPress coupon code represents a method that people use to boost their user engagement rates. For established online stores that want to gain the loyalty of their customers, offering free coupons it's a great way to attract their attention. WordPress coupons are also effective for new visitors, to turn them into regular customers of your website. Using a WordPress coupon plugin is quite easy.
You can either promote an affiliate product, multiple products from a third-party company or you can market your very own products by offering discounts through coupons. This article will contain short reviews of several WordPress coupon code plugins that may help you achieve your goals. Keep reading to reach them.
Why should you give away coupon codes on your site?
Giving away a WordPress coupon code is the best method you can adopt when you notice that your conversion rate goes down. Of course, using WordPress coupons will increase any online shop's sales as long as they are used right. Convincing the users to make a purchase is never easy, but a WordPress coupon code might be the key to do that. Make the WordPress coupons as visible as possible and cart abandonment rates will go down in front of your eyes. You need to learn how to deliver your offers to make your users take advantage of them. Associate your brand's name to the words "coupon code" or "coupon", so that people look them up on search engines and the results lead to your website.
Here are some statistics that will make you want to use a WordPress coupon code right away:
Around 95% of users take advantage of coupons when they see them
Almost 50% of all users look for ways to buy discount products
Almost 80% of Generation Z users and Millennial users want to become loyal clients for their favorite brands
Around 85% of users look for online coupons before visiting retailers
Almost 55% of the whole adult population will utilize a coupon at least one time during a year
There is no wonder why using a WordPress coupon code is so effective nowadays. Both you and your users have a lot of benefits to gain from these coupons. You have literally no reason why you shouldn't try including such an offer on your website. It helps people save cash while getting your website the sale increase it needs.
A list of WordPress coupon code plugins
WooCommerce has built-in features for coupons, but the best way to generate and use coupons is through plugins. WordPress coupon code plugins include advanced tools and options that will help you generate coupons in bulk, add a gift card option to your website, display pop-ups to show your offers and many others. This is the reason why you should get informed about WordPress coupon code plugins first. Here's a list with the ones we consider the most relevant:

Coupon Creator is one of the most popular WordPress coupon code plugins out there. It gives users the opportunity to create coupon codes and add them to an online store without any effort involved. The plugin also features shortcodes, which can be used to add the coupons directly to posts and pages.
You can set an expiration date for each coupon, which is a feature that you will definitely need on an online store. Luckily, it integrates with WooCommerce and you can create coupons using the integrated function, then edit them using the Coupon Creator plugin.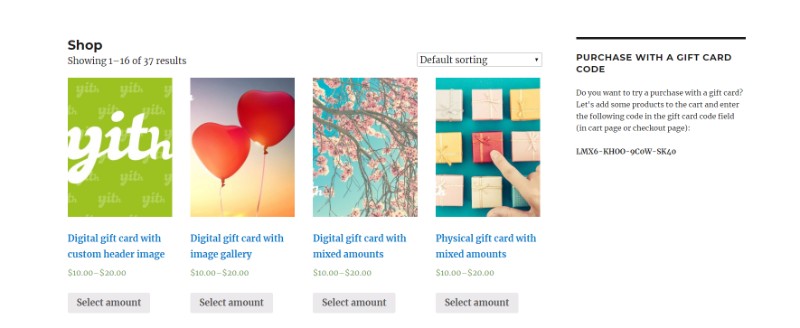 Another popular WordPress coupon code plugin is represented by YITH WooCommerce Gift Cards. This plugin can create both gift cards and discount codes for all the customers on your website. The gift card can be used as a discount code as well. WooCommerce stores should always include a gift card option because people desperately look for this option, especially during holidays. After completing the purchase, the user will receive the gift card via email.
There is an advanced premium version that has more features to offer. For instance, you can create both physical cards and virtual (digital) gift cards, you can let your customers choose the amount they want to put on the gift card instead of pre-setting options, you can send the gift cards directly to a recipient or even personalize each gift card with a specific message. To sum up, the additional features are:
The possibility to define the gift card amount
Sending emails with the gift cards to the recipient
Receiving gift card credit status after each use
The paid version of this plugin costs $113 and it is a one-time buy. Fortunately, there is also a free basic version that is just as functional as the premium one but offers fewer features. You can email the gift cards to the users as well by using the free version. The plugin, regardless of the version you choose, is beginner-friendly and doesn't require much knowledge in terms of eCommerce.

OptinMonster may be the most powerful WordPress coupon creator you can use. Installing it on your WooCommerce store is easy and it represents the starting point of an online website's improvement. This plugin can grow your email list and reduce the cart abandonment rate. The plugin can create pop-ups, floating bars and scroll boxes with coupons.
What's great about this plugin is that it comes with multiple pre-made templates that are aesthetically pleasing, and people enjoy. The builder is a drag-and-drop one, which makes the plugin friendly for beginners. You can also design the pop-ups from scratch if you feel creative.

The Coupon Generator for WooCommerce is another WordPress coupon code plugin that is suitable for all sorts of eCommerce websites. You can create batch coupons with this generator while adding usage restrictions and expiration dates on each code that you generate. The tool is great for quick coupon generation.
What is unique about this plugin is that it gives users the opportunity to print the coupons and offer them in person as a gift. It also involves a function that sets coupon counters. The counters tell the user how many times he can use a WordPress coupon code. In short, the advanced features of Coupon Generator for WooCommerce include:
A reveal code feature
The possibility to customize the coupon design
An advanced search function
Generating multiple coupons at once
Using a print template

If you want to use a responsive WordPress coupon plugin for your site, WP Coupons and Deals is the best one on the market. It has an included coupon generator that is highly customizable and gives you the chance to personalize the digital coupons the way you want. The coupons generated with this WordPress coupon code plugin can be used for showcasing deals, normal offers or discounts for the products you sell. The plugin has the following features:
Copying the coupon code with one click
Added shortcode support for post-edit insertion
You can set a coupon expiration date
You can customize everything about the coupon
You can add widgets for displaying coupons
Multiple coupon categories to choose from

This WordPress promo code plugin is an easy-to-use one, perfect for beginners that don't know where to start with their coupons. This plugin adds a floating bar to your online store which makes the offers visible for your users. It also has a call-to-action button included and it remains at the top of the page when scrolling. You can customize the bar the way you want it and the plugin has multi-language support.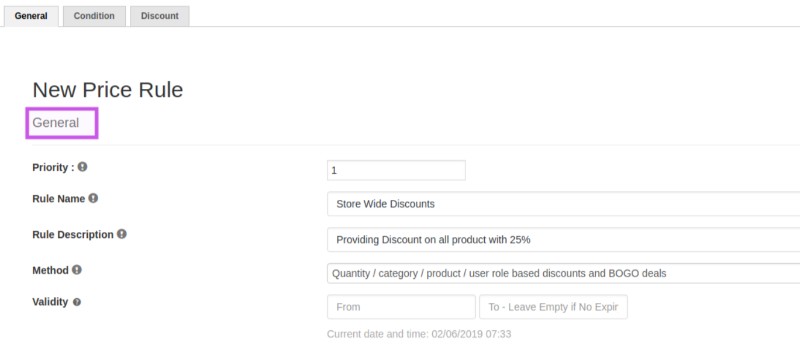 To generate a coupon code for WordPress, you should definitely use WooCommerce Discount Rules. This plugin helps users run entire promotional campaigns with bulk discounts. What is great about this WordPress coupon code plugin is that you can run all types of discounts: buy one get one free, loyalty discounts, conditional discounts and so on. You can set discount conditions for a product in particular, for a whole product category and so on. S
The best advantage of this plugin is its easy-to-use interface. It has a wizard-like interface where all you have to do is selecting what WordPress coupon code you want to generate. It takes three steps only to create beautiful WordPress coupons in minutes. The discounts can be presented both on the main page and in the cart listing page. A sum-up of its features includes:
Setting dependent product discounts (buying a certain product attracts discount in another)
Discounts based on selected attributes
Discounts based on the user's purchase history
Applying multiple rules for one single discount
Exclude the products on sale from the coupon discount rules
Besides the premium version, you can also opt for the free version which is much simpler but still effective and reliable.

This vouchers plugin can generate great deals and coupons. It is very simple to use, as it features basic tools and the WordPress coupons can easily be listed on the website. Here is a more in-depth look at its features:
You can create coupons based on vendors
You can add widgets to display the coupons on your website
It includes all sorts of templates, with support for standard, grid and list view
It can be configurated for different coupon design
You can create links to vendors and third-party affiliates
You can use a shortcode to display coupons in posts and pages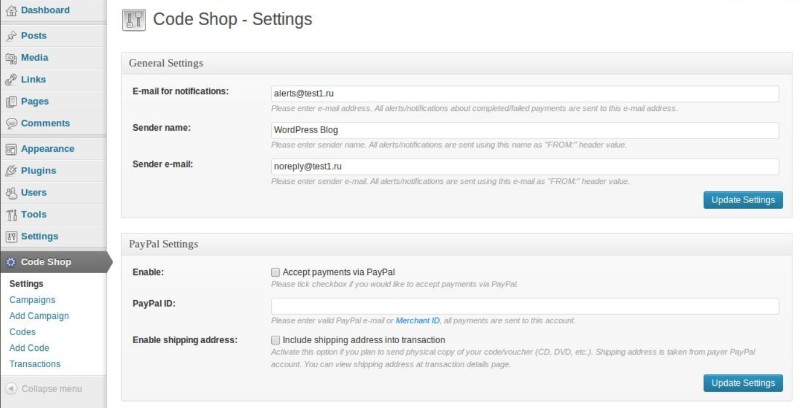 With Code Shop for WordPress, you can generate the best coupon codes. The plugin is powerful and has an intuitive interface. You can sell coupons, vouchers and even licenses on your website which makes it convenient to use. This plugin can be linked to PayPal, Authorize.Net, and Stripe, making paying through gateways very easy. You can add these payment gateways on your WordPress website through shortcode, as Code Shop supports it. For people who just started monetizing their website, Code Shop will definitely do the job. The list of complete features is:
You can add multiple currencies on the website, which is perfect for international customers
Most credit cards and debit cards are accepted as a payment method
It offers a flexible price support
You can distribute free coupons
You can insert HTML code blocks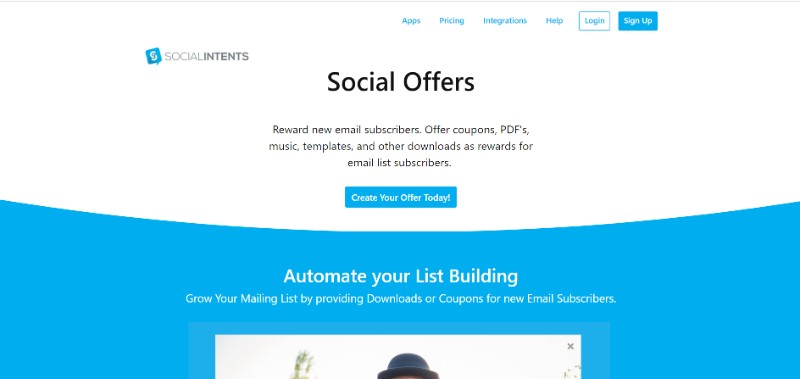 Social Offers is another WordPress coupon plugin that offers powerful tools when it comes to generating them. As the name says it, this is a social plugin that makes PDFs, music, templates, coupons, vouchers or files available once the user of your website has performed a social action. You might have noticed that on many websites.
If you want to build a better social media image, this method is definitely for you. Your customers will like your page or a post of your choice and they will receive something instead. Social Offers also offers support for premium apps that you may use for your email marketing campaigns, Slack and so on. You can set recurring offers by attributing custom targeting rules for your users. Other features include:
The plugin generates an automatic popup for conversion
You can customize almost every detail regarding the offers you create, from the background image to font and colors
You can add your custom logo and branding elements
It can be integrated with almost all eCommerce platforms like Shopify and Magento
It works with all email service providers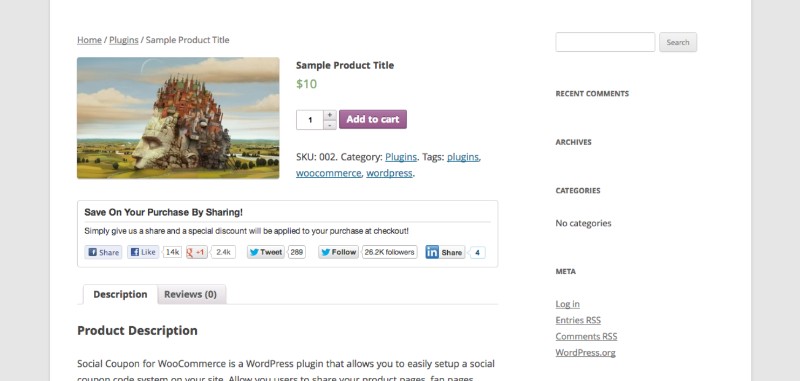 Another good social plugin, this one is a WooCommerce coupon codes extension that allows users to incorporate social coupon systems to their website. Just like presented before, in exchange for social action, the plugin grants users some reward of your choice. In this case, the reward offered is represented by discounts.
People who share or like posts and pages on social media will increase your profile's customer engagement and visits. This plugin is perfect if you want to grow your audience while transforming current customers into loyal ones. More features are:
Offering support for social media buttons on platforms such as Facebook, Google+, LinkedIn and other
Ajax admin panel for smooth navigation
It supports adding more than just one discount
You can add your own CSS to let users customize the layout as much as they want it
Offers a free demo beforehand
Mobile-friendly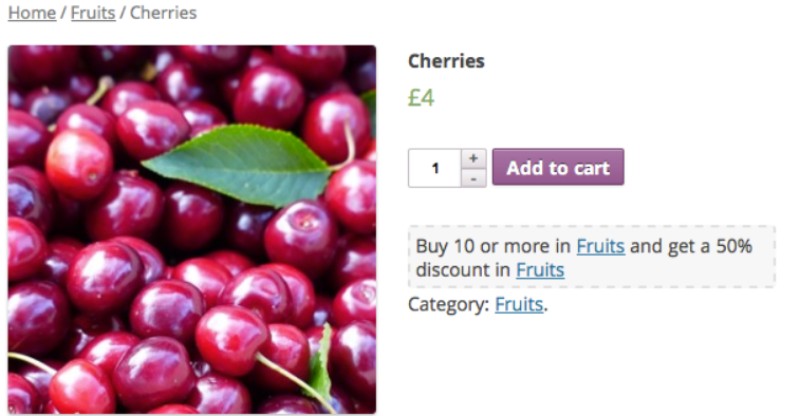 This WooCommerce extension is perfect for people who want to offer discounts automatically based on how many products a customer has in its cart. The discount will show up after calculating the number of products.
To see the available discount, the plugin will make them visible in the checkout section, where customers view the final price of the order. Discounts can also be set according to the minimum purchase value. Furthermore, the plugin offers shortcode support. Read this list of features:
You can generate coupons directly in WooCommerce
You can choose what information to display on the coupon
You can render discounts automatically
Is perfect for websites where bulk orders are placed constantly
It includes inline styles for quick design customization

As the name says it, Ninja Popups is a WordPress coupon code plugin that displays popups on your site. The plugin is mobile-friendly and integrates with most email service providers. It generates statistics regarding how many hits and conversions your website reached. You can integrate social media buttons for social activity.
This plugin is not necessarily a coupon generator. It has multiple tools, among which is this one too. Because it is a premium plugin that incorporates many tools, it is definitely worth the buy. Other features of Ninja Popups:
A/B testing option
Uses exit intent technology
You can create an unlimited number of popups
You can use the popups in multiple ways
FAQs about WordPress coupon codes
1. What is a WordPress coupon code, and how does it work?
Customers can use a WordPress coupon code to gain a discount or exclusive offer on their purchases when they check out. The reduction in price can take the form of free shipping, a specific percentage off the purchase price, or both. Depending on the settings, the coupon code may be used on a single product or a range of products.
2. How can I create a coupon code for my WordPress website?
Use a plugin like WooCommerce to generate a coupon code in WordPress. By going to the WooCommerce menu in your WordPress dashboard, choosing the Coupons option, and then clicking Add Coupon, you may create a new coupon code. The discount type, quantity, and other variables, like usage restrictions and expiration dates, can then be set from that point.
3. Can I offer discounts for specific products or categories using a coupon code in WordPress?
Absolutely, you may use a coupon code in WordPress to provide discounts for particular goods or categories. You can define which goods or categories a new promo code is valid for when you generate it. By doing this, you may give clients who are interested in particular products or categories tailored discounts.
4. How can I limit the usage of a coupon code to a specific number of times in WordPress?
After establishing the coupon, you may choose a usage restriction to restrict the number of times a discount code can be used in WordPress. Customers won't be able to use the coupon once the allotted number of uses has been achieved because the voucher will only be valid for a set number of uses in this manner.
5. Can I set an expiration date for a coupon code in WordPress?
Indeed, WordPress allows you to specify an expiration date for a promo code. In this approach, the coupon will only be good for a certain time before it expires and is no longer redeemed.
6. How can I track the usage and effectiveness of a coupon code in WordPress?
By utilizing the reporting features of your e-commerce plugin, you may monitor the application and efficiency of a discount code in WordPress. This will enable you to see the number of times the coupon has been used, the things it was used to buy, and the amount of income it brought in.
7. Is it possible to offer free shipping with a coupon code in WordPress?
On WordPress, free shipping with a promo code is indeed doable. You can use the Free shipping option when creating a new coupon, which will apply the discount to the cost of delivery at checkout.
8. Can I offer a percentage discount or a fixed amount with a coupon code in WordPress?
Sure, you may use a coupon code in WordPress to offer both fixed-value savings and percentage discounts. You can choose the kind of discount and the dollar amount you wish to provide to your consumers when you create a new coupon.
9. Can customers use multiple coupon codes in one order in WordPress?
It depends on how your e-commerce plugin is set up. Customers can only use one promo code per order by default in WooCommerce, for instance. Yet, if necessary, clients can utilize many promo codes in one order thanks to plugins and extensions that are readily available.
10. How can I promote my coupon code on my WordPress website and social media channels?
By developing a banner or pop-up that shows the discount and implores customers to use the code at checkout, you can advertise your coupon code on your WordPress website. The code can also be promoted on your social media pages by being shared with your followers and having them tell their friends and family about it. To reach a larger audience, you might also want to think about launching sponsored advertising campaigns.
Ending thoughts on WordPress coupon code plugins

Online businesses have a lot of options when it comes to WordPress coupon code plugins. There's no wonder why, keeping in mind that the goal of all websites is to motivate users to make a purchase. Hopefully, this article helped you find the most appropriate plugin for your own online store.
If you enjoyed reading this article on WordPress coupon code plugins, you should check out this one about WordPress calendar plugin options.
We also wrote about a few related subjects like WordPress countdown timer examples, WordPress wiki plugin, WordPress editor plugin and WordPress quiz plugin.
And if you want to check out the cool products that we've created, we've got the best WordPress table plugin out there and the WordPress booking plugin with the smoothest UX.