Ah, the great WordPress editor plugin world and all of its amazing options. Isn't it crazy how many WordPress visual editors there are on the market nowadays? While wpDataTables provides you with the top-notch experience when it comes to building any type of table, choosing an HTML editor plugin can be a challenge.
And while we can all agree that having a good selection of WordPress text editors is a plus, the problem is that choosing the right one might not be so easy.
There are several factors that can affect your choice when picking the right WordPress editor.
First of all, you should consider the design, functionality, graphic, the ease of use, and how well the WordPress HTML editor of your choice fits into your overall needs. However, in order to be able to do that, you have to get acquainted with a great number of WordPress editing plugins to be able to choose the one that best fits your requirements.
Luckily, we are here to help you with that with our little selection of the top WordPress editor plugins. Hopefully, it will make your decision a little bit easier and help you pick the best WordPress editor.
Choose a WordPress WordPress editor plugin from these options

Elementor is the world's leading WordPress editing plugin with an instant reaction that will truly amaze even the most demanding users. Its lighting speed is what makes this WP text editor truly stand out from the competition. Even though there are lots of premium themes built around it, there are also a lot of Free Elementor templates that you can check out online.
The most important features of this cool WordPress visual editor include:
Drag & Drop Editor – the fastest, most intuitive editor in WordPress. Simply drag, drop and customize
Mobile Editing – Switch to mobile view, and tweak every element to make it look perfect on any device
No Coding – Reach high-end designs, without any coding. The resulting page code is compact and optimized for every device
Video Tutorials
Template Library – Choose from over 300 beautifully crafted templates, designed to fit every industry and need
Widgets – Choose from dozens of widgets to create any content you need: buttons, headlines, forms, etc.
Translation Ready – Elementor has been translated into over 50 languages, and the list of languages keeps growing

Beaver Builder is an amazing WordPress text editor trusted by over 500,000 websites around the globe. It allows you to build a beautiful looking and fully functional website in a matter of minutes. It requires no coding experience and you can simply drag and drop the content around.
This great WordPress editor plugin comes with an awesome collection of gorgeous page templates where you can customize the content in any way you see fit. Text and image positioning has never been easier with this user-friendly interface and flexible themes. You can go ahead and utilize all of the WordPress widgets and shortcodes that you would like to use with just a few simple clicks. It also works with posts, pages, and custom post types.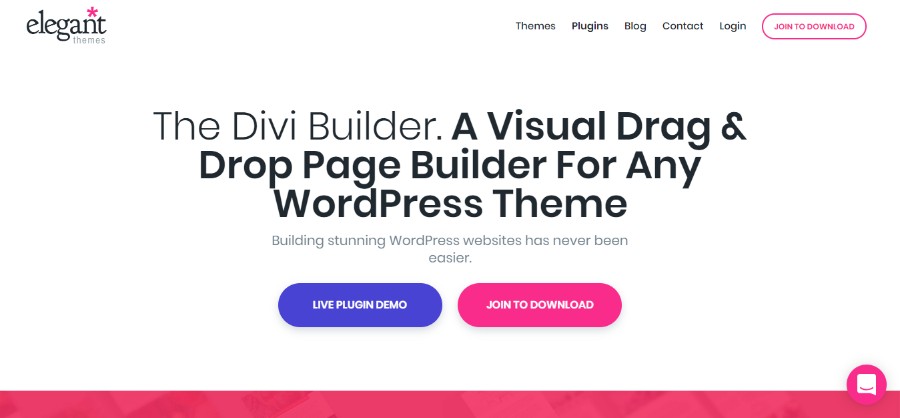 The Divi Builder is a visual drag & drop page builder for any WordPress theme that makes building and editing websites easier than ever.
The learning curve with this amazing visual editor WordPress is almost nonexistent. The interface is very intuitive and unbelievably simple to understand. However, that doesn't mean that this WP editor doesn't offer a bunch of useful features. On the contrary, you will be amazed by all the possibilities and options that Divi Builder comes with.
You can easily drag rows and columns into your page and use standard options such as copy, paste, undo, and redo while having complete control over margins and padding.
One of the most important features of this cool WordPress edit plugin is the Divi library. It offers many pre-made layouts while allowing you to save layouts, sections, rows, and modules. These can then be used across your website.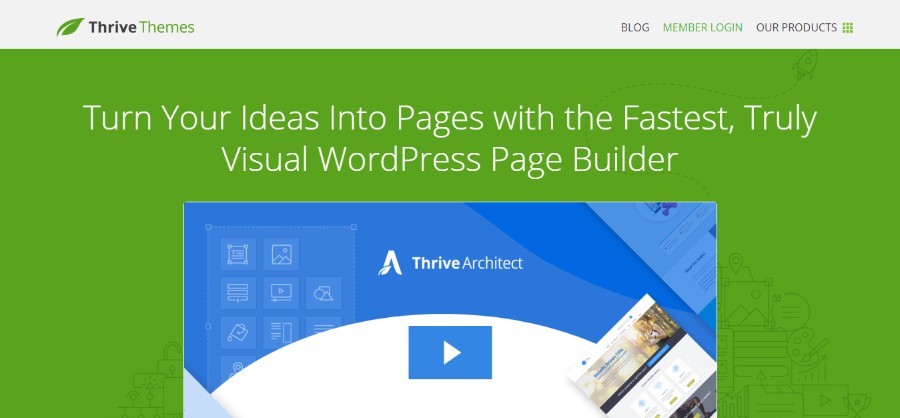 Thrive Content Builder is a WordPress editor plugin that gives you an easy way to create eye-catching layouts and landing pages. With over 20+ different elements, easy to use drag and drop feature, inbuilt lightbox support, and 100+ pre-built landing pages for all occasions, this amazing WordPress post editor offers everything you need for creating amazing and fully functional websites that will stand out from the competition.

Frontend Builder is one of the top WordPress editors for creating lovely pages and styling your content right on the frontend. Everything you build is live, just looks like the way it will look after you publish the page, and available on CodeCanyon.
This WP edit plugin is easy to use and simple to understand while it also offers a number of useful features and options for creating eye-catching pages in a matter of minutes.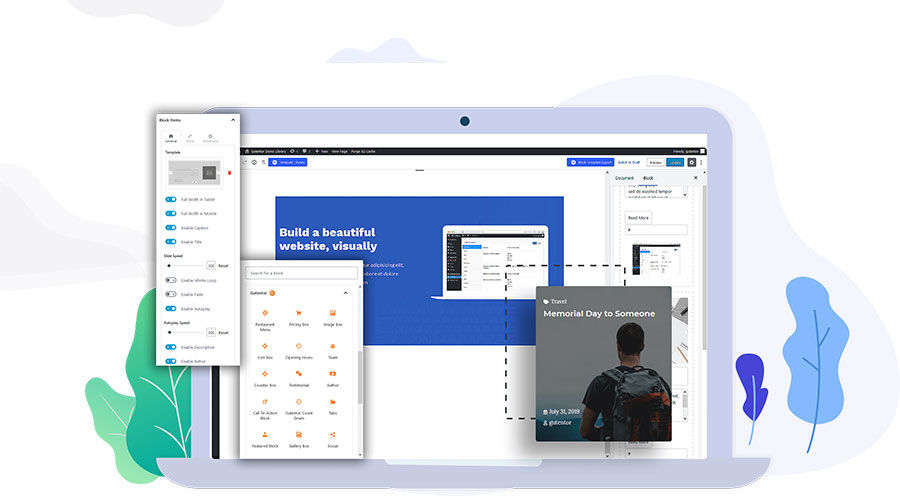 Advanced yet easy drag & drop WordPress page builder for Gutenberg. Create masterpiece, pixel perfect websites using modern WordPress way. Work with any theme, create any design.

SiteOrigin Page Builder is one of the popular WP editors that is not only full of amazing features, but it is also very easy to use. What makes it even more special is the fact that this WordPress editor plugin is completely free of charge.
It integrates with your current WordPress theme and you can then edit your pages and posts from there. The editing happens on the back-end (through the standard editing screen in WordPress). There's also some drag-and-drop functionality for realigning the blocks.

MotoPress Content Editor is a WordPress visual editor plugin that hooks up to your WordPress theme and lets you edit your pages and posts in a number of cool and creative ways.
To make things even better, it is a drag & drop post editor which means it is really simple to use and it allows you to edit your pages and posts in a matter of minutes not months.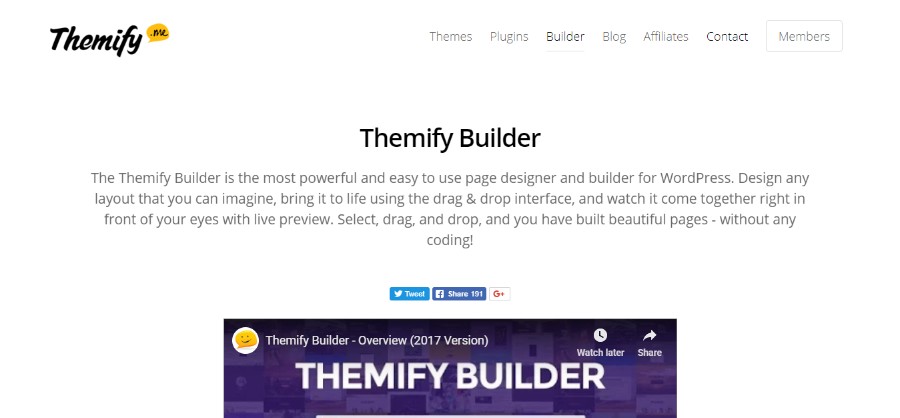 Themify Builder is a WordPress code editor with two editing modes – Frontend and Backend. It will help you save a lot of time with its drag & drop, easy to use interface, as well as with the 40+ professional layouts that are pre-built into this handy little WordPress plugin editor. To make things even better, every time you decide to edit a post or a page, you will get a live preview of what the page will look like after publishing.

Live Composer is a WordPress text editor plugin that lets you edit pages on the frontend. No coding experience is required and the plugin works on the drag & drop principle that is very simple to understand.
It comes with 30+ Content Modules that will help you create advanced layouts and wonderful designs quickly and easily.

BoldGrid is what some people consider the best WordPress visual editor. The great thing about this WP text editor plugin is the fact that it is useful both to the absolute beginners as well as to the advanced developers.
It comes with an entire collection of handy plugins that will enhance your WordPress experience and make the website building a fun and easy process.
Unlike other WordPress text editor plugins, the design workflow of BoldGrid is comprised of two major phases – inspiration and customization phases.
The inspiration phase's purpose is to let you explore different website designs and content styles that fit your industry. The customization phase lets you turn your creative ideas into reality.

Page Builder Sandwich mainly works as a free plugin, but there is the option to upgrade to Page Builder Premium, which comes with a whole bunch of additional options and features for even the most demanding users.
The free version, however, is more than enough for the beginners and it is also quite easy to understand because it relies primarily on a frontend visual page builder.
As a result of that, you can edit your posts and pages with a few simple clicks and with zero coding experience. It all comes down to manipulating basic drag & drop elements such as text boxes and images. Then, you can easily customize the sizes and the color and see all the changes you've made in real-time.

Brizy is a quite new WordPress editor plugin but that does not mean it is not worth taking a closer look at. After all, it was developed by the ThemeFuse developers who have been known for quite some time now for creating popular WordPress themes.
When it comes to Brizy, you can either get a free or a pro version of this handy little WP edit tool. However, if you decide to go pro, don't get intimidated by the $231 price tag because this isn't a subscription. It is a one-time purchase that gets you all the pro features and updated for life and you can use it on an unlimited number of sites!

Content Blocks is a very useful WordPress editor plugin that allows you to display the contents of a specific custom post in a widget on in the content area using a shortcode. Some of the major benefits of this text editor WordPress include:
The Content Blocks plugin enables users to use the WordPress WYSIWYG editor for editing the content and adding images.
With the standard WordPress text widgets displaying content on various areas of your template, you can only edit the content with the administrator access. However, this plugin provides access to the custom posts to the non-administrators as well.
You can use the featured image functionality to display them in a widget.
This best WordPress WYSIWYG editor is compatible with the WPML Multi-Language plugin and automatically shows the correct language in the widget area.
The Content Blocks can be included in posts and pages using the built-in shortcode functionality.

This is one of the most popular WordPress editor plugin options that comes packed with amazing features and options great both for the beginners as well as for the experts.
The basic features include:
Add rich text widgets to your sidebars and edit them using the TinyMCE visual editor
Switch between Visual mode and HTML mode (including Quicktags toolbar)
Insert images, videos, and other media from the WordPress Media Library
Insert links to existing WordPress pages/posts or external resources
Support for shortcodes, smilies and embed in widget text (including preview)
Support for Customizer with live preview and quick edit
Support for widgets accessibility mode
Compatible with multi-site (WordPress networks)
Compatible with the most common multi-language plugins
Compatible with Page Builder plugin by SiteOrigin
Translations available in 20+ languages
The advanced features include:
Full-featured TinyMCE Visual Editor (the same you have for pages and posts)
A wide text area for an enhanced editing experience
Compatible with 3rd party TinyMCE customization plugins (TinyMCE Advanced, WP Edit etc.)
Support for distraction-free (fullscreen) editing mode
Option to "Automatically add paragraphs" to widget text

Widget Content Blocks is one of the most popular WordPress WYSIWYG editors that plugin adds so-called "Widget Blocks" to your website, which you can then display in your widget areas. The widget blocks can be created and edited in the manner as all other posts and pages.
The most important features include:
Create beautiful widgets without having to write HTML code
Easily insert media into your widget content
Add headings, lists, blockquotes, and other HTML elements to your widgets using the WordPress visual editor
Use WP Links dialog to easily link to any of your pages or posts from a widget
Use shortcodes inside your widgets
Translation ready
Widget Content Blocks is very easy to use and you will intuitively know how to use it the very moment you first activate this WordPress WYSIWYG editor plugin. Editing the posts, pages, and blocks with Widget Content Blocks takes the complicated editing process and turns into a quick and simple matter.
Ending thoughts on these WordPress editor plugins
There have never been more WordPress editor plugin options on the market as there are today and while that can be great, it can also make it really hard for you to choose the best WordPress text editor plugin for you. However, having options is always a good thing and as soon as you do a little bit of research, you will realize that all of these plugins were created differently and they all have a specific purpose.
If you still aren't sure how to choose your editor WordPress, check out the list of the useful plugins that we have selected for you and see which one best fits your needs. Take advantage of the free trial periods and make your WordPress editing process easier than ever.
If you enjoyed reading this article on WordPress editor plugin, you should check out this one about WordPress coupon code plugins.
We also wrote about a few related subjects like WordPress wiki plugin, WordPress countdown timer examples, WordPress calendar plugin options and WordPress quiz plugin.
And if you want to check out the cool products that we've created, we've got the best WordPress table plugin out there and the WordPress booking plugin with the smoothest UX.