Learning more about WordPress Wiki plugins will help you organize the information in a much more aesthetic and digestible manner.
The way information is delivered is going to influence what the visitor thinks about the website and whether he will return or not.
We know this from the experience from our wpDataTables website.
The good news is that there are several WordPress plugins to choose from to improve the way your wiki knowledge base is looking. This article is all about selecting the WordPress wiki plugin that fits your site the best.
Table of content
Why should you use WordPress Wiki plugins?
First of all, you need a reason why you should use a WordPress Wiki plugin. Such a plugin allows you to transform a regular WordPress site into a wiki-style one.
This is not as complicated as it sounds, considering that the plugin will do the job for you, even though you're not brilliant with technology.
A WordPress Wiki plugin includes different overlapping features, which give you useful tools.
These tools can be used on your WordPress Wikipedia page to inform the visitors and make it look professional. If you were wondering how to make a Wiki, then a few details about these plugins will save you from a lot of work.
Examples of WordPress Wiki plugins that you can choose from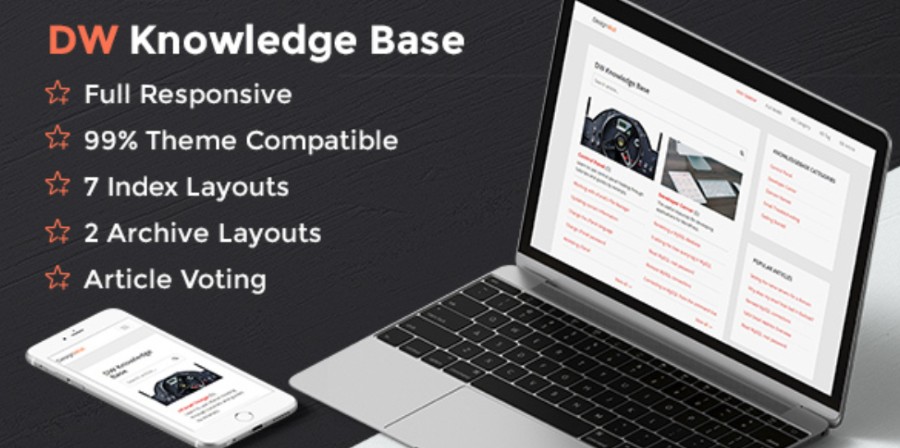 The first WordPress Wiki plugin that you need to know about is the DW Knowledge Base plugin. This is a premium knowledge base plugin that you can use to create a simple knowledge base.
This plugin works with almost all WordPress themes, which makes it very versatile and easy to use. Select this one if it is your first time getting informed about how to create a Wiki.

Pencil Wiki is another wiki WordPress plugin that you should definitely try. It has features that make it friendly for all sorts of users, from tech-savvy ones to beginners.
Users can add, remove and edit Wiki pages just by using the plugin, not to mention how easy it is to add or change new or existing roles on the page.
The plugin also includes several templates and widgets which can be changed after your own liking. Every Wiki page will now have a menu option so that front-end users can add and edit them. The back-end can only be accessed by the admin though.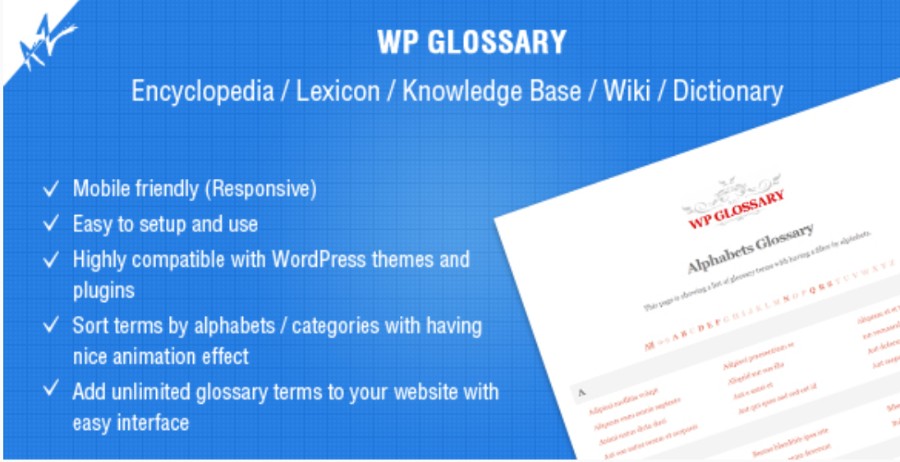 In case you want to create a unique WordPress Wiki theme with a complex glossary, this one is the plugin you want. The WP Glossary-Various plugin is meant to help users create their own glossary.
Your WP site will look amazingly professional and informative after installing this plugin. You will be granted a full-editor role, but you are the one who chooses other details related to access.
The plugin is also mobile-friendly, so you won't have to worry about responsiveness. Moreover, it enhances SEO (Search Engine Optimization) by linking highlighted phrases to a definition in the glossary (internal linking).

When looking for information on how to build a Wiki, you will definitely stumble upon the Very Simple Knowledge Base Plugin. This is a responsive plugin that is great for beginners. A piece of code for categories will be enough to put together the knowledge base of your page.
The plugin uses the WordPress category you are already used it and adds a shortcode fragment to it that alters the way the categories are displayed on the page. More than that, it works perfectly on mobile, separating the categories in two columns only, regardless of the desktop settings.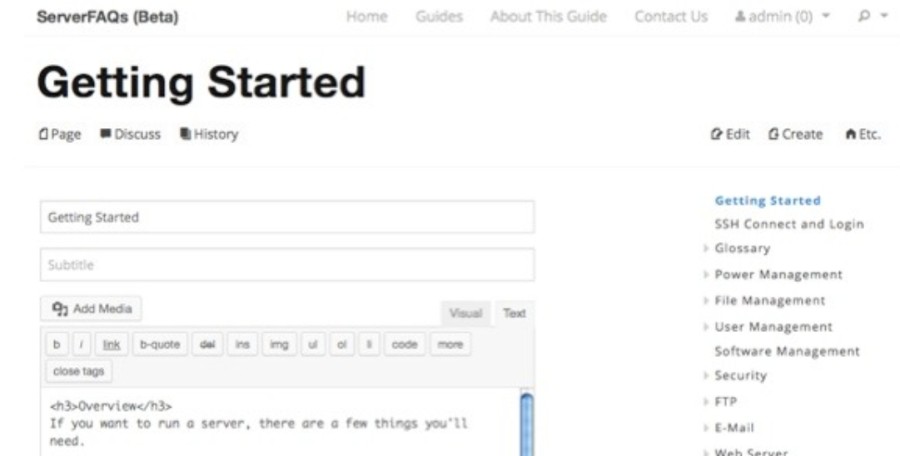 When you are ready to start a knowledge base wiki, you must know about the one WordPress plugin that you can use for user restrictions.
UserPress is that WordPress knowledge base plugin that can help you. Besides user restrictions, this plugin also offers tools for live search, content flags, editing, accessing archives, sorting, and so on.
The plugin is compatible with a multitude of WordPress themes and it is suitable for people who are creating a Wiki for the very first time, but for professionals as well. Its price is $33, which is more than accessible for a WordPress plugin like this one.
Another great option it has: it lets you track pages for changes, in case a front-user changed it and you have no idea where.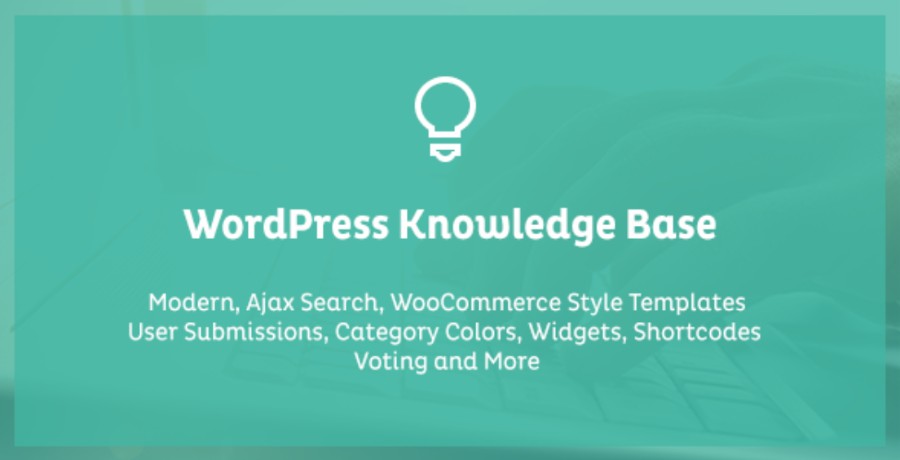 Setting up a Wiki is not as difficult as people think – not if you use the right WordPress plugins. Pixel Knowledge Base is a feature-packed plugin that is going to make your job much easier. It is a WordPress Wiki plugin that can't miss from your list if you want your front-end users to submit posts to your site.
It also brings a new element to the table, which is represented by a voting system. People can vote regarding how helpful a page was by using a gadget that the plugin is putting together. For each user role, you can limit access to a certain level of knowledge, in case you want to use a membership plan.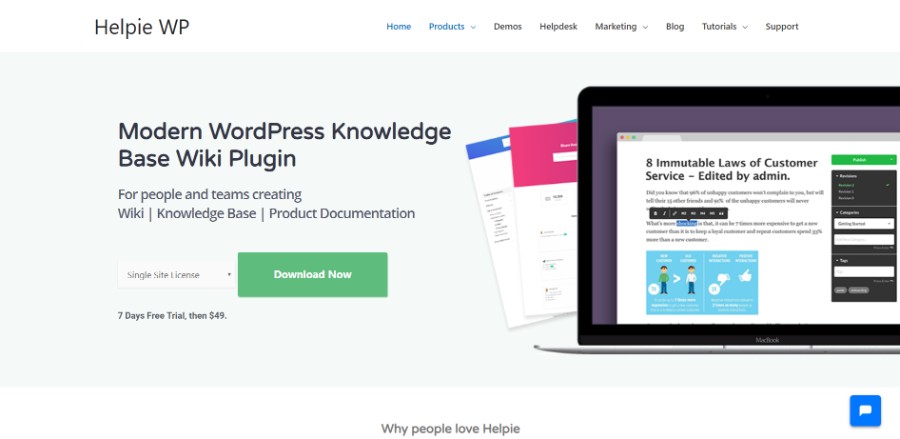 Helpie is probably the only WordPress Wiki plugin out there that is fully collaborative. It is easy to use, and it refers to creating and sharing knowledge in the case of teams. There are some features you should know about when it comes to Helpie:
The user can edit or publish content, but you can approve or disapprove changes
Previous revisions can be rolled back in case you are not happy with the changes
The style customizations are extensive
Access restriction is available

RDP Wiki Embed is a free WordPress Wiki plugin that deserves its place on this list. If you want to take content from MediaWiki websites, you can through this plugin which embeds it onto your page. The visitors won't have to leave your page in other to find out more information about something they clicked on. This plugin is also based on the shortcode.
FAQs about WordPress wiki plugins
1. What is a WordPress wiki plugin?
To establish a wiki, a collaborative platform for creating and sharing knowledge, a WordPress wiki plugin is an add-on software element that may be put on a WordPress site. This plugin is the perfect tool for creating a knowledge base, community platform, or central hub for internal documentation since it makes it simple for users to create, update, and manage wiki pages.
2. What are the benefits of using a wiki plugin on my WordPress site?
There are many advantages to using a wiki plugin on your WordPress website. First of all, it facilitates user collaboration and content contribution from a variety of users. Second, it can aid in information organization and the development of a structured, user-friendly knowledge base.
Lastly, a wiki may foster user participation on your website and assist create a sense of community. Finally, it can act as a central location for internal documentation inside your team, facilitating knowledge sharing and project collaboration.
3. Can I create a private wiki with a WordPress wiki plugin?
Absolutely, a WordPress wiki plugin can be used to build a private wiki. This implies that the wiki's content will only be accessible to a limited number of people or groups. This might be helpful for building a knowledge base for your business where team members can safely share sensitive information.
4. Are there any free WordPress wiki plugins available?
Sure, there are a number of free WordPress wiki plugins available, including UserPress, Encyclopedia Lite, and Knowledge Base for Documents and Questions. These free plugins are a fantastic place to start for people wishing to explore wiki plugins without committing money, even if they might have fewer features than commercial options.
5. Can a WordPress wiki plugin be integrated with other plugins or themes?
Absolutely, the majority of WordPress wiki plugins provide for easy integration with different plugins and themes. This enables you to modify your wiki's functionality and make it integrate seamlessly with your website. For instance, you may incorporate a search plugin into your wiki to help people locate the data they require quickly.
6. What kind of content can be added to a WordPress wiki?
A WordPress wiki may contain a variety of information, including articles, instructions, FAQs, tutorials, and guides. It is often simple to add text, photographs, videos, and other multimedia components to wiki pages thanks to the wiki plugin's formatting and organization features.
7. Is it possible to restrict access to certain pages or sections of the wiki with a WordPress wiki plugin?
Absolutely, the majority of WordPress wiki plugins offer capabilities for limiting access to particular wiki pages or parts. This implies that you can manage user permissions and guarantee that only authorized users have access to sensitive or secret information. This can be crucial in settings like businesses or educational institutions where confidentiality and security are top priorities.
8. Can a WordPress wiki plugin be used to create a collaborative platform for multiple users?
Sure, you can build a platform for user collaboration using a WordPress wiki plugin. This makes it possible for team members, clients, or members of the community to add content to the wiki, building a robust knowledge base that can be shared and used by everyone. This might be especially helpful if you want to create a user base for your product or service.
9. How easy is it to customize the design and layout of a WordPress wiki?
The majority of WordPress wiki plugins offer a variety of customization options that let you adjust your wiki's layout and appearance to match the branding and style of your website. To make the wiki appear like a logical extension of your website, you may often alter the colors, fonts, and page layout as well as include unique logos and images.
10. Are there any limitations to the number of pages or users that can be added to a WordPress wiki using a plugin?
Depending on the exact plugin and your hosting environment, there may be restrictions on how many pages or users can be added to a WordPress wiki. However, the majority of wiki plugins are made to be scalable and can easily manage a high volume of users and pages. To find out about any unique restrictions or needs, it is best to consult the plugin's documentation or support staff.
Ending thoughts on choosing the best WordPress wiki plugin

Once you get your way around creating a Wiki page, it will be much easier to choose the one WordPress Wiki plugin that suits your needs the best. The more information you gather, the better the page will turn out.
If you enjoyed reading this article on WordPress wiki plugins, you should check out this one about WordPress coupon code plugins.
We also wrote about a few related subjects like WordPress countdown timer examples, WordPress calendar plugin options, WordPress editor plugin and WordPress quiz plugin.
And if you want to check out the cool products that we've created, we've got the best WordPress table plugin out there and the WordPress booking plugin with the smoothest UX.