One of the steps when building a website is to add a forum to your WordPress website. It is not too hard to add a forum to your website via WordPress. You may simply use a forum plugin. You don't have to know the code to embed forum in WordPress.
WordPress forums may be quite helpful for your business. This is why learning how to create a forum on WordPress is very useful. In this article, we will show you why adding a forum in WordPress is a must.
Registered users can create their own discussion groups and profiles on the forums. As a result, it has a far more open forum system than the other plugins on this list. If you wish to establish a static discussion forum, you may use plugins and still make use of the rich social profiles that the platform provides.
WordPress isn't designed to handle forum functions by default. You'll need to use a third-party plugin. For example, the Posts Table Pro plugin may be used to organize and show all of your forum threads, topics, or comments in a beautiful table structure. There are two ways to do this: use standard WordPress capabilities or one of the top WordPress plugins.
Forums are excellent if you want to create original content and engage users on your website. They get people talking and, more significantly, they attract users to return to your website to read the most recent forum entries. They also provide you the chance to rank your website in Google for terms you would never have thought of on your own.
Learning how to create a forum on WordPress can be useful in many ways.
A visitor can search among many topics and replies on a forum. The diversity of topics and replies is useful both for the visitors and the website owner.
As a topic is discussed, the thread grows. Major search engines such as Google and Bing prefer to rank the WordPress site higher. You can create new topics endlessly. They are all in the Forum Index menu. (link to forum index is always in the main menu)
Creating a Forum in WordPress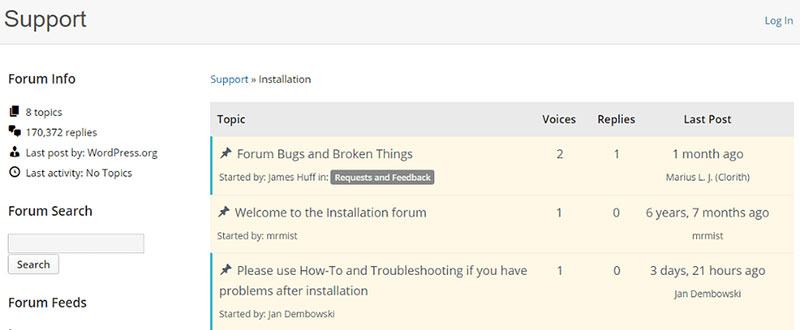 Adding a forum to your site will bring you a lot of benefits. If you want to create a new forum and add it to your website, you can do it with the help of WordPress forum plugins.
Benefits of hosting an online forum or adding a forum to your website. For example, increased reader or client loyalty Forum users provide free material for your WordPress, which is wonderful for SEO! You may answer commonly asked questions in one spot rather than typing the same response over and over.
There are so many free plugins available to help you get started quickly, WordPress is the ideal platform to create an online forum community. All you need is the correct WordPress plugin. With the forum plugins, you don't even need to know how to work with code.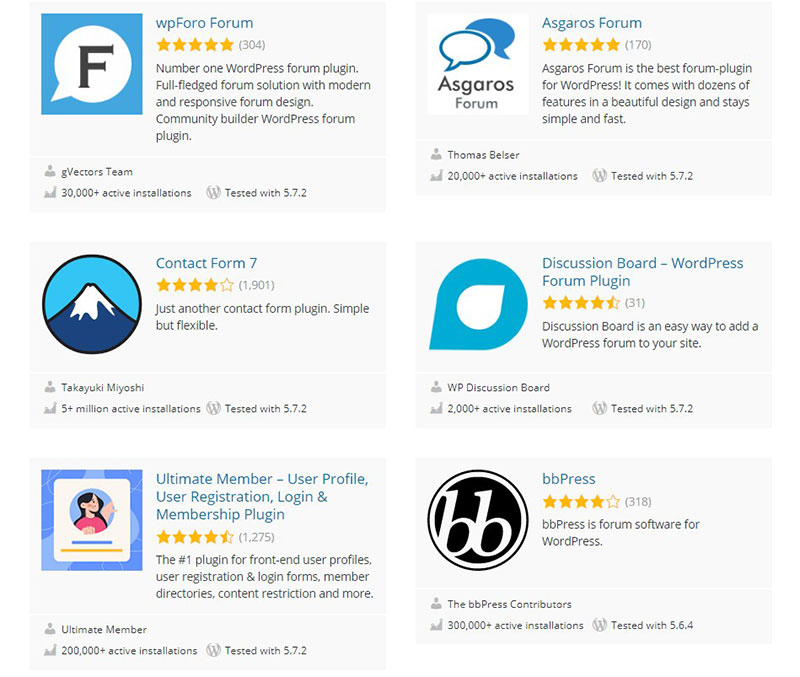 Some of the best WordPress forum plugins are bbPress, BuddyPress, Forum Engine, Asgaros Forum, CM Answers, and many more.
Maybe the best WordPress forum plugin is bbPress. bbPress is a free plugin and a popular solution among WordPress editors. It is one of the most popular, well-reviewed plugin solutions for creating WordPress forums. bbPress is well-known for its ease of use, simplicity, and dependability. BuddyPress is a WordPress plugin for developing a social network.
Here's an interesting fact: WordPress.org and WordPress.com support forums use bbPress.
Hosting and Domain Name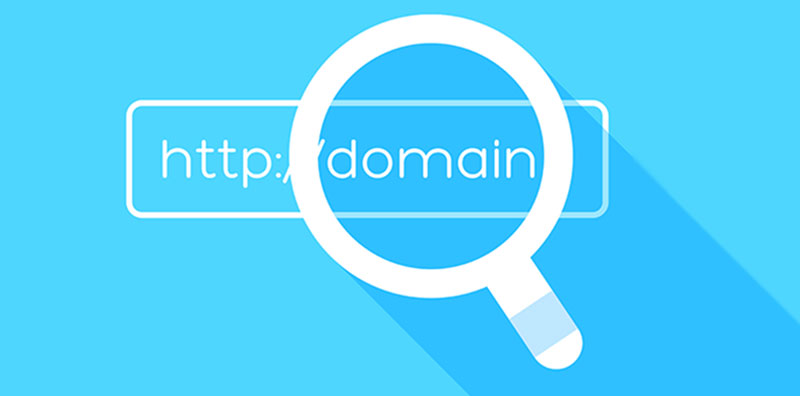 The First step will be to search for a forum hosting service. This service will allow you to install your site builder (in this example, WordPress) and store all essential files, as well as obtain your domain.
There are several WordPress hosting companies available on the internet. Go for something that might fulfill your traffic requirements, particularly from a web server that provides a free name for the first year.
Choose a Theme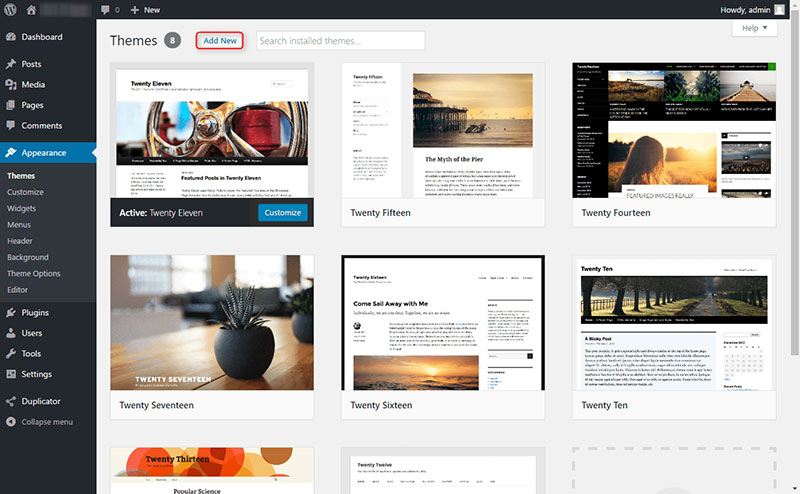 WordPress provides its users with hundreds of pre-made website themes built with blocks. Choosing a certain theme allows users to easily customize their photos, text, and WordPress site elements. To search for these settings, go to your dashboard's Themes section and filter by functionality or features.
For further information, go through WordPress themes that are specifically made for forum sites. When you've found something you like, click Install and then Activate to preserve it.
Installing the Plugin

WordPress does not come with forum capability by default; you must add it. Yet there are plenty of forum plug-ins for WordPress, the far more helpful ones are also available.
Lots of them are free, but there is also an open-source alternative with a slew of great features. To install it, go to the left side of your dashboard, select Add, and then press Enter. To create a new forum, hit the install button. After you activate it, go to your left-hand menu and click Forums to begin configuring it.
Customize Your Forum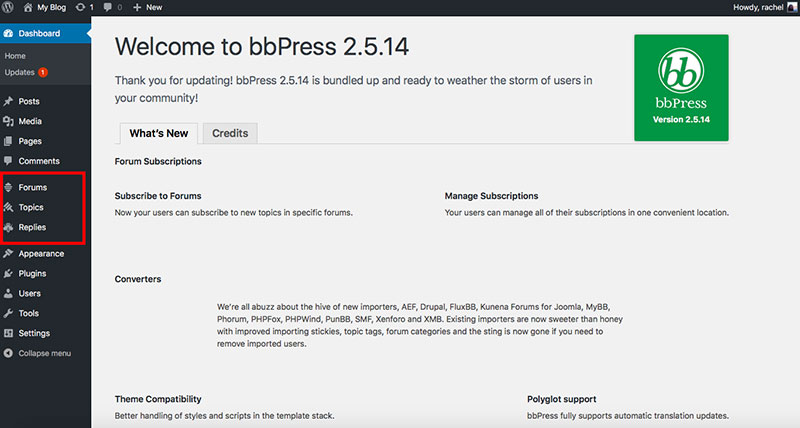 It's now time to tweak your plug-in settings to your liking. To begin, select Settings from the menu that displays once you log in to the forum. User logins, forum visibility, and login options are all available on this page. You'll need to set all this when you decide to create a forum on your WordPress site.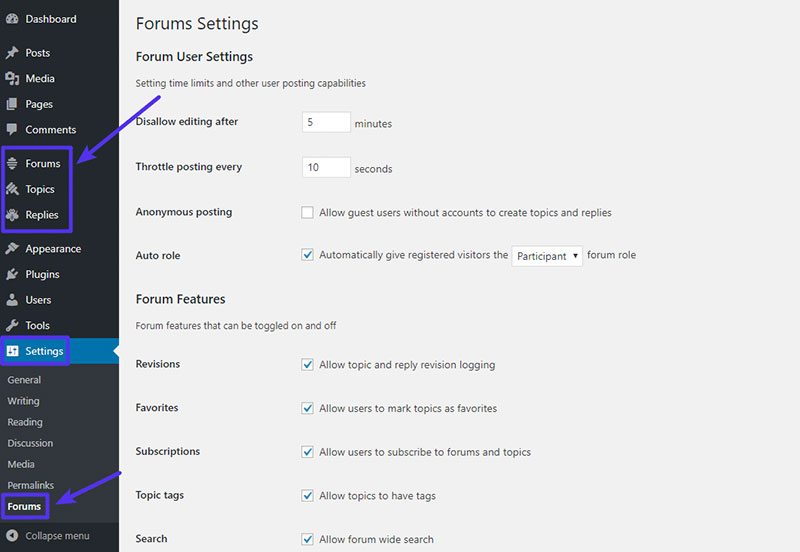 As the forum administrator, you may change privacy settings. For example, concealing or revealing information to visitors based on their responsibilities. Other options include User, registration, and roles, Anonymous posting, and Subscriptions.
Add Your Forum Page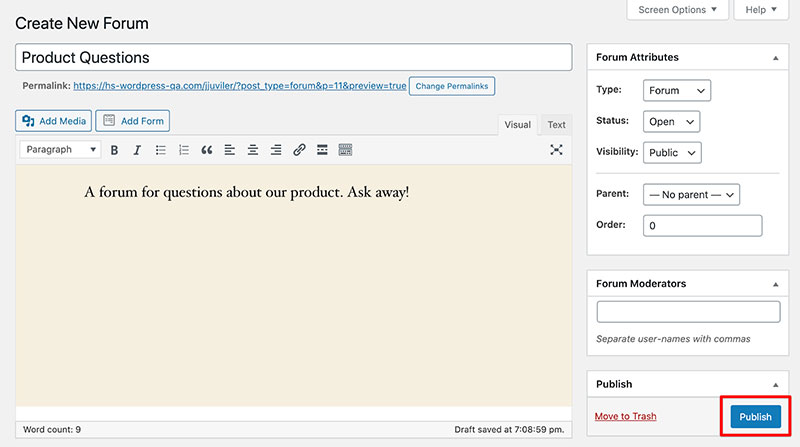 The next step is to create a forum page. To accomplish this, go to Forums and then select New Forum. To save your modifications, select the forum's name and then click Publish.
Embed the forum to certain web pages by going to Pages and selecting Add new. In the content box, enter the page's title and code, then click Save. When users visit the website now, they will be seeing a list of all your forums, along with links to each one.
Visit Forum in the Page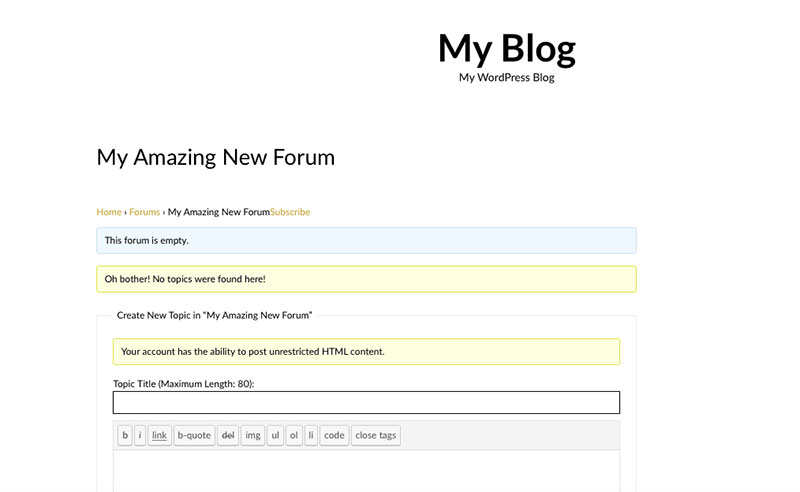 You may now go to the website where you inserted the shortcode and see the forum you made.
Setup Forum User Registration Process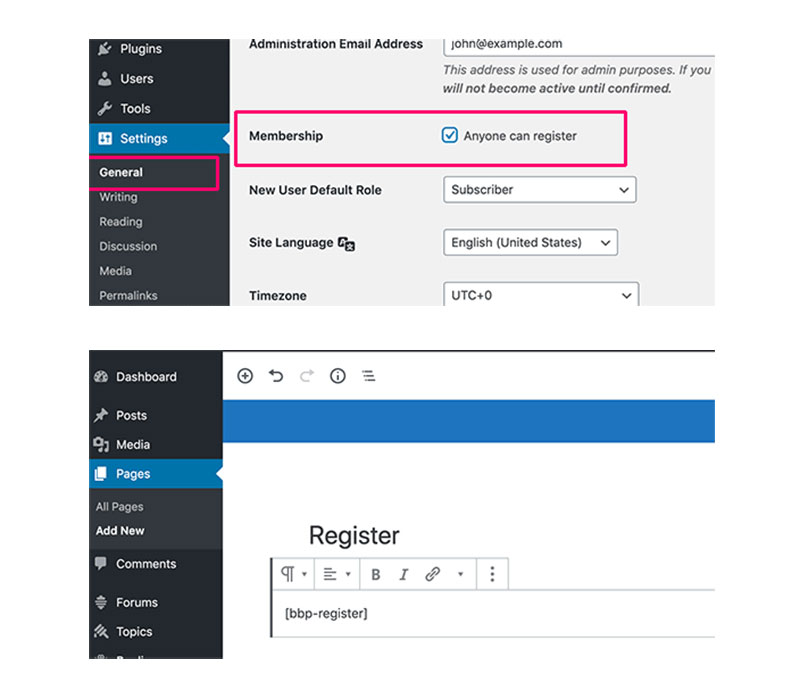 Once you have set up your forum, you must configure your user registration procedure. This will allow the new users to register and post on the forum. You will need to create three pages.
Registration page – Insert the shortcode to a new page.
Login page — create a new page and paste the shortcode into it.
Lost password page — Add the short-code to a new page.
These three pages are critical for getting your forum up and running. You should also make it possible for new users to register on your site. In your WordPress dashboard, go to the settings page and search for general settings. Allow any visitor to sign up.
Customize WordPress Site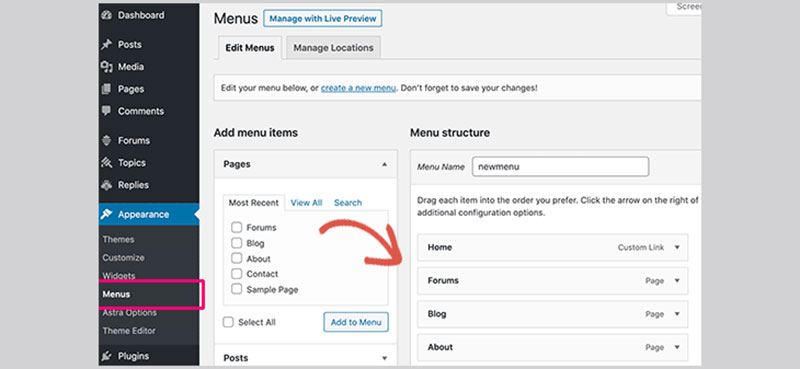 And here is where you turn your WordPress site into a unique, branded one. Complete with a blog, contact pages, and history. Begin by customizing the menu, sitewide features, footer, and header. This procedure is simple, but you may wish to use a meta-box to ensure a smooth and faultless operation.
Integrate Forum Into Site

Because you've been speaking to yourself so far, you'll want to ensure that others can create an account and post on your forum. To allow other forum visitors to post in the forum, search for the Settings page, then General in your WordPress dashboard. Tick the Membership registration box to allow others to signup.
You'll also have to create a sign-up and lost password page. You may create this by inserting in the shortcodes and publishing these pages with appropriate names. It is not rare case users forget the data they used in registration. Especially if they didn't visit the forum page for a longer time.
Creating Forum Sidebar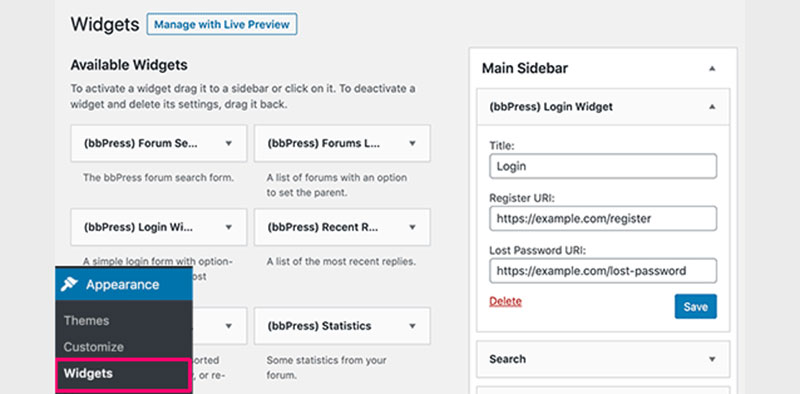 For most websites, the forum is part of larger interaction among the users. Having a distinct sidebar for the forum page with forum-specific widgets is handy.
If your site's only feature is a forum, the default sidebar may suffice. You may also include a sidebar in your site that is exclusive to your pages.
More Forum Settings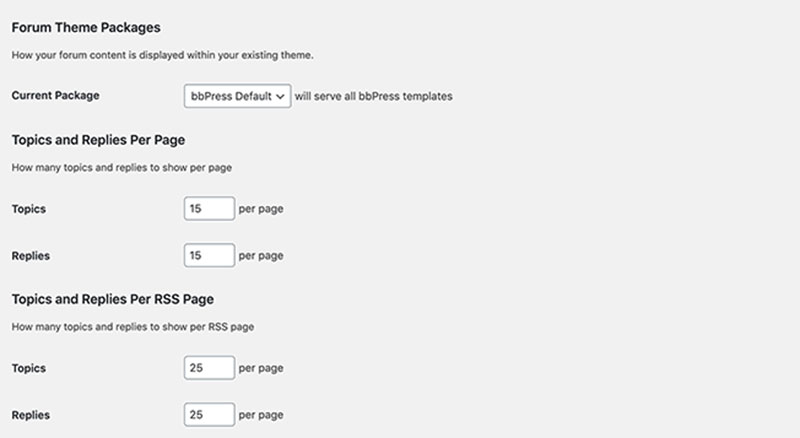 To change some other forum-related features is a new topic to talk about.
To do this go to the forum settings of your WordPress website and select Forums. Explore all the features offered. You can disable editing after a particular period of time has passed in the forum user settings area. You can also prevent people from spamming with their forum posts.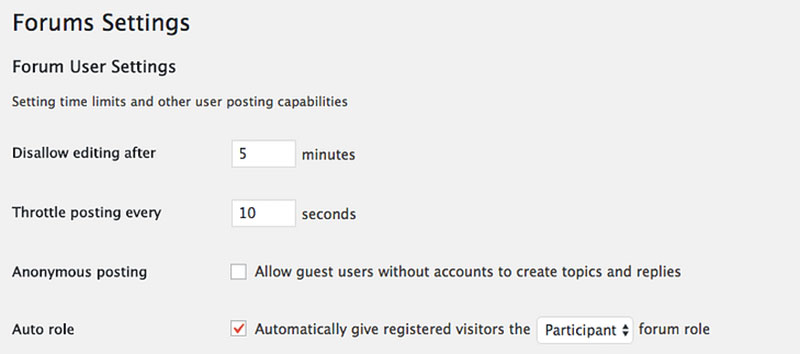 No one likes spam forum posts. You have the option of enabling or disabling anonymous posting on your WordPress website. You may also choose the default role for new users. Other parts may be found on the settings page as well.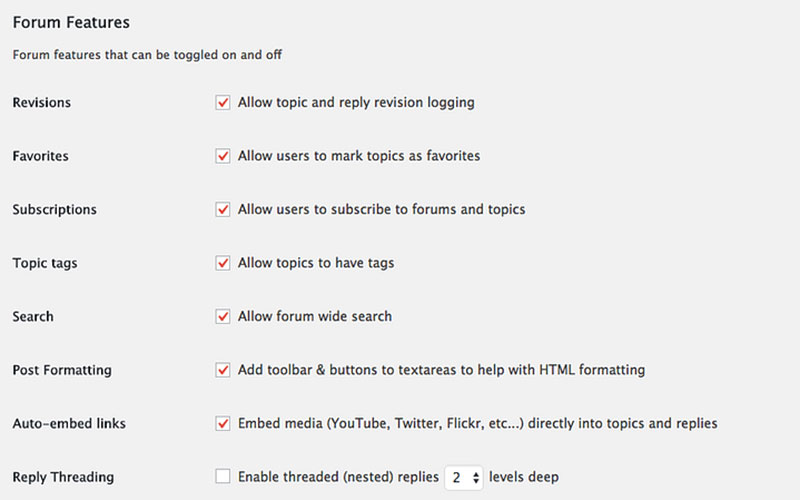 There are other self-explanatory choices under the forum features. You may choose how many topics and responses to display each page of your site in the Topics and Replies Per Page section.
Publish Forum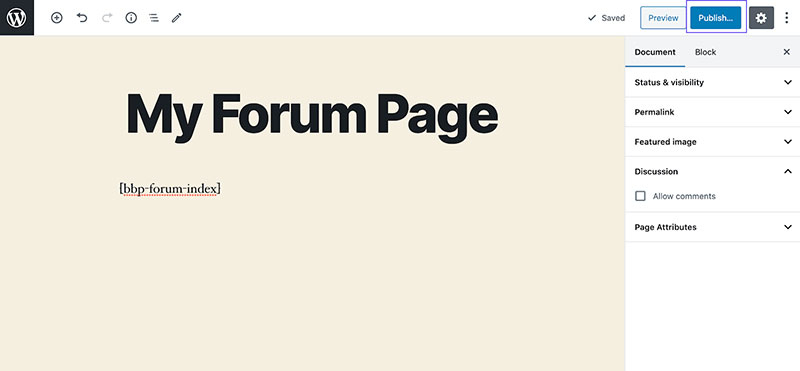 After finishing all the previous steps, it's time to publish your site. Proceed to your site hosting dashboard, configure everything, and publish it.
Verify that it is operational by searching for it in a search engine. This will ensure your WordPress forums will display on your site, j as you configured them.
Publicize Your Forum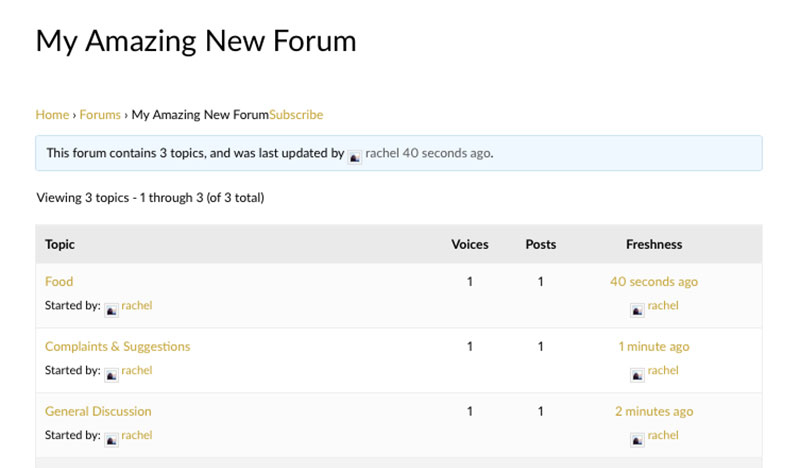 When building a user base on your forum, one of the main steps is to raise awareness in the community. Consider pushing it to your existing customer's community first and sharing it on the social network of your choice. It is also good to discuss it in other forums, promoting it in email campaigns, sponsored posts (ads), and other methods. The wider the online community that knows about your forum, the more successful forum it is.
FAQ on creating a forum on WordPress
How Do I Get Started with Adding a Forum on My WordPress Site?
Oh, kicking things off with a forum on your WordPress site? Exciting times! First things first, you're gonna want to pick a plugin, and bbPress is a solid choice.
It's like the golden child of WordPress forum plugins—easy to set up, user-friendly, and blends well with your site. Just install it, activate, and boom, you're rolling. Don't forget to play around with the settings to get everything just the way you want it.
Any Go-To Themes That Work Like a Charm with Forums?
Themes, themes, themes, my friend! They can make or break the vibe of your forum. Now, you'd want something that's not just pretty but also functional.
WordPress has got a bunch of themes that are forum-friendly. Look for ones tagged as "bbPress compatible" to ensure everything runs smooth as butter. And hey, sometimes the theme's demo will show you a forum setup, so you can see what you're getting into. Sweet, right?
What's the Deal with User Engagement in Forums?
User engagement? Oh, that's the real juice of having a forum. You gotta keep the conversations flowing and the vibes good. Encourage your peeps to chime in, share their thoughts, and connect.
You could even throw in some Q&A plugin WordPress style to spice things up. And remember, your role is crucial here. Be active, be present, and show your community that you're in it to win it.
Can I Create a Community Website with Just WordPress and a Forum Plugin?
Absolutely, my friend! WordPress and a good forum plugin? That's like peanut butter and jelly. You can totally create a thriving online community.
Make sure you're picking the right tools, setting up a cozy space for discussions, and voila, you've got yourself a community website. Don't forget to throw in some community building WordPress vibes with additional features to keep everyone engaged and happy.
Is It Possible to Have User-Generated Content in My Forum?
Oh, user-generated content? That's like the secret sauce of a lively forum. Once you set up your forum, your users can start discussions, reply to threads, and basically create content for your site.
It's a win-win. They get to voice their thoughts and connect with others, and you get a buzzing site full of content. Just make sure you've got some moderation in place to keep things clean and tidy.
I Heard About bbPress; Is It the Best Option for WordPress Forums?
Well, well, well, bbPress! It's like the hometown hero for WordPress forums. Lightweight, easy to integrate, and it plays nice with your WordPress themes and plugins.
A lot of folks would say it's the go-to. But hey, there's no harm in shopping around, checking out other options. Ultimately, you want something that fits like a glove with your site and your community's vibe.
Any Tips on Managing and Moderating My WordPress Forum?
Managing a forum, huh? That's like being the sheriff in a wild wild web town. You gotta keep an eye out, make sure conversations are respectful, and step in when things get heated.
Set clear rules, and don't shy away from using the ban hammer if needed. And remember, a good sheriff is also part of the community. Engage with your users, be present, and show them there's a human behind the screen.
What Are Some Must-Have Features for a WordPress Forum?
Must-have features? Oh, let's talk shop! You'd want a solid user registration system to start with. User profiles, private messaging, maybe even some badges and ranking systems to add a little zing. And don't forget about search functionality. You want your users to find what they're looking for with ease.
Throw in some social sharing options, and you've got yourself a forum that's not just surviving, but thriving.
How Do I Keep My Forum Active and Engaging?
Keep the party alive in your forum? That's the spirit! First off, create a welcoming atmosphere. Encourage newbies, highlight top contributors, make everyone feel at home.
You could run contests, highlight hot topics, or even have themed discussion days. And don't forget, a forum is a two-way street. Jump in, be active, share your thoughts. Show them that there's a real person behind the curtain, and they're gonna love it.
Any Advice on Integrating Forums in an Existing WordPress Site?
Integrating a forum into an already bustling WordPress site, huh? Smooth move. First, make sure the forum vibes with your site's look and feel. Consistency is key, my friend.
You might need to do a bit of tweaking, maybe play around with the CSS a bit to make everything seamless. And hey, make it easy to find. Add links to your main menu, throw in some call-to-actions. Make it irresistible for your visitors to dive into the discussions.
Ending thoughts on how to create a forum on WordPress
In this article about how to create a forum on WordPress, we spoke about many things.
Firstly, why having a WordPress forum is beneficial. Now you know you don't have to even know the code to embed a forum in WordPress. All you need is to get the right WordPress forum plugin.
WordPress forum offers many different forum topics and replies. Forum users may attract some new visitors to stay while searching for an answer to some forum topics. It is interesting that forum users can gain different user roles in forums.
If you decide to add a forum to your WordPress site, it will boost your SEO optimization too.
There are many reasons to learn how to create a forum on WordPress and we hope this article was helpful.
If you enjoyed reading this article on how to create a forum on WordPress, you should check out this one about how to make a phone number clickable in WordPress.
We also wrote about a few related subjects like how to check the WordPress version, how to upload an HTML file in WordPress, how to embed a Facebook video in WordPress, where are WordPress pages stored, why is WordPress so hard to use, how to hide the author in WordPress and how to delete WordPress themes.