Not many website owners know what a directory is, despite how useful they can be. Directories have the same basic function regardless of the domain in which they are used. They are simple databases that people can use to look up information, often presented in alphabetical order and filtered by category or location.In most cases, you can use a simple directory search bar or an interactive map to find exactly what you are looking for.
Accessing all the relevant information about a business, a website, or a person can be done from one single place – online directories. You can gather information about the name, address, and contact details grouped together in a directory. For instance, if you are looking for a good realtor, you can simply access a real estate listing directory. The same applies to other things – shops, restaurants, websites, and so on.
For people who are using WordPress, listing and then locating a service becomes easier. Using a WordPress directory plugin enables you to integrate a featured directory to your own website without much effort. It's efficient for websites in any industry. For example, a law company's website can feature a directory where all their lawyers are listed, along with their contact details and other relevant information.
A real estate company's website should contain a directory where information about all agents is provided. The same goes for retail chains or other business websites that have to guide their visitors to find more information related to the services they provide. If you find yourself in the same situation and you are willing to use a WordPress directory plugin for your own site, keep reading more about this topic in this article created by our team at wpDataTables and learn how to choose the best one.
Why is it important to use a WordPress directory plugin?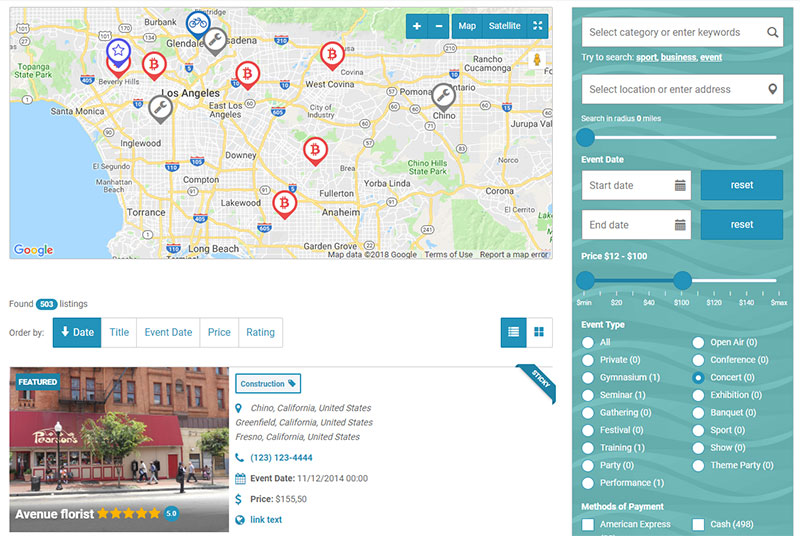 The main reason why people choose WordPress as their Content Management System is its versatility. The fact that you can add any plugin that you like to your site is convenient and gives you the chance to expand the website in all possible ways. You should use a WordPress directory plugin mainly because it is convenient.
You don't need to know anything about programming. You won't need to write any lines of code with WordPress directory plugins and you will still get the features that you want to add to your site. A WordPress plugin directory can be added to any website, regardless of its niche.
What features should you consider for a WordPress directory plugin?
Not every WordPress directory plugin is the same. Directories can be used for all sorts of purposes, so you have to make sure that the WordPress directory plugin that you want to use has all the features that your website requires. Some of the most popular features include:
If you want to charge for listing services, make sure that the plugin comes with an integrated payment system
Choose a geolocation plugin if you want to include location-based searches and interactive maps
Look for a plugin that has fully customizable form fields
The directory listings should be easy to add and adjust
Customers should be able to add reviews and ratings
A WordPress directory plugin must be equipped with back-end tools and front-end submission options
The plugin should be easy to customize using shortcodes
Look for media support if you want to share the directory on multiple platforms
Even so, the features are not limited to those listed above, and you should look for the best WordPress directory plugin for your website in particular. Continue reading if you are interested in finding out more about the most popular WordPress directory plugins.
A list of the best plugins for your WordPress directory
Formidable Directory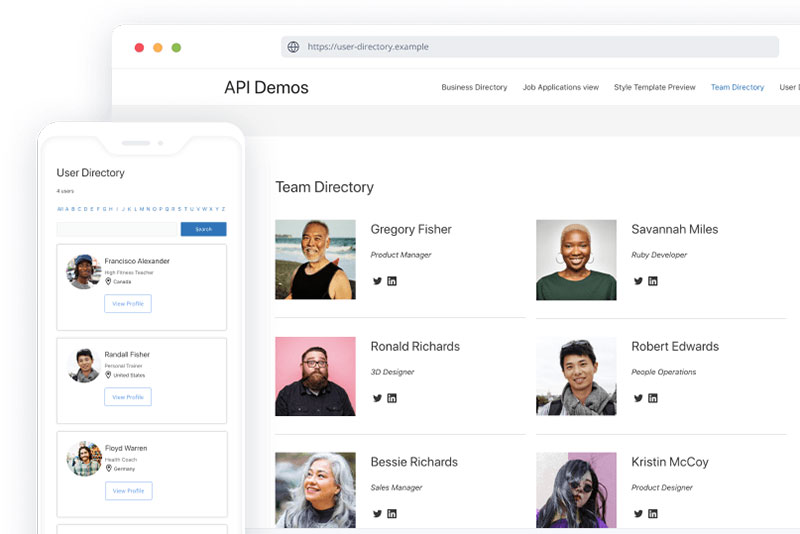 Easily build online directory listings pages and websites with Formidable Forms. Create local, private, public, free, and paid listings – you decide. Why wait any longer? It's time to make your dream directory website a reality.
With their drag and drop form builder and advanced Views feature, you can build your WordPress business directory with ease. Streamline the creation of all the forms and Views needed for full-featured listings. All you have to do is choose a page name and customize your forms. They automatically create the listing pages based on directory submissions.
Directories Pro

This WordPress directory plugin is feature-packed. You can use it for any sort of website, as it is versatile and easy to comprehend. It comes with a beautiful frontend design that won't raise any difficulties during usage, the admin tools are user-friendly, and the features are practical.
Directories Pro can easily be integrated with multiple themes. The plugin has a great style that won't require changes, as it fits the design of most WordPress websites.
Business Directory Plugin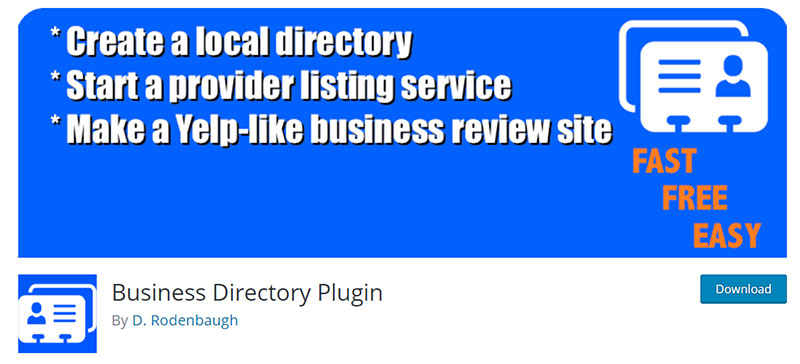 Business Directory Plugin is a freemium plugin, with limited functionality for non-paying users. It has form fields that are ready to use immediately after installing it, the listing times can be modified the way you want, the payment methods are diverse, and the plugin also features image support.
What's great about Business Directory Plugin is that you can import and export your listings using CSV files. If you believe that the free features of this plugin are not enough, you can always improve it by purchasing upgrades. It is perfect for a multilingual site, as you can use WPML to switch between multiple languages.
GeoDirectory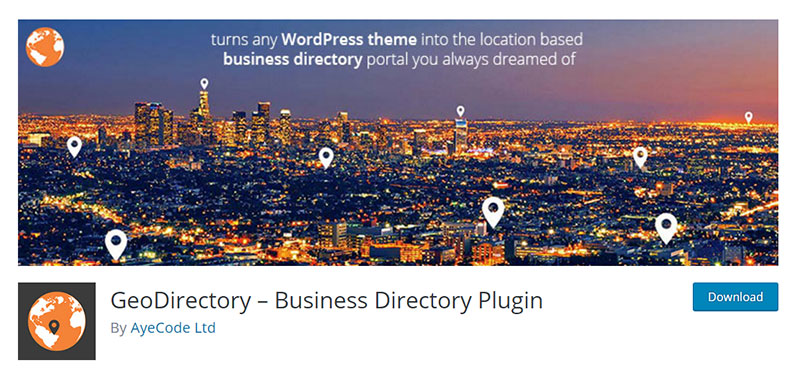 The GeoDirectory plugin is mostly dedicated to business websites, but it can also be used for other purposes as well. You can generate global business directories or you can segment the directories into smaller locations (countries, cities, neighborhoods).
If you have a multi-site, this is the WordPress directory plugin you should use. You can build an entire network of plugins that can be migrated from one site to another or installed on more than one website. The plugin comes in a free version, with paid add-ons for more advanced functionalities like event planning, multilocation, payment options, and reviews.
Connections Business Directory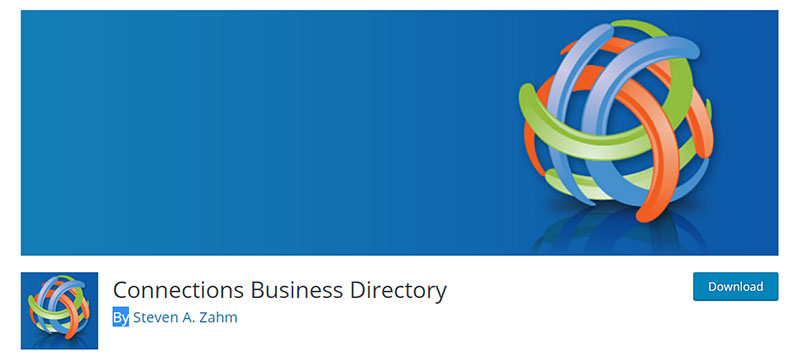 Another powerful WordPress directory plugin is Connections. It is a free plugin that can be extended using paid add-ons. Setting up a business directory can be done in minutes with Connections. It has many pre-set fields that are perfect for all sorts of directories. You can also modify the privacy settings of each field. The admin can customize each field according to the requirements of the site. Moreover, the plugin is helpful for SEO purposes.
Sabai Directory Plugin

Sabai Directory is a paid plugin that is extremely simple to use and has a pre-configured module that has all the features a person would need to set things up. With this WordPress directory plugin, you can create location-based directories and decide for yourself how you want your listings to appear on the site. You can use the WordPress extensions that it comes with in order to expand the capabilities of your directory.
Gravity Forms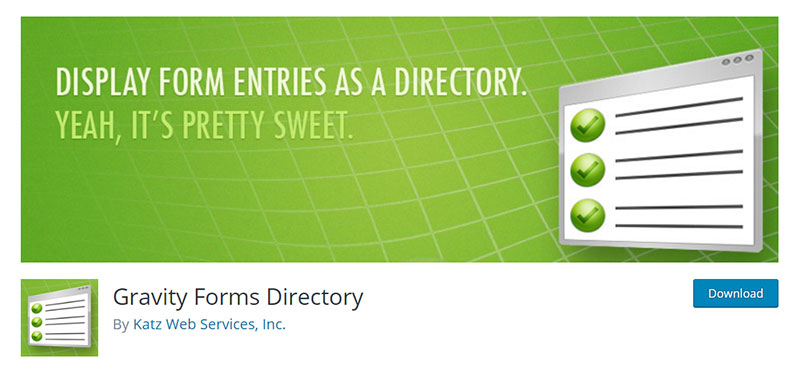 If you are a beginner and you would like to get the best out of a WordPress directory plugin, Gravity Forms is for you. The plugin also has other capabilities that don't have anything to do with directories such as letting users submit their own content and conducting surveys on your site.
The directory feature is an add-on plugin that you can add to your existent Gravity Form WordPress extension. You can create custom forms to let users add more information to the directory. Configuring the look of the directory has never been easier either. The plugin can be controlled using shortcodes, meaning that your options are unlimited. The plugin also has a built-in search option.
Advanced Classifieds & Directory Pro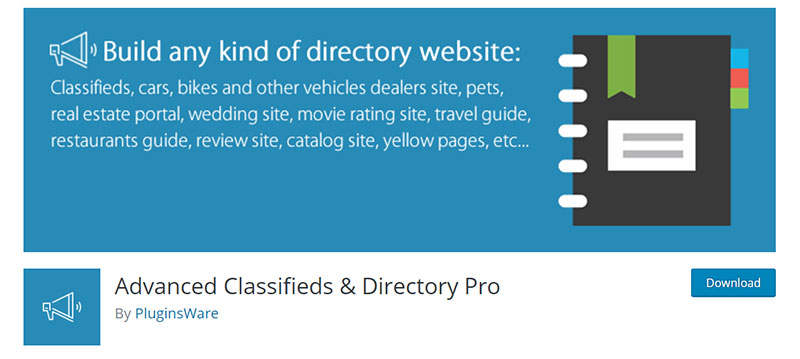 This is a WordPress business directory plugin with user-friendly features. It is a very responsive plugin that offers tools that are perfect for businesses of any size. You can track your payment history and integrate the directory with platforms such as PayPal or WooCommerce. The plugin supports offline payments, a feature that not many WordPress directory plugins have.
Moreover, the plugin has a built-in notification system that lets merchants know when their listings are about to be taken off the directory. They will receive confirmation regarding their payments and more.
LDD Directory Lite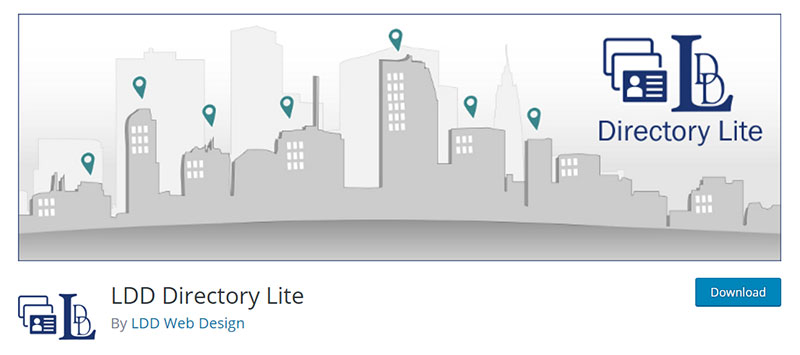 LDD Directory Lite can be added to your site using shortcodes. You can add the directory to a page or even a post on your WordPress website. The directory will be automatically generated once you copy and paste the shortcode where you want the directory to appear. This is probably the most convenient WordPress directory plugin for those who need quick results.
The customization options are quite numerous as well. You can edit the way the directory looks to match your website's theme,you can pay for add-ons that expand the applicability of the plugin, and more. You can integrate the plugin with Google Maps or the most popular social media platforms.
Simple Directory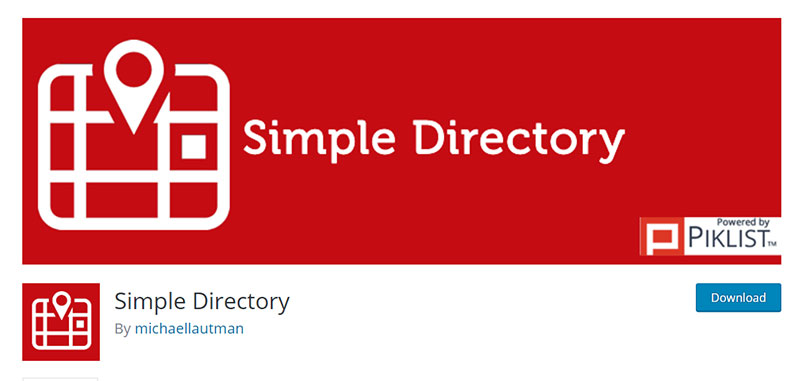 This WordPress directory plugin is great for both business and personal purposes. It has three directory templates that you can start with. In order to use this extension, you need to install Piklist first. The features are much more diverse than in the case of a regular directory plugin. You can add widgets that give users the opportunity to filter their search results and more. The results page is highly customizable.
Web 2.0 Directory Plugin

The Web 2.0 plugin is convenient if you would like to publish classified ads on your site. It is great for websites that have to display a lot of information in a responsive manner such as yellow pages or real estate. Users can also filter their searches based on location. It is SEO-friendly and easy to customize.
Instead of investing a lot of time and effort into creating a directory using the code, choose one of the WordPress directory plugins listed here and you will be more than happy with the results. They are extremely handy and don't require any specific knowledge to work with. Give them a try and see how the directory listing process goes.
If you enjoyed reading this article on WordPress directory plugin, you should check out this one about WordPress chat plugin options.
We also wrote about a few related subjects like Hello Bar for WordPress, WordPress client portal plugins, store locator WordPress plugins, WordPress review plugin and WordPress contact form options.