A WordPress slideshow is going to be a popular addition to your site. Statistics show that a responsive slider will get a lot of hits, meaning a lot of eyes will see what you put in it. A WordPress slider widget has a modern look to your website an extra layer of engagement with users.
For all this popularity, adding a WordPress image slider to your website can be a difficult prospect. Many WordPress slider plugins are difficult and fiddly. They're often not easy to set up and difficult to integrate into your site layout.
Fortunately, you're not the only one who has noticed this issue and the popularity of responsive sliders. WordPress contributors have created some great WordPress slideshow plugins that help smooth out the issues slider widgets often have. Many of them are both excellent and free, opening up many options for your site.
There are a number of WordPress slideshow options you can add to your site. You can make homepage full-width sliders, featured sliders, carousel sliders, and category sliders, all of which can look great with the right slider plugin. Here are some of the best WordPress slider plugins on the web, made to be secure, user-friendly, and great for just about any website.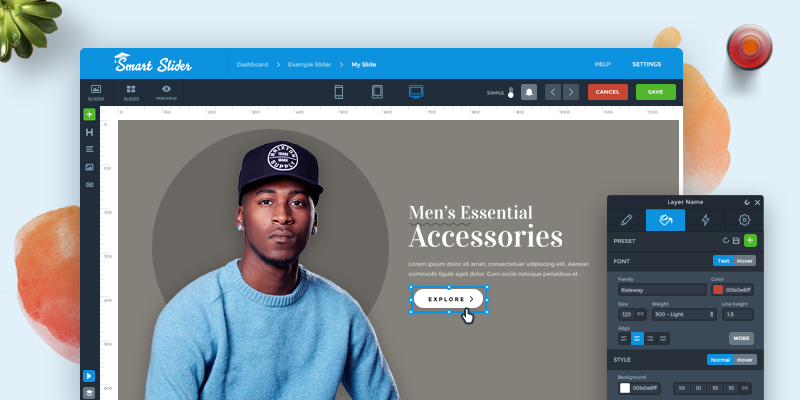 Smart Slider 3 is a fresh plugin for WordPress which is designed to let you create sliders with a live visual editor interface. It has packed in dozens of features which will allow you to create really outstanding sliders. The plugin has a very intuitive UI and a drag and drop live builder. The free version allows you to create any type of content based on layers, so only your imagination is the limit.
Smart Slider 3 is the best-rated slider plugin in the WordPress Plugin Directory with more than 500 reviews and 300,000 active installs. Even more, it is the most popular in terms of active install growth in 2019.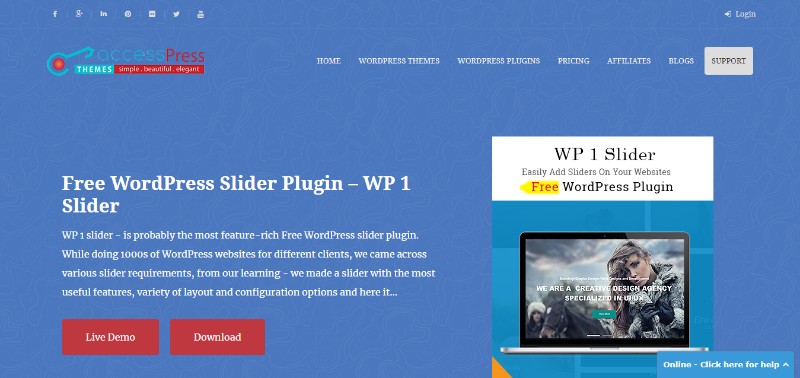 This is the top slider plugin for WordPress. It was created from years and years of experience by developers who have created websites from thousands of clients, created popular WordPress themes, and a number of other plugins. This free slider plugin has a number of features, including many which are only found in premium paid versions of other WordPress slideshow plugins.
The WP 1 Slider plugin is fully responsive. It adapts to any device, no matter its screen size and screen resolution. It's easy to use, too, allowing you to add an unlimited with shortcodes, configure the settings, and then customize it as you like.
There are many options for configuring the sliders in a modern and elegant way. The navigation options on your WordPress slideshow can be set separately and are intuitive for users to click. This plugin is easy to use, easy to install and is one of the best WordPress slider plugins out there.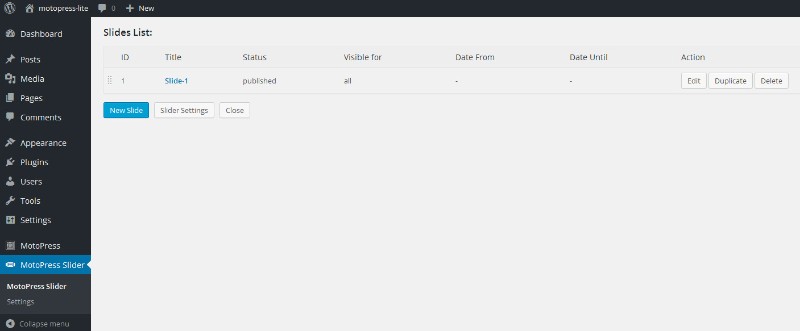 This is a great slider plugin that allows you to easily create beautiful WordPress slideshows. It has a drag and drop functionality. You can create an unlimited number of sliders with very little fuss. All of them will be completely responsive, fitting easily onto any size and type of screen.
There are three slider types in this slider plugin: Custom slider, Posts slider, and WooCommerce slider. Once you select one of them, you can customize it as you need. Responsive Slider by MotoPress has over 4,000 active installations and a rating of 4.5 out of 5 stars from the WordPress community.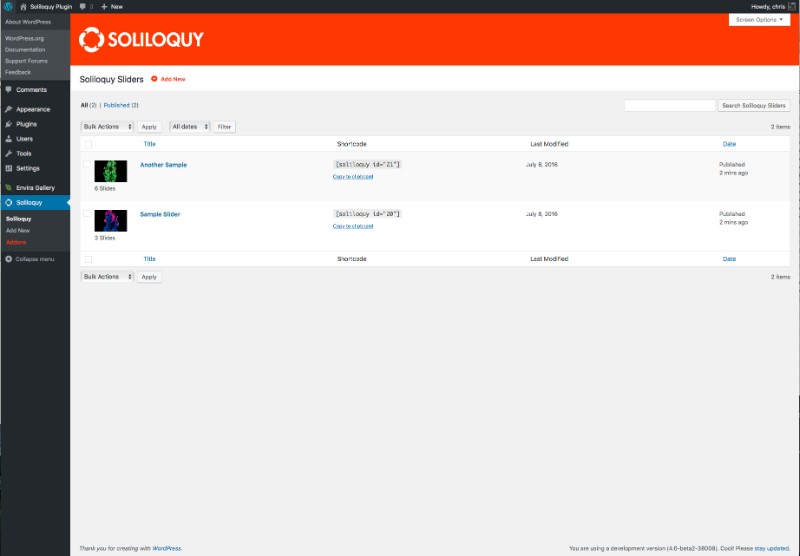 This slider plugin is a secure, robust, and well-optimized plugin. It creates responsive sliders using an easy interface you can use no matter what your level of technical savvy is. The results will look amazing. You can create an unlimited number of sliders with this WordPress slider widget that look great on all kinds of devices and screens.
To create the slideshow you want with this slider plugin, you can use a drag and drop interface. The user interface is divided into three simple tabs. One is for uploading images. Another is for customization. The third is for assorted miscellaneous settings like Search Engine Optimization.
This is a great WordPress slideshow plugin. It's easy to use and can create a worthwhile slideshow quickly that will work on a number of devices. It has over 80,000 active downloads and rating of 4.5 out of 5 stars from the WordPress community.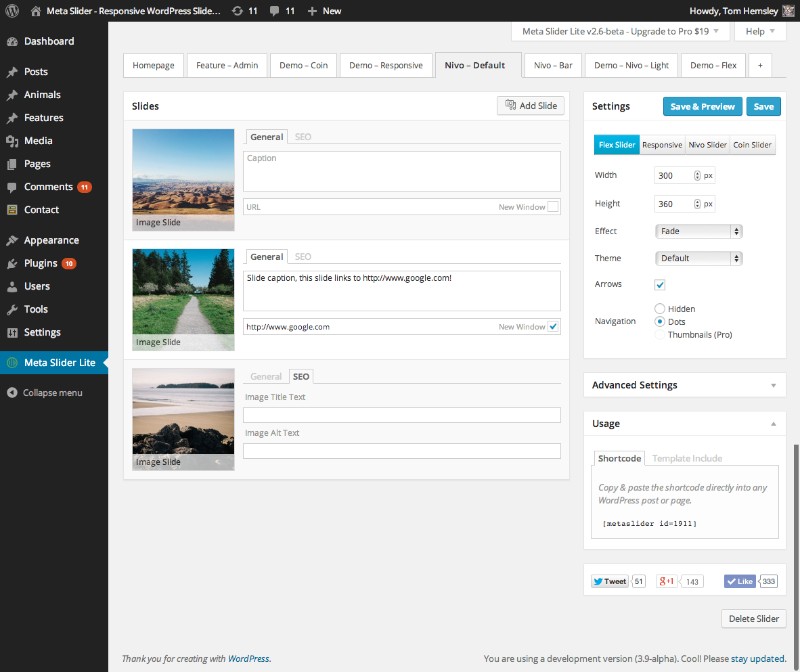 This is among the most popular WordPress slider plugins. It allows you to quickly create a beautiful WordPress carousel slider very quickly. Once you install it, all you have to do is select images from your media library, drag and drop them into the slideshow, then adjust your settings to include captions, links, and SEO tags. You can choose between Flex Slider 2, Nivo Slider, Responsive Slide, and Coin Slider formats. You can easily preview the slideshow before you place it on your website.
You can add the Meta Slider plugins to posts and pages. You can also use a shortcode or template tag to embed your slideshows wherever you want. It has been translated into 16 languages. It has over 900,000 active installs and has a rating of 4.5 out of 5 stars from the WordPress community.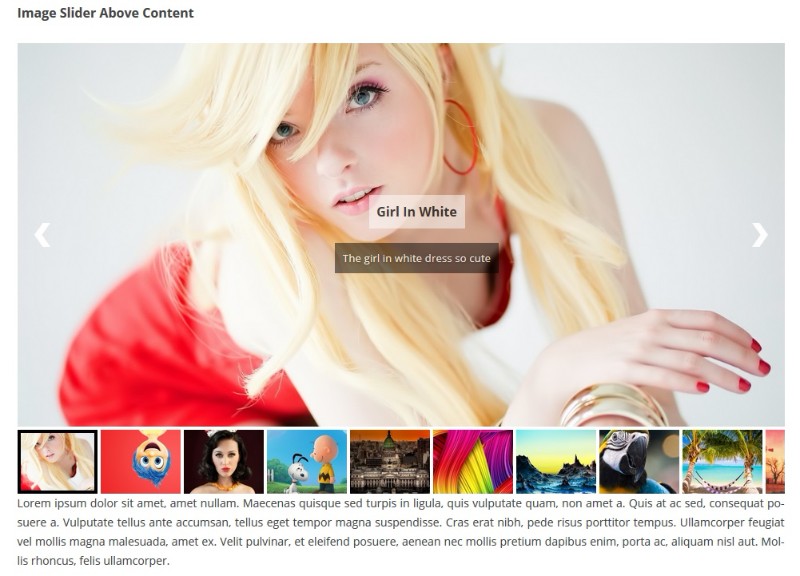 This is a great slider plugin for those who want their WordPress slideshow to use very little of their website resources. It doesn't have as many features as many other slider plugins, but it is very good at placing a simple slideshow on your site.
It allows you to adjust the height and width of your slides, as well as the navigation buttons and slide thumbnails. You can use shortcode to place the slider on any page or post you like. It has over 40,000 active installations and has a rating of 4.5 out of 5 stars from the WordPress community.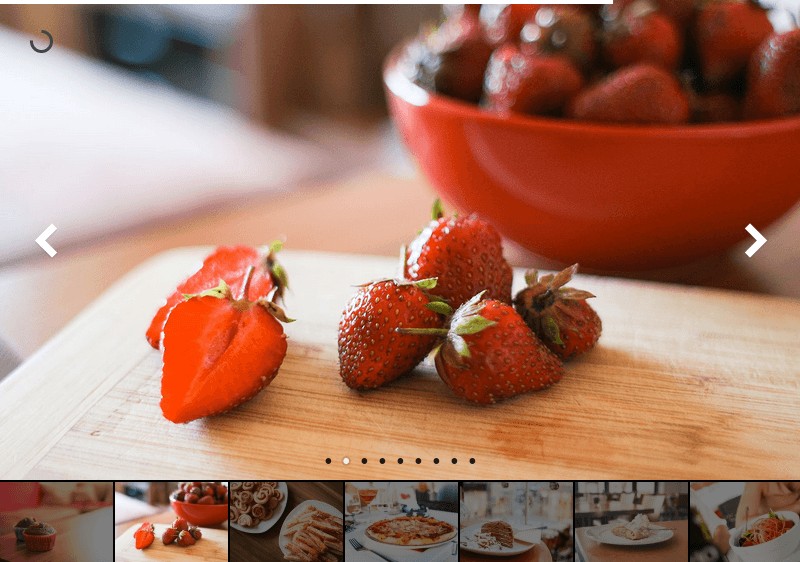 This free WordPress slider creates responsive image and content sliders. It allows for smooth transitions and touch navigation, both of which are features that users love.
This is not the best-integrated WordPress slider plugin, but it still works great with the platform. The interface seems like it came from somewhere else. It can look really amazing on many default WordPress themes. The numbers certainly back this fact up. It has over 100,000 active installs and a rating of 4.5 out of 5 stars from the WordPress community. There is also a paid Pro Version of the plugin.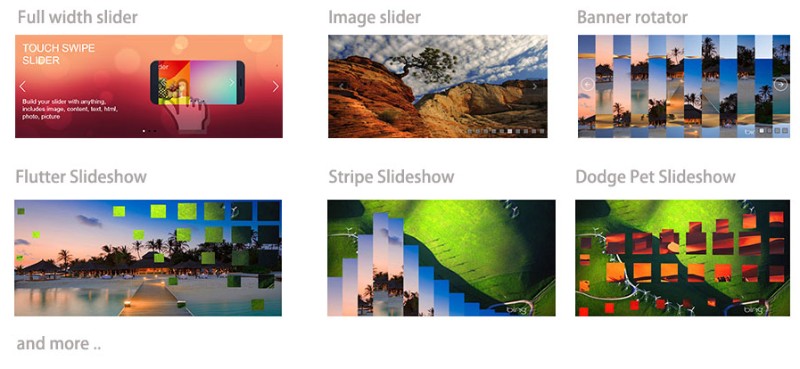 You can install this and create slider widgets in just minutes. You can add a title and set of descriptions to an unlimited number of WordPress slideshows. The slideshows are responsive and it works fine on both Android and Apple devices. While it has a little over 1,000 downloads, but it does have a 4.5 out of 5 stars from the WordPress community.
Ending thoughts on WordPress slideshow
Adding a WordPress slideshow to your site can seem like a massive challenge. With the right slider plugin, however, the process is simplified and the end result is something users will love.
If you enjoyed reading this article about WordPress slideshow, you should read these as well: