Reviewing large amounts of data can be overwhelming. And the more data there is to read, the harder it can be to comb through it.. Enter data visualization tools! Data visualization tools can be very useful.
When data is converted from its original format to a visual guide, the human brain is better able to understand what it sees. Ideally, a good data visualization tool is clear, simple, and aesthetically pleasing.
This article will list the best data visualization tools for small businesses. They are easy to use and versatile, so you can optimize the visual data for your business.
What Are Data Visualization Tools?
Data visualization tools are software applications that help you to convert raw data into a simpler format. Data visualization tools take your data and convert it into pie charts, bar charts, column charts, and et cetera. In such formats, it is easier for you to track trends and patterns.
Many businesses rely on data to help them to operate smoothly. When information is presented in a visual format, it makes it easier for people to consume and understand. In turn, this helps them make sound decisions based on the information presented. When a team can visualize data, it makes it easier to evaluate all the factors and options for a decision.
The uses for data visualizations are extensive. They can be used to demonstrate sales and marketing trends, annual reports, dashboards, and more. In short, they are useful in any situation where data needs to be quickly and easily understood.
The following will discuss some of the best data visualization tools out there.
A List of the Best Data Visualization Tools
Recommended: wpDataTables
wpDataTables can make it that way. There's a good reason why it's the #1 WordPress plugin for creating responsive tables and charts.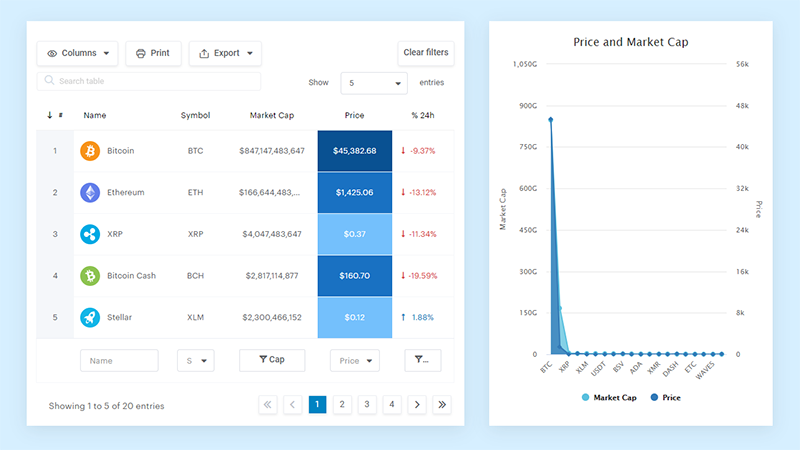 And it's really easy to do something like this:
You provide the table data
Configure and customize it
Publish it in a post or page
And it's not just pretty, but also practical. You can make large tables with up to millions of rows, or you can use advanced filters and search, or you can go wild and make it editable.
"Yeah, but I just like Excel too much and there's nothing like that on websites". Yeah, there is. You can use conditional formatting like in Excel or Google Sheets.
Did I tell you you can create charts too with your data? And that's only a small part. There are lots of other features for you.
FusionCharts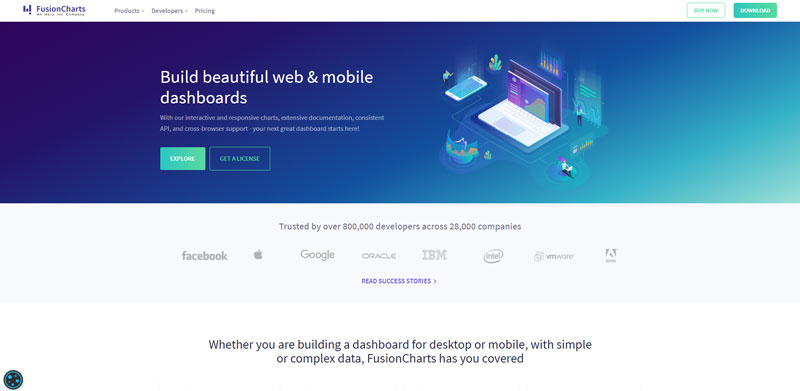 This data visualization tool by InfoSoft Global is great if you want to get started quickly. The first chart or graph can be finished in as little as 15 minutes.
This is a great data visualization tool. It comes with extensive tech support and ready-to-use dashboards. You have over 90 outlines to choose from, such as Zoom Line, Funnel, Map, Heat, and Treemap Charts.
FusionCharts is top of the line when it comes to creating dashboards. It works well with many different frameworks and programming languages. It also includes more features than most visualization tools.
Casual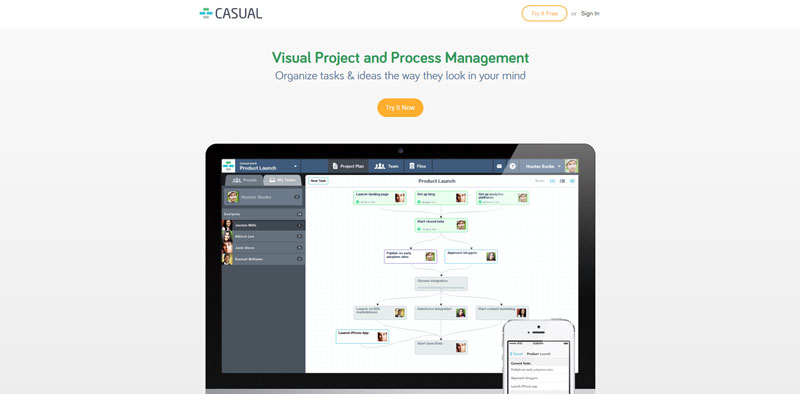 Casual is a great choice for people who like working with flowcharts.
The task flow is presented in a way that is simple to understand and follow. You can organize each project by tasks and then assign them to team members. Then, as team members are assigned tasks, managers are able to control and track their progress.
Infogram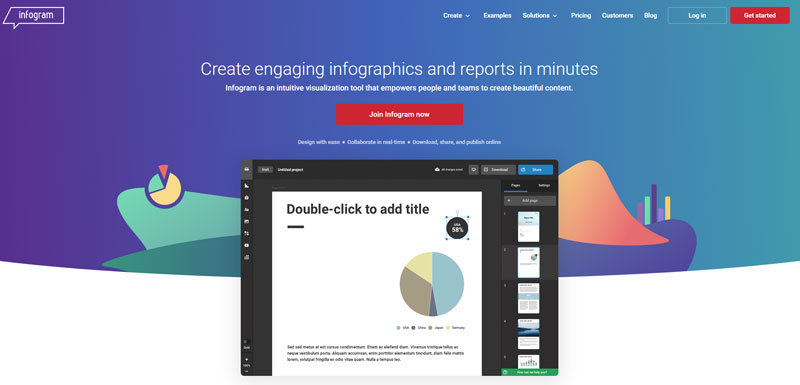 This data visualization tool was built to accommodate even non-designers. The drag-and-drop system helps creators to design professional-looking visualizations. Whether you are organizing data for a marketing report, social media post, infographic, or map, Infogram makes it easy for you.
This tool comes with over 35 chart types and more than 550 map types. It is designed so that you can use the drag-and-drop editor to customize it to your needs.
Another handy feature of this data visualization tool is the ability to export your charts and graphs in various formats, like JPG, PDF, and HTML. You can also create interactive visualizations for your website or app. For WordPress users, this app also supports various WordPress plugins.
In addition to the free plan, which includes all the basic features, there are paid plans with more features.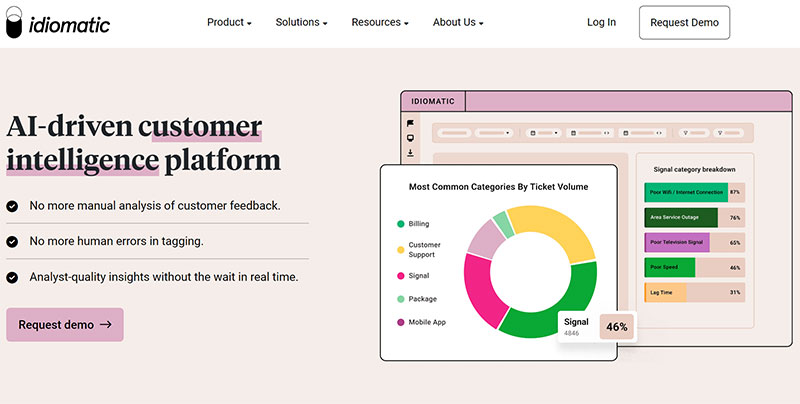 Idiomatic is the perfect data visualization tool for businesses looking to better understand their customer's feedback. This AI-powered software analyzes customer data and surfaces actionable insights to help companies scale.
Customer data is presented through visually appealing tables, charts, and graphs that are easy to understand and analyze. The data is paired with intuitive features that help you zoom out to see the big picture and identify trends, or drill down deeper to better understand an issue.
Some of the customer feedback data that Idiomatic analyzes:
Customer support
Customer service
Social media
Forms and communities
Product reviews
App reviews
Tableau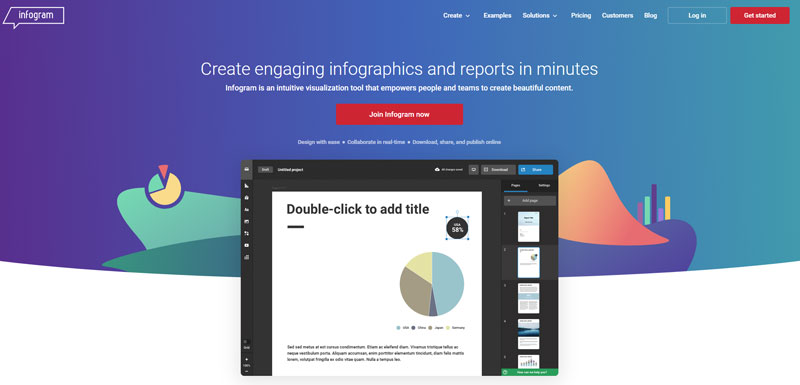 Tableau is one of the top data visualization tools for the field of business intelligence. It helps you organize and present information in an accessible and understandable way. With Tableau, you can create interactive charts, graphs, dashboards, and worksheets that support and advance your business visions.
In addition to the free version, Tableau offers other options for payment. Some of these options include a desktop version and server and hosted online versions. It supports many import options. You also have a variety of output options, like mapping capability and several chart formats.
Below is an overview of this visualization tool:
User friendly
Great visualization abilities
Support for many different data sources
Mobile friendly
Whatagraph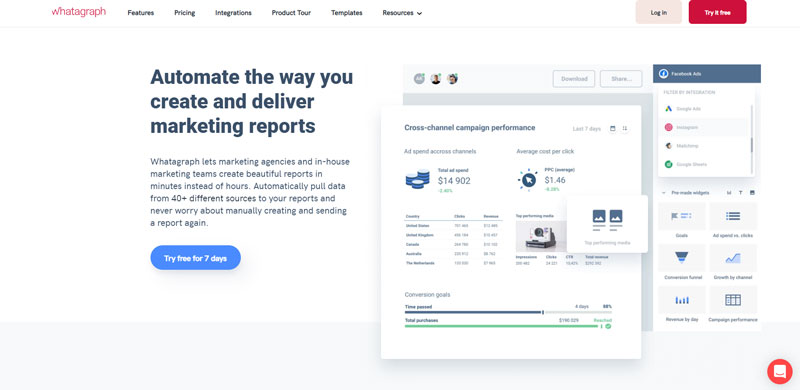 Whatagraph is a great data visualization tool. It allows you to observe and compare data from multiple campaigns at a time. Among other features, you can input information and data from Google Sheets and API. Some of the main features of Whatagraph are
Prefabricated templates
Adjustable style options
Facilitates collaboration with team members
Facilitates communication with clients
Customizing options
Integrate.io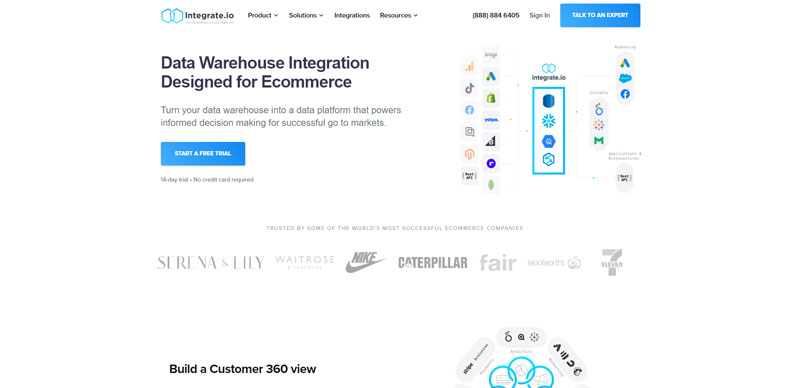 Integrate.io is an integration platform. It helps to prepare your data for processing in a data visualization tool. Integrate.io can incorporate data from over 100 data stores and SaaS applications.
Native connectors make it easy to push or pull data from most main data sources. It also includes connectors for databases, data warehouses, and so on.
Integrage.io also includes support for a point-and-click interface for simple replications and complex data assimilation.
Principle features of Integrate.io include
Advanced API
Customizable platform
Elastic infrastructure
Tech and online meeting support included
Sisense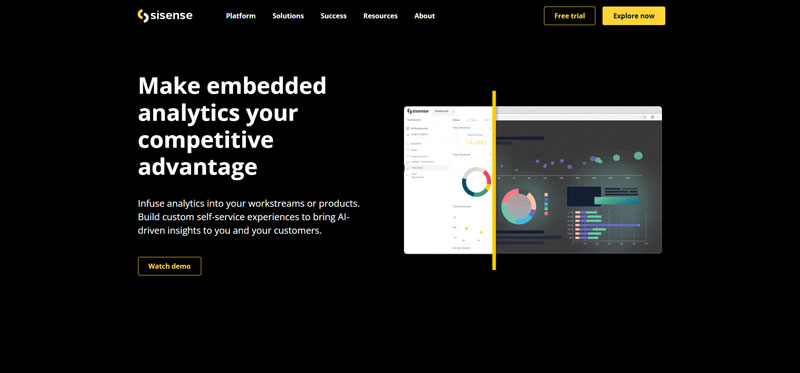 Sisense is a great data visualization tool if you need to simplify data from more than one source.
It is a very agile tool that allows you to access data anywhere. It makes it easy to combine data and isolate important data patterns and statistics. This makes it easier to make data-based decisions. It also includes top-of-the-line customer support.
Main features include
Reliable interface
Fast upgrades
Customizable
User-based security
Ability to export data to multiple external programs, such as Microsoft Excel
ChartBlocks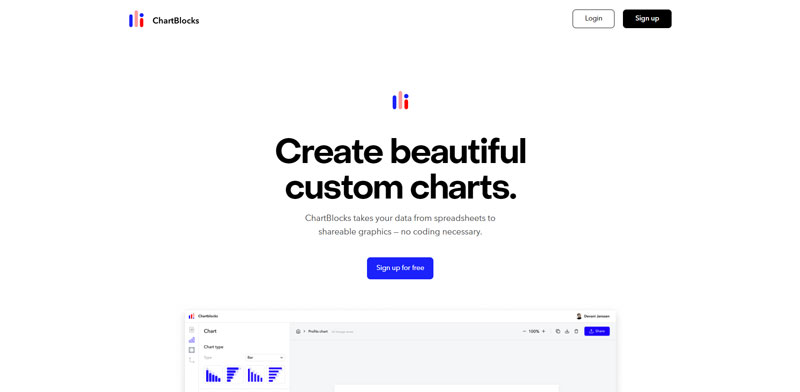 With this data visualization tool, you can import data from anywhere. While this tool is more complicated than apps with automated extensions and modules, it is still easy to import data in just a few clicks.
This data visualization tool has a highly responsive output, and it is easy to create the style of chart you want, and creating basic charts and graphs is exceptionally easy. Its design makes it ideal for designers who are creating charts for websites that will be viewed on different devices.
ChartBlocks has an excellent free version, and the paid plans are reasonably priced.
QlikView
For those who like to access data and make decisions as quickly as possible, this is a great option. This data visualization tool speeds up the analytics process and increases the accuracy of data results.
You can use it to combine diverse data from multiple sources. It supports various forms of data presentation, such as color coded tables, line graphs, pie charts, and so on. QlikView provides data visualization in an original and meaningful way.
Juicebox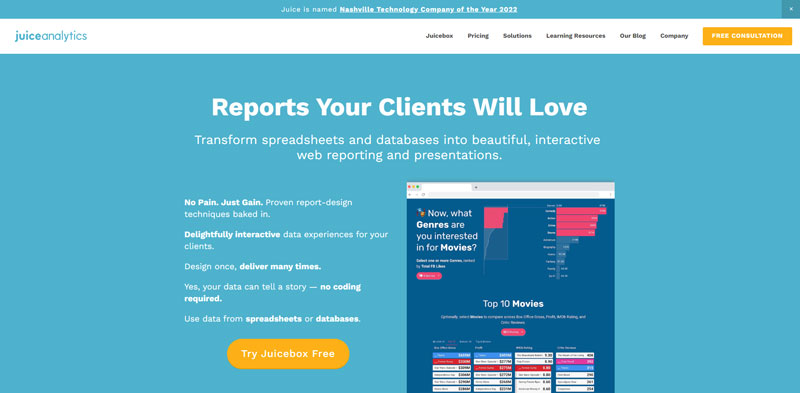 Juicebox is unique among the data visualization tools. It focuses on usability and on data storytelling. It is free for individuals, and reasonably priced for teams.
It is also easy to use, even for people who are not very tech-savvy. In just a few minutes you can learn how to build and design interactive charts, dashboards, and presentations. The data visualizations are interactive and simple to follow, which makes formatting easy. The style designs are simple, but professional. It can be adapted to a mobile view as well. You can upload the data you want to format from multiple data sources and then publish your finished project either privately or publicly.
This easy-to-understand tool is ideal for anyone, even beginners.
IBM Watson Analytics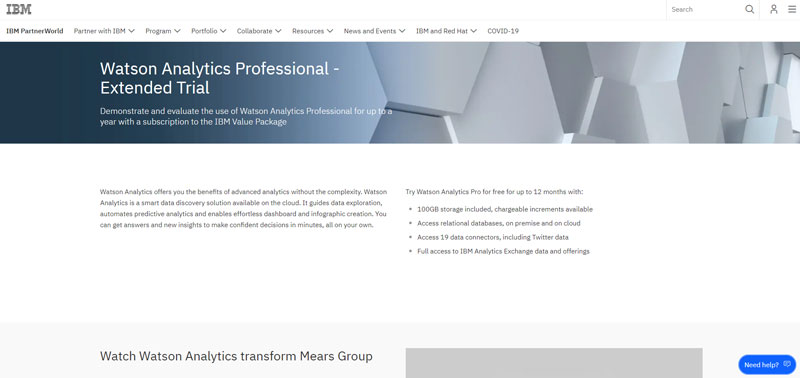 This is one of the best free data visualization tools out there.
Once you upload your data to the platform, prompts indicate the inquiries it can answer for you. Once you choose the action you would like to perform, the program offers you insights and information within seconds. The program also runs robotized prescient examination and keen information disclosure.
Some features include
Easy accessibility from a variety of devices
Self-service dashboards
NLP capabilities
Dundas BI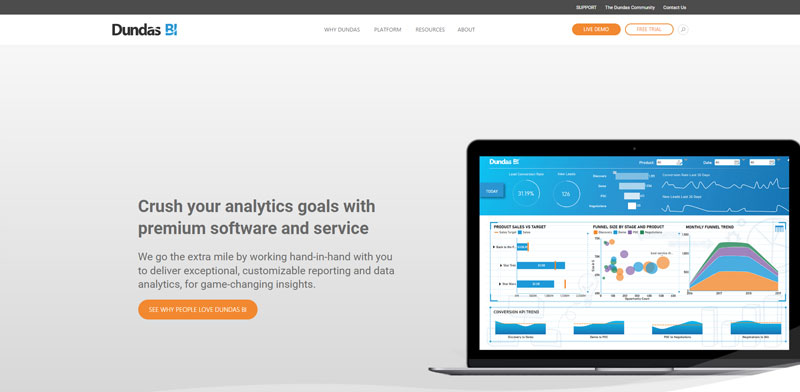 Dundas BI is a business intelligence platform. It can be used as either a data portal on the website you are building, or it can be integrated into your existing site.
Built-in data visualization capabilities help to simplify and clarify the data.Some features include smart tables, a wide variety of chart types and maps, data labels, indicators, and diagrams. This data tool is also designed so that you can access and interact with data from any device.
Google Charts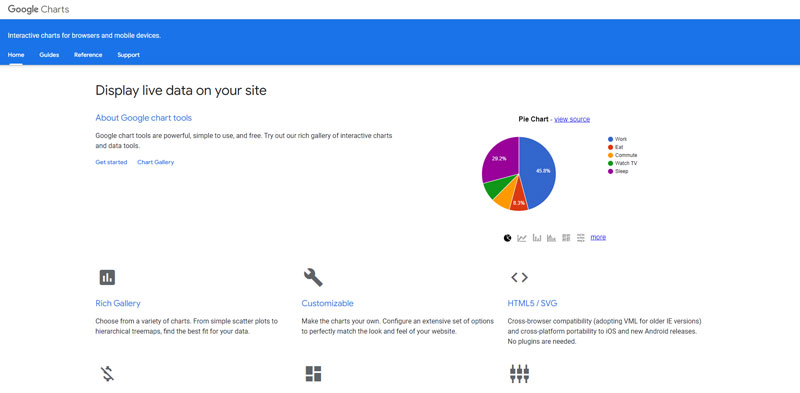 Google Charts is a free data visualization tool for creating and embedding interactive charts online.
The outputs in Google Charts are designed to work without extra plugins. This tool also supports data input from other Google programs, Salesforce, and other databases.
Google Charts also supports Zoom functionality, so you can use it during online meetings. It also works across multiple platforms, like iOS and Android.
Zoho Analytics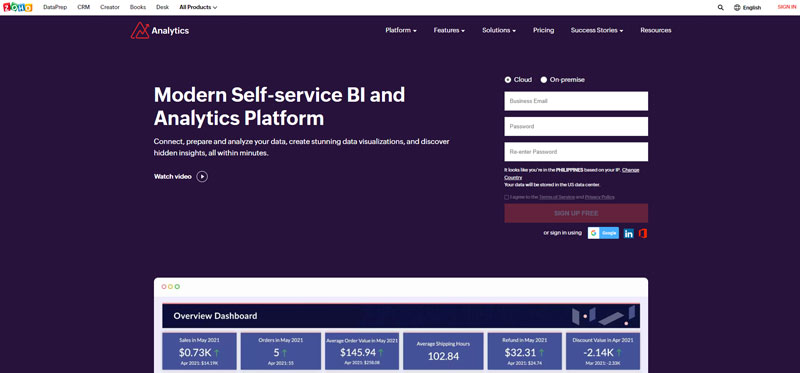 Zoho Analytics, or Zoho Reports, is a great business intelligence data visualization tool. It supports integration for online reporting services. The formatting allows you to quickly create data visualizations and share them in minutes. It also allows you to import big data to your platform from most major databases.
Some great features of Zoho Analytics are as follows:
Many visualization options such as Charts, KPI widgets, Summary views, and Customizable dashboard themes
Data analysis across various apps
Augmented analytics, and an AI and ML-powered assistant
Smart alerts keep you up-to-date
Domo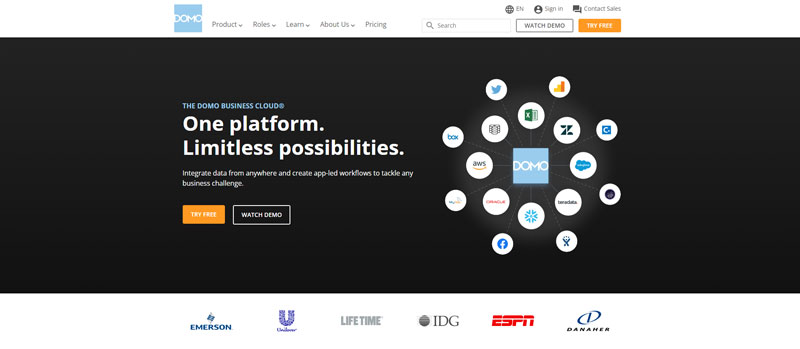 This is a cloud-based platform that allows you to analyze data and then create a visual representation of the information. This app makes analyzing data simple.
Because it is a cloud-based program, Domo makes it easy to keep everyone on the same page. Domo is easy to access on a mobile device and offers both micro and macro-level analysis and visualization. Some other features are
Real-time view of data
Customizable text, color and images
View on any device
Set-up for customized alerts
Automatic data monitoring
D3.js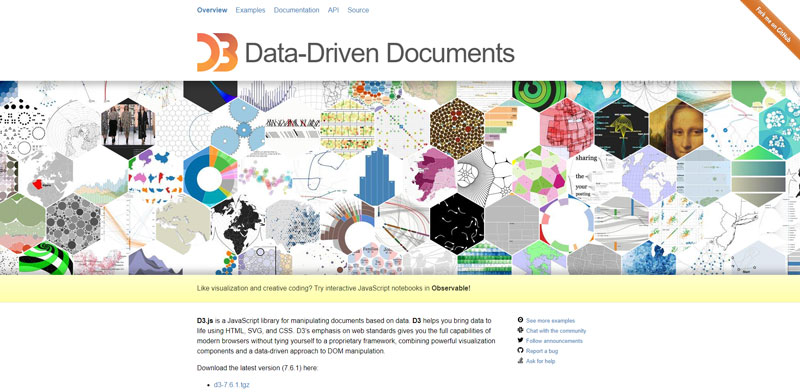 D3.js is a JavaScript program, so it is advisable if you are already somewhat familiar with JavaScript. However, there are other apps that allow you to use D3.js without being familiar with programming, among them are NVD3, Plotly's Chart Studio, and Ember Charts.
Some great features of this program include
Customizable
Numerous possible chart types
Free and open-source program
Microsoft Power BI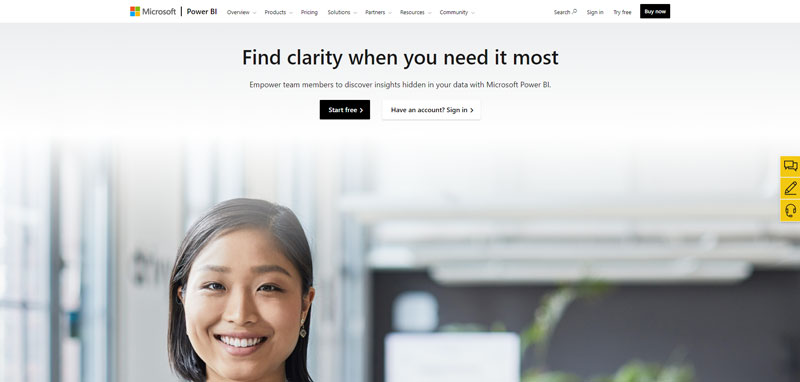 This data visualization tool is very easy to use. It hosts support for backend databases and for either on-premise installation or cloud deployment.
The free version of this app does come with an information limit of 1GB. Yet, it allows you to create dashboards, reports, and other basics.
The pro version of this app allows you to deliver live intuitive information, share inquiries, and more. It allows you to create visually stunning data models and gives you real-time insights to help you make data-driven decisions.
The main features include
Easy integration with existing applications
Personalizable dashboard
High-grade security
No speed or memory constraints
Works with all Microsoft products
Datawrapper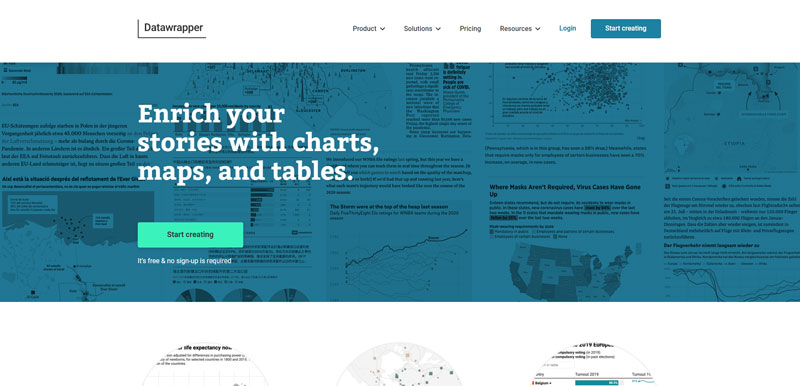 Datawrapper is a user-friendly data visualization tool with a neat, intuitive user interface.
Many data visualization tools boast about being easy to use. But Datawrapper is unique in that it allows you to create maps and charts directly in your browser. Simply upload data files and voila! In addition, the data visualizations created with Datawrapper are designed to be viewed on a variety of devices.
RAWgraphs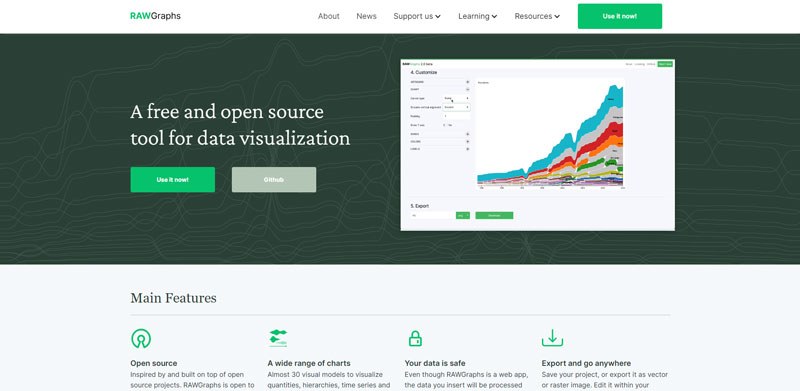 This app makes data visualization easy. It is one of the best data visualization software options. It works great with CSV and TSV. RAWgraphs is a great option for people who want to embed charts and graphs directly into their website.
Some features of RAWgraphs include
Option to copy-paste your data to RAWGraphs
Wide variety of layout options
Immediate feedback on your projects
Export
Support for sharing output to a graphics editing tool
Visme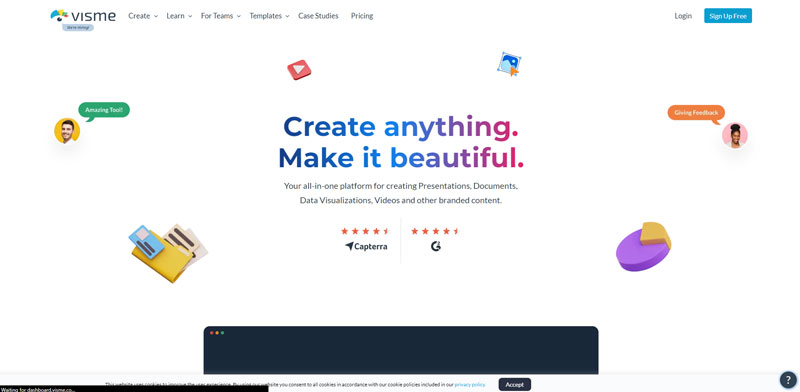 Visme is an excellent data visualization tool for online presentations and infographics. It is specifically designed for users with small businesses, and it is easy to use.
This intuitive tool comes with many eye-catching built-in presentations, and you can adapt the design and layout to fit your needs. It is designed to autosave your work, so you don't lose your progress. It also comes with online and offline modes and allows you to download and share your presentation in either mode. You can even insert videos and animations into your presentations.
Plotly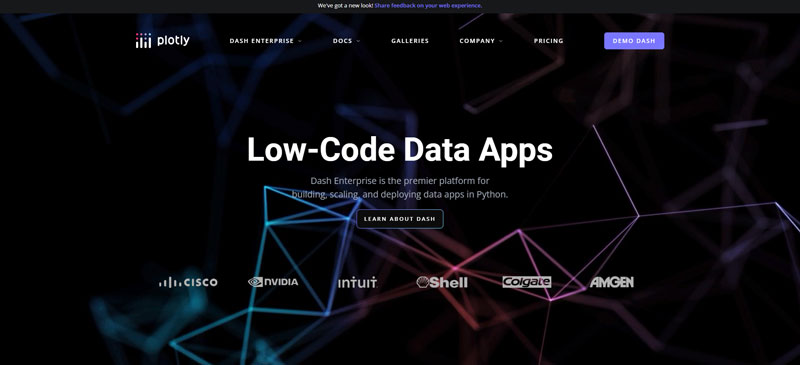 This is a great tool to create interactive maps, charts and graphs. You can use it to create effective data visualizations and share the link over social media platforms.
Sharing links to your data visualizations is easy because each presentation made with Plotly comes with its own unique URL. The interactive charts and graphs support high-quality images. In addition to the premade templates, the drag-and-drop functionality allows you to adapt the data visualizations to your needs.
Other handy features include
Online editing
Highly interactive interface
And server hosting, which facilitates easy sharing
FAQ about data visualization tools
What are the best data visualization tools out there?
Well, let me tell you, there's quite a few to choose from! Some popular ones include Tableau, Power BI, D3.js, and ggplot2. It depends on what you need, really.
If you're looking for a user-friendly, drag-and-drop interface, go for Tableau or Power BI. If you're more into programming, then D3.js (JavaScript library) or ggplot2 (R library) could be your best bet!
Can I create interactive visualizations with these tools?
Absolutely! Tableau, Power BI, and D3.js are all amazing when it comes to creating interactive visuals. You can add filters, hover effects, and clickable elements to make your visualizations more engaging.
It's like giving your audience a hands-on experience, making it easier for them to understand complex data.
How do I choose the right visualization for my data?
This can be a bit tricky, I know. The key is understanding your data and the story you want to tell. Start by asking yourself: What's the main point I want to get across?
Then, consider your data type, the relationships between variables, and the audience you're presenting to. For example, bar charts are great for comparing categories, while scatter plots are perfect for showing correlations.
Are these tools free or do they require a subscription?
Ah, the million-dollar question! Some tools are free, while others require a subscription or a one-time purchase. Tableau Public is free but with limited features, while Tableau Desktop has a paid version.
Power BI offers both free and paid versions as well. D3.js and ggplot2 are open-source and free to use, but you'll need programming skills to get started with them.
How steep is the learning curve for these tools?
Honestly, it varies. Tools like Power BI and Tableau are quite user-friendly, so you can start creating visualizations quickly.
However, mastering advanced features might take time and practice. On the other hand, D3.js and ggplot2 require programming skills, so the learning curve could be steeper if you're not familiar with JavaScript or R.
Can I use data visualization tools for real-time data?
You bet! Many data visualization tools support real-time data processing, enabling you to create live dashboards and visualizations.
Power BI, for example, can connect to various data sources that provide real-time updates. Similarly, Tableau allows you to connect to live data sources or use data extracts that can be refreshed periodically.
Are there any industry-specific data visualization tools?
Yes, there are! Some tools cater to specific industries or domains, like Gephi for network analysis or ParaView for scientific data visualization.
You can also find specialized tools for finance, healthcare, and more. It's all about finding the right fit for your needs.
Can I integrate these tools with other software or platforms?
Of course! Many data visualization tools, like Power BI and Tableau, can integrate with other platforms and services, such as databases, cloud storage, or analytics tools.
This makes it easy to access, analyze, and visualize your data, all in one place.
How important is data storytelling in data visualization?
Data storytelling is super important! It helps you convey complex information in a simple, engaging way. By combining visuals, narrative, and context, you can create a compelling story that helps your audience understand and remember the insights you're sharing.
Always keep your audience in mind and try to make your visualizations as clear and relatable as possible.
How can I improve my data visualization skills?
Great question! Improving your data visualization skills is an ongoing process. Here are a few tips to get you started:
Learn from the experts: Read books, blogs, and articles by data visualization gurus like Edward Tufte or Cole Nussbaumer Knaflic. They offer valuable insights and best practices.
Practice, practice, practice: The more you work with different data sets and visualization tools, the better you'll get at understanding which visualizations work best for different scenarios.
Get feedback: Share your work with others, ask for constructive criticism, and learn from their perspectives.
Stay up-to-date: Keep an eye on new tools, techniques, and trends in the data visualization world. This will help you stay relevant and adapt to new developments.
Participate in the community: Join data visualization forums, attend webinars, and connect with like-minded people. This will not only help you learn from others but also expand your network.
Remember, becoming proficient in data visualization takes time, patience, and dedication. Keep learning, experimenting, and refining your skills, and you'll see improvement over time.
The Complete Visual on Data Visualization Tools
Data visualization tools provide new ways of looking at raw data. It doesn't change it, but it does give a new perspective and makes numbers and statistics easier to understand.
Especially in the field of data science, keeping up with the latest tools for data visualization is really important. Staying up-to-date with the latest data visualization tools can help them to keep up with big data and the fast-paced field of AI and ML.
There is a lot that goes into creating effective data visualization. Having the right tools and knowing how to use them is only one aspect of data visualization, but having the right tools at your disposal and knowing how to make the most of them is definitely a big step in the right direction.
If you enjoyed reading this article about data visualization tools, you should also check out this one about interactive data visualization.
We also wrote about a few related subjects like misleading data visualization examples, WordPress data visualization, data visualization color palette examples, data visualization best practices, and data visualization examples.