Simple number tables are a good way of organizing information; however, it is not always the best way to display data on a website. Consumers don't often like that kind of data visualization, and as publishers, we need to take their preferences into account. There are other options, like infographics and tables with interactive options. Importing and exporting data are other popular additions.
Methods for converting numbers to other formats have been around for a long time, but data visualization tools are much newer. WordPress data visualization plugins have been on the market for about five years.
Some of these data visualization WordPress plugins can make dynamic charts and tables based on the user's input. With data visualizations, you can attract viewers and keep them as an audience. You can improve your interaction with your users and keep them engaged.
Which of the many data visualization plugins is best for you? Searching for the right one can be overwhelming and time-consuming. On top of that, making charts is not the only thing these publishing tools can do.
This article will show you some of the very best WordPress data visualization plugins that you can download.
Recommended: wpDataTables
wpDataTables can make it that way. There's a good reason why it's the #1 WordPress plugin for creating responsive tables and charts.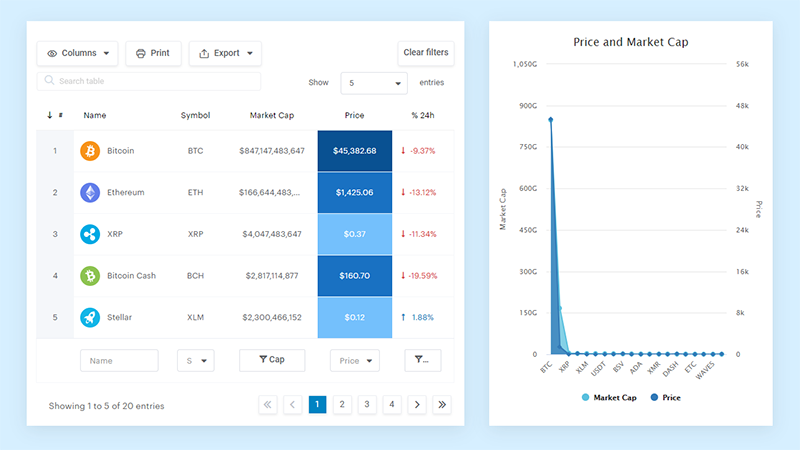 And it's really easy to do something like this:
You provide the table data
Configure and customize it
Publish it in a post or page
And it's not just pretty, but also practical. You can make large tables with up to millions of rows, or you can use advanced filters and search, or you can go wild and make it editable.
"Yeah, but I just like Excel too much and there's nothing like that on websites". Yeah, there is. You can use conditional formatting like in Excel or Google Sheets.
Did I tell you you can create charts too with your data? And that's only a small part. There are lots of other features for you.
WPForms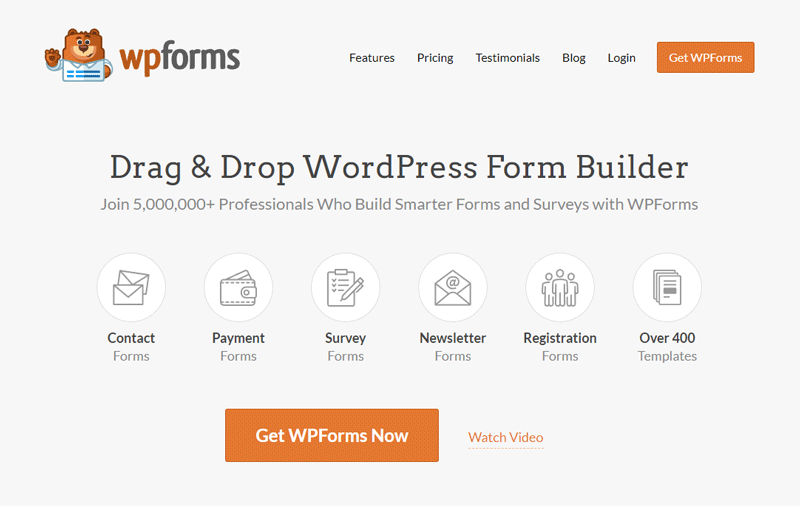 WPForms is the right tool for converting campaign data into logical graphs and charts. It generates shortcodes for your charts and graphs that you can copy and paste into your WordPress website. That makes embedding charts and graphs even easier.
WPForms has many powerful features. You can add different functions to your chart fields. Some useful functions are
Checkboxes
Dropdown fields
Radio buttons
Stars ratings
Text
And more
Another feature is the Conditional Logic feature. This is useful when you are doing surveys. You can determine which questions to hide or show, depending on the participant's previous answers.
These features make this data visualization plugin most suitable for store owners and marketers. After gathering survey data, they can visualize the information and extract the most important information.
Formidable Forms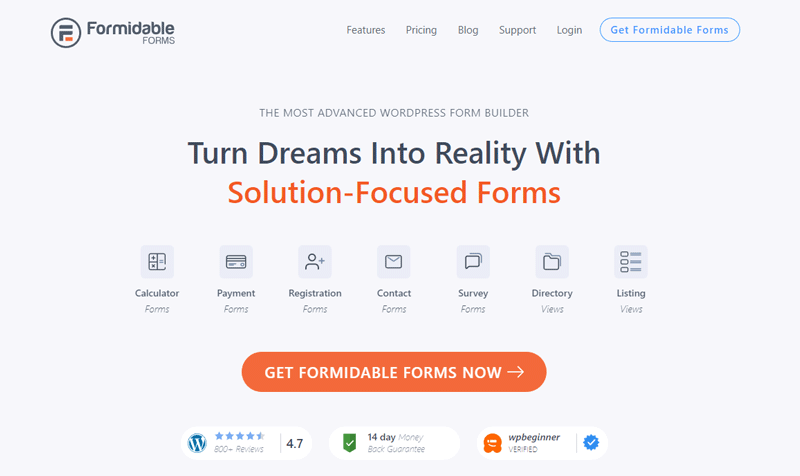 This is one of the most popular data visualization WordPress plugins available. It comes with a handy drag-and-drop builder with various features of fast data import. It also works together with Elementor and Gutenberg.
With this plugin, you can create many different kinds of tables with high levels of complexity. You can make
Area graphs
Geographic area graphs
Heat maps
Histograms
Line graphs
Pie charts
Simple column graphs
Stepped area graphs
Vertical and horizontal graphs
And more
You can add stylings by applying one of the many shortcode parameters. It has all the tools to make your charts and graphs appear the way you like.
Many of us don't have the skills or know-how to generate shortcodes. Formidable Forms has a shortcode builder that guides you through the process. You can select your choices from a dropdown list and the code builder will do the rest.
This WordPress plugin is best suited for people that want to be able to display data in many different ways.
EZ SQL Reports Shortcode Widget and DB Backup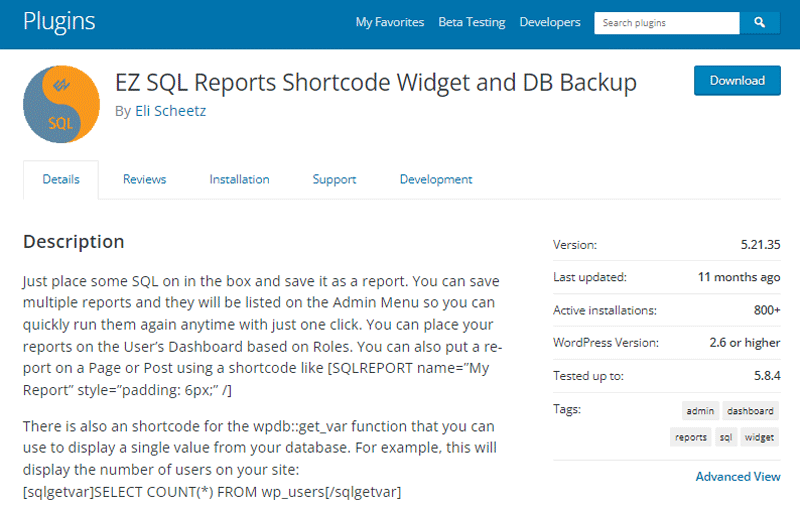 You can do two things with EZ SQL Reports Shortcode Widget and DB Backup. You can access your MySQL database with ease. Then you can display the database's data on your WordPress website.
This plugin is very different from the other ones. You have the option to display reports according to user roles on the admin dashboard. For example, you can show one report type to administrators, while you show another type to editors and authors.
These role-based viewing limitations apply within the admin dashboard. You decide what to publish on your website or blog.
EZ SQL Reports Shortcode Widget is very useful for professionals that need clear visual data reports of
Employee and client information
Financial reports
Marketing statistics
Website analytics
As the name indicates, it generates shortcodes for easy publication on websites. You can display any kind of data with it.
Data Tables Generator by Supsystic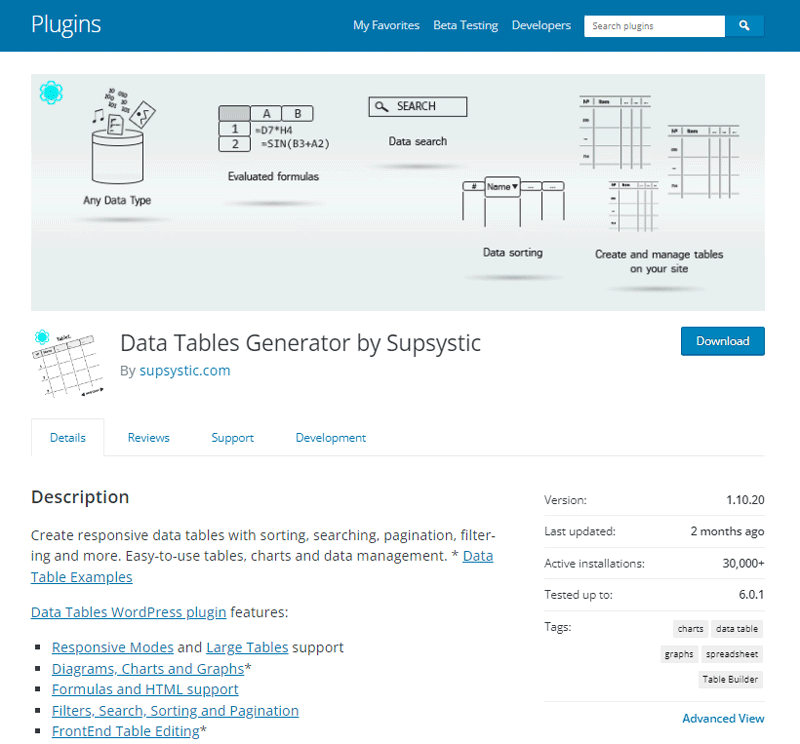 If you have large data sets to publish, Data Tables Generator by Supsystic might be a good choice. It doesn't have limits on the number of columns or rows and allows for front-end editing. You can add sorting and searching functions and pagination.
Making tables is further facilitated because of the easy import data function. You can import from Excel, CSV files, Google spreadsheets, and PDFs. The plugin can then convert the data into charts, graphs, or tables.
Data Tables Generator is very easy to work with, even if you are not a data management expert. It enables you to make professional data visualizations.
It is important to note that this data visualization plugin integrates with WooCommerce. So, you can make product tables and display them to your website visitors. This is a feature that you only get with the Pro plan.
M Chart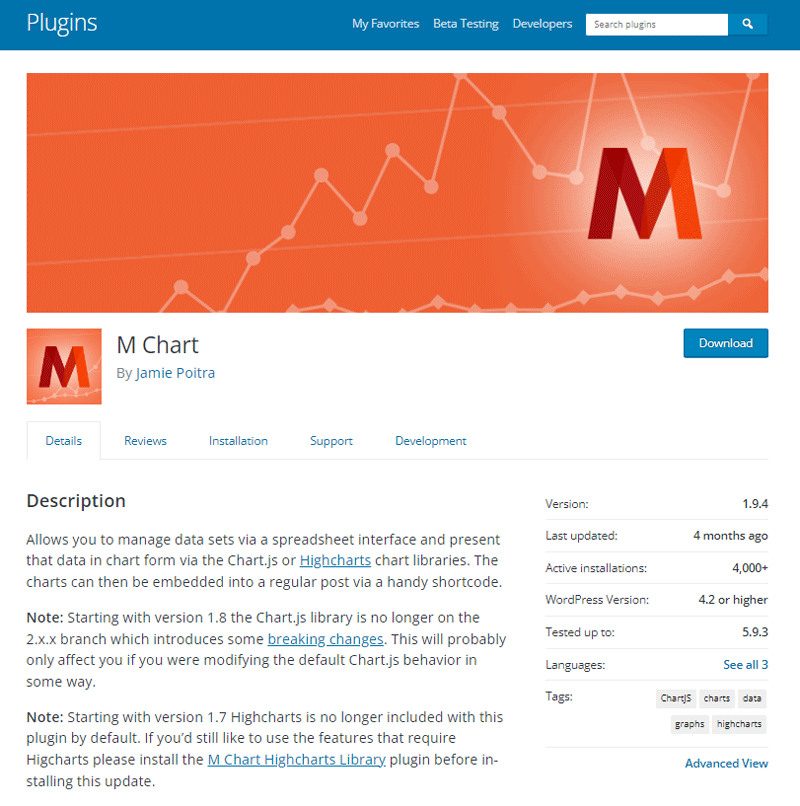 This simple data visualization WordPress plugin for making bar, column, line, or pie charts uses Highchart libraries and Chart.js. If you, like many,
have experience in making spreadsheets and converting that data into a chart or graph, you won't have any trouble working with M Chart.
A disadvantage of the plugin is that there are no styling options for the charts. That is to say, if you don't want to dive into CSS; however, if you are comfortable with doing so, you can add CSS stylings as much as you want.
An advantage is that it is one of the most straightforward data visualization WordPress plugins available.
The plugin comes with a set of ready-made units of calculation. Another plugin is best if you want different calculations and don't want to invest too much time.
UberChart Plugin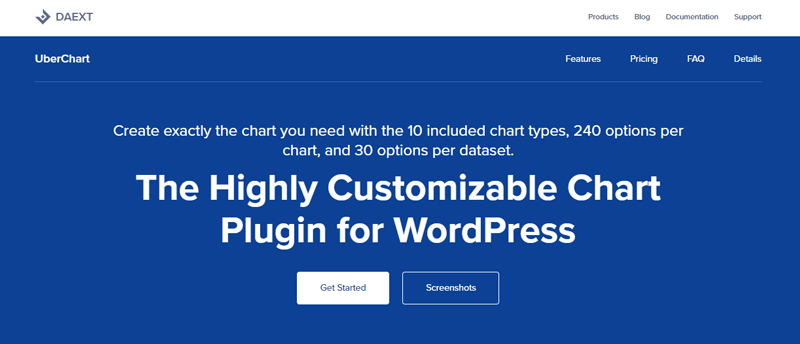 This plugin lets you create charts and add them to your WordPress blog posts. Your data visualization will make the right impression. You can choose from over 30 customization options for each data set. There are 240 options for charts.
With the customization options, you can adjust colors, fonts, and responsiveness. The plugin lets you add animations and post them straight away on your WordPress websites. Other options include the customization of scales and axes to the presented data.
There are ten different chart types, such as bar charts. A benefit is that you can create charts and update them fast. If you need to make changes to your charts, you won't have to start from scratch. You can even turn your favorite charts and graphs into templates.
MonsterInsights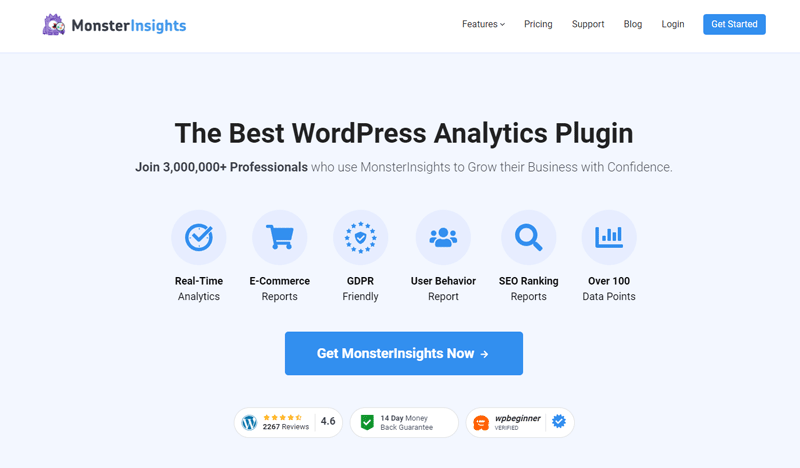 MonsterInsights is an awesome tool for visualizing data. This WordPress plugin has a very practical and straightforward user interface. You will get used to this tool very quickly.
In short, MonsterInsights is a data visualization plugin that can collect data from different sources. Then it converts them into charts and graphs. It integrates with many other plugins, such as
Google AdSense
Google Analytics
Pretty Links
WooCommerce
Yoast
One of the most popular integrations is with Google Analytics. You can import straight from it and convert the numbers to more informative charts and graphs.
It is best suited for agencies, bloggers, and business owners. This plugin will help you to understand the way your audience or customers are interacting with your WordPress website. It equips you to make better content and keep your audience engaged.
WP Charts and Graphs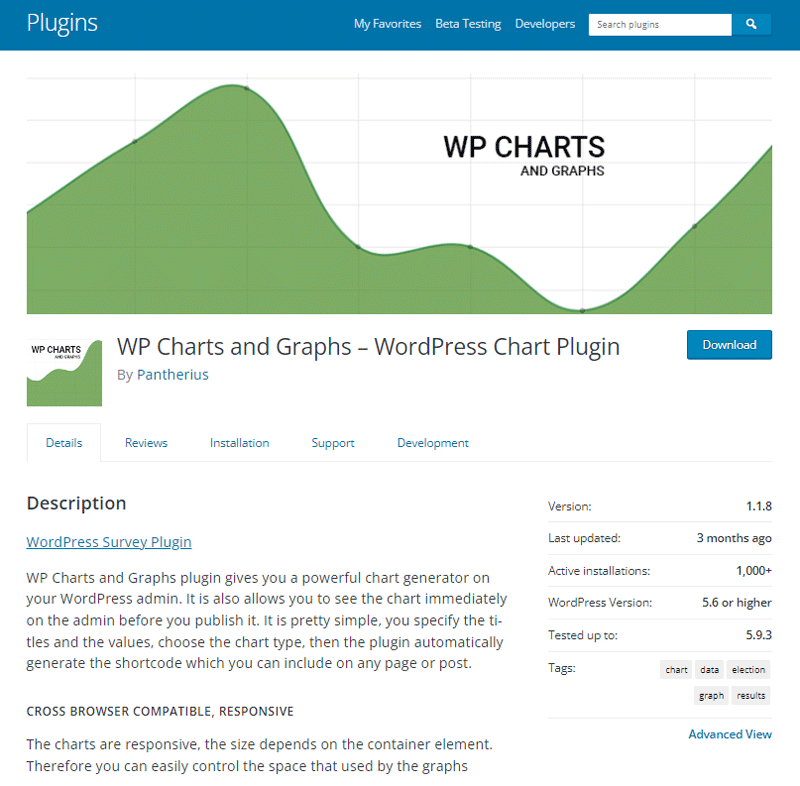 This basic WordPress plugin lets you create tables and charts. It offers six templates that you can use. To publish a chart, you need to insert a shortcode with the correct values.
You can't import data from CSV, XLS, or XLSX files straight into the plugin, so, depending on your needs, you might want to find a different plugin.
The fact that it is simple makes it easy to work with. On the downside, it lacks various features that other data table generator plugins have. There is no settings page, no list with recent items, or customizable color palette.
If you don't mind the limitations, you will love how fast and easy this plugin works.
Visualizer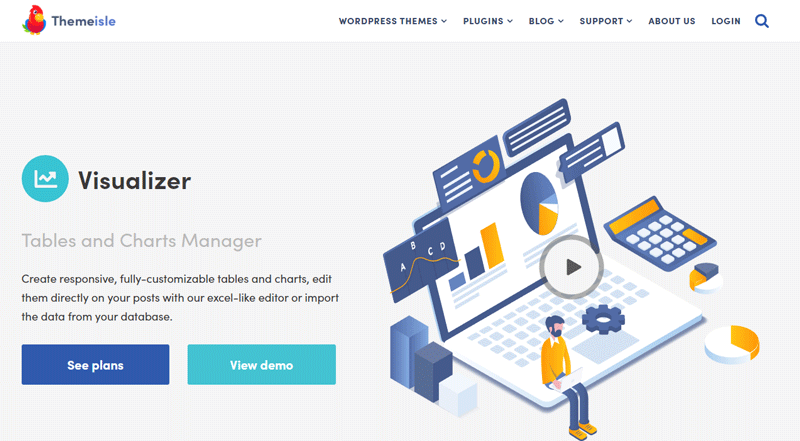 The Visualizer plugin is another great WordPress data visualization plugin. It is famous because it has many interactive features.
In the free version, you can import data straight from Google Sheets or a CSV file. In the premium version, you can also import from WordPress. Once imported, you can transform the data into interactive charts and graphs.
If you get the basic version you can make nine different types of charts:
Area charts
Bar charts
Bubble charts
Column charts
Geo charts
Line charts
Pie charts
Scatter charts
Table charts
The premium version offers six more chart types and full email support.
Include interactive tables with the Visualizer plugin. You can make pricing tables, and divide long tables into pages. Website visitors can organize tables by searching and sorting the information.
TablePress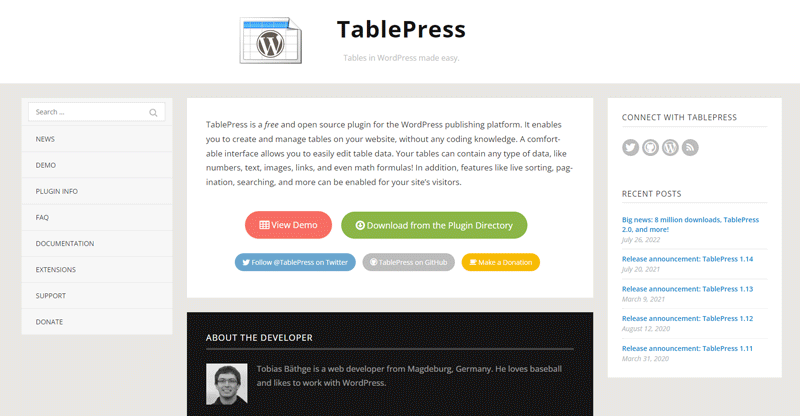 This could be a good choice for those that have little or no experience in HTML. TablePress has a user-friendly interface that allows you to make and manage tables on WordPress websites.
This great plugin lets you make and keep tables up-to-date. You can do all the WordPress dashboard data management and then embed it into your website or use a text widget.
TablePress has an interface that is very much like Microsoft Excel or Google Sheets. Like these spreadsheet editors, it can work with formulas, sorting, filtering, and pagination. Another important feature is the importing of different data formats.
UberChart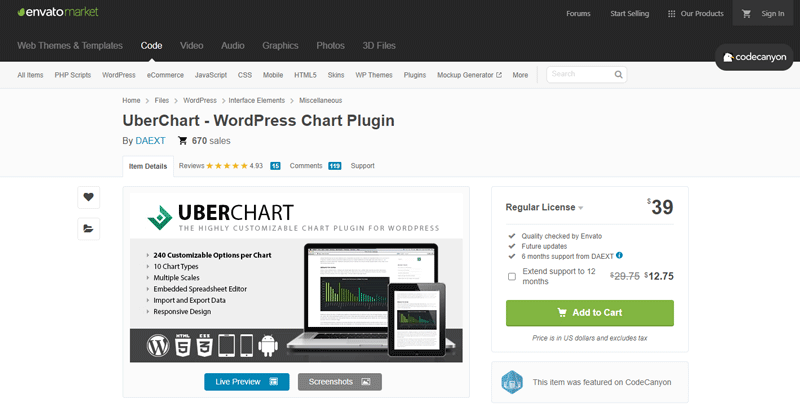 UberChart is a paid WordPress plugin within which you can create charts. It is part of this list because it is one of the best WordPress data visualization plugins. It has a complete set of data import and customization options. Adding charts to your websites is fast and painless.
With this tool, you'll be equipped to make different chart types. Each chart has more than 200 customization options.
It supports all the common spreadsheet formats. You can import data from any source that you can imagine. You can export data from UberChart to XML files, which is very convenient for creating backups or transferring or copying data from one website to another.
With UberChart you can also enter data directly. The plugin contains a spreadsheet editor for this purpose.
The pre-built models are very useful if you are in a hurry to publish your data visualizations. These models put your data in a template that, with minimal editing, is ready for publishing.
Infographic Maker – iList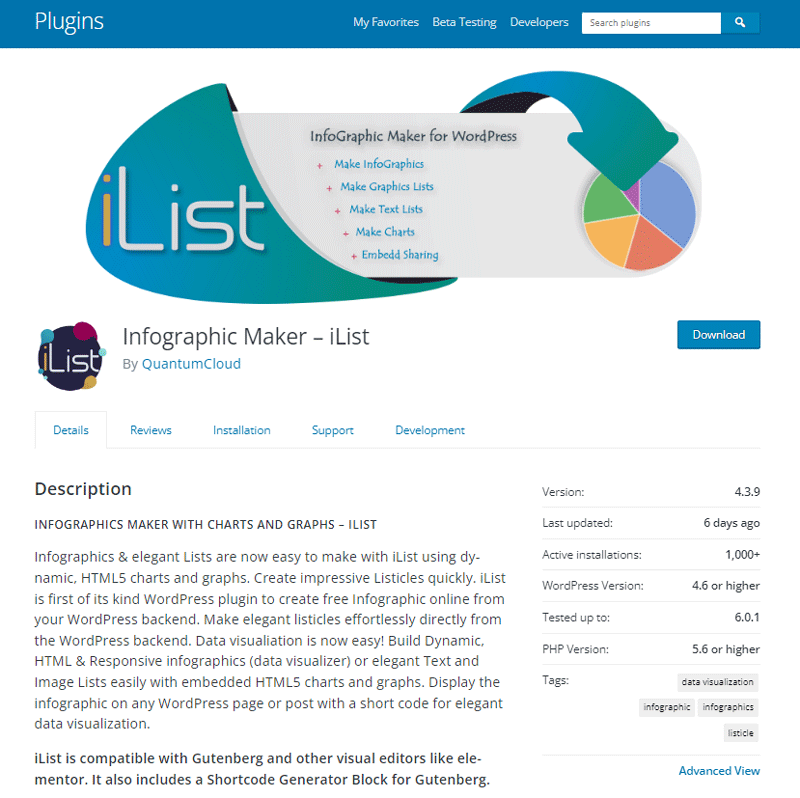 With iList Infographic Maker, you can create graphics from data for websites. It takes only a couple of clicks to make responsive charts and other infographics and add them to your WordPress websites.
The plugin generates shortcodes so that you can situate your graphics on the page.
This plugin works in a way similar to Visualizer. It converts raw numbers into graphs and charts. There are 14 ready-made templates at your disposal. You can further customize them with text and pictures in any way you want.
The design of iList Infographic Maker is SEO-optimized, which is an important feature for many users.
FAQ about WordPress data visualization
What is Data Visualization in WordPress?
Ah, data visualization. It's all about turning numbers into something more digestible, right? Imagine graphs, charts, and interactive displays, all nestled into your WordPress site.
They make complex data fun, interactive, and simple to understand. It's kind of like turning a spreadsheet into a colorful piece of art, and WordPress plugins make it all possible.
How do I Create Data Visualizations on WordPress?
Easy-peasy! There are various plugins available that let you create stunning data visualizations. Some popular ones include WPDataTables, Visualizer, and Interactive Geo Maps.
You just install the plugin, feed in your data, choose a visual style, and voila! Your data is now a beautiful, interactive experience. No need to be a programming wizard or graphic designer!
What Types of Data Visualization can I create on WordPress?
Oh, the possibilities are endless! From line graphs, bar charts, pie diagrams, scatter plots, to even geographical heat maps.
You want a donut chart? You got it! How about a timeline or a bubble chart? No problemo! The type of visualization depends on the plugin you're using and, of course, the data you're working with.
What is the Best Plugin for Data Visualization on WordPress?
Well, "best" is a bit subjective. It really depends on your needs. But hey, if you're asking for recommendations, wpDataTables is often a hit.
They're user-friendly and offer a wide array of visualization options. Interactive Geo Maps is also great for geographical data. But remember, the best plugin is the one that best suits your data and design preferences.
Can I Customize the Look of My Data Visualizations?
Absolutely! Most plugins offer a variety of customization options. You can play around with colors, sizes, labels, and more.
You can match the look with your site's theme, or go wild and make it stand out. After all, your data visualization should not just inform, but also charm your visitors, right?
Do I Need Coding Skills to Create Data Visualizations on WordPress?
Coding skills? Nah, not really. Most plugins do the heavy lifting for you. They provide user-friendly interfaces where you can simply input your data, select your visualization type, and tweak the design to your heart's content.
Of course, if you're a code ninja, some plugins do offer advanced customization options. But for most of us, no coding is required.
How Can I Make My Data Visualizations Interactive?
Interactivity is the spice of data visualization! Most WordPress plugins offer interactive elements like hover effects, clickable points or areas, zooming, and panning.
This makes your data not just visually appealing, but also engaging. It's like inviting your visitors to play with the data, and who wouldn't want that?
How Do I Update My Data Visualizations?
Keeping your data up to date is crucial. With most plugins, you can simply replace the old data with new ones, and the visualization will update automatically.
Some even offer real-time data updates if you link them to a live data source. So no worries about outdated graphs or charts, they're as fresh as your morning coffee.
Can I Embed Data Visualizations in My Posts or Pages?
Yes, you can! Once you create a data visualization, most plugins generate a shortcode. You just copy this shortcode and paste it into your post or page editor, and bam!
Your beautiful, interactive data visualization appears right where you want it. It's like magic, but better!
Are Data Visualizations Mobile-Friendly?
You bet! Most WordPress data visualization plugins are designed to be responsive.
This means they'll look great and work well on all devices, be it a desktop, tablet, or smartphone. Your visitors can interact with your data visualizations no matter what device they're using.
Now, isn't that just perfect for our on-the-go digital world?
There you have it! A whirlwind tour of data visualization in WordPress. Now go ahead, unleash the power of data on your WordPress site. Your visitors are going to love it!
What Is the Best WordPress Data Visualization Plugin for You?
Data and data sets continue to grow bigger and more important in this age of machine learning. The information this generates is difficult to process for humans. So, we need tools to visualize it and make it understandable.
Data visualization is thus essential to communicate information. This blog presented some of the best tools to accomplish this work. WordPress data visualization can transform large data sets into something understandable and enjoyable. Using these tools will help you to get your point across and convince your audience.
If you enjoyed reading this article about WordPress data visualization, you should also check out this one about interactive data visualization.
We also wrote about a few related subjects like misleading data visualization examples, data visualization tools, data visualization color palette examples, data visualization best practices, and data visualization examples.