More and more finance teams collect and analyze data. They aim to recognize trends and make more reliable and informed decisions.
With the increased complexity of today's markets, simply compiling raw data does not lead to significant findings. So what can you do?
If you are part of a finance team, you have likely used financial data visualizations. They allow you to present actionable insights according to your audience's knowledge and how much detail they need.
But what are financial data visualization tools? How can you use them? And how can you choose the right tools to support your work?
Continue reading to learn all about these key features of finance analytics.
What Is a Data Visualization Tool?
Financial data visualization tools are within a specific type of software. Its goal is to support efficient data analytics. As such, it allows you to visualize data in unique charts, tables, graphs, and other visual tools.
Traditional methods for sorting and presenting statistical data are challenging and time-consuming. Yet, if you incorporate such tools, you can easily visualize financial data while saving time and money.
Data visualization offers an immense number of possibilities for business intelligence. It helps organizations establish realistic goals and provides decision-makers with reliable insights.
Besides, people process images much better than they do text. Thus, you can use a data visualization tool to present graphics instead of simple reports.
With it, you can import data from your data silos to build visualizations. Depending on the tool, you can also access built-in templates and get customization options.
Ten Data Visualization Software Tools You Can Use
Now that you know what a data visualization tool is and how it can add value to your work, you can explore some options. There are numerous software alternatives from which to choose.
You must analyze their particularities and understand what they each entail. Doing so will allow you to pick the ideal data visualization tool for your teams' projects.
Recommended: wpDataTables
If you haven't heard about wpDataTables then you absolutely should. It's a game-changer for all you financial analysts, web designers, and developers working in the financial industry.
Trust me, this tool is going to revolutionize how you visualize and present complex financial data online.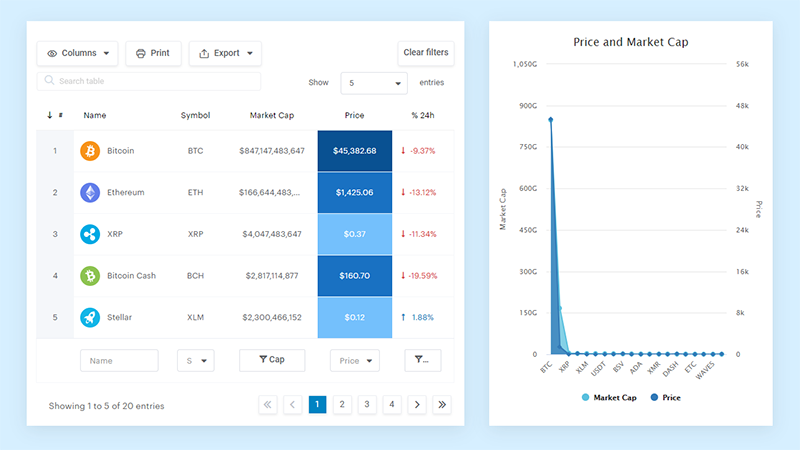 Elevate Your Data Game: With wpDataTables, you can create stunning and interactive charts, graphs, and tables, making it a breeze to turn heaps of data into visually appealing and easy-to-understand formats. Say goodbye to dull spreadsheets!
Effortless Integration: wpDataTables is based on WordPress. Just install it, and you're good to go!
Real-Time Updates: wpDataTables automatically syncs with your data source, ensuring you always have the latest information at your fingertips.
Customization Galore: Want to match your brand or client's style? wpDataTables offers a wide range of customization options, so you can tweak colors, fonts, and layouts to your heart's content.
Filter and Sort Like a Pro: Save time with advanced filtering and sorting capabilities. Drill down into your data, find the insights that matter, and get the answers you need – fast.
Responsive and Mobile-Friendly: Mobile devices are everywhere. Guess what? wpDataTables is fully responsive and works like a charm on any screen size. Your data may be great but now it will also look amazing, whether it's on a tiny smartphone or a 4K monitor.
Top-Notch Support: Stuck or need help? The friendly and knowledgeable wpDataTables support team is just an email away.
If you're looking to elevate your financial data visualization game and impress your clients, wpDataTables is the way to go. Don't miss out on this opportunity to supercharge your data presentations.
Want to know more? Check out all the awesome features that wpDataTables has and give your financial data the visual makeover it deserves.
Business Analytics Platforms
QlikView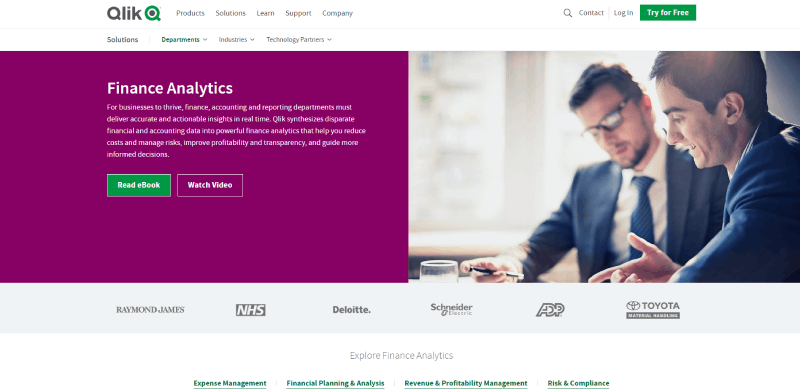 QlikView is one of the most popular financial data visualization tools. It focuses on helping business departments get real-time, accurate, and actionable insights.
Thus, it helps you maintain compliance and reduce costs while managing risks within your operation. This way, you can improve profitability, transparency, and guidance for decision-making processes.
Similar to other data visualization software alternatives, QlikView has native templates and charts. It also supports numerous filtering options to ensure it uses the right data in each graphic.
Despite its many advantages, this tool has a steep learning curve. It demands some research and training time.
Because of this, it might be a better option for larger organizations. However, you benefit from its comprehensive documentation. You can access the tool's resource library, free trials, and a unique training portal.
Sisense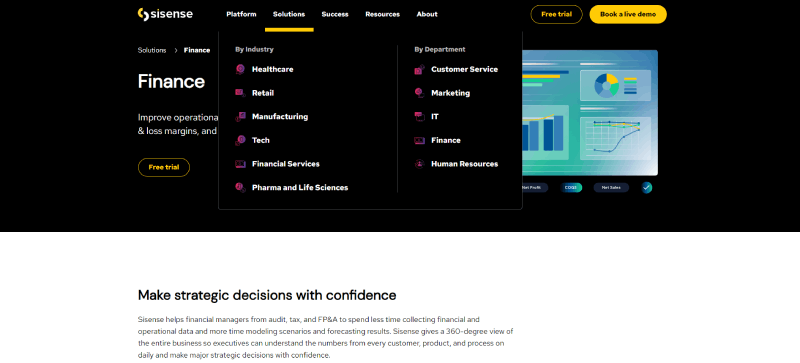 Sisense is a unique business intelligence and data visualization software. It delivers ingrained analytics and infusion apps to streamline cash flow management.
With this tool, you understand profit and loss margins and how to improve operational efficiencies. This way, you can confidently make strategic decisions and set more realistic goals for your business.
Sisense helps you visualize data in different formats to suit various industries and departments. Finance teams can use it to build interactive charts and engaging dashboards to represent intricate data.
You can connect it to multiple data sources and access it anywhere and from any device. Plus, it scales with your business. You can integrate it with Git and build interactive widgets.
Like other tools, Sisense offers diverse supporting resources, from whitepapers to training courses. It even covers an embedded playground for developers to explore its customization possibilities.
Zoho Analytics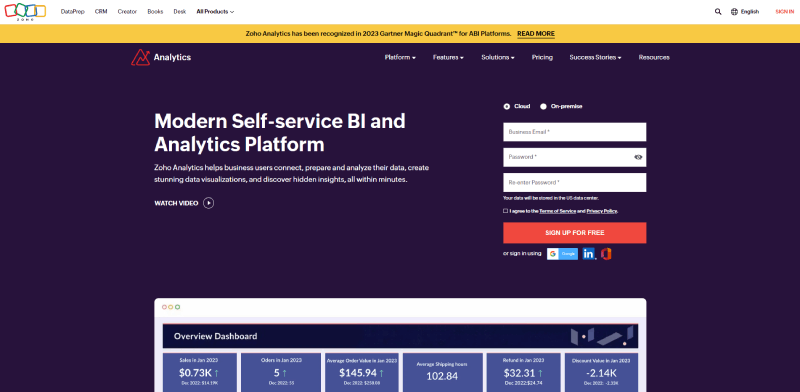 Zoho Analytics is a data visualization platform that merges business intelligence and analytics. Besides enabling various types of data visualization, it has a massive selection of resources.
You get a comprehensive dashboard to support your business activity and track sales performance. It shows you accurate data at the best moment to help you make solid, informed decisions in minutes.
Zoho Analytics has conquered millions of active users worldwide. It approaches all the aspects that make data visualization important. It simplifies data science, supporting business members while they transform and analyze information.
This data visualization platform allows you to build dashboards and charts with a low or no-code model. Then, you can use Zoho Analytics to share them as stories with other users.
Data Visualization Software Products
Power BI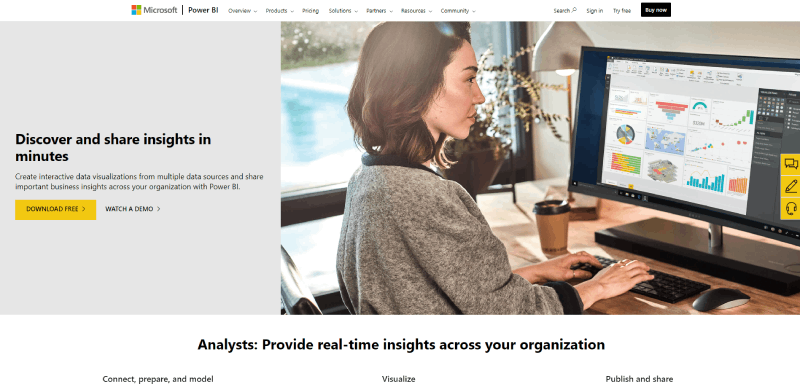 Microsoft Power BI is a tool that allows you to create interactive data visualizations from multiple data sources. It focuses on helping you deliver real-time data analytics to your business collaborators.
This software has specific features that support the efficient treatment of financial data. You get extensive documentation to use the native templates and leverage from its other tools.
Another advantage lies in the possibility of integrating it with Microsoft Excel. Doing so will streamline processes like data compilation, analysis, and transformation.
You can use Microsoft Power BI for intricate and sizable data sets without affecting its responsiveness. Plus, you can use its drag-and-drop feature and point-and-click analysis to build models automatically.
You can download this business intelligence tool for free or opt for one of the other paid license options available. Thus, with Power BI, you will save even more time and increase your business possibilities.
Workday Adaptive Planning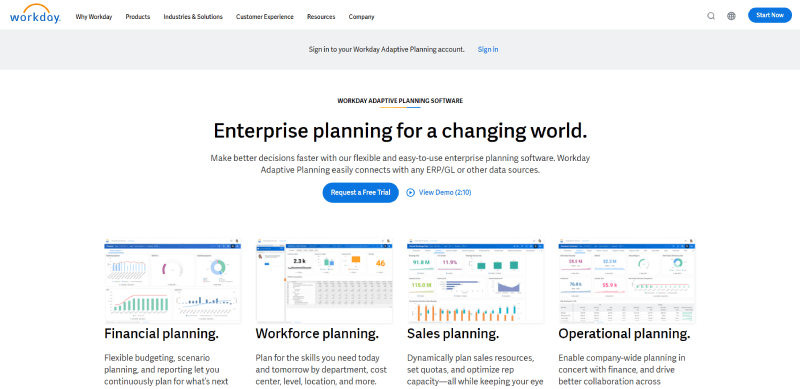 Workday Adaptive Planning is a comprehensive and scalable tool that adapts to any business. It covers financial, operational, and workforce planning and tracks sales performance.
It brings the value of Artificial Intelligence (AI) and machine learning to help you respond to market needs as soon as they arise.
Plus, its impact transcends financial departments affecting your whole organization. This tool helps support efficient Human Resources, Enterprise Risk, and Customer Relationship Management. This tool helps and supports country-wise efficient Human resources software like HR Software USA, Enterprise Risk, and CRM Software UAE (Customer Relationship Management).
You will get multiple integration opportunities with Workday Adaptive Planning. Other team members can access and help complement your data visualizations. You can also refer to various data sources simultaneously.
You can request a free trial of this powerful tool or a demo for its continuous planning program. There are fitted solutions for different roles, industries, and operation sizes.
JavaScript Libraries
D3.js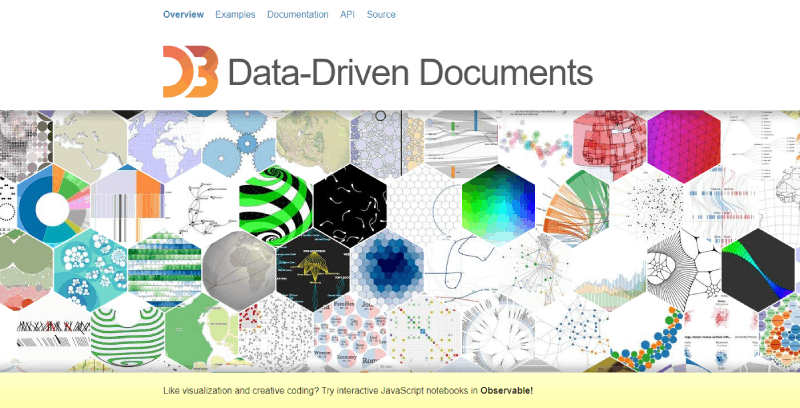 D3.js is the right tool to build financial data visualizations based on intricate data sets. This JavaScript charting library manipulates documents using HTML, SVG, and CSS.
It delivers optimum data visualization capabilities through responsive and interactive charts. Your maps with D3.js display smooth animations, allow various filtering options, and respond to zooming on screen.
It comes with built-in functions for area, line, and pie charts. You can even create reusable maps and other graphics in NVD3 and WebGL. Overall, this visualization tool provides you with key features your projects might require.
The only downside to this option is that you must have some knowledge of JavaScript to use it properly. Previous experience in transforming or managing data will also reduce your learning curve.
FusionCharts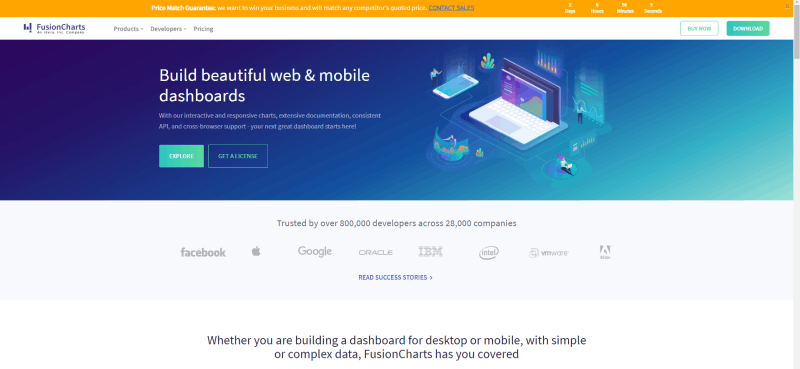 FusionCharts is a reliable chart library for professionals in every line of business. It delivers interactive JavaScript charts, responsive for both desktop and mobile devices.
Its goal is to build comprehensive dashboards with features to follow data evolution over a given time period. Nevertheless, you can also use it to create various types of data visualization.
FusionCharts integrates with common JavaScript frameworks and responds to various programming languages. It includes accessible coding. Even those with limited experience in programming and data manipulation can use it.
You also benefit from a consistent API and access to extensive documentation. Thus, you can easily choose visualization types to represent your data properly.
Visual Analytics Platforms
Tableau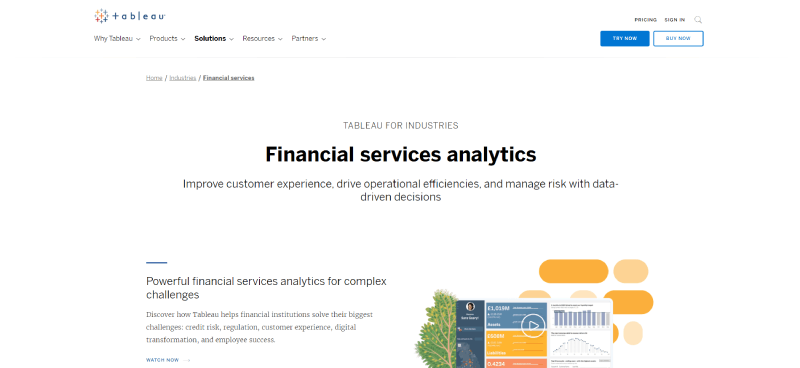 Tableau brings financial services analytics to various industries. It focuses on addressing the complex business challenges that financial organizations face.
Its features improve customer experiences and service offerings and drive operational efficiencies. Its build also supports proper risk management through data-driven decisions.
It is one of the most popular data visualization tools, with an increasingly active community. You can access it from different devices. Besides, it integrates with your preferred Customer Relationship Management tools.
You can request a free trial of Tableau from its website or opt directly for one of its paid subscriptions. According to your business needs, you can also request a customizable plan.
Web Services
Google Charts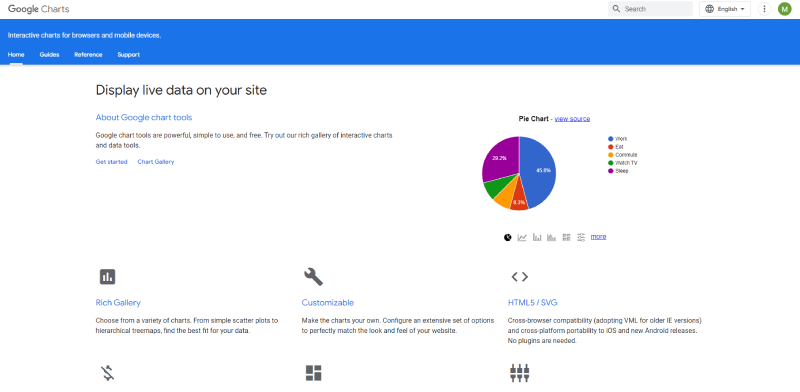 Google Charts delivers one of the most powerful options on this list. Google has developed several tools to support and empower users in their personal and business activities.
This free and user-friendly resource helps you display live, dynamic data on your website. You can select from its rich gallery of charts and graphics, like scatter plots, stacked bar charts, and others.
Another valuable feature is its interactive dashboard, a well-rounded analytics platform. You can use it to connect and control all of your maps.
The charts you build with Google Charts maintain responsiveness regardless of the device and browser. They provide a visual representation of data from multiple locations.
Additionally, you can customize some details of your own if you have some knowledge of CSS.
FAQ on Financial Data Visualization Tools
What are the top financial data visualization tools?
Oh, let me tell you, there are a bunch of them out there! Some of the top ones that come to mind are Tableau, Power BI, D3.js, Plotly, Google Data Studio, and our very own wpDataTables.
Each has its own strengths, like Tableau's ease of use, or D3.js's flexibility.
It really depends on what you're looking for in a tool and your level of technical expertise.
How do I choose the best tool for my needs?
You know what, choosing the right tool can be a bit of a challenge. Think about your specific needs and priorities, such as your budget, technical expertise, and the complexity of your data. Depending on your business or financial use case, whether it's for resource planning or forecasting or cloud cost analysis, or even financial planning, the right tool depends upon the context and the nuances of the problem.
Research the features and capabilities of each tool, and consider trying out free trials or demos to see which one feels the most intuitive to you.
Are these tools suitable for non-technical users?
Yeah, absolutely! Some of these tools, like Tableau and Google Data Studio, are designed with non-technical users in mind. But wpDataTables steals the show here being based on WordPress and using the same user-friendly interface.
Can I integrate financial data visualization tools with other software?
Totally! Many of these tools, especially the big players like Tableau and Power BI, can be integrated with various data sources and other software.
This makes it easier for you to access and analyze your financial data from different platforms. Just make sure you check the specific tool's documentation to understand its compatibility and integration capabilities.
How much do these tools cost?
Great question! The cost of financial data visualization tools can vary widely. Some, like Google Data Studio, offer a free version, while others have a range of pricing plans.
Tableau and Power BI, for instance, have tiered subscription plans based on features and user numbers. It's important to research the pricing of each tool and consider your budget before making a decision.
Can I use these tools for real-time data visualization?
Oh, you bet! Many of these tools, including Tableau and Power BI, support real-time data visualization.
You can connect them to live data sources and create dashboards that update automatically.
This can be super useful for keeping an eye on your financial data and making quick, informed decisions.
Is it possible to create custom visualizations?
For sure! Most financial data visualization tools offer the ability to create custom visuals. With some tools, like D3.js and Plotly, you have a ton of flexibility, but they require more technical skills.
With other tools, like Tableau and Power BI, you can still create custom visuals using their built-in functionalities, but you might have some limitations compared to more advanced tools.
How secure are these tools?
Security is a big concern, especially when dealing with financial data. The good news is that most major tools take security very seriously.
They offer features like encryption, access controls, and audit logs to help protect your data. It's always a good idea to research the security features of each tool and make sure they meet your organization's requirements.
Can I collaborate with my team using these tools?
Absolutely! Collaboration is often a key feature of financial data visualization tools. Many of them, like Tableau and Power BI, offer functionality for sharing visualizations, commenting, and working together on projects.
This can be super helpful for teams working with financial data, as it allows for seamless communication and collaboration.
Are there any open-source alternatives?
You bet! There are some fantastic open-source options out there, like D3.js, Plotly, and Apache Superset.
These tools can offer a lot of flexibility and customization, but they might require more technical expertise compared to their paid counterparts.
Conclusion on Powerful Financial Data Visualization Tools
Financial data visualization tools are becoming more popular. Their versatility and flexibility help businesses draw insights, even from complex data.
In this article, you have examined the advantages of using a powerful data visualization tool. You have also learned about nine of the best tools available.
These resources significantly impact how finance teams compile, analyze, and transform raw data. With them, you will build engaging, informative visualizations that support data-driven decisions.
If you enjoyed reading this article about financial data visualization tools, you should read these as well: