A WordPress FAQ plugin allows you to implement a WordPress FAQ page into your WordPress website, which will save you or your support team a lot of time that you would have otherwise dedicated to repeatedly answering the same questions.
Users rarely have a unique question that other users haven't asked before or will not be asked again in the future. If you put together the questions that are most commonly asked, you can direct users to that site's designated FAQ section for the desired answer.
An FAQ page saves a lot of time not only for you but also for the users who will usually want their questions answered right away. If you take the time to provide the answer to your user's burning question via an email, you may waste an opportunity for the user to become an actual client. Patience is not an often-encountered quality in today's fast-paced age.
If the client is only prospecting, it is likely that they are waiting for an answer from your competition's support team as well. The sale goes to the team that provides the most complete and quickest answer to the user's question.
Or, perhaps, they've already found their answer on your competitor's FAQ page because that's what an FAQ page does: it saves time, eliminates superfluous emails or chats, and provides a correctly developed answer for your visitor's question.
Here's a list of the best FAQ plugins, both free and paid, to suit all personal preferences, budget needs, technical requirements, or expectations: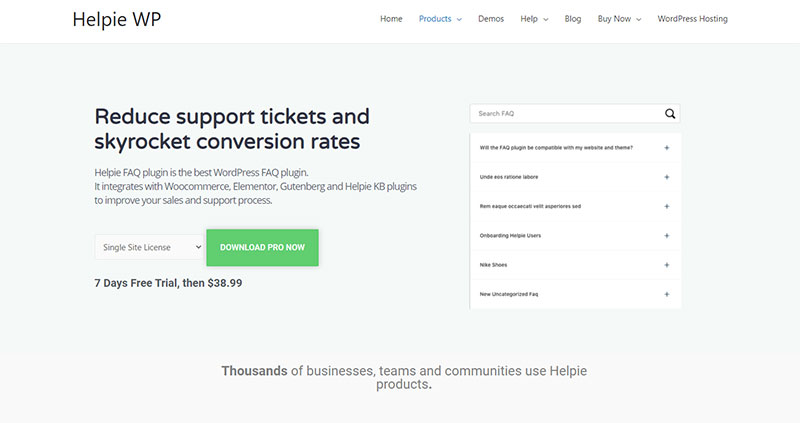 Helpie FAQ plugin integrates with Woocommerce, Elementor, Gutenberg, and Helpie KB plugins to improve your sales and support process. With it, you can display helpful answers like most popular FAQs or recently added/updated FAQs and gain credibility by easing customer concerns. Helpie is more than a WordPress accordion plugin, it's a complete FAQ solution.
Helpie WP FAQ plugin can be integrated with WooCommerce so that you can directly answer product-specific questions on product pages themselves.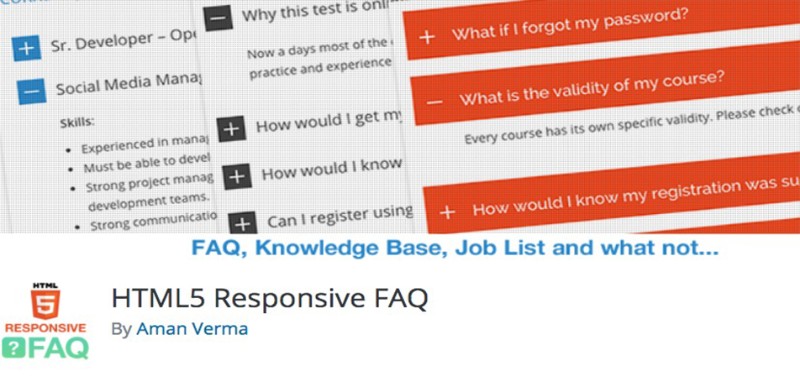 HTML5 Responsive FAQ is a Mobile-friendly WordPress FAQ plugin that allows you to generate FAQ questions and answers as a custom post type that you can subsequently assign to a blog category. This plugin is a free, easy to add WordPress FAQ plug-in option.
Adding HTML5 responsive FAQ to your website is as easy as copying and pasting a shortcode and then entering the FAQ categories you want to include. Since you can assign a question to more than one category, the same questions will pop up in different FAQ sections.
HTML5 Responsive FAQ is an accordion FAQ plugin, which means that, when the user clicks on or selects a question they are interested in, answers will unfold like an accordion. It is the perfect plugin for answering frequently asked questions that come up repeatedly.
HTML5 Responsive FAQ easy styling inside a single screen, where you can select typeface size, bullet colors, header type for the text (e.g., H3 tags), space between questions, and other useful characteristics. Plus, the FAQ section produced by this plug-in looks excellent.

Much like HTML5 Responsive FAQ, the Arconix plugin for WordPress is a free and very popular WordPress FAQ plugin. Because Arconix is a shortcode-based plugin, you have the freedom to incorporate FAQ sections anyplace on your WordPress website.
Arconix allows the use of two FAQ types, an accordion box, and a jQuery toggle. With this WordPress FAQ plug-in, you can choose how to display your answers: by default (automatically) or upon the user clicking on the answer to open it up.
Unlike HTML5 responsive FAQ, Arconix FAQ does not assign questions to categories but requires you to enter groups that behave in a similar way to your standard WordPress tags. There's no limit to the number of FAQ groups you can type in for each question.
Plus, questions show up in several FAQ lists. The Arconix Plugin lets you shape the FAQs section, and you get to decide which of the FAQ groups you want to attach to the shortcode.
Arconix is not a feature-rich plugin as HTML5 Responsive FAQ, but it is the best WordPress FAQ plugin if you want to create a functional FAQ section with a free plug-in.

FAQ WD is a classy, free, accordion-type WordPress FAQ plugin that lets you enter a limitless number of questions and answers, which you can arrange in categories and then display on pages or posts on your site. The paid version includes 5 customizable themes.
FAQ WD is an accordion FAQ plugin for WordPress that features an FAQ search box. The accordion view provides answers under a WordPress collapsible list. This type of view saves you much space on the FAQ dedicated page.
FAQ WD displays the name of those who have asked a particular question, the details of each FAQ category, when a question has been first created, as well as social media sharing, be it Twitter, Facebook, Google+, or other social media networks.

Developed by the authors behind FAQ WD, Spider FAQ is a free WordPress FAQ plugin featuring 5,000 active installs and scoring 4.5 stars in user ratings. Though similar, FAQ WD and Spider FAQ are not identical, and several elements differentiate them.
Designed to be SEO friendly, Spider FAQ allows developers to personalize via an easy to use editor the order in which the questions show up on the FAQ page. Each FAQ allows the use of images and each question supports hits, likes, and dislikes.
There is a premium version as well, which was designed with professionals in mind. This version includes 22 themes that can be customized to your preference. Also, in this version, you can change the color, font, and size of the FAQ page elements.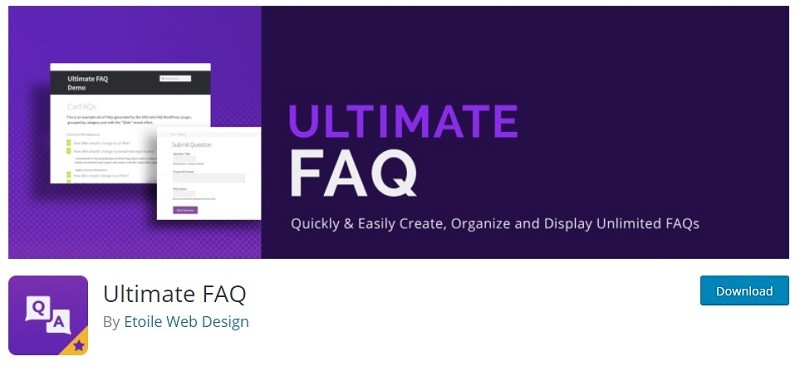 Ultimate FAQ is a WordPress FAQ plugin in the accordion category. A shortcode-driven WordPress accordion FAQ plugin, it permits several display options: entire FAQ page, most popular FAQs, most recent FAQs, or a particular set of FAQs. Add an FAQ dedicated search bar using a shortcode.
Ultimate FAQ packs a full spectrum of features, one cooler than the other. It allows you to access statistics and learn how many views per FAQ, for example. It also allows FAQs to be exported as PDF and generate a user manual. You can add social media share links as well.
In addition to the free version, Ultimate FAQ has a premium version that includes a set of exceptional features, such as allowing particular FAQs to be exported as PDF, allowing questions and answers to be submitted by users on the front end, or advanced styling.
Ultimate FAQ uses drag and drop technology so that you can change the order of your frequently asked questions.

Quick and Easy FAQs, as the name adequately suggests, is a WordPress FAQ plugin that makes creating FAQ pages seem like a piece of cake. A shortcode-driven FAQ plugin, it includes the option to show FAQs in toggle style, as a list, filterable by group, or grouped.
With this WordPress FAQ plug-in, you can quickly modify border colors, background colors, or the toggle style text corresponding with FAQs in the dashboard.
Quick and easy FAQs is not a feature-rich plugin, but if you are looking for a quick and easy solution to create an FAQ page, this is the best FAQ plugin for WordPress.

Being a shortcode-powered WordPress FAQ plugin, you can easily incorporate WP Responsive FAQ with category into your WordPress website. There are no limits as far as the number of questions, animations, or FAQ categories with this comprehensive WordPress FAQ widget.
Other features include:
Full customization via a JS and CSS file
Translation
Search engine friendly URLs
One thumbnail image/FAQ
With WP responsive FAQ with a category, you can enter an animation speed for each FAQ section by modifying the shortcode parameters. Also, the number of answers and questions displayed can also be restricted if you choose to do so.
WP responsive FAQ category comes in a pro version that includes WooCommerce FAQ support, Visual Composer support, additional designs, colors, and animations, drag-and-drop reordering, and additional options when using shortcodes.
Ending thoughts on choosing the best WordPress FAQ plugin
An FAQ section is a key to a successful sales or product website. Many clients need extra clarifications before making a purchase. An FAQ page allows them to find their answers quickly without the hassle of contacting support and waiting for an answer.
A comprehensive FAQ page is a chance to make a sale right away. The Internet is packed with multiple FAQ plugin options, and it is impossible not to find the one WordPress FAQ plug-in that suits you best. Just make sure you know what you're looking for in an FAQ plugin.
There are quick and easy to use FAQ plugins for WordPress, accordion-style FAQ plugins, elegant looking FAQ plugins, or fully customizable FAQ plug-ins. Choose the best FAQ plugin for WordPress to give you what you need in a WP plugin: the perfect FAQ page.
If you enjoyed reading this article on WordPress FAQ plugin, you should check out this one about WordPress CRM plugins.
We also wrote about a few related subjects like WordPress translation plugin, WordPress download manager plugins, PDF viewer for WordPress, Mailchimp for WordPress, WordPress redirect plugin and WordPress migration plugin.
And if you want to check out the cool products that we've created, we've got the best plugin to create WordPress tables with and the WordPress appointment plugin with the smoothest UX.