The basic operation of an eCommerce site is to offer various products for buyers to choose from. WooCommerce is a very popular eCommerce platform that offers products for buyers, however, it is unable to display additional product options, thus an extra product option is required.
For example, if someone is buying a present on your site and they want it gift wrapped, but the gift wrapping is unavailable, they will be disappointed. However, this problem is easily fixed by adding an extra product options plugin for WooCommerce. These specialized customization options will provide improved customer satisfaction, make your site more user-friendly, boost your sales, and improve your customer relations.
Learn below more about this topic in this article created by our team at wpDataTables.
WooCommerce extra product options plugins
Flexible Product Add-Ons Free WooCommerce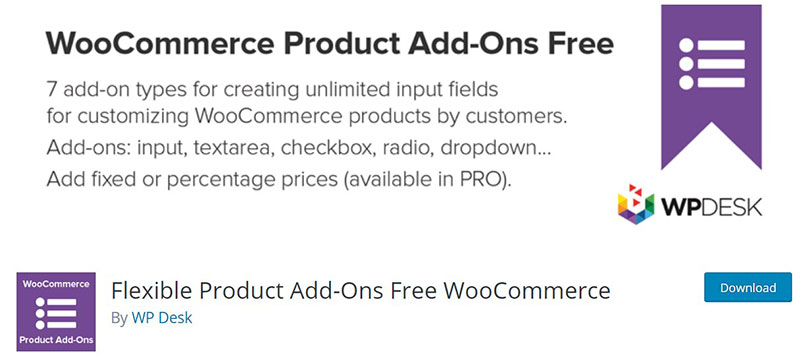 This free plugin does have premium capabilities and will allow you to add WooCommerce extra product options, such as checkboxes, text fields, radio buttons, and others. Overall, there are 7 add-on types so you have greater control over these, plus you can create unlimited input fields.
Additional fields can be added as either compulsory or optional, and you can select where your additional options are visible: in the cart, on the product page, or on the admin area.
Product Add-Ons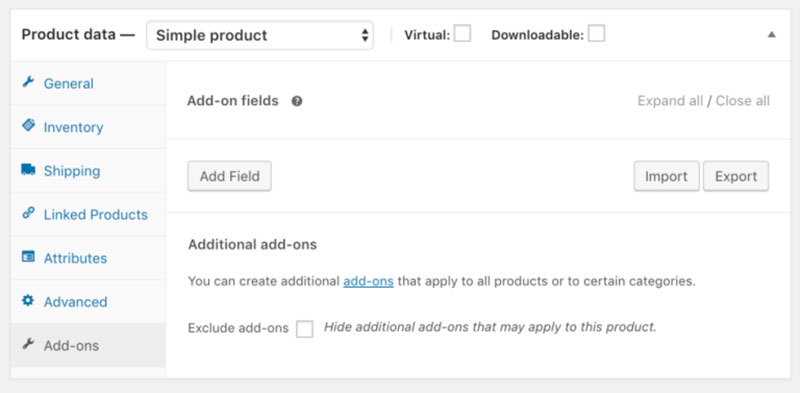 This plugin enables you to customize the user experience on your site almost completely for adding and managing products. It has multiple options, including extra checkboxes, line boxes, dropdowns, radio buttons, text lines, and others.
The price of this plugin offers good value. The added fields for options will be visible just above the "add to cart" button. You can use as many options as you like; the only disadvantage is that you can't add additional options for variables.
Product Options for WooCommerce by Wpshowcase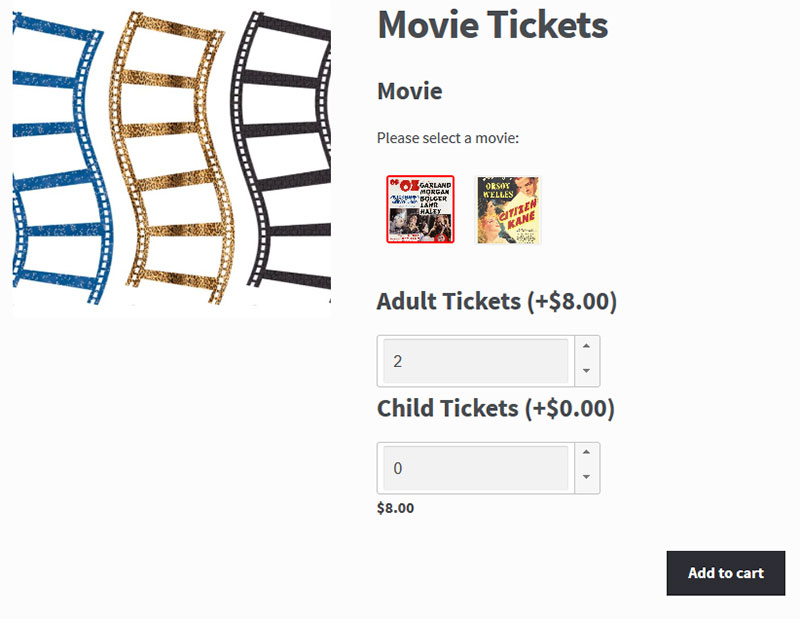 This WooCommerce extra product plugin provides an excellent user experience on your site. The products and items in your shop will be customized with options, such as additional checkboxes of your choice, text lines, number sliders, number buttons, color pickers, and a calendar.
Another great feature is the ability to add product options for specific product groups or add them individually, which will make the set up of your website and products faster and easier. The user also has full control over their order, as they can customize their order with product groups and shipping options in the cart section.
Lastly, the price of the products is automatically adjusted, based on the options that the user has chosen for their package. It will also display the confirm sites once the customer completes the order.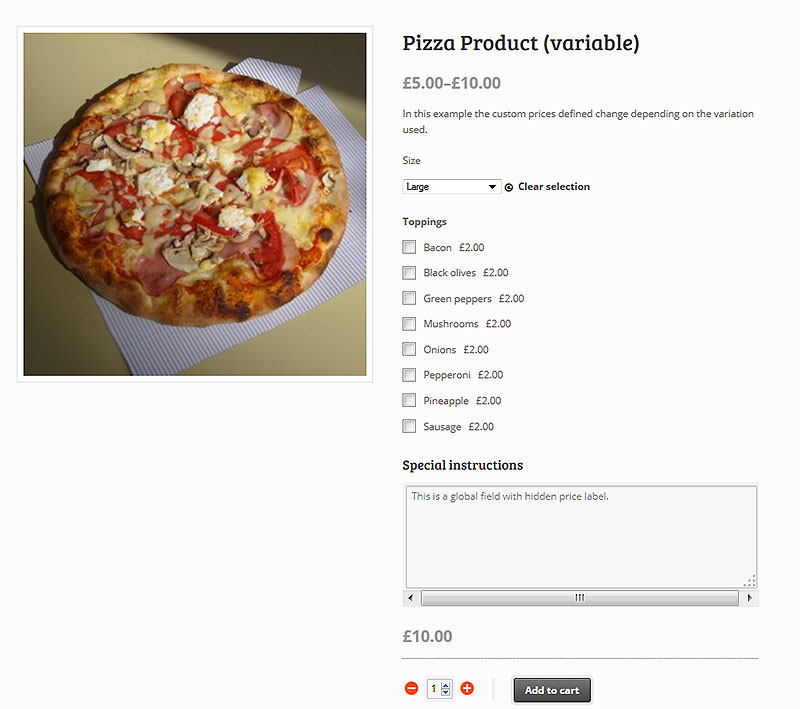 This plugin by Themecomplete will provide the complete package for adding to your WooCommerce extra product options. This plugin enables you to add good product options to your products, based on categories and product groups. The extra options included are checkboxes, radio buttons, date and time pickers, and others.
This plugin is outstanding because it is compatible with so many other plugins for WooCommerce and when combined with these, can provide a premium experience on your site.
The prices of the products are automatically adjusted based on the options the user chooses for their products. You can also choose the option to hide items that are out of stock, as well as hide or display the final price.
WooCommerce PPOM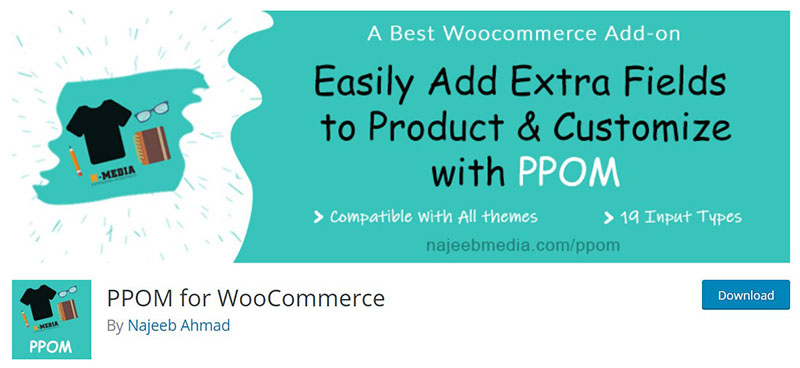 PPOM stands for Personalized Product Options Manager, which means that the users have almost full control over the items in the store. You will add the various product options that allow your users to completely customize their orders, so you become familiar with your customers and thereby improve customer relations..
The cost of the plugin is $30 for a single-site use and the plugin is fully compatible with other plugins within your site. The options will be based on the role of the users on your site including visual customization options, such as the ability to change colors, metadata, layouts, and more.
ThemeHighWooCommerce Extra Product Options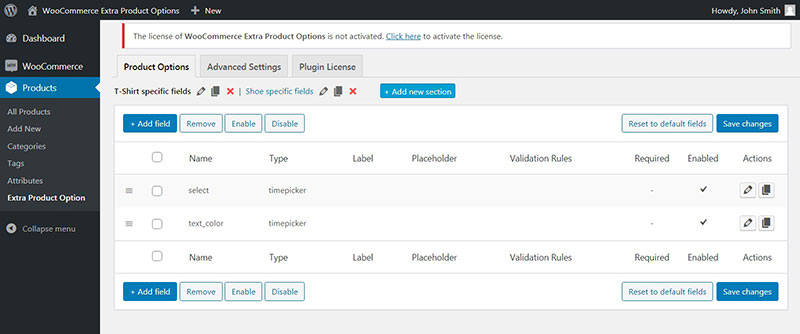 This WooCommerce plugin is a great option for adding custom fields and options to your product pages. It works with multiple themes and other plugins and extensions, so it is fully compatible with the majority of the sites. Its major advantage is the customization options that enable you to add custom fields wherever you desire.
Furthermore, it gives you the ability to fully customize the appearance of these fields and includes the WooCommerce extra product options. The plugin supports the translation of the label and the placeholder text within the product pages. Conditional logic can also be added to your products, and the price depends on these extra options.
WooCommerce Product Add-ons by Acowebs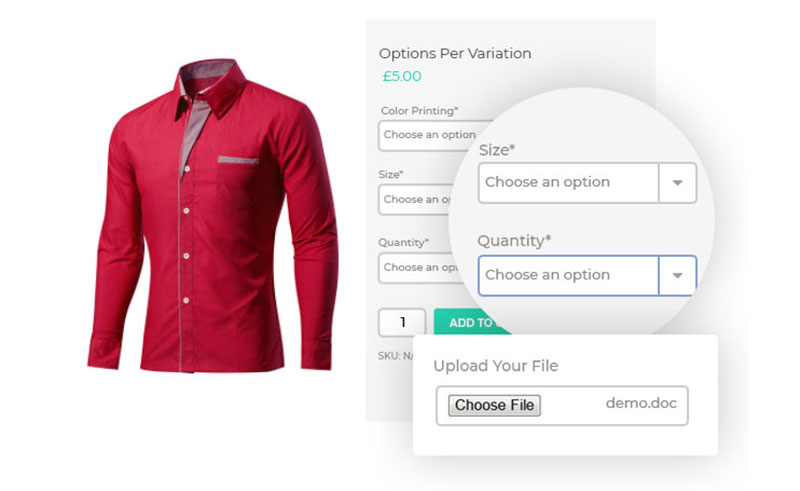 This is one of the simplest product add-ons, but it works very effectively with a compilation of a series of various add-ons and custom fields, where you can select your preferred product options.
Additionally, the users are able to choose from these extra product options and tweak the custom values on these fields.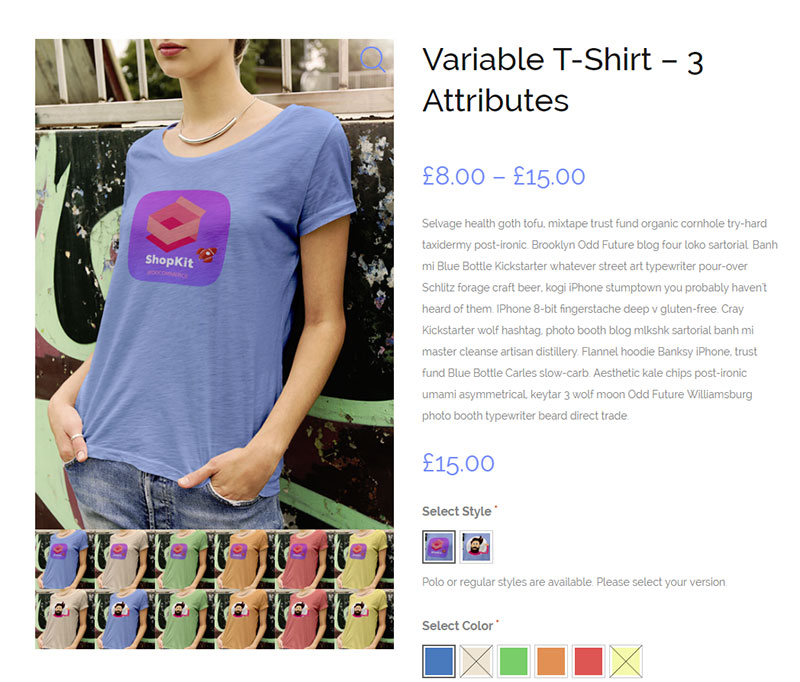 This is one of the more complete plugins to add WooCommerce extra product options. Firstly, this complete plugin allows you to easily add product attributes and create additional product options. Then, the system will automatically calculate the final price of the product, which will depend on the number of options the user chooses.
Sometimes, it's difficult for users to enable and disable products that are out of stock. However, adding or hiding out of stock products is very simple with this plugin. Anyone can add items that are sold globally to the cart, and the specific extra options are also available.
The plugin also comes with excellent customer support, including a dedicated support forum, a ticket system, and a filtering agent. It works with just about any browser and is very responsive.
Woocommerce Product Addons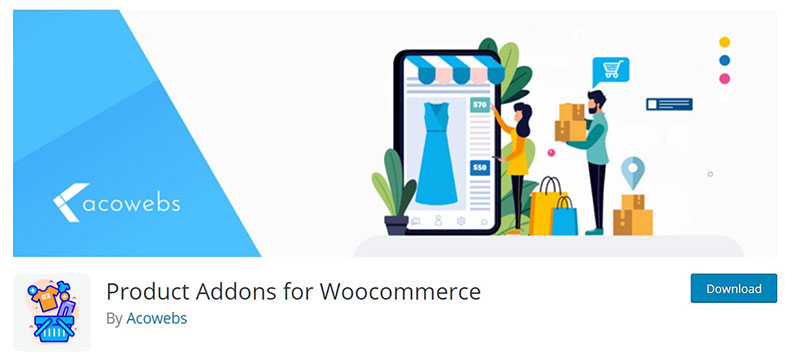 Just as the name suggests, this plugin enables you to easily add WooCommerce extra product options, including extra text fields, number fields, radio fields, checkboxes, and others.
You can completely customize your custom fields by adding the add-ons. Setting up is very easy, by simply dragging and dropping the items to the fields.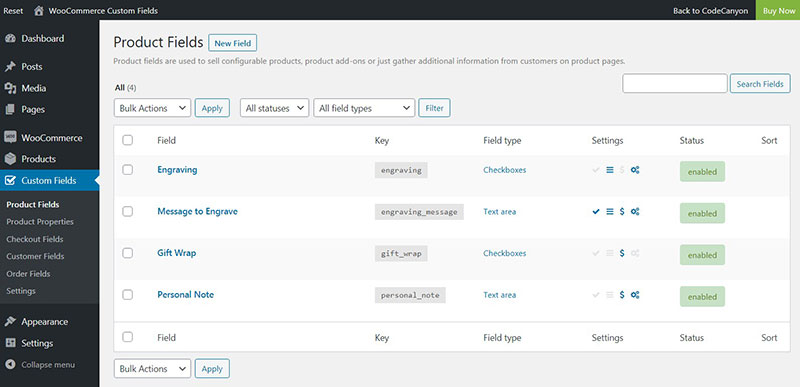 You can create responsive and attractive product pages with the additional product options offered by this plugin, which will improve the user experience on your site, as well as increasing your sales rates.
Advanced Custom Fields for WooCommerce by Cat's Plugins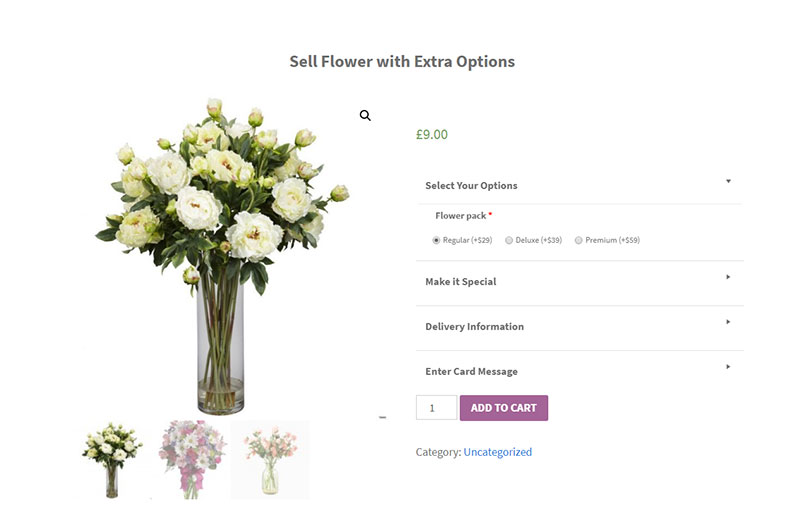 This plugin is a complete option to add extra fields such as text fields, checkboxes, text area, images, date and time pickers, including the ability to display these options anywhere you want.
If you enjoyed reading this article on the best WooCommerce extra product options, you should check out this one about how to set WooCommerce related products.
We also wrote about a few related subjects like WooCommerce hide category from shop page, how to change the WooCommerce number of products per page, how to export export WooCommerce orders, WooCommerce product variations, WooCommerce appointments plugins, WooCommerce redirect after checkout, how to set up WooCommerce test mode, WooCommerce grouped product and WooCommerce variable product.