Many WordPress sites contain vast amounts of digital content and media files, so they can become very disorganized. WordPress doesn't include document management settings, so you either need a custom solution or to add a WordPress document library plugin.
Downloading a plugin will make arranging your content much easier. Choose the right one for WordPress document management, to help you add files and documents to your site in a simple and structured format. Useful WordPress document galleries have download links, filters, and search functions that enable users to find their desired documents.
Create a WordPress document library to share resources, organize your files, and showcase your documents in a comprehensible format.
The WordPress plugins described in this post contain the necessary features to make a fantastic WordPress document library.
Keep reading more in this article created by our team at wpDataTables and learn how to choose the best one.
WordPress Document Library Plugins
FileBird – WordPress Media Library Folders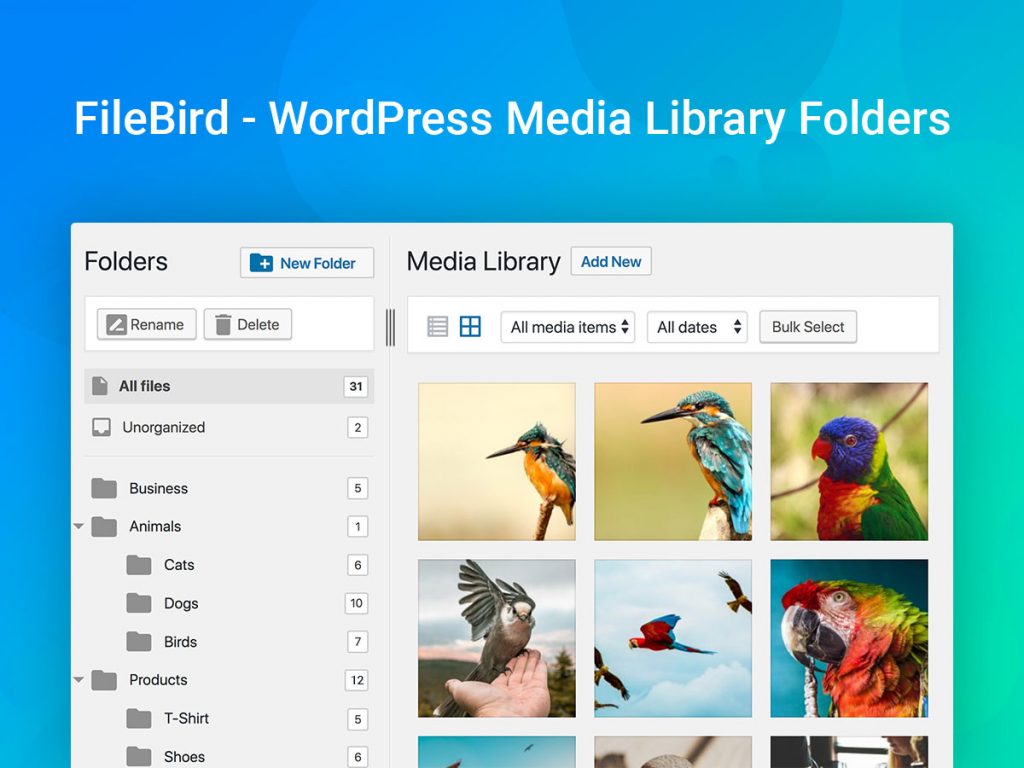 FileBird is a WordPress plugin to organize your media and document files. It comes with an integrated folder tree to your WordPress media library so that you can manage all files in a single window.
This plugin has a drag and drop user interface, meaning you can bulk select files and move it to any folders. These folders are created virtually. You can make changes to the folders while leaving no impact on your file permalinks.
FileBird helps you create sleek image galleries using the Gutenberg block. On top of that, it also supports a document gallery with auto-generated thumbnails.
This document gallery looks much more appealing to your visitors, right? Please note that it works magic both in classic editor and Gutenberg.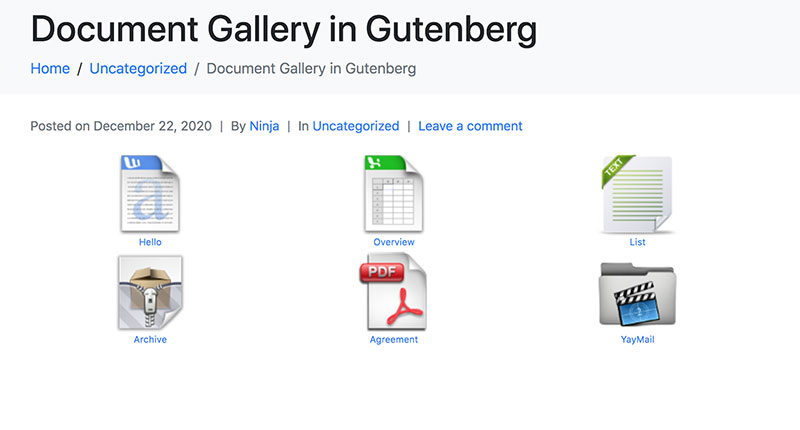 Main features:
Smart context menu: right-click to interact with folders
Full compatibility with all major themes and page builders
Upload multiple folders & their files from desktops to WP in a single blade
Advanced sort & filter functions
Great performance for unlimited files and folders
Set startup folder: to quickly go back to the previous tasks
Free version available on WordPress repo
Fivo Docs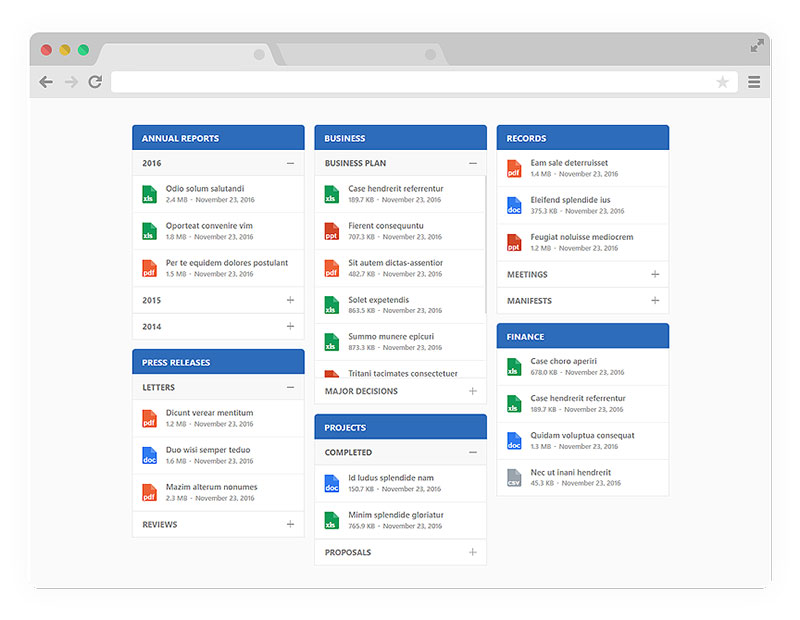 Fivo Docs will transform your media library into a complete WordPress document management solution.
It will enable you to create unique categories for your media library, including separate reports, images, and videos. The library is a complete solution for your site that stores videos, PDFs, spreadsheets, documents, and more.
Memphis Documents Library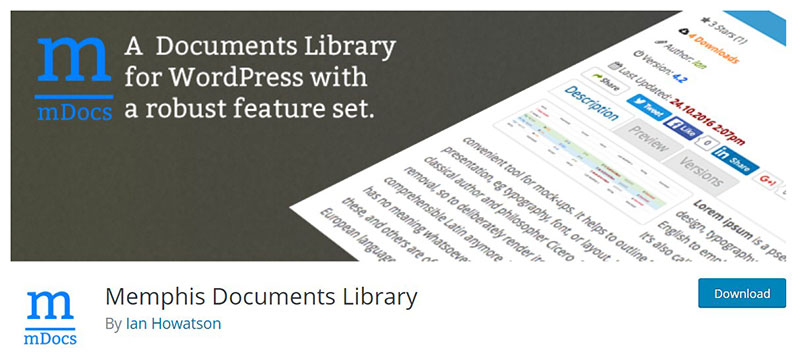 The Memphis Documents Library has an amazing filing structure for organizing your files.
One of its recently added features is an upload button on the front-end, as well asbug fixes and the ability to preview images.
All types of files can have a thumbnail or document preview added and you can simultaneously upload more than 2 files into the system. You can also see and restore your file back to the old version if required.
You can share your added files to other sites and export your files for a backup in case of emergencies.
WP Document Revisions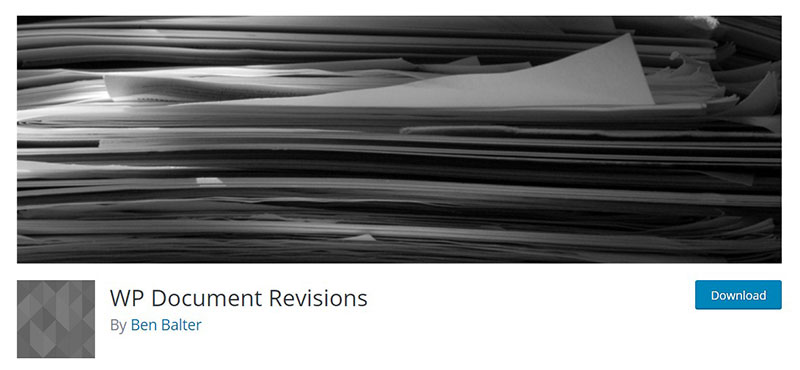 WP Document Revisions is an excellent WordPress document management plugin, created especially for critical and time-sensitive projects. It allows teams to collaborate on files and will manage many file types, including music, images, documents, and spreadsheets. It flawlessly tracks the progress of your documents through your company's workflow.
The plugin also enables you to add extra information to the page, including a screenshot of a typical case.
Document Library Pro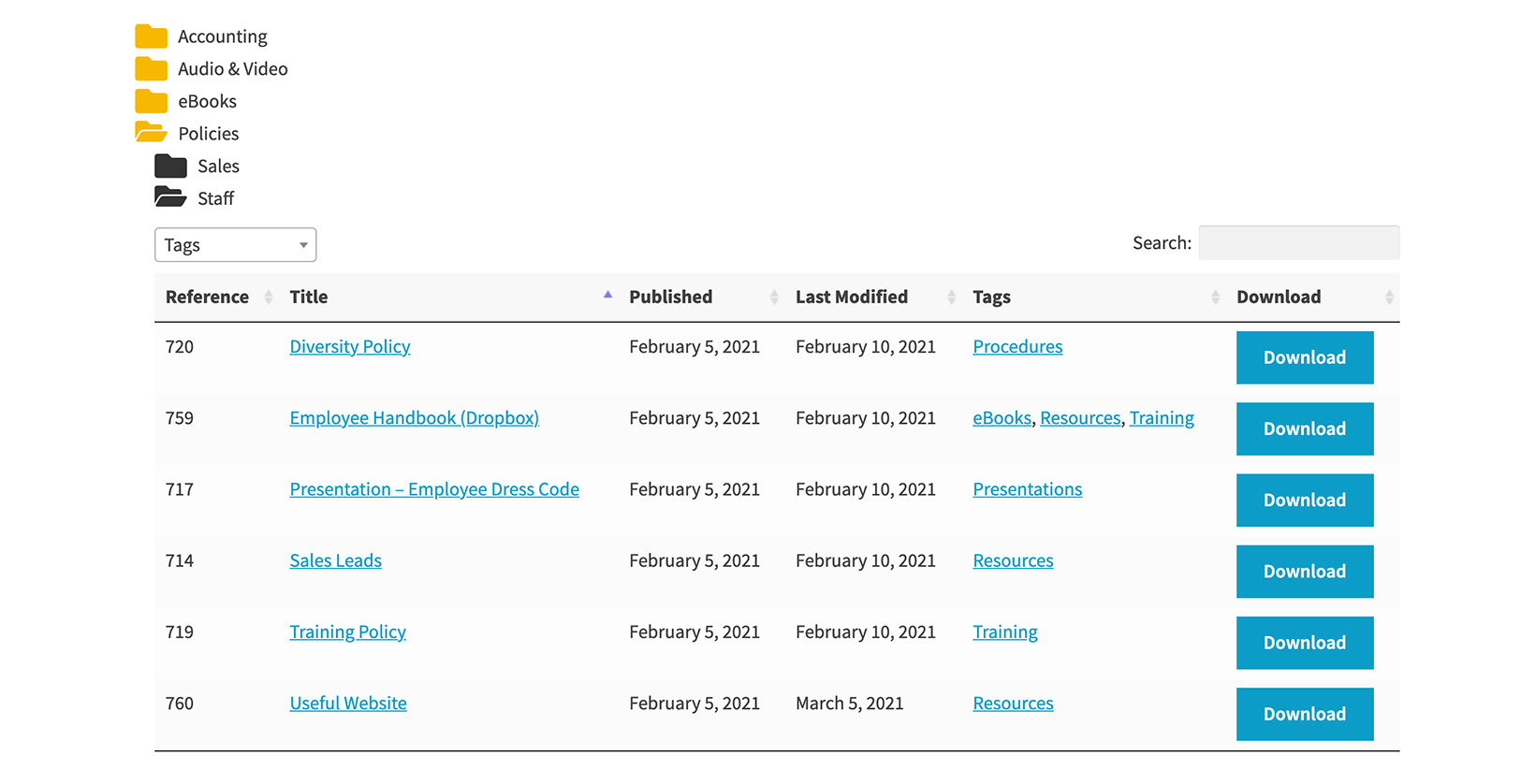 Document Library Pro is an excellent way to display any type of file or resource because unlike some plugins, it provides everything you need for both the management and display of your documents.
You can quickly add documents individually, or in bulk using drag and drop or the built-in CSV uploader. The documents are then displayed in an interactive table with AJAX search box, sorting and filtering to help users to find documents more easily. You can also enable a folder layout which displays documents based on your category structure.
There's no limit to the number of document libraries you can create. For example, you can use it to build an audio library (complete with embedded audio players) on one page, a resource library on another, and a gallery of case studies or publications on another.
The table layout makes it easy to choose which information to display about each document. There are lots of built-in columns including title, description, categories, tags, file size, file type and modified date. Most importantly, you can add download links and display these as either clickable text, buttons or file type icons.
This WordPress document library plugin supports all file types, or you can link to documents which are hosted on external websites such as Dropbox.
Document Gallery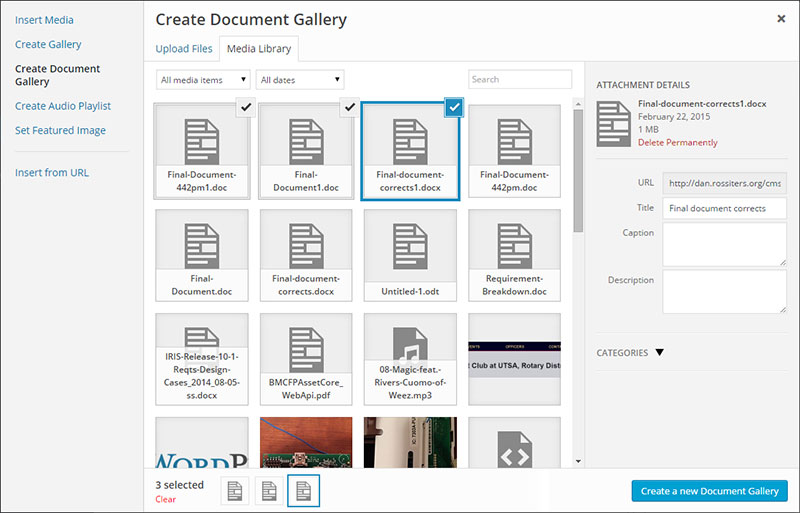 The Document Gallery plugin can transform your website into something more functional and practical. It allows you to attach images and media on your site and the website's tutorial helps you learn how to use it.
Document Gallery works in partnership with WordPress Real Media Library, and lets you make folders directly in the library. It also has fantastic translations for languages, including Swedish, Ukrainian, Russian, French, Finnish, and Spanish. It can also integrate with a wide range of other plugins.
Embed Any Document Plus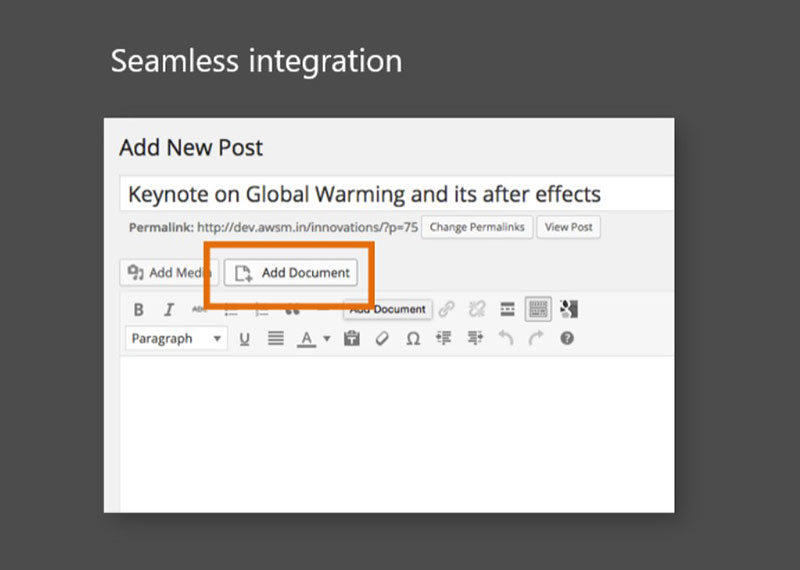 Embed Any Document Plus is a cloud product that removes your files from WordPress storage and keeps them on sites like Box.com, Dropbox, or Google Drive.
It is a fantastic plugin for displaying documents in pages and posts on your WordPress site. It is similar to SlideShare and Scribd because it develops an interactive document preview. It is a simple interface that makes document embedding easy. Visitors can view your documents without needing any other software.
File Manager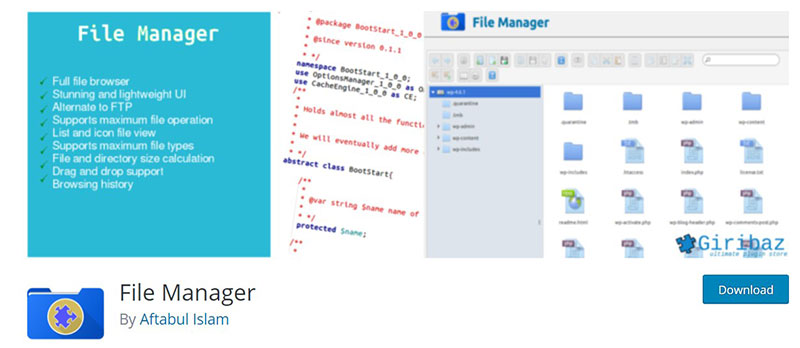 File Manager keeps your webpages organized, allowing you to delete, edit, rename, extract, and copy files. It's simple to use and completely free to download. Their fantastic customer support team who will be willing to help if you are new to installing plugins in WordPress.
It contains a new update that allows you to automatically synchronize files to your library and image, file edit, and archival support is also available.
SP Project & Document Manager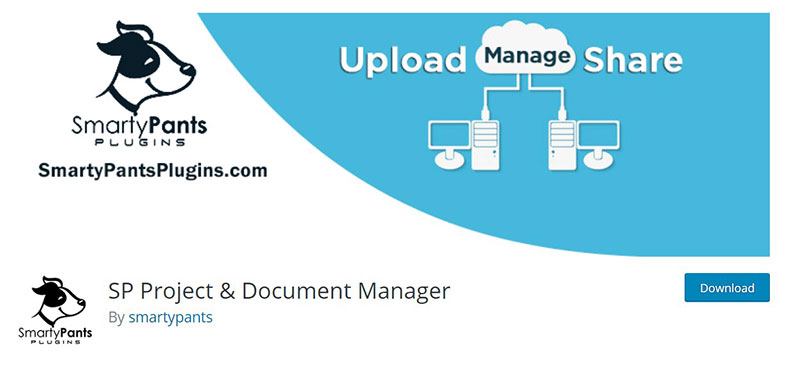 SP Project & Document Manager offers the basic features required for managing your files.
Control the sharing and flow of information, store pictures, files, and documents in your online filing cabinet, which can be shared with anyone you choose.
Organized Docs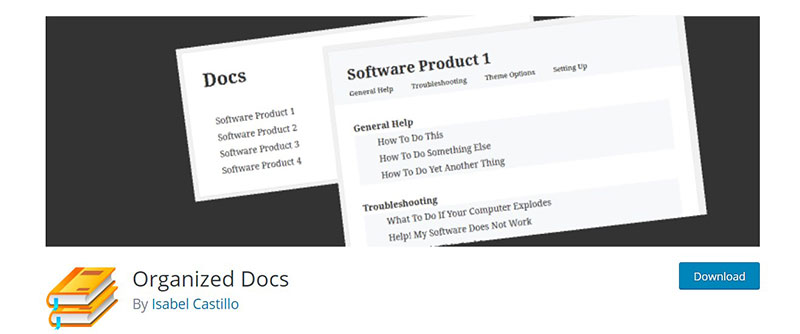 Organized Docs organizes your documents, sorts your items using parameters, and allows you to add in sub-headings. This makes it easy to search for and filter items. Create fantastic document lists that will look sleek and clean on your WordPress website.
FAQs about the WordPress document library
1. What is a WordPress document library and how does it work?
You can organize and display documents on your website using a WordPress document library. It gives users a central spot to store documents and facilitates finding and downloading them. To assist users in finding the papers they need fast, the document library might be divided into categories, tags, or folders.
2. Can I customize the layout of my WordPress document library?
Sure, you can use different options provided by your preferred plugin to change the design of your WordPress document library.
To complement the identity of your website, you can alter the number of columns, pick a different color scheme, and pick a different font type. Some plugins even offer special templates that can be used to design a special document library layout.
3. How can I add documents to my WordPress document library?
By uploading files via the plugin's user interface or the WordPress media library, you can add documents to your WordPress document library.
You can group them into categories, tags, or folders after uploading photos for simple navigation. To aid readers in understanding each document's contents, you can additionally include descriptions, information, and preview images, depending on the plugin.
4. Can I restrict access to certain documents in my WordPress document library?
You can limit who has access to particular papers in your WordPress document library, yes. Depending on the plugin, you can restrict access based on user role, password, or membership level. This is particularly helpful if you have to grant exclusive access to private papers, such business reports or confidential information.
5. Is it possible to integrate my WordPress document library with other plugins or tools?
The majority of WordPress document library plugins do, in fact, offer interaction with other plugins or technologies, including contact forms, email marketing services, and e-commerce programs. This enables you to provide a more comprehensive user experience by combining your document library with other plugins.
6. Can I create categories or tags to organize my WordPress document library?
To organize your WordPress document collection, you can create categories or tags. Similar papers can be grouped together using categories, and each document can have additional information added using tags.
To give yourself more precise control over organizing, you can utilize a hierarchical structure for categories, such as a main category and subcategories.
7. How can I search for documents within my WordPress document library?
With the plugin's built-in search box, you may look up documents in your WordPress document library. You might be able to filter your search results by document type, category, or tag, depending on the plugin. Users can quickly locate the precise document they need as a result.
8. Is it possible to track downloads or views of documents in my WordPress document library?
Absolutely, you can use plugins or other third-party technologies to keep track of the downloads and views of the documents in your WordPress document library.
You can learn from this how users interact with your content and which documents are most popular. Making data-driven judgments on how to optimize your document library is also possible with this knowledge.
9. Can I create user accounts to control access to my WordPress document library?
Sure, you may use a plugin to set up user accounts to manage who has access to your WordPress document collection.
You can do this to give various users varying levels of access so that only people with the proper permissions can see or download particular documents. To get more data about your visitors, you may also design unique registration forms.
10. How can I optimize my WordPress document library for performance and speed?
By utilizing a small, quick-loading plugin, you may enhance the performance and speed of your WordPress document library without impacting the speed of your website.
Compressing your documents and photos will lower their file size, which will speed up loading.
Finally, to lessen the burden on your web server and enhance performance for people accessing your website from different regions of the world, you can utilize a content delivery network (CDN) to store your documents in several locations.
Ending thoughts on these WordPress document library plugins
An excellent WordPress document library plugin can revolutionize your website. Get your documents and files organized, categorized, and easily accessible by choosing one of the above free plugins. The premium versions will provide even more features if you need them.
Each of the above plugins is useful for different types of sites, depending on how you want to share your documents and what their purpose is. Choose one which will improve file management and provide easy access to your users.
Use these plugins to automate file management tasks, including bulk uploads, file arrangements, and data retrieval. WordPress document libraries can make it much easier for users to obtain files from your site.
If you enjoyed reading this article on WordPress document library plugins, you should check out this one about WordPress table of contents plugin.
We also wrote about a few related subjects like WordPress event registration plugin, best WordPress classifieds plugin, WordPress catalog plugin, MLS WordPress plugin, WordPress RSVP plugin and WordPress documentation plugin.