Hello Bar, also known as "HelloBar", is a notification bar that can be used to direct users to perform certain actions on your site. The Hello Bar for WordPress plugin is great for those who need such functionality on their website, but the pricing scheme makes some webmasters turn to other options. Staying under budget can be difficult at times, but – luckily – there are many alternatives for expensive WordPress tools. Hello Bar is no exception.
A WordPress notification bar works wonders to improve your website's conversion rate, and it can catch a person's attention much quicker than any other element on your website. Also known as an 'offer bar', 'alert bar', or 'announcement bar', a notification bar can be placed at the top or bottom of your site and it will stay in view until the visitor takes an action. These notification bars can be created with a number of different plugins, each with their own perks. This matter is discussed in detail below by our wpDataTables team. Continue reading if you'd like to know more about them.
Reasons Why You Would Need Such a Tool
You may wonder what makes Hello Bar such a popular tool. Well, it was created and developed by Neil Patel, a successful entrepreneur in the field of online marketing – perhaps you've heard of him. Many websites adopted Hello Bar since its release and it started to evolve rapidly. It is a very user-friendly tool that has proved to be quite efficient as well. Hello Bar has steadily become one of the best tools for collecting contact details from users, as it encourages engagement without being too pushy (unlike a popup that fully blocks the view).
Hello Bar is one of the leading tools for those who own commercial websites and it is now a standard technique for lead capture. Beyond that, the tool offers users the needed guidance while navigating on a website. You can use Hello Bar instead of complicated CTA buttons with the very same purpose: encouraging users to do something (make a purchase, download an eBook, navigate to a different page, etc.). Hello Bar makes everything much more simplistic, which is enough of a reason to give it a try.
Why Should I Use Other Plugins Instead of Hello Bar?
So, if Hello Bar is as great as people say, why not use it directly instead of another WordPress notification plugin? The answers are simple:
Because it can get expensive
As mentioned in the introduction, Hello Bar can end up costing you a lot of money in the long run. Hello Bar has different pricing plans, each based on different criteria. The main criterion is how many clicks the toolbar has generated while present on your website. If the number is under 100, you can use Hello Bar for free. If the number exceeds this limit, be prepared to pay $5 each month. Even though the amount doesn't seem a lot at first, paying for this service is not justified, since there are some WordPress notification bar plugins out there that can do the job for free.
Because other plugins have more features
The concept behind Hello Bar was adopted by many other services out there, something that happens a lot in the open source world. The good part about this is that most Hello Bar alternatives are not just copy-cats. They often encompass more features in one single software program, which is much more convenient for the user. Alternative plugins become true lead generation tools that enable users to do all sorts of actions besides adding a simple notification bar to their website.
The alternatives for Hello Bar
WP Notification Bars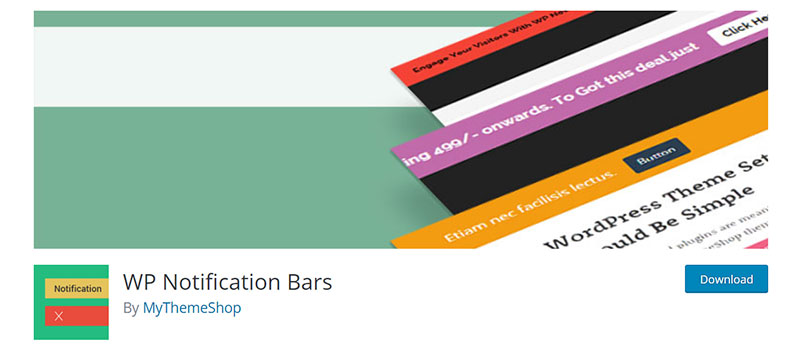 WP Notification Bars is similar to Hello Bar in terms of functionality. It is perfect for those who want to start a blog or a simple WordPress site and would like their users guided towards certain activities on it. You can set up custom notifications or set pop-up alerts. This is a premium plugin and has more functionalities than Hello Bar, including personalizing the notification bar for each page specifically, and more.
SleekNote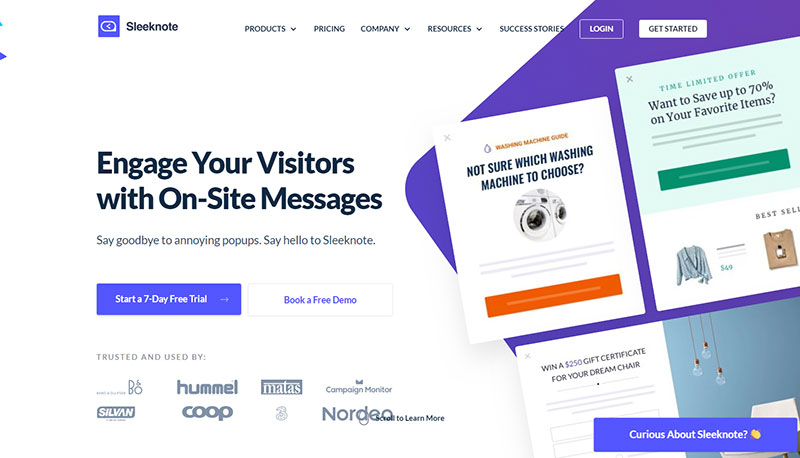 SleekNote is a plugin you would like to use if you're looking for a more analytic-oriented version of Hello Bar. You can set up the bar in just a few minutes, taking into account the particularities of your own site. The notification bar is packed with all sorts of details that allow for a high degree of control.
If you want a Hello Bar alternative that isn't complicated to set up or use, FooBar is definitely for you. It is a premium plugin that lets you create various notification bars. The features FooBar offers are not very numerous, but they are enough to personalize the toolbar the way you want it and increase your conversion rates rapidly.
Thrive Leads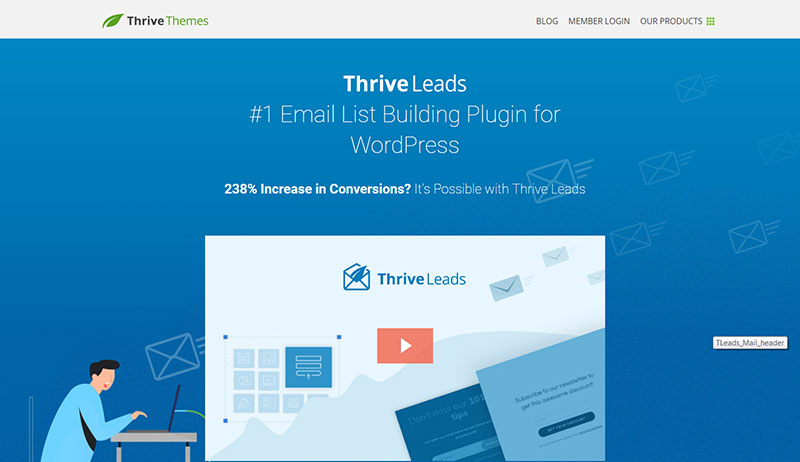 For those who have used Thrive Themes before, this name will definitely ring a bell. The company that creates those great responsive themes came up with Thrive Leads, which is a tool that can replace Hello Bar successfully. The plugin is meant to improve conversion rates in a short period of time and includes all sorts of advanced features. You can generate targeted offers based on categories, tags, and others.
Sumo Smart Bar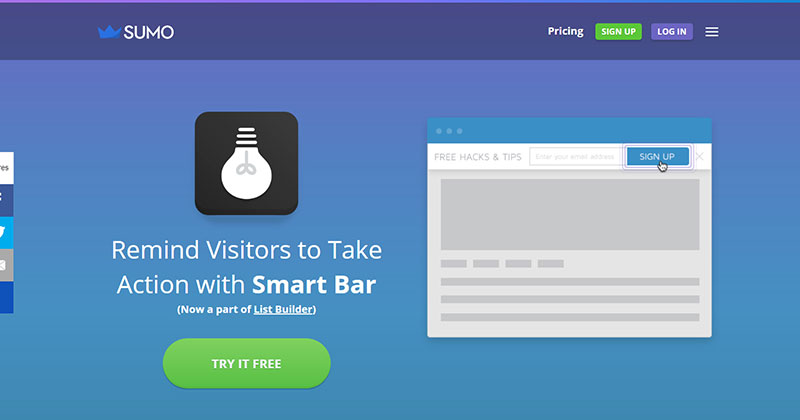 Another WordPress notification bar plugin that may beat Hello Bar is Sumo Smart Bar. This plugin has a free version that includes all the features you would need for a responsive toolbar, but it also includes a paid version that is more powerful. Choose a plan based on what requirements you must meet.
Thrive Architect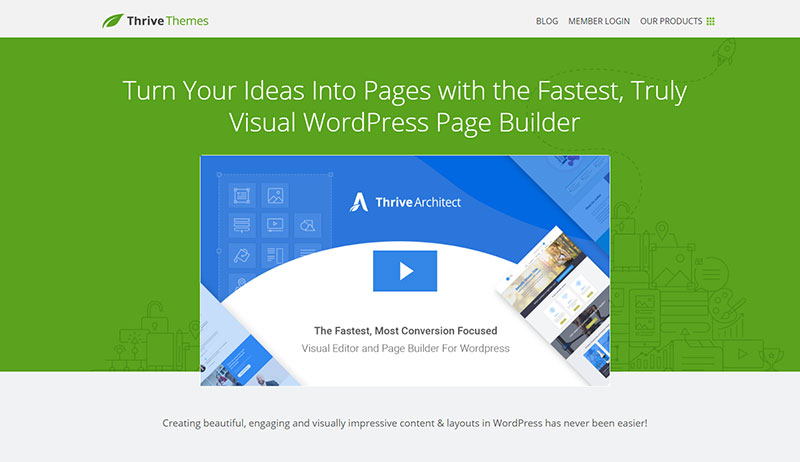 This plugin is quite different from Hello Bar or other plugins in this niche, as it can handle more than just the toolbar. Thrive Architect is a premium WYSIWYG Visual Editor and is topped with all sorts of features that will help you obtain the best results from your site.
Notification Bar for WordPress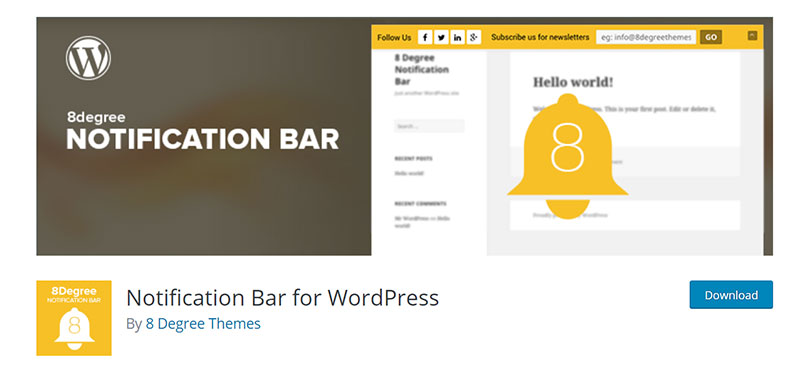 Notification Bar for WordPress does exactly what its name says – it adds a responsive toolbar on your site. This is one of the few freemium options you will find that could replace Hello Bar without question. Besides the toolbar, you can also add e-mail opt-ins, social media buttons, or new post alerts.
WPFront Notification Bar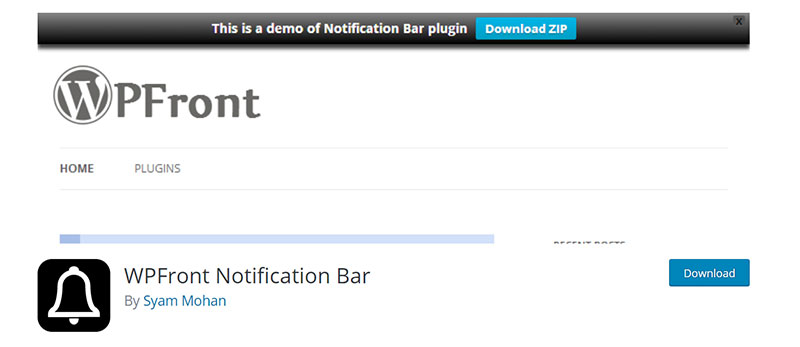 WPFront Notification Bar has an innovative function that lets you add a personalized message with an optional button. Multiple aspects of the toolbar can be customized, which transforms this plugin into a great Hello Bar alternative.
Attention Grabber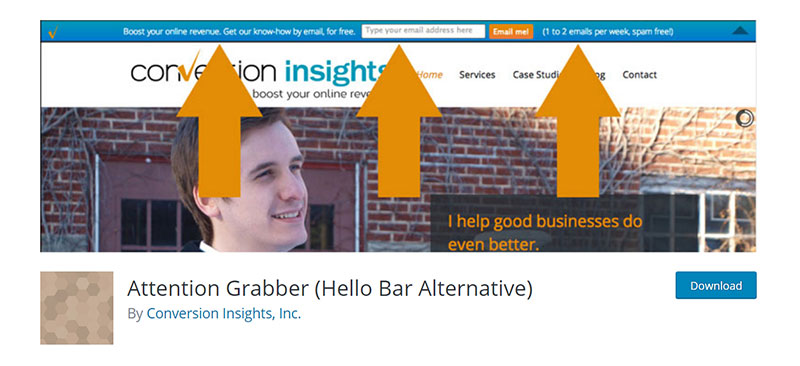 This plugin is another good alternative for Hello Bar which is similar in terms of how everything is handled and what features it offers. Attention Grabber is entirely customizable, which means you can modify most aspects of the toolbar in order to redirect traffic to pages of your choice or to collect e-mail addresses.
ManyContacts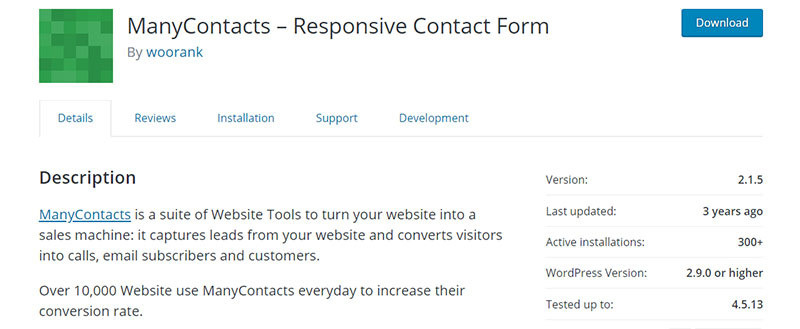 Those who've used WooRank before should give ManyContacts a try. This is a WordPress announcement bar plugin developed by the same team behind WooRank, so you know it's good. Setting up the plugin couldn't be easier and using it is a pleasure. The plugin is free and you can use it to increase your conversion rates, collect e-mail addresses, and increase social media engagement.
Top Bar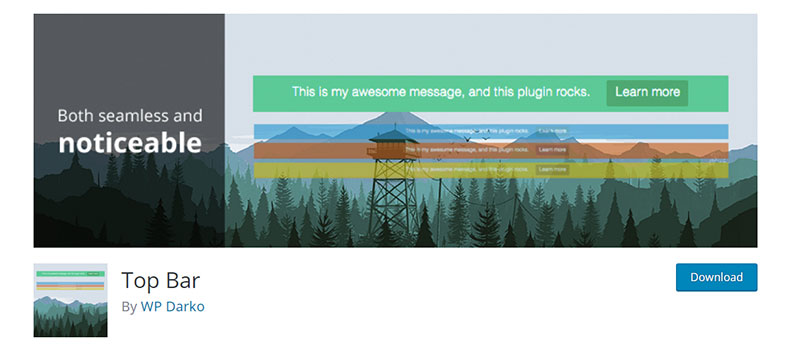 Top Bar is another excellent choice if you want to step away from Hello Bar. The notification bars you can create with this plugin are highly eye-catching and can be created in a few minutes with an easy-to-use interface.
Final thoughts on using an alternative to Hello Bar for WordPress
Since lead generation is an important matter in today's world, finding ways to keep up with the competition is mandatory. Luckily, tools like Hello Bar or alternative plugins such as the ones mentioned in this article are created to make your job easier. Ultimately, Hello Bar is a great tool, but if you want to use more functions in one single product or you are not willing to pay for this service, choose one of the plugins listed above.
If you enjoyed reading this article on Hello Bar for WordPress, you should check out this one about WordPress chat plugin options.
We also wrote about a few related subjects like WordPress client portal plugins, store locator WordPress plugins, WordPress review plugin, WordPress directory plugin and WordPress contact form options.