Regardless of the industry, you work in, the Internet can be a great place to build a better image for your business. The virtual world is the perfect place for anyone to share their thoughts, opinions, and experiences – and people love doing so.
This is why companies need to establish themselves online and ask their clients for reviews. Other people can then check out these reviews and decide for themselves if the company is worth a shot or not. Reviews are a source of credibility that you won't be able to replace in any other way.
In addition, business owners and managers can receive valuable feedback about their products or services, which is the first step toward improvement.
Thankfully, with a content management system like WordPress, there's no need to pay for costly development to add this feature to your site. You can simply use a WordPress review plugin to manage and collect reviews on what people think about your business. Keep reading more about this topic in this article created by our team at wpDataTables and learn how to choose the best one.
Why Should You Use a WordPress Review Plugin?
If you're still not convinced that a WordPress review plugin could help your website, here are some additional reasons to consider using one:
You can easily list the reviews on your website using a widget.
You can encourage people to leave reviews by integrating a customer-friendly system.
You can make people curious to read the reviews, thus having them on your website for a longer period of time.
Review plugins are flexible – you can choose the way you want your reviews listed.
You can manage all the reviews within one single platform.
7 WordPress Review Plugin Examples You Can Choose From
Schema Pro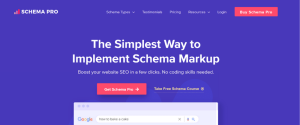 Schema Pro provides an essential service for reviews. This WordPress plugin ensures any reviews you feature will include the correct review schema. This can drastically improve the chances of it appearing in Google search results as a rich snippet.
Schema Pro is a premium plugin that makes it easy to include compliant schema in your web pages. All you need to do is select the schema type, select the page or post and map the schema to it. The plugin will do the rest.
Schema Pro includes all current schema types and is regularly updated to include new schema as they are released. It's the easiest way to implement schema on your website!
StarCat Reviews Plugin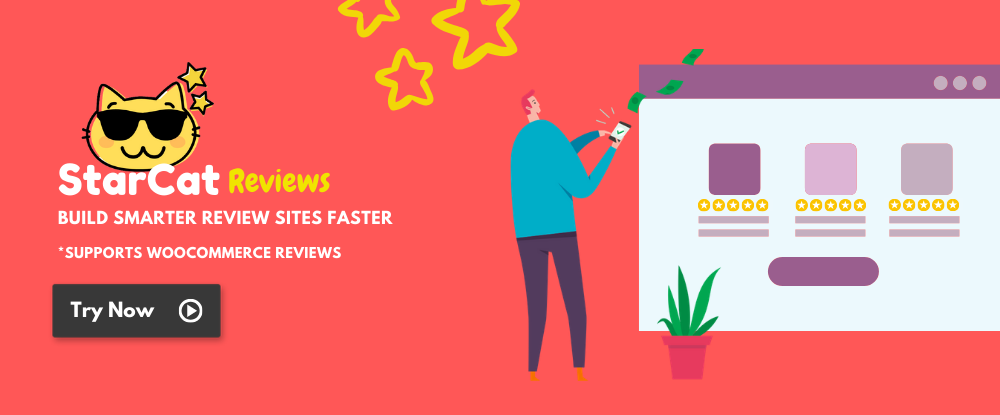 StarCat Reviews plugin comes with a captivating review form that encourages your customers to leave a review and can also upvote other reviews that they find helpful. As a website owner, you can include a review system in any page or post such as blog posts, custom post types or even your WooCommerce Store.
The reviews could include Multiple Rating Criteria, Pros & Cons section, display an overall Review Score and even Reply to reviews. It implements Review Schema to display the ratings in Google search pages.
There are some premium add-ons available such as Review Voting add-on, Photo Reviews add-on, Reviews Post Type add-on, Comparison Table add-on to create a full-fledged review and rating website.
WP Review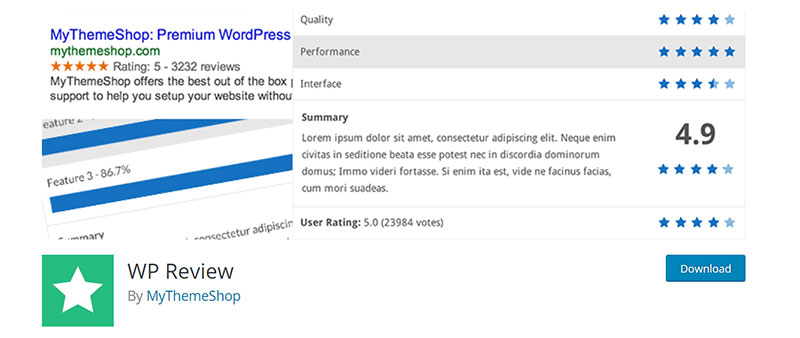 WP Review is a WordPress review plugin that can be installed in a matter of minutes and can be used right away. You can choose your preferences from the default options screen. You can then either apply the same details to all products or set individual details for a bigger number of products.
WP Review is more suitable for smaller websites and beginner users, as it has a very simple interface that lets you make basic modifications. It is a great review plugin to start with and it is useful in terms of automating the reviewing process, as you can add the same conditions to multiple products.
Site Reviews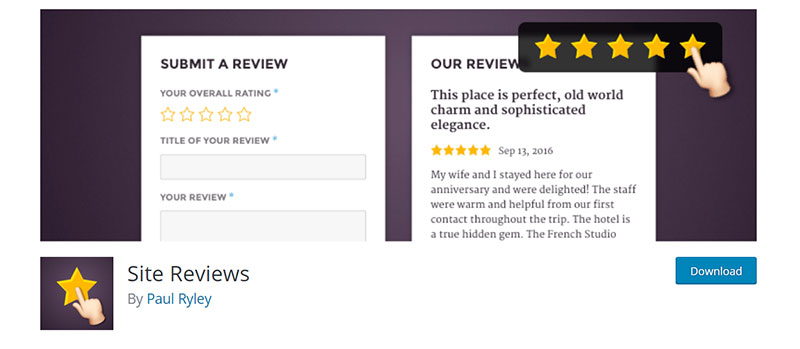 Site Reviews is a popular WordPress plugin. It is based on a rating system, so your website visitors can rate each product according to their experience. This WordPress review plugin is simpler to configure than the other ones mentioned here.
You can choose between multiple features like pinning the best reviews at the top instead of having them listed chronologically, and you can ask for sending the reviews to approval before publishing them on the site, amongst other neat features.
What is even more interesting about Site Reviews is that it is highly configurable using shortcodes. You can switch between the classic and block editor after your own liking. What's more, you can create backups of your reviews and restore reviews on another website.
WP Customer Reviews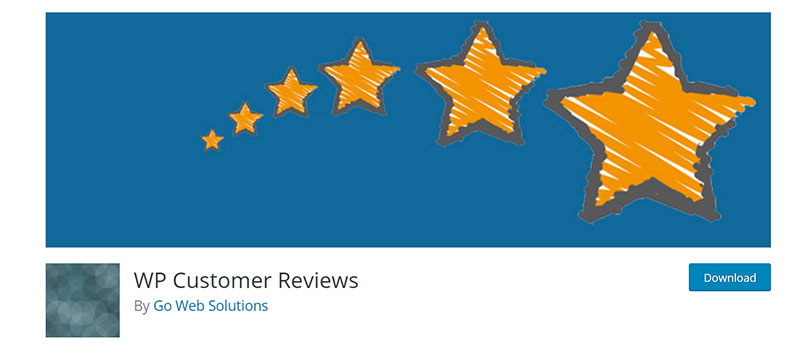 A feature-packed WordPress review plugin, WP Customer Review brings a lot of benefits to the table. Visitors can leave feedback directly on your website based on the details you set. Unlike some other free WordPress review plugins, this one doesn't cause your website to load slower or freeze.
You can use this plugin on multiple pages or posts. The admin can manage and respond to each review. Overall, WP Customer Reviews is one of the most complete solutions for adding reviews to a WordPress site.
Reviewer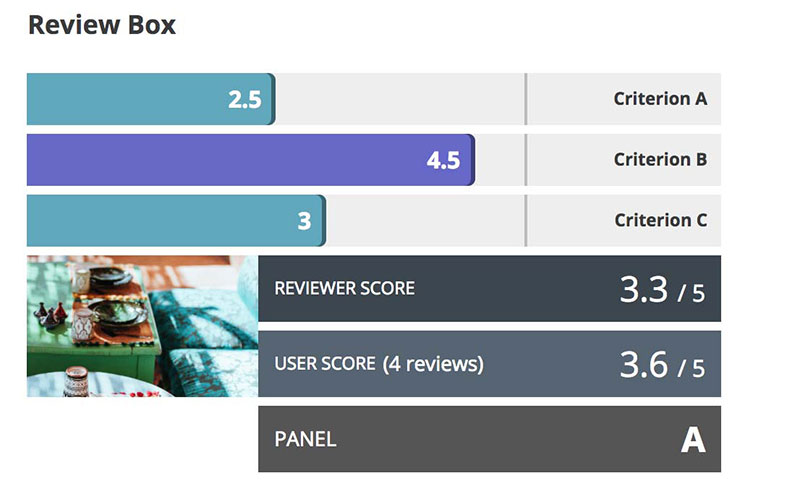 Reviewer has most of the features that you would want from a WordPress review plugin. First of all, the interface is very easy to use, and it is designed beautifully so that it fits any website regardless of its theme.
Secondly, it has powerful features like adding reviews to different pages and posts, splitting them into parts, adding unlimited criteria, summing an overall rating, and more.
Reviewer can be fully customized depending on your needs and on what products or services you are selling. Style-wise, Reviewer is probably the best plugin of this type out there. You can even add thumbnail images.
Google Places Reviews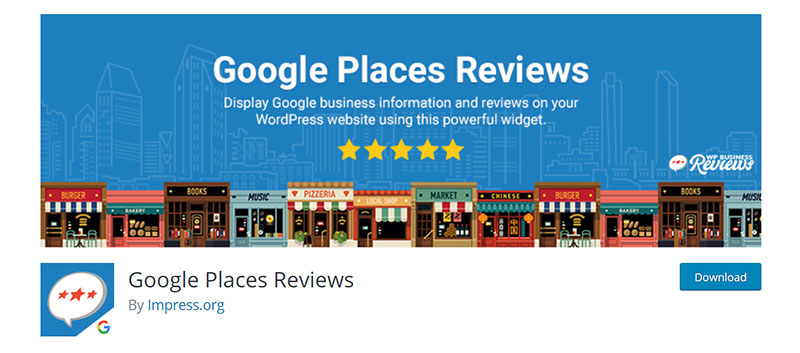 For those who own local businesses, Google Places is highly trusted when it comes to what people have to say about your company. That's why it would be best to add reviews from Google Places directly on your website.
Official reviews such as the ones from Google Places inspire the most trust. They are widely-read and it's a great idea to have them listed on your official website. Otherwise, people will see them only when they google your company's name.
POWr.Reviews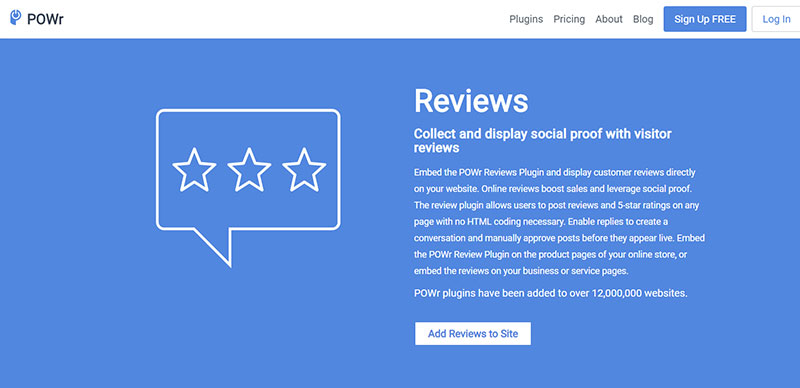 Finally, POWr Reviews closes the list as one of the best WordPress review plugins out there. It lets you collect reviews and display them on your website with ease. You can add a front-end comment section on a page of your website that can be managed from the back-end.
Even though this plugin is free, you'll have to create a POWr account to get started.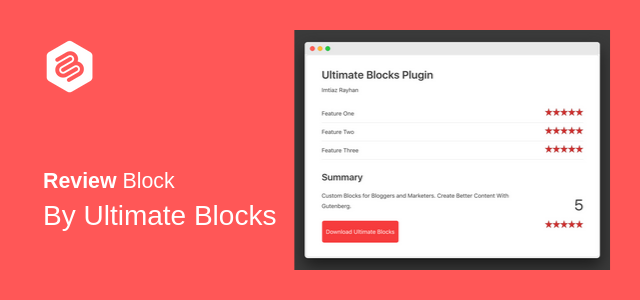 Ultimate Blocks is a Gutenberg blocks plugin that has a schema-enabled 'Review' block. The review block lets you add a review box on your WordPress blog posts.
You can add the title of the review, review author name, features, summary, and a call to action button in the review box. You can also change the color of star ratings and the button.
Other than Review block, Ultimate Blocks has some awesome blocks like Table of Contents, Progress Bar, Image Slider, Countdown, Click to Tweet, etc.
Ending thoughts on these WordPress review plugin
Considering the generous examples listed above, you can tell that there are a lot of options to choose from when it comes to selecting a WordPress review plugin. You just have to figure out what your needs are and what would work best for your website's specifics.
Look for customizable plugins that let you manage the reviews as they appear. As long as they are easy to use, don't affect your website in terms of loading times and look good, you're good to go.
If you enjoyed reading this article on WordPress review plugin, you should check out this one about WordPress chat plugin options.
We also wrote about a few related subjects like store locator WordPress plugins, WordPress client portal plugins, hello bar for WordPress, WordPress directory plugin and WordPress contact form options.