Websites are used for all sorts of purposes, but their main role is to inform people about something, be it products, services, or just information on a specific topic. That said, most sites contain loads of information that people might find difficult to skim through all at once.
For your part in making things easier for your visitors, you might want to provide a way to answer any questions that they may have in real time. One way to do this is by using a WordPress chat plugin.
When you install and activate such a plugin, customers can start a live chat conversation with you right away. Now isn't that convenient? In this article created by our team at wpDataTables, you'll discover some of the best WordPress chat plugins you can use right away. Read on.
Why Should You Consider Live Chat Support?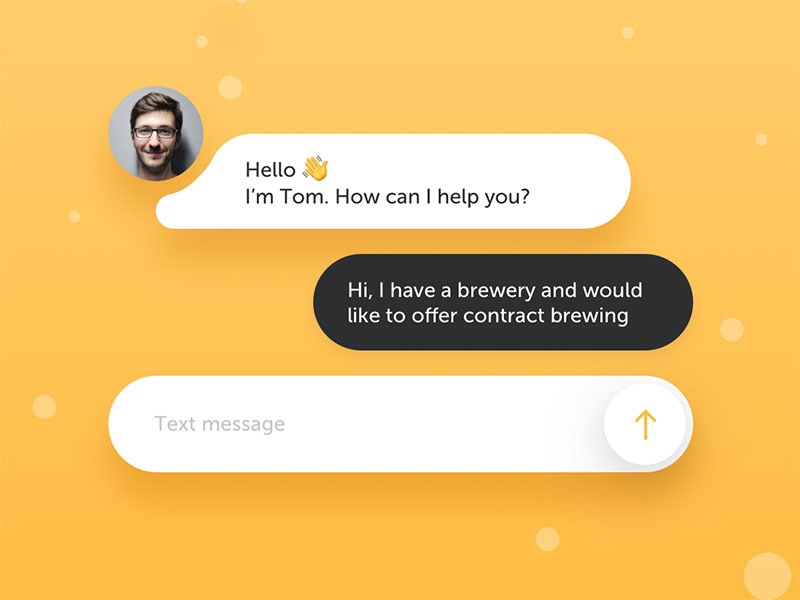 If you're not convinced that you need WordPress live chat, consider that people nowadays are accustomed to instant service and hold high expectations of any business. In online sales, especially, it's crucial to answer the questions of your potential clients as quickly as possible.
Many websites rely on social media platforms, email, or telephone for these, but in today's era, people want instant replies without having to dig up your contact details or leave your site to find your company's Facebook page.
This is where the WordPress live chat function steps in. You will simply add a chatbox, similar to the ones you see on Facebook, where customers can send you messages and you can reply back.
You can either offer this service 24/7 or during the business hours of your company. If your website sees lots of traffic, you may need to hire someone to answer the messages. The goal is to have them answered in less than 1 minute.
Those who want to offer their customers an impeccable customer service experience will find client satisfaction skyrocket after implementing a live chat function to their website. Many companies, including factoHR, HubSpot, Mastercard, and many others, are focusing on this live chatting feature and incorporating its use in their website.
Here's the list of WordPress chat plugin options for you to try:
WordPress Chat Plugin Options to Choose From
Facebook Chat for WordPress

Facebook Chat is a WordPress plugin that allows you to put a Facebook page chatbox on your website, visitors can chat with you via your Facebook page inbox. This is an easy way to offer support, keep in contact with your customers, turn visitors into your customers, and chat with them anytime to increase sales and build trust.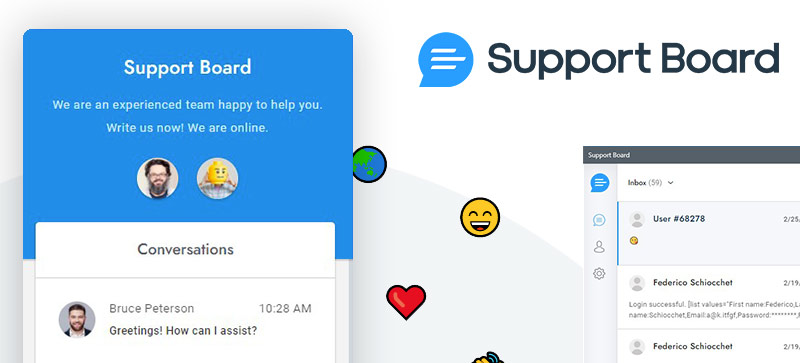 Support Board is maybe the only standalone professional chat in the market, it's not a SAAS, but a plugin that you install on your server or hosting without sharing your data with 3rd parties. The plugin includes some innovative features like the chatbots, it will give your agents and support team members superpowers by linking humans capabilities with the Artificial Intelligence of Dialogflow.
Support Board is a WordPress chat that's worth a try also for the integration with Slack, you can use Slack to reach your website visitors and communicate with them from Windows, Mac, iOS, and Android. The WordPress deep integration is capable of automatically sync the WordPress users, detect the logged-in user, and much more.
You will get all of them with a one-time fixed price that includes lifetime updates. Slack and Dialogflow are free to use too.
WSChat – WordPress Live Chat Plugin
WSChat – WordPress Live Chat Plugin is a handy and lightweight plugin that offers advanced features to improve your customers' chatting experience. Unlike other SaaS-based live chat plugins, it works completely within your WordPress environment with no external dependency. It ensures security and privacy by providing full control over your data, and the data can be managed only by the store owner, as it is served in your server exclusively. This robust plugin offers various widget customization options to make it fit on your website theme.

AI integration using Dialogflow by Google helps to trigger automated responses for the customers' queries right after they initiate a conversation. Easy monitoring and tracking of active visitors on your website will help to reach the customers from your side and initiate presale queries.
You can customize the chat header area, which has several options for attaching a file, sending the conversation history to an entered email ID, recording and sending videos, notifying the customer satisfaction with the like and dislike buttons, etc. If you are already using WSDesk – WordPress Helpdesk & Customer Support Ticket System Plugin for your customer support, you can easily integrate it for importing the agents, converting customer queries into tickets, and much more.
LiveAgent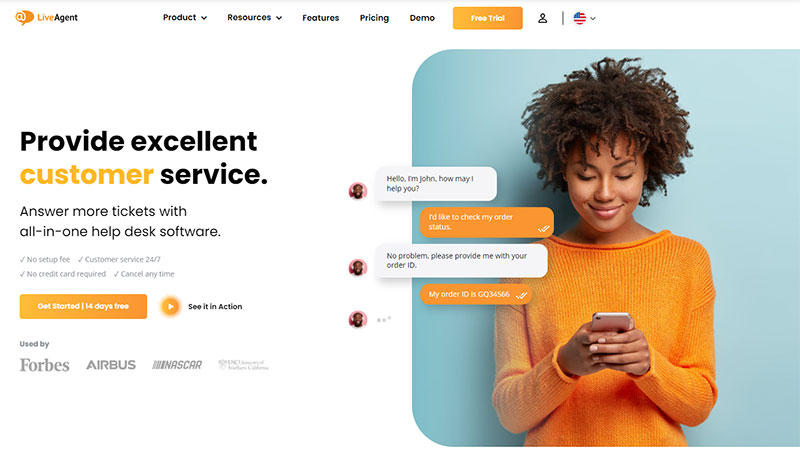 LiveAgent's Customer satisfaction depends on personalized, relevant, and timely customer service. LiveAgent's live chat plugin checks all of these boxes. It offers easy copy-and-paste integration for your website, enabling you to connect with your customers in a matter of seconds.
In a chat gallery, you can choose the look and style of the chat button. If you want it to match your brand even more closely, you can create a widget of your own by uploading an image or writing your HTML code. If you provide customer support in multiple languages, the button can also be customized for each language.
To embrace the dynamic capabilities of this plugin, take notice of real-time typing view and proactive chat invitations features. The former enables agents to observe what the customer is typing and prepare an answer in advance. The second one is a timed popup that appears on the screen and offers a convenient option for customers to request assistance.
For even greater engagement, you can also start a live video chat and share your screen with your customers. A 14-day free trial is available, and you do not need to request a quote as all plans can be found on their website.
LiveChat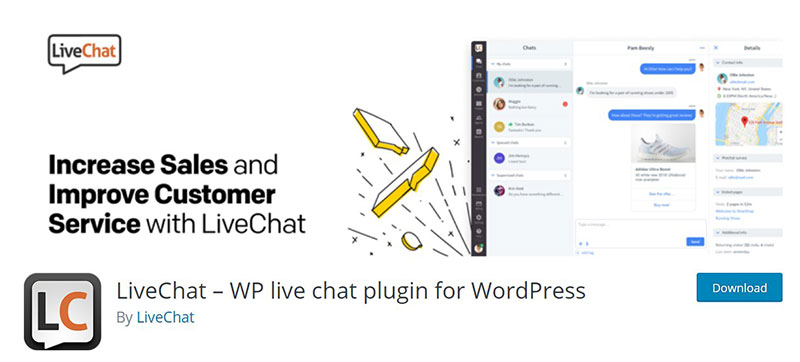 LiveChat is one of the most solid solutions you can find. A good WordPress chat plugin is all about ease of use and LiveChat embodies this principle nicely. You can use LiveChat to converse with your visitors instantly and it also comes with a built-in ticketing system for support agents to keep track of queries.
By installing this plugin, you get a pop-up chat box placed at the bottom of your homepage. The chat box is sticky, which means it will remain there regardless of the action that's taking place on the screen, and you can pair LiveChat with translation plugins or Google Analytics.
You can also purchase a premium version for chat encryption and creating user profiles. The premium version lets you remove the chat box from certain pages on your website, as well as personalize it with your company's logo.
Pure Chat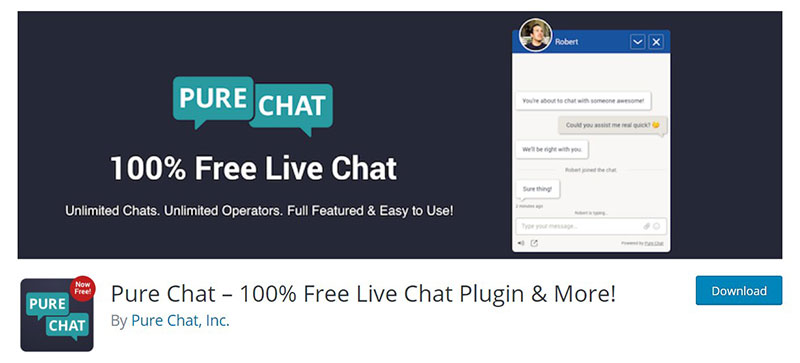 What's great about Pure Chat is that it lets you chat with more than one visitor at a time. Just as in the case of Facebook, the messages will be stored in the transcript history, so that you can see if you chatted with that client before.
When you are offline, you can give clients the possibility to send you an email within the chatbox, which is a convenient way of contacting a company without leaving the main website.
You will need a Pure Chat account for using it, which will allow you to customize the chat widgets and integrate this WordPress chat plugin with other tools and apps for better customer management.
Sendinblue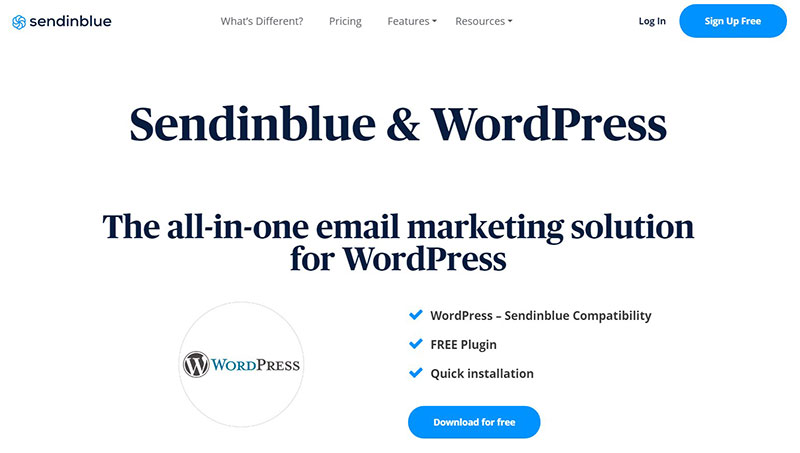 Another beginner-friendly WordPress live chat plugin, Sendinblue is very simple to set up and use. You will have to create an account that you connect to this plugin on your website. The chat integrates with the marketing automation tool that bears the same name — Sendinblue.
It's a convenient WordPress chat plugin with enough functions to help you capture more leads in a shorter period of time.
WP Live Chat Support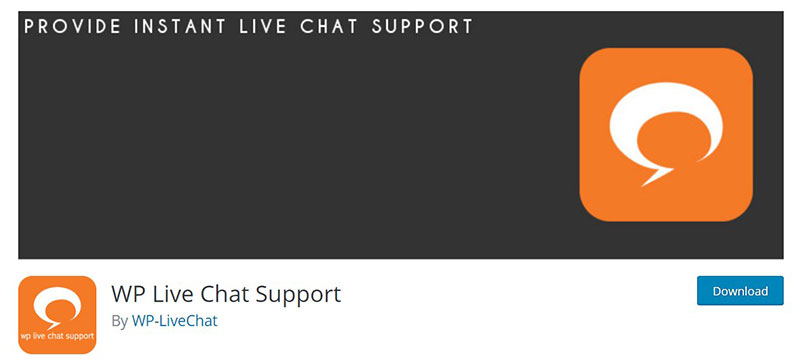 Compared to the other live chat plugins listed in this top, WP Live Chat Support is a native WordPress plugin that you can find directly in the store. Most other WordPress chat plugins have a separate settings panel that you need to access to manage everything.
With WP Live Chat Support, you can edit everything within the WordPress dashboard. Say goodbye to third-party interfaces and do your job without leaving the CMS platform. The creators of this plugin let you either host it on our own server or use the plugin's server.
Tawk.To Live Chat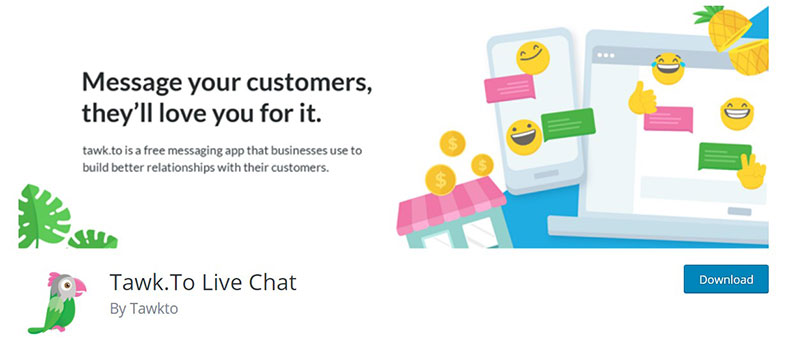 Tawk.To Live Chat is one smartly built chat app. With it, you get to monitor and chat with any site visitor that is interested in your services,with the ability to have multiple support agents chatting with different visitors at the same time.
Because many people prefer using their phones or tablets instead of desktop PC, it's important to implement a live chat that's compatible with iOS and Android. Tawk.To is a great option with this in mind.
This WordPress chat plugin is completely free, and you can contact the team behind it 24/7, in case you encounter any problems with it. Currently, the website has no less than 1 million uses.
Paldesk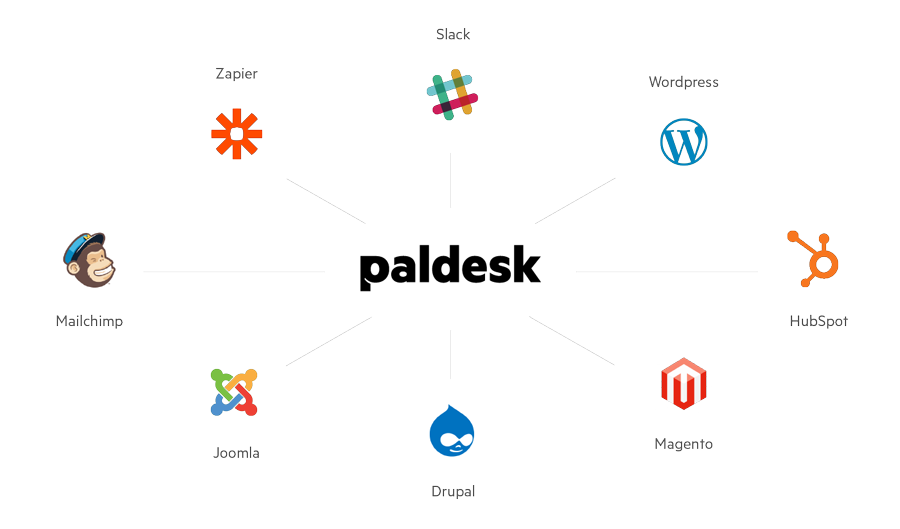 Paldesk is a live-chat, helpdesk and marketing software for brighter, personalized, customer-centric interactions. Communicate on multiple channels with all of your customers from a single dashboard – Paldesk! Connect all of your communication platforms and answer all of your emails, live-chats, social messages with Paldesk' omnichannel! Worried about the language barrier? Worry not.
Paldesk has a live translate option empowering customer service agents to communicate with customers in their native language. Automate the most frequent customer care scenarios using the Paldesk assistant chatbot, while maximizing the time and efficiency of your customer care agents. Give your agents the opportunity to focus on more complex cases, while Pal the Assistant helps out your visitors.
Drift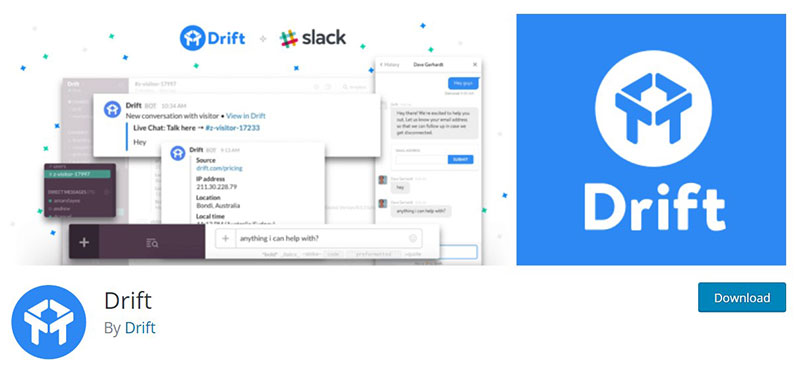 Drift goes well with marketing and sales, rather than offering full customer support to your users. If you want to engage more with your prospects and transform them into recurrent buyers, this WordPress chat plugin might be the best choice.
It is tailored to meet all marketing requirements and it comes with dedicated apps for mobile phones running iOS and Android.
Olark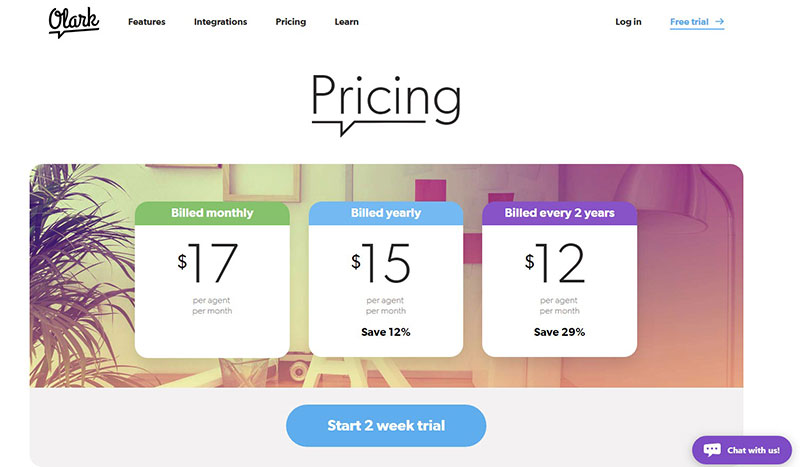 Olark is that multi-feature plugin that lets you do more than just live chat. While it's not a pure WordPress chat plugin, it offers enough functions to easily integrate a live chat to your website.
The most powerful fact about it is that you can use code to modify its features. It works with both child and custom themes, and you can add it as a sidebar widget.
Tidio Live Chat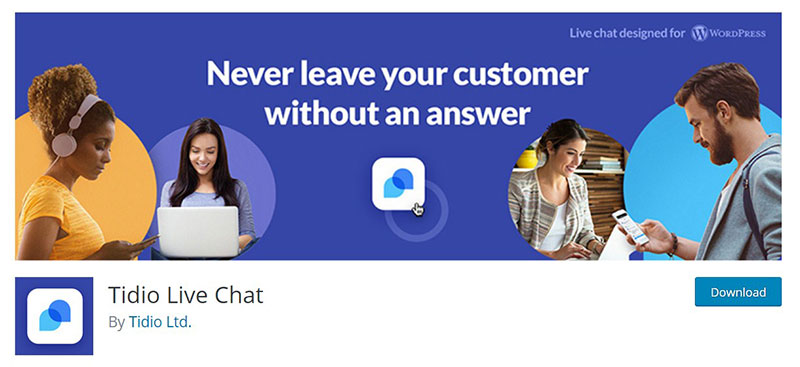 Tidio only requires installing and activating the plugin on your website and the chat box will appear right away. You can tweak some settings, but it's not the most customizable WordPress chat plugin out there.
It comes equipped with three pre-made designs and you can only adjust the color schemes in terms of looks. Tidio supports multiple languages, so you don't need to use a translation plugin with it. You can place it in the bottom right or left corner.
Also, you can assign more than just one agent to answer messages, as they will have individual accounts.
Chaport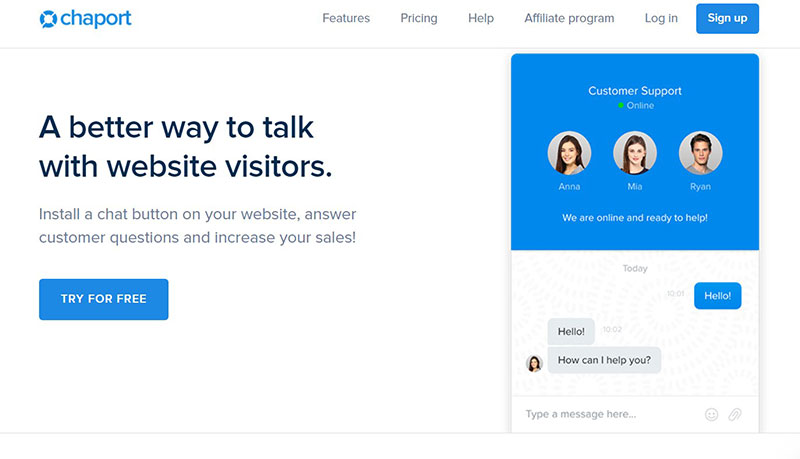 Chaport is a free live chat support plugin for WordPress that offers everything you would want from such a software product. Without paying a dime, you get unlimited chats, message history, notifications, unlimited agent registrations and up to 5 agents answering messages simultaneously on the platform.
It's a good choice for those who are adding a live chat on their website for the very first time and would like to have all features packed in one single plugin. You can integrate it with Zapier for analyzing data and generating reports.
JivoChat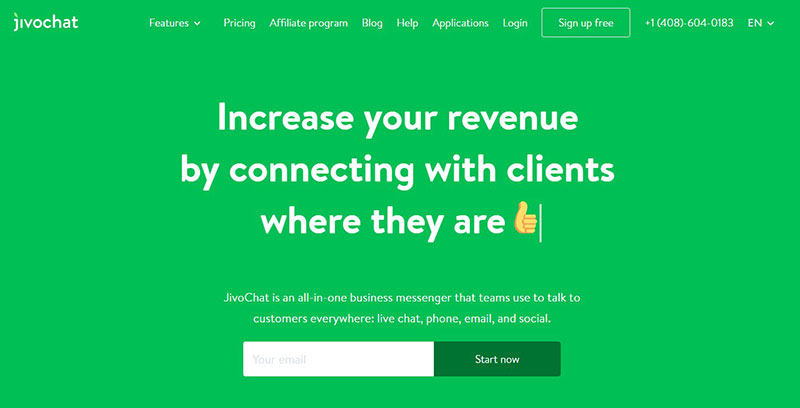 If your main goal is to increase customer retention and your conversion rate, JivoChat is one of the best WordPress chat plugins on the market. The chat widget is customizable, and you can add automated greeting messages to it.
JivoChat also features SSL encryption for an extra layer of security and it can be integrated with Amazon.
Ending thoughts on these WordPress chat plugin options
WordPress live chat plugins can be really helpful if your website gets a lot of traffic and you can no longer handle all the messages on your social media platforms, email, and so on.
Having all the messages centralized on your website will take the hassle out of customer management and should help you run your business more smoothly. Choose a WordPress chat plugin from the ones listed above and get to chatting right away!
If you enjoyed reading this article on WordPress chat plugin options, you should check out this one about WordPress review plugin.
We also wrote about a few related subjects like store locator WordPress plugins, WordPress client portal plugins, hello bar for WordPress, WordPress directory plugin and WordPress contact form options.