If your website is an eCommerce store or has anything to do with providing a service to customers, you already know how important it is to turn visitors into leads. This can't happen unless your website looks and feels professional. Beyond design, an aspect that is often overlooked is how streamlined your customer relationship channels are.
Establishing good communication between you and your website's visitors by implementing a live chat, contact forms, or other methods to give them the chance to transmit their thoughts to you is a must. This article created by our team at wpDataTables will teach you the essentials of how to put together a WordPress client portal to maintain good relations with your clients.
What Is A Client Portal?
A client portal is that part of your website where users can log in and obtain privileged access to certain information. For instance, they can check out their history with your website (e.g. if they made any purchases), they can customize their profile, upload different files on their account, and so on.
With a client portal, they can also access a knowledge base that offers helpful resources and solutions for common queries.
A WordPress client portal is a space where users can personalize their presence and feel at home.
You can also share private information with the users that have an account and access their client portal. Collaboration tools can be added to this WordPress customer portal to encourage a healthy exchange of messages in a secure manner. It can also be used to help website owners manage their clients' accounts and help them with support issues. Simply put, it is a tool that helps people customize their profiles, and website owners keep track of their visitors.

When Should You Use One?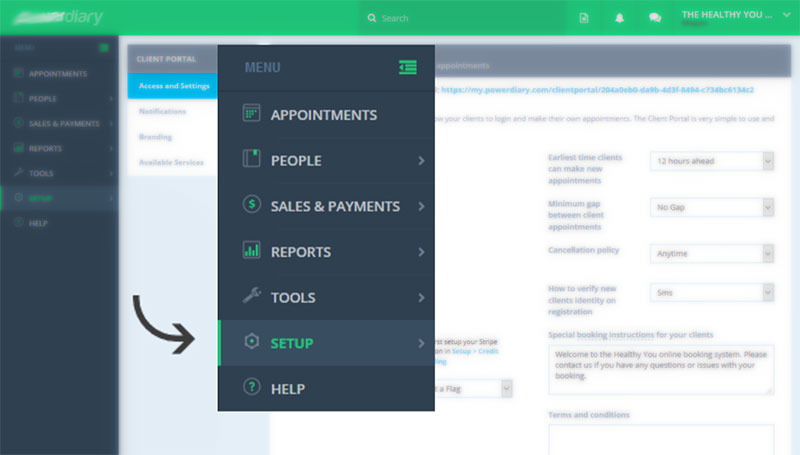 WordPress client portals are mainly used to provide certain services to the users of a website, but only the registered ones. The client portal can be accessed only by logging in to the site and it can provide both support and extra functionalities. The main advantages of a WordPress client portal are:
Reducing support costs – people can take advantage of a self-support system, thus reducing the costs of keeping a 24/7 customer support section present on your site. Without this, it would require hiring people who can be there to answer questions at any given moment. With self-support, problems can be solved by the users themselves in some cases, by guiding them through common issues and solutions.
Keeping all users in the same place – instead of having messages coming from ten different sources from your website visitors, it's easier to have them all together in one unified portal.
Up-selling and cross-selling – once you have all users in the same place, you can share exclusive info with them, including product recommendations. This might get them to buy more or at least to find more information about the products that you are mentioning by checking out members-only offers.
It makes knowledge accessible – offering support is mandatory, and you should also include Q&As in this section. If the section is missing, access to information is visibly reduced. By implementing a WordPress client portal, you give people broader access to information that they can view whenever they need it, without having to ask you directly.
The user experience gets better – once visitors see that your website is well-built and contains a portal where they can customize their experience and communicate with you effectively, you'll have gained appreciation in terms of user experience.
What Features You Should Look For?
You can always implement a WordPress client portal and not care about how it looks and works. But even though this function might be present on your site, if it works improperly, it won't be useful in any way. Once you've decided to add a WordPress client portal to your site, look for these features:
Easy integration
Intuitive interface
Adaptable to change
Permission-based controls
User-centric
Full support
Encouraged collaboration
11 WordPress Client Portal Plugins to Choose From
Once you've decided to have your WordPress client portal included on the site, you can use a plugin that will do the job for you. Each plugin comes with features that can be more or less appropriate for what you want.
As an easier approach, you can try using a Managed WordPress hosting, which allows to install a complete website with bundled plugins in 1-click, picking from different use cases, including the client portal. In case if you prefer to pick components and build a custom solution yourself, analyze each of these 11 plugins and see which one fits your needs best:
1. LearnDash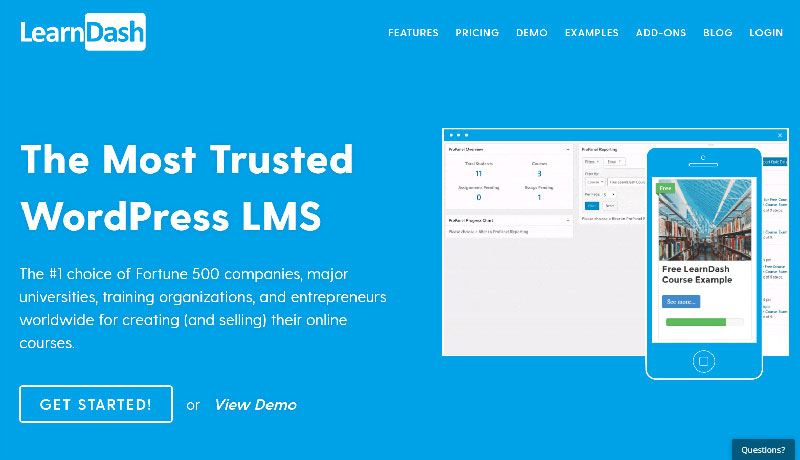 This WordPress client portal plugin is appropriate for websites that are centered on education and learning. You can configure the client portal the way you want, by making use of its many customization options. The customer support portal you can create with this plugin is a dedicated, user-centric experience and your users will thank you for it. The portal can only be used by users who own an account on your site.
2. MemberMouse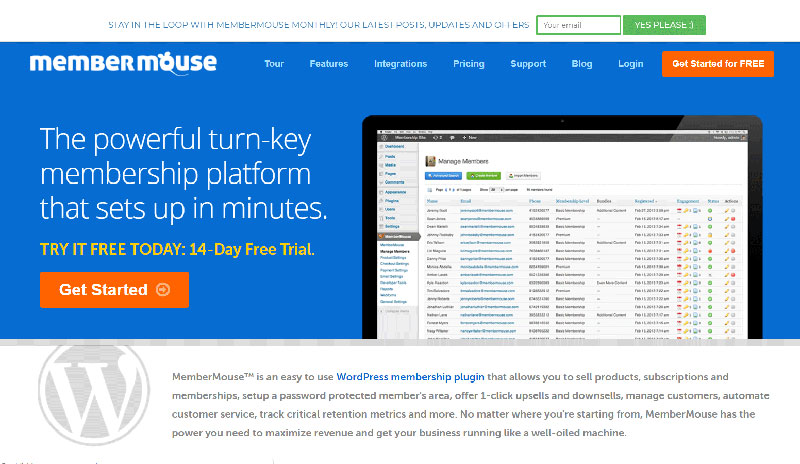 This WordPress client portal plugin helps you run a complete client portal with ease. It is a premium plugin with a monthly charge, but this type of ongoing service is perfect if you don't want to invest much of your time into handling the WordPress client portal yourself. MemberMouse will do the job for you and create a responsive platform that users can take advantage of.
3. Awesome Support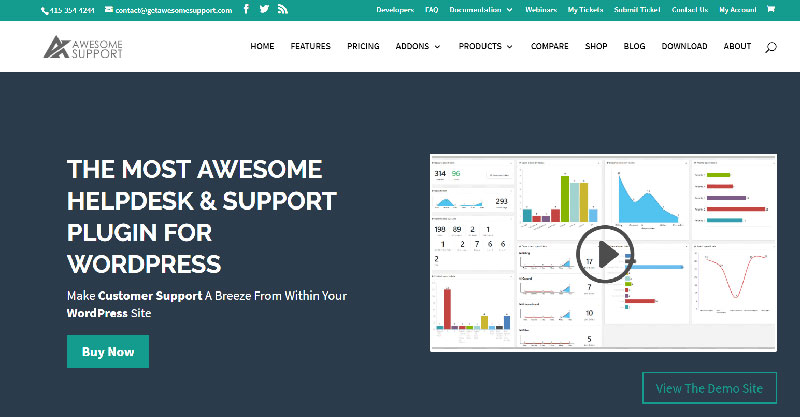 One of the simplest portal plugins you can find, Awesome Support enables website owners to build a WordPress client portal within the CMS itself. If you possess a subscription to a help-desk service such as Zendesk, Awesome Support lets you integrate this info with the portal.
4. Clinked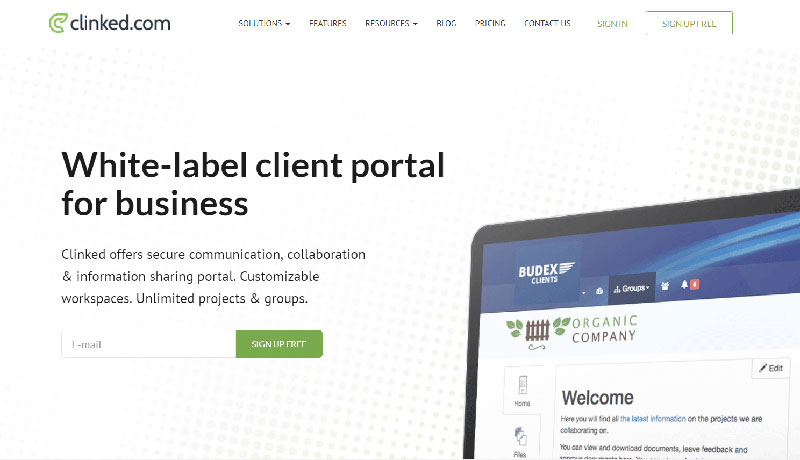 Clinked may be the best choice if you are looking for a WordPress client portal plugin to help you manage all the users of your site from every angle. You can exchange files through the WordPress client portal, chat with the clients directly, and more. The platform is a white-label solution, which means you can brand it with your own logo and imagery, and it's a great way to communicate with your clients whenever they need it. It has the necessary tools to streamline the processes that happen on your site, regardless of its niche.
Hey, did you know data can be beautiful too?
wpDataTables can make it that way. There's a good reason why it's the #1 WordPress plugin for creating responsive tables and charts.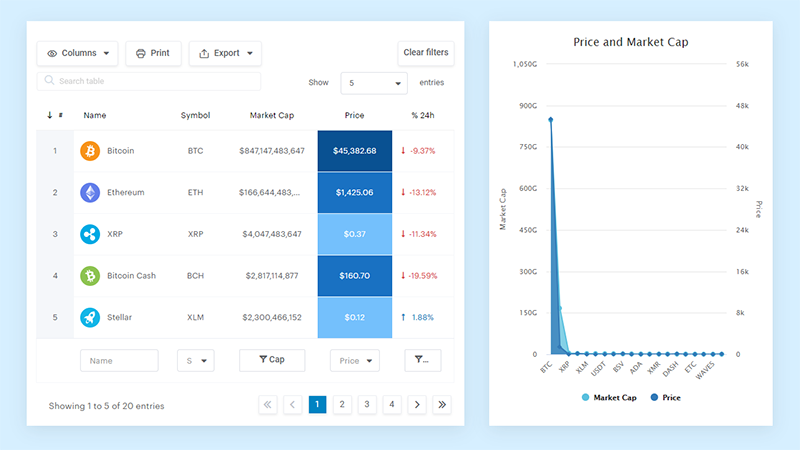 And it's really easy to do something like this:
You provide the table data
Configure and customize it
Publish it in a post or page
And it's not just pretty, but also practical. You can make large tables with up to millions of rows, or you can use advanced filters and search, or you can go wild and make it editable.
"Yeah, but I just like Excel too much and there's nothing like that on websites". Yeah, there is. You can use conditional formatting like in Excel or Google Sheets.
Did I tell you you can create charts too with your data? And that's only a small part. There are lots of other features for you.
5. SuiteDash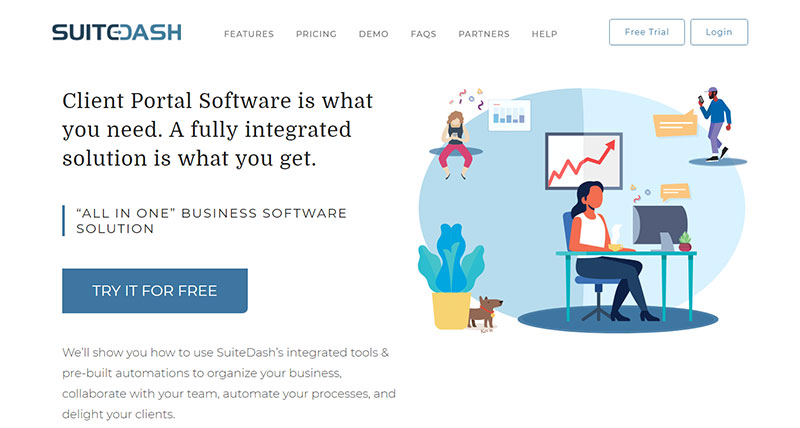 If you are looking for a client portal plugin that is not complicated to use and can help you with both managing and communicating with your users, SuiteDash is the one you want to try. The plugin combines different tools and features that will enhance productivity for both you and your users.
6. OfficeWP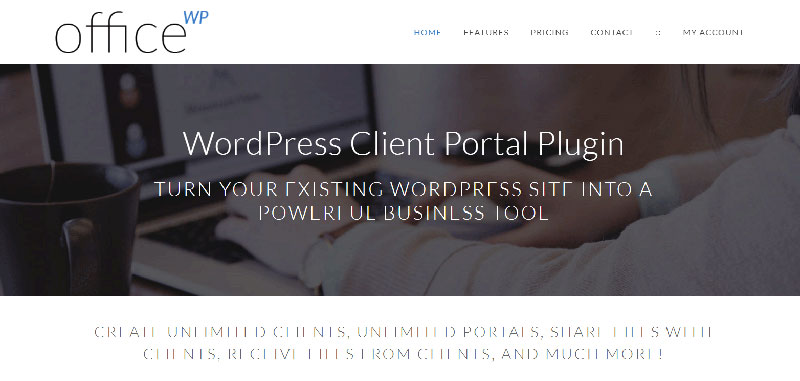 Do you want to create more than just one WordPress client portal? Worry not. OfficeWP lets you create as many client portals as you want, without limitations. You get the same functionalities as in the case of all the other plugins listed in this article, but you can extend that to a number of portals of your choice.
7. WP-Client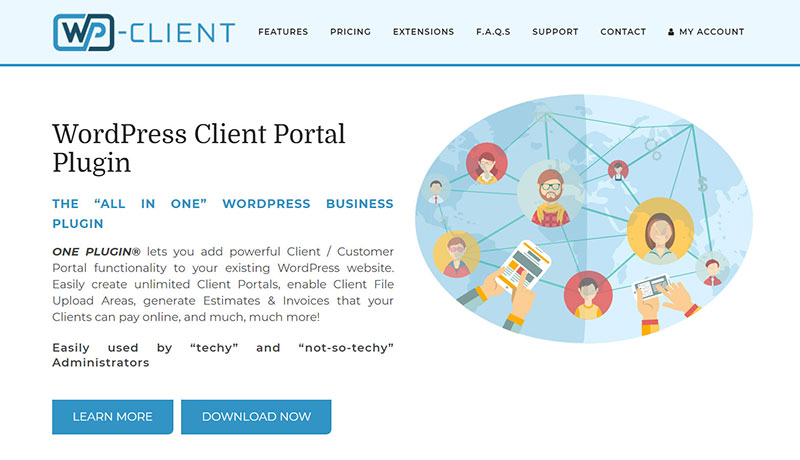 For those who want to use a client portal plugin that's not dedicated only to one type of user, WP-Client is great. Both tech-savvy people and beginners can use it. The WordPress plugin is rich in features and you can also create easy-to-read reports related to client activity.
8. WordPress Customer Portal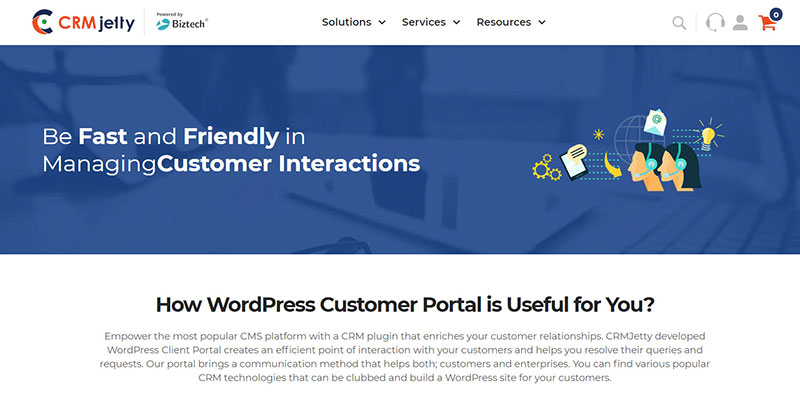 This is an amazing client portal plugin to keep the relationship between you and your customers on a good note at all times. By creating an interaction point with a customer portal, you give users the chance to ask any questions they may have or initiate their requests right within the platform. You can then answer them quickly and provide users with the needed information. Moreover, you can also integrate this WordPress plugin with other CRM tools.
9. Client Dash

Client Dash is extremely simple to use and offers the basic functions you would need when integrating a WordPress client portal. The interface is not complicated and you will learn the client portal plugin's features by heart after a few uses.
10. Ultimate Private Member Portal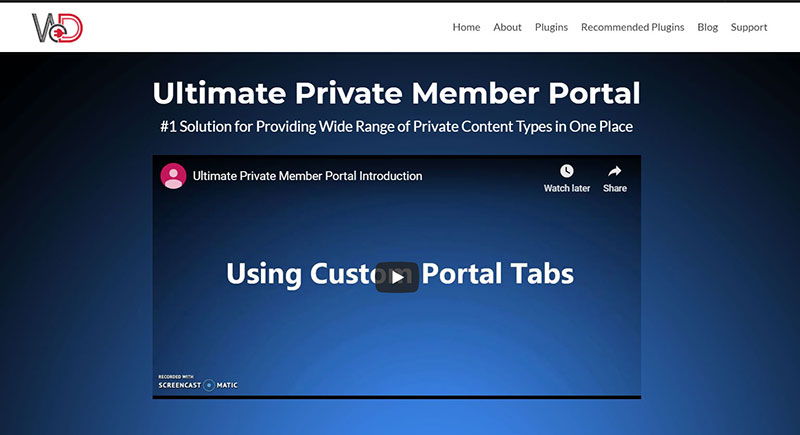 This client portal plugin can add an entire dashboard on your site where users may log in and chat. They can see the information that you provide with file uploads and more. Interaction with your customers becomes super easy when using the Ultimate Private Member Portal, and you get to choose who has access to it.
11. Client Portal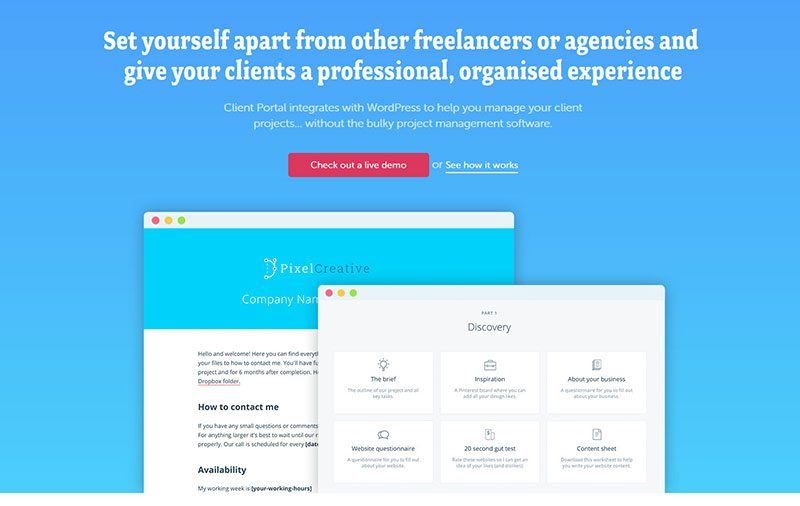 A premium option that you should give a try if you want your WordPress client portal to be as professional as possible, Client Portal makes everything easier through the built-in sections for typing in content, uploading deliverables, generating contracts and invoices, and more.
WordPress Themes with the Client Portal Functionality
Building a WordPress site with the client portal functionality is faster and easier when you work with a ready-made design featuring all the essential pieces of functionality. By means of client portal WordPress themes, you can put your hands on a bunch of tools and functional elements the are needed for the respective purpose. Such ready-made designs are fully compatible with all the major client portal plugins that are available in the industry.
The functionality may vary depending on the niche topic that you choose. However, the thing all of them have in common is providing users with a chance to log in to their personal cabinet and use the selected tools. By means of such WordPress themes, users may communicate on forums, exchange cryptocurrency, check their orders' history, and more.
Let's take a look at the following examples of WordPress themes with client portal functionality.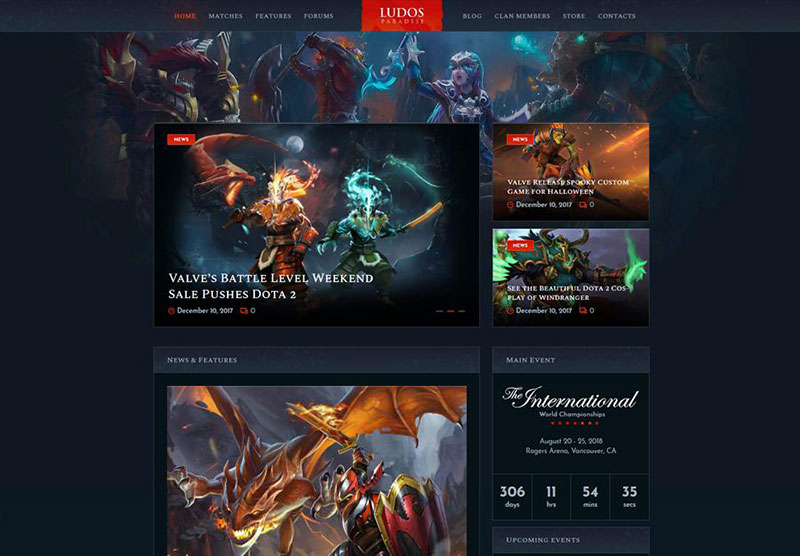 The theme is the ultimate choice for getting started with multi-purpose gaming portals. Outstanding gaming is ready to be enhanced with the eCommerce functionality due to the full compatibility with WooCommerce. Advanced gaming forums and discussions are supported.
Users may log in to your WordPress site and start communicating with fellow gamers in real-time. Additionally, the theme supports tournaments, charts, matches, and results management that will be appreciated by avid gamers. Game Live streams are supported as well.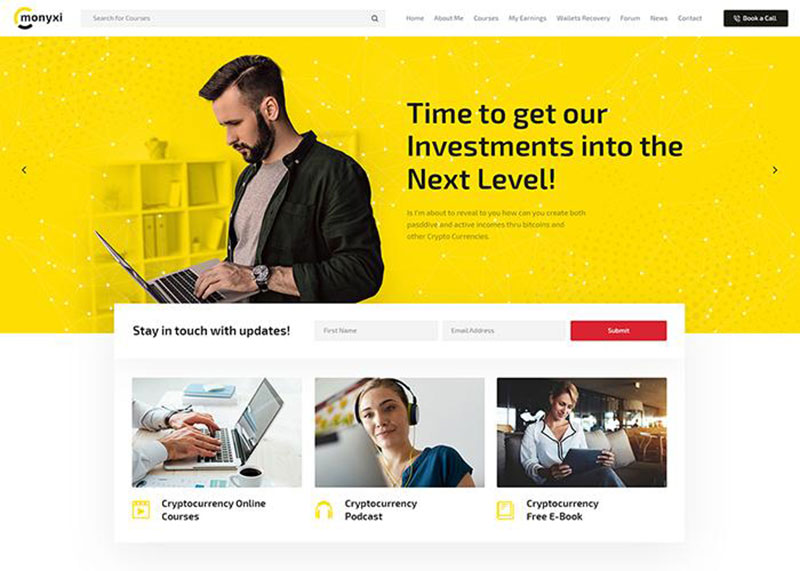 Monyxi is a stylish and functional WordPress theme apt for the launch of multi-purpose cryptocurrency websites. It's equipped with a bunch of crypto plugins that are intended to be used for ICO and crypto shops. Users will be able to communicate on a forum that is brought to life by means of the bbPress plugin. The theme is also ready to be used online courses thanks to the LearnPress support. Create awesome charts by means of the Power Charts plugin compatibility. Whenever you need to apply quick changes to the theme's layout, Elementor page builder support will come in handy to you.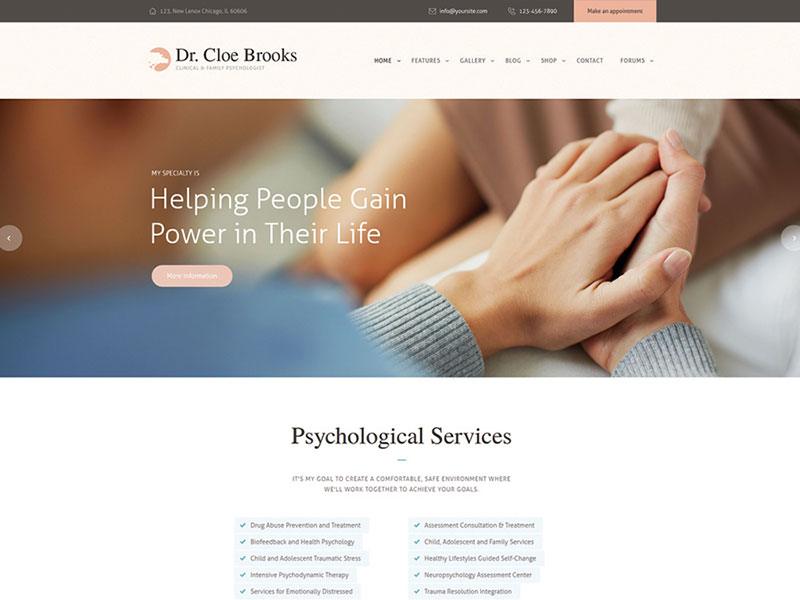 Cloe Brooks WordPress theme is the ultimate choice for the launch of psychology and medicine-related websites. With the purpose to help you establish better communication with the audience, the theme features full compatibility with the Booking Appointments plugin. To gain users' trust and build reputation online, the theme contains pre-built psychologists' personal pages and pricing tables. People may always find the necessary support on online forums. The theme also features full compatibility with bbPress themes and plugins, but also with BuddyPress themes and plugins.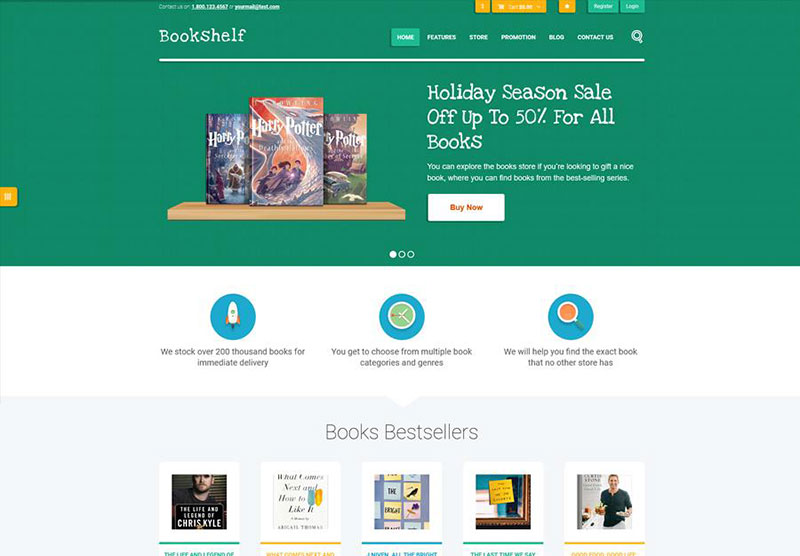 Bookshelf WordPress theme will be a splendid solution for the launch of book lovers' portals. It's suited for all types of websites related to literature and media projects. The theme is ready to be used for educational and eCommerce websites alike. It's fully compatible with WooCommerce, which lets you sell media items and books directly on the pages of your website. By means of the LearnDasg plugin, you may turn your website into an educational portal offering advanced courses, lessons. Quizzes, and more. The theme supports custom hover effects that will add a more engaging look to your website.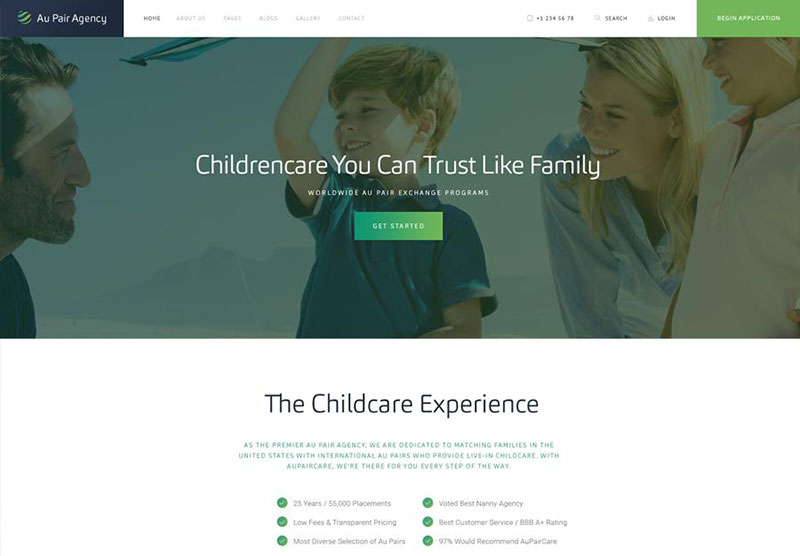 The theme is intended to be used for the launch of nanny firms' websites. It's the ultimate choice for online portals promoting professional nurses services, mom's blogs, preschool education, kindergarten, and other types of educational and babysitting projects. The theme contains dozens of usable shortcodes that let you display your content in a fully personalized style. There are built-in application and contact forms available along with bbPress and BuddyPress Forum support. In the download package of the theme, you may come across pricing tables, contacts, team, gallery, and a number of other inner pages.
FAQs about WordPress client portal plugins
1. What are WordPress client portal plugins, and why do I need them?
WordPress client portal plugins are add-ons that give businesses a private, secure space to communicate with their customers. These plugins can assist companies in streamlining communication, lowering email overload, and providing a customized experience for customers. They can aid companies in streamlining procedures and enhancing customer service in general.
2. How do I choose the right client portal plugin for my business?
It's critical to take your company's requirements, the plugin's functionality, user experience, and support into account when choosing a client portal plugin. Be sure the plugin can interface with your current program and offer the required level of customization and security. Also, seek for plugins that offer excellent support resources and are user-friendly.
3. What are the essential features of a client portal plugin?
Secure user login and access control, document sharing and collaboration, task and project management, invoicing and payment processing, and customized branding and layout are all necessary components of a client portal plugin. You might also require connectors with other tools, such as CRM or accounting software, depending on your organization.
4. Can I customize the look and feel of my client portal using a WordPress plugin?
Indeed, the majority of client portal plugins enable for branding, color, logo, and layout modification. Also, you can define unique user roles and permissions, as well as alter the features or information that are made available to your clients.
5. Are client portal plugins compatible with other WordPress plugins and themes?
The majority of WordPress plugins and themes work with client portal plugins, however it's crucial to check for any known compatibility issues before adding a new plugin. To prevent conflicts, you should also make sure your WordPress installation and any additional plugins are current.
6. How do I set up and manage user access to my client portal?
The majority of client portal plugins provide capabilities for managing user accounts and responsibilities, enabling you to create and manage user accounts. To limit who can access your portal, you may set up login and registration options, assign people permissions, such as read-only or edit access, and more.
7. Can I integrate my client portal with third-party tools like CRM or project management software?
Certainly, a lot of client portal plugins provide connections to well-liked third-party applications including CRM, project management, and payment gateways. These integrations might aid in streamlining your company's operations and enhancing client cooperation and communication.
8. What are the security measures in place to protect my clients' data in a client portal?
Client portal plugins often protect user data with SSL encryption, secure login, and authentication procedures. In order to increase security, they might additionally provide options like two-factor authentication, IP blocking, and data backups. To prevent vulnerabilities, it's critical to pick a plugin with robust security features and keep your program updated.
9. How do I use a WordPress client portal plugin to automate my business processes?
A client portal plugin can be used to automate processes like document exchange, payment processing, and client communication. To keep customers informed and involved, you can set up notifications and reminders. You can also utilize analytics to measure user involvement and spot areas that need work.
10. Are there any limitations to using a WordPress client portal plugin for my business?
Depending on the plugin you use and your company's needs, limitations may change. In terms of customization, integrations, or user management, some plugins could have restrictions. When selecting a plugin, you should thoroughly assess its features and capabilities to make sure it satisfies your unique needs.
Wrapping up this article about using a WordPress Client Portal
Considering how many options you have, making a decision might take a while. Even so, you should know that most WordPress client portal plugins have the same attributes and features. Choose the one that has the highest rating or that contains a feature that would make your website more streamlined. Hopefully, the information you found in this article was helpful.
If you enjoyed reading this article on WordPress client portal plugins, you should check out this one about WordPress chat plugin options.
We also wrote about a few related subjects like store locator WordPress plugins, WordPress review plugin, hello bar for WordPress, WordPress directory plugin, and WordPress contact form options. And you should check out this one about Google Maps plugins. We didn't write that one, but it's really neat.
And if you want to check out the cool products that we've created, we've got the best WordPress table plugin out there and the WordPress booking plugin with the smoothest UX.