The real estate business makes hundreds of millions of dollars every year. Online marketing and promotion tools, as well as scheduling apps, are vital for those working in real estate.
It's really important to have a great website in this business, to gain new customers and advertise properties.
If WordPress is your platform of choice, knowing the best MLS WordPress plugin options for your real estate site is essential.
Learn below more about this topic in this article created by our team at wpDataTables.
What are MLS WordPress Plugins?
Brokers provide an excellent network for buying and selling property. Groups of these brokers join together to create an MLS (Multiple Listing Service), which allows the brokers to gather and share information then apportioning the commission.
You can take advantage of this by using MLS real estate plugins on your WordPress site. This article explores some of the best MLS WordPress plugin options to simplify your search.
MLS WordPress Plugins We Recommend
Estatik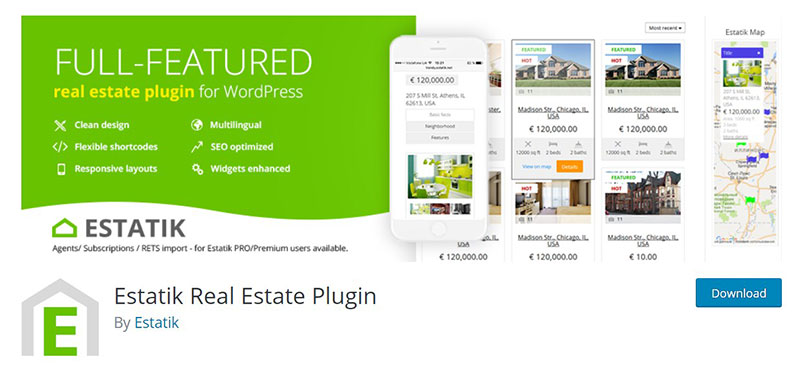 Estatik is a favorite MLS WordPress plugin for many real estate IDX website builders. It offers multilingual support and listings, as well as a wide range of other useful features, including a photo gallery, adding maps, a mortgage calculator, and inbuilt PayPal support.
SimplyRETS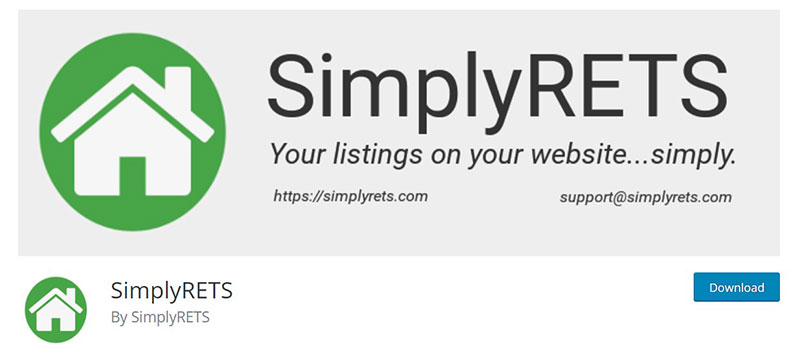 SimplyRETS offers twenty-five different ways of displaying listings on your WordPress site with a simple setup process and a customizable user interface without iFrames.
It uses integrated SEO, a fully customizable interface, and generates accurate HTML, and it never navigates your users away from your website, useful for gaining customers.
WP-Property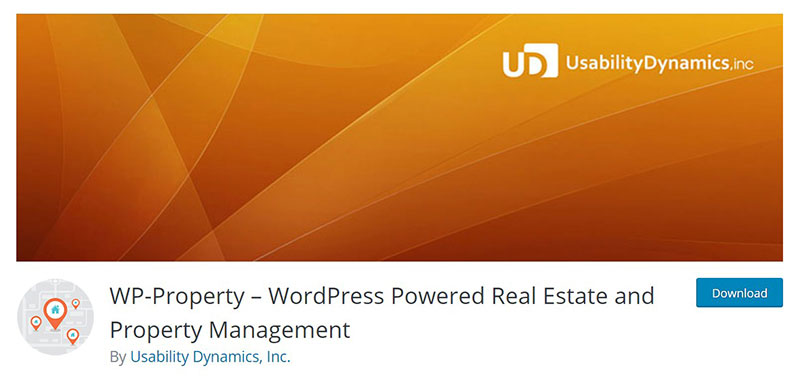 This MLS WordPress plugin uses a clear and customizable user interface to add individual rooms, areas, features, as well as including built-in support for maps, search options, and SEO optimized URLs.
WPL Pro Platform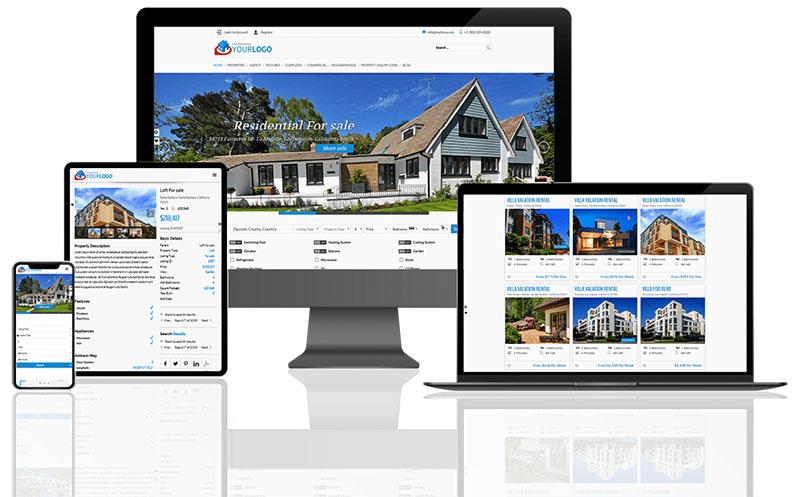 This plugin is highly scalable, with the potential of supporting over 100,000 listings directly on your WordPress real estate site.
Full customization is available to the site builder, as well as the option to display property agents listings with their profiles directly in the plugin.
dsIDXPress IDX Plugin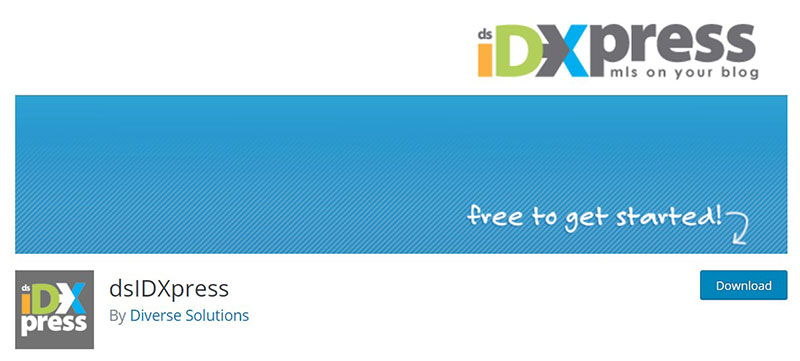 This plugin embeds real-time real estate listings on your WordPress site, rather than showing them in iFrames.
Place your listings in pages, posts, or in the sidebar using the built-in widgets, which include listings, area-based listings, and an MLS search form.
Easy Property Listings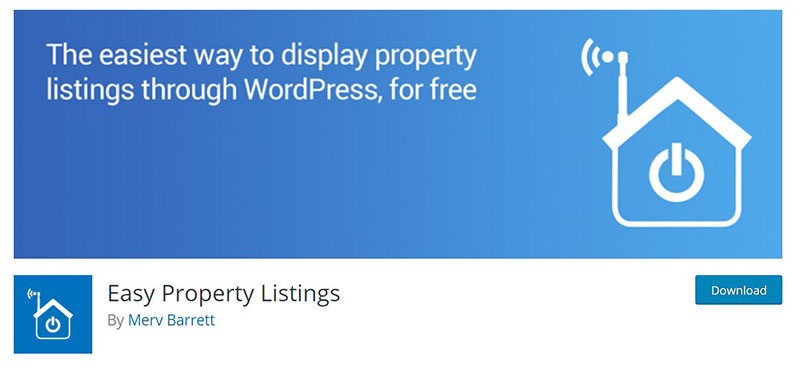 Easy Property Listings is a popular plugin, offering uncomplicated listings management, with mobile-friendly templates, and options to display in grids or single pages.
After familiarizing yourself with the plugin, explore the powerful advanced features, such as support for REAXML, JUPIX, worldwide MLS systems, multilingual support, and advanced maps.
Diverse Solutions Plugin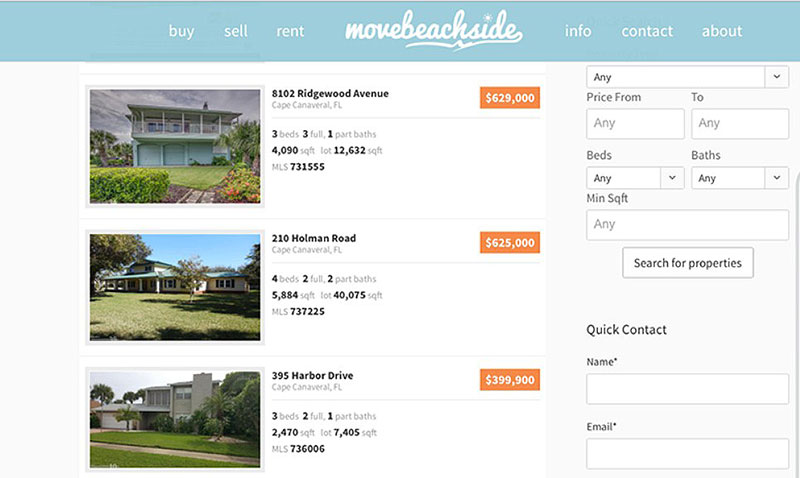 With a smart system of property searching, this plugin allows users to search and view properties quickly and easily. It also tracks what each user has searched for, which enables the software to suggest similar properties in the future, increasing your chances of gaining new users.
Real Estate Web Masters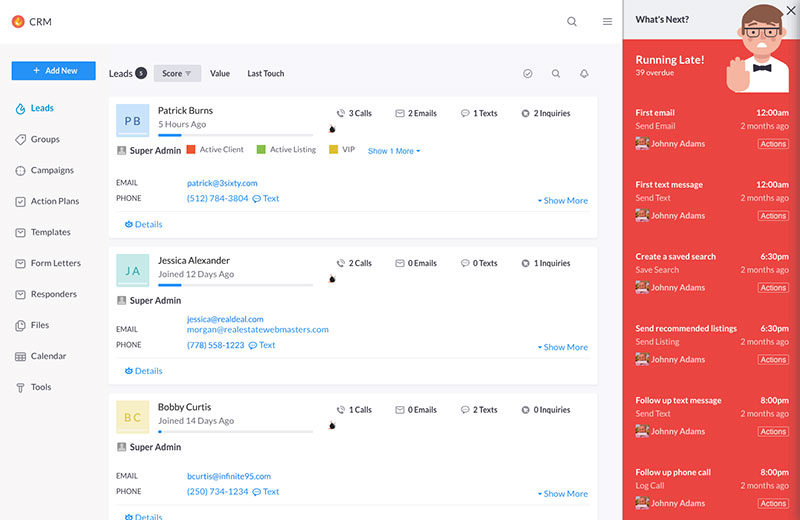 Use the expertise of this excellent real estate business directly on your site. The company offers many great services for buyers and sellers alike, including building entire web properties for clients and agents.
While their services can be expensive, they provide custom solutions based on experience and talent.
IDX Broker WordPress Plugin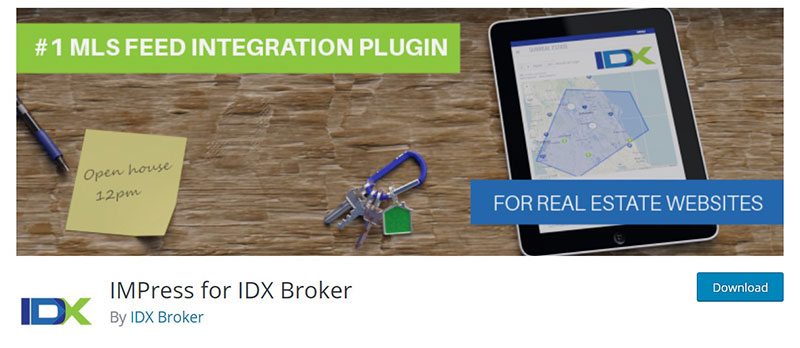 This powerful WordPress real estate plugin has features that supports full desktop browsing, and it works perfectly with mobile devices.
This plugin has multiple excellent features, including integrating a useful mobile lead capture with your IDX Broker control panel, as well as maps, searches, and links. It offers excellent customization, including in the property URLs and the layouts for your pages and posts.
Importantly, the TDX pages are all hosted in the cloud, so the rapid loading times can increase your visibility on Google.
Real Estate Pro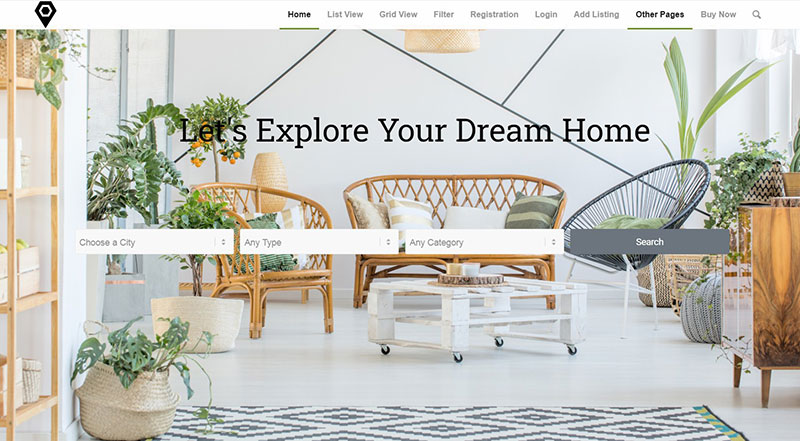 There are two reasons why this MLS WordPress plugin is so highly recommended by real estate site creators.
Firstly, everything is already configured at the point of installation, so the settings, pages, and templates are in place. It is highly responsive to both mobile devices and desktops, providing a clean, functional interface.
Secondly, it has excellent integration with third-party systems. For example, users can pay with PayPal and Stripe directly on your site, and photos can be added directly into the plugin.
Optima Express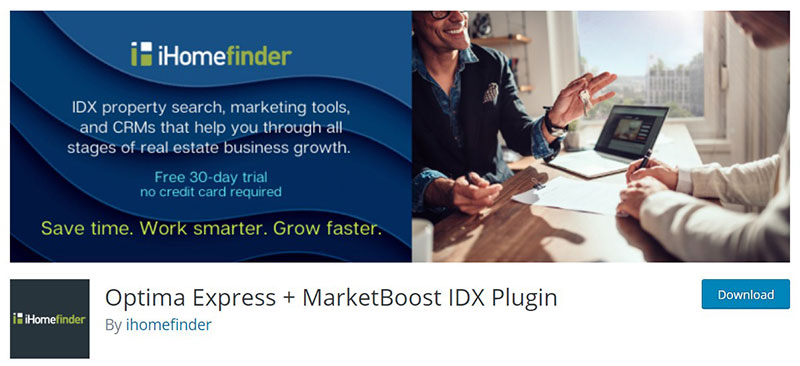 This MLS WordPress plugin offers outstanding built-in features, including IDX search and MLS listings embedded directly, thus avoiding iFrames.
Along with lead generation, email alerts, user registration, social media links, maps, sold and pending listings and much more, the Optima Express plugin has all the necessary features.
WP Real Estate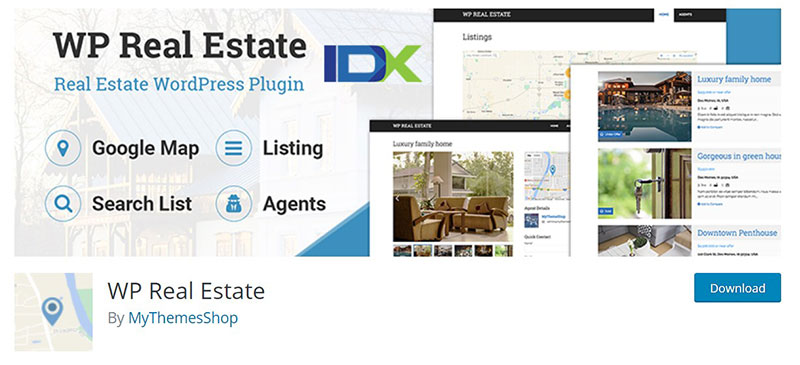 WP Real Estate is a simple reliable MLS WordPress plugin.
Its many features enable you to buy, sell, or rent properties. These include advanced searches, map functionality, IDX/MLS integration, forms, custom fields, and multiple layout options. It also contains widgets to help create landing pages for individual properties.
IDX Press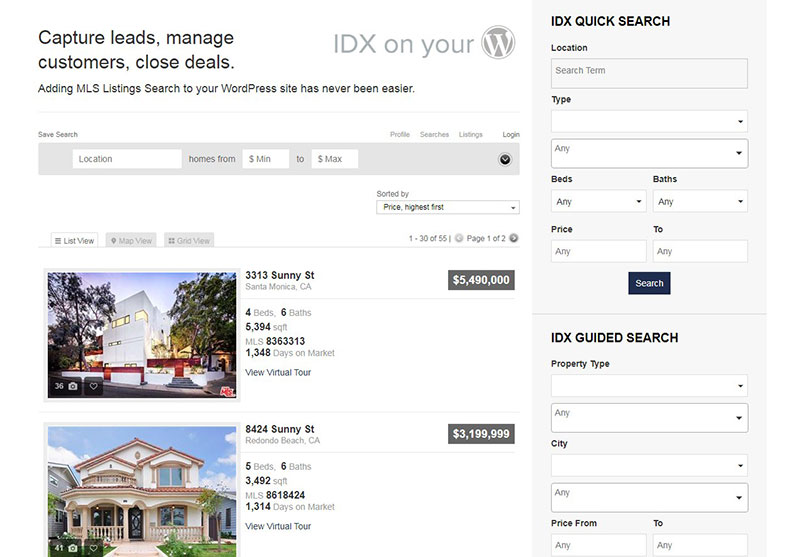 IDX allows you to show up-to-date and comprehensive property data. It enables direct integration of IDX data, and users can search properties without leaving your website.
IMPress Listings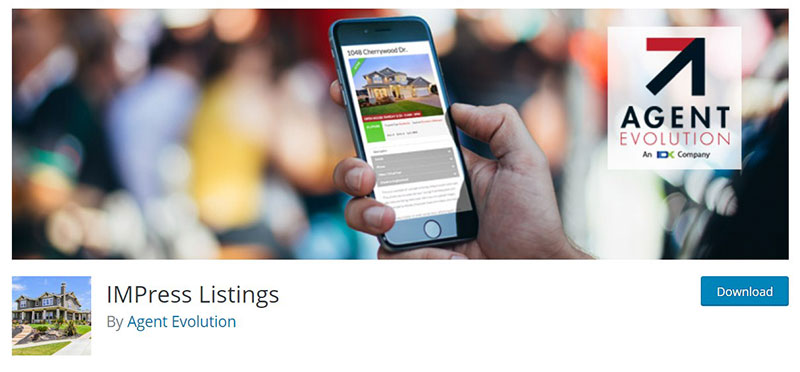 This mobile-responsive plugin enables you to create listings that are beautifully laid out, easily controllable through the management system, and includes MLS integration and status tags for listings.
The plugin is free but offers extra templates for a small fee.
Ultimate IDX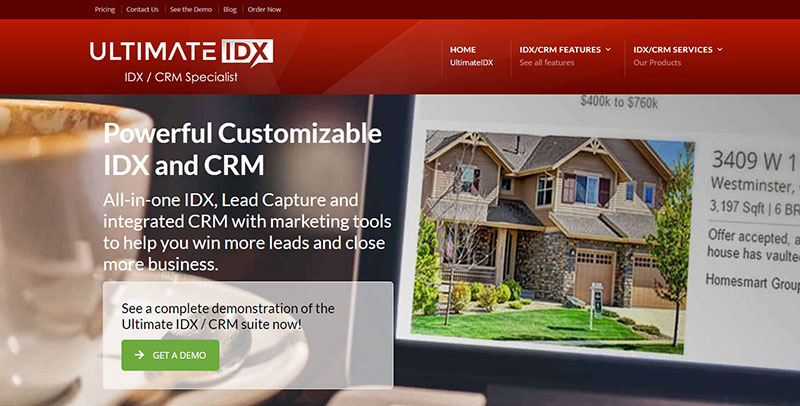 This versatile and powerful WordPress MLS plugin has many useful features, including visitor registration, email updates, a scheduling calendar, and a CRM lead management system integrated directly with IDX activity.
Another unique feature is the ability to text information to an agent's cellphone and it also performs a RETS (real estate transaction standard) update automatically every fifteen minutes for local MLS boards.
MLS WordPress Plugins – The options are there for you
There are many excellent and reliable MLS plugins available for your real estate website.
To attract and retain customers, your website must be appealing, functional, and informative including guides for real estate buyers, agents, and marketers.
Each of these sixteen plugins offers vital features to help you achieve your real estate business goals.
Remember: you can always uninstall a plugin if it isn't working for you and try another, so experiment and discover which one suits you best.
If you enjoyed reading this article on MLS WordPress plugin, you should check out this one about WordPress table of contents plugin.
We also wrote about a few related subjects like WordPress RSVP plugin, WordPress documentation plugin, WordPress catalog plugin, best WordPress classifieds plugin, WordPress event registration plugin and WordPress document library plugins.