Until now, chances are high that you have heard of the "GDPR" term that is being more and more discussed online. It's a recent topic that connects with all the large data breaches and security issues on major online platforms of late.
If you 1) have your own website and, 2)receive visitors from the EU or European Economic Area and, 3)you collect personal data on your website from them, then GDPR applies to you. This is why WordPress cookie consent will be needed from now on.
These regulations also apply to any supplier that is outside the EU and wants to offer services or products and also collects information from people in the EU or EEA.
This article created by our team at wpDataTables is here to help. Continue reading to find out more about WordPress Cookie Consent plugins and which one to pick.
What is WordPress GDPR Compliance?
This law was put into effect in 2018 to protect data and privacy for people that are inside the European Union. What this means is that you need to ensure that your data processing practices are in line with the GDPR or face harsh penalties.
Beyond active data collection (e.g. a user filling in a form), passive data collection like dropping cookies into a browser and other similar tracking technologies need to be disclosed, and the user must be asked for consent. So, for a WP site, a WordPress cookie consent mechanism is going to be needed in order to act as the regulators say.
There are two different subjects on this matter that relate to data: personal data and processing of the personal data. Personal data stands for any piece of information that can be considered personal data: the name, health information, date of birth, and so on.
Processing of the personal data refers to any activity that is performed on personal data like the storing of an IP address on your web server or database.
Basic Principles of GDPR
An important aspect of GDPR towards cookie consent is who is going to be accountable for them. The principles that apply for this are:
Data is processed lawfully and transparently, requiring consent to be given.
Personal data needs to be collected for a specific, explicit, and legitimate purpose and used for that purpose only.
Personal data needs to be relevant and limited for collection to only that which is really necessary.
Personal data needs to be kept up to date.
Personal data needs to be kept for a short period.
Personal data needs to be processed with adequate security controls.
The controller needs to demonstrate the compliance of these principles.
If a business does not comply with Data Protection, significant fines might be applied. They can reach even €20 million or 4 % of the global sales of a business depending on which is higher.
These are the best cookie consent plugins for WordPress
We are going to show you 11 great tools for GDPR compliance that can be used on your website. These tools will help you implement an adequate WordPress cookie consent mechanism so that you are covered in terms of the GDPR and EU cookie regulations.
WP AutoTerms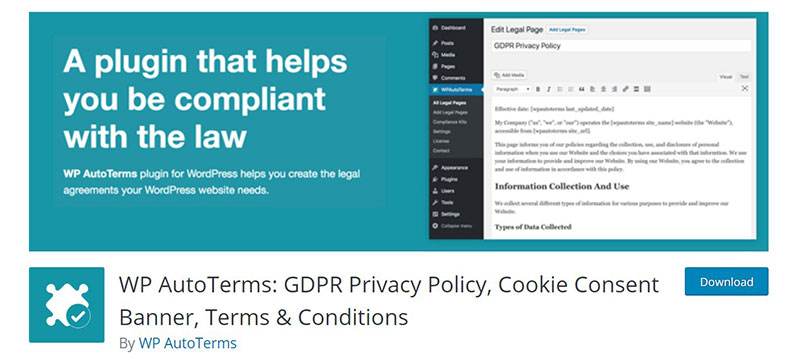 WP AutoTerms is one of the most used WordPress cookies plugins because it helps you create a privacy policy page with terms and conditions. On top of that, you can also do custom policy pages depending on your needs.
CookiePro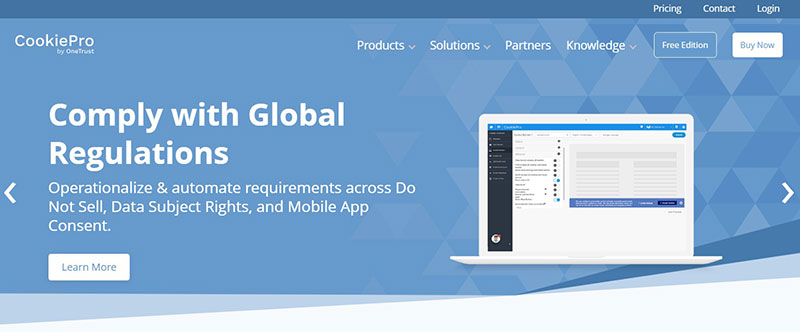 CookiePro is an intuitive system that can help with notifying users of GDPR compliance and it can also scan the site for different cookies that it uses. It's perfect for WordPress cookie consent and you will be able to use it with ease.
As a bonus, users will be able to disable any cookies that they don't agree with when visiting the site.
Total GDPR Compliance

This WordPress cookie consent plugin has a lot of useful features that can help you out with GDPR compliance. It has 3 different layouts and 30+ templates to display cookies in different ways.
Even more, the plugin also has inbuilt shortcodes that can add data access request forms, data rectification forms and data forget forms. It's up to you to decide what and where.
WP GDPR Compliance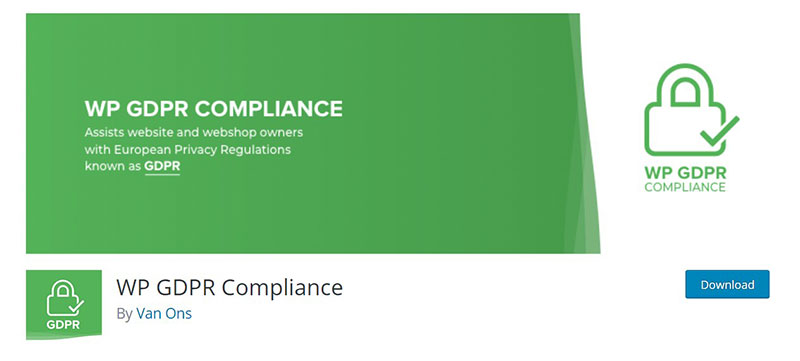 This is a useful plugin that helps the website owner to comply with the GDPR regulations. It works in a simple manner and you should not have any kind of problems with it.
GDPR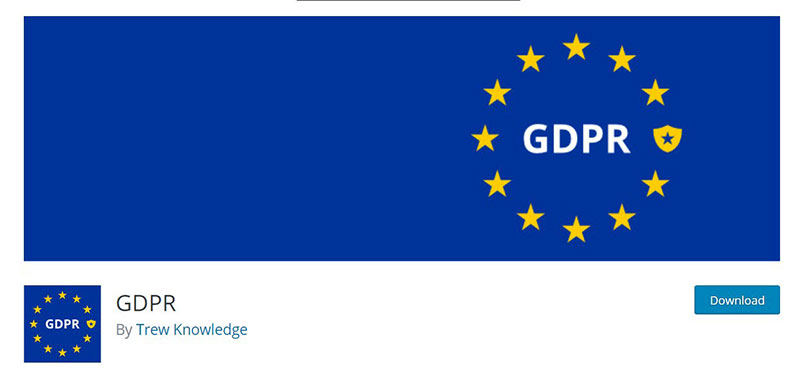 Another useful plugin that will assist you in getting compliant is this one. It's perfect for WordPress cookie consent and not only. Just check it out and see for yourself if it can be the one that you should go for.
WP Legal Pages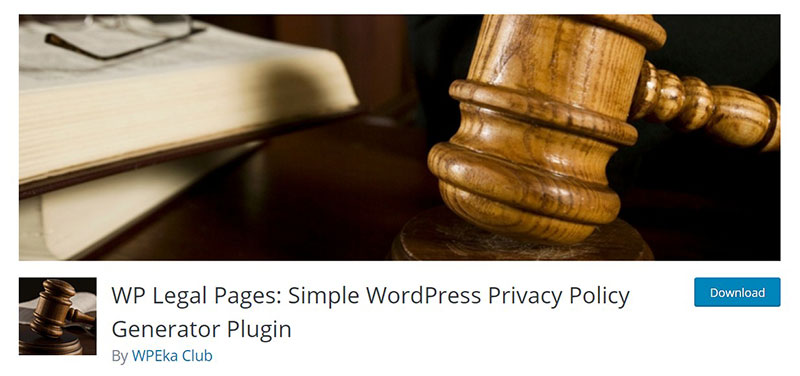 This plugin is another popular WordPress privacy policy tool that comes with more than 25+ legal page templates and they can be easily updated. All you need to add is the business information once to update all of the templates.
Cookie Notice for GDPR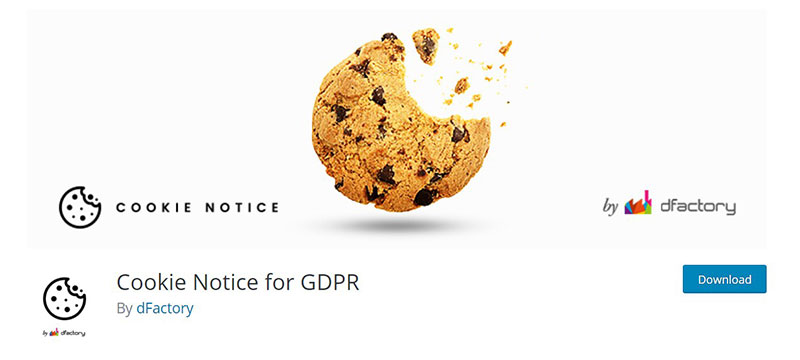 If you need a plugin that helps you out with WordPress cookie consent this one comes with different options that you can try. What is cool about it is that it can work with Polylang so this means you get multilingual support. It also helps in terms of SEO and you can set the expiration for cookies.
GDPR Cookie Compliance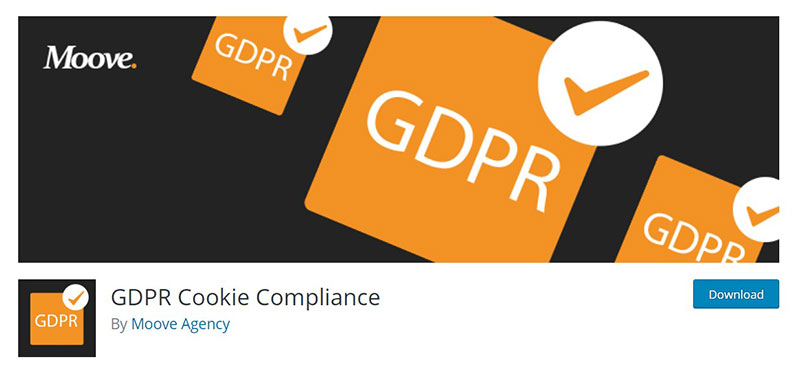 This plugin has been designed to help you prepare the website you have for the GDPR regulations that are related to cookies.It gives users control over the cookies stored in their browsers and allows for consent to be revoked at any time.
GDPR Cookie Consent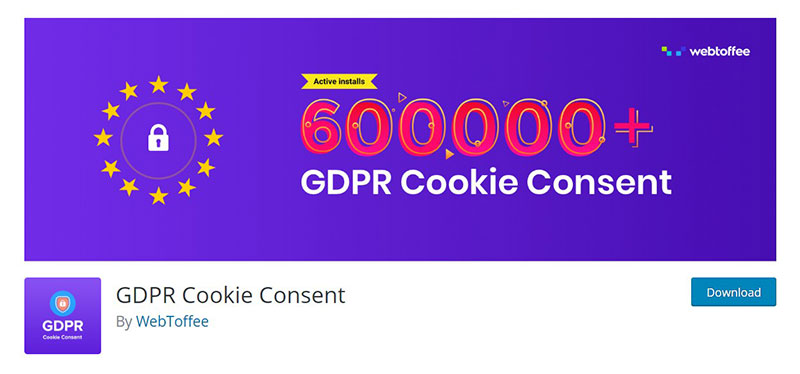 This plugin offers a variety of basic settings for the WordPress cookie consent regulations. You can control if the cookie consent bar is off or on and also choose where you show the information.
The GDPR Cookie Consent also provides some customization options that can fit your site's design. This means you can choose the cookie bar color, text and, generally speaking, how it appears in front of the users.
Complianz GDPR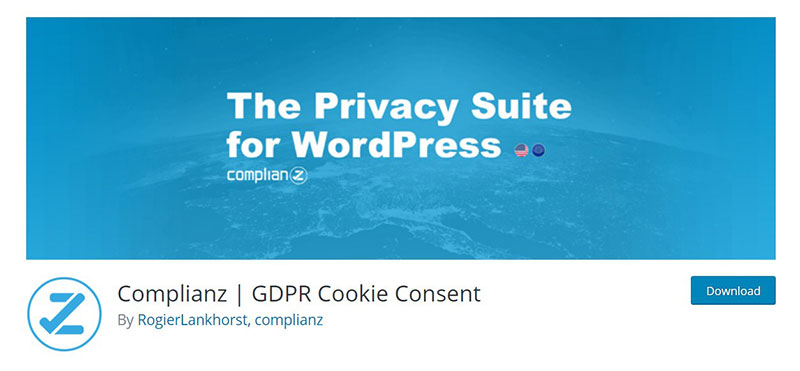 This plugin does everything that you need for GDPR compliance. It can detect if you need any cookie warning and also integrates with Google Analytics. It's great if you want to scan your site for cookies or generate new ones so give it a try.
Ninja GDPR Compliance for WordPress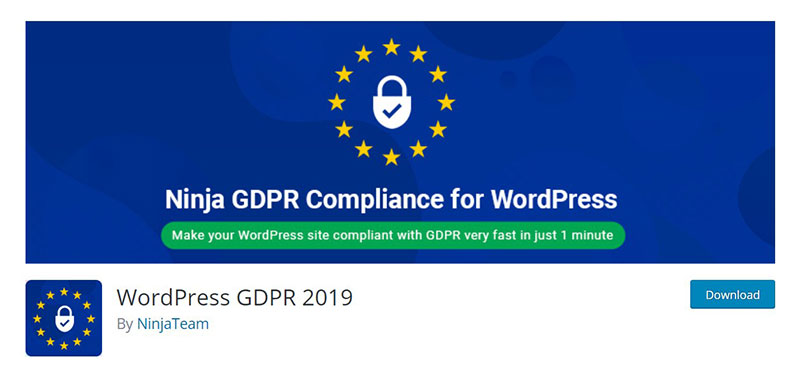 Another plugin that helps you with the GDPR compliance is Ninja. It doesn't have its own templates but you can add shortcodes to the existing pages of your website.
Cookiebot | GDPR Compliant Cookie Consent and Notice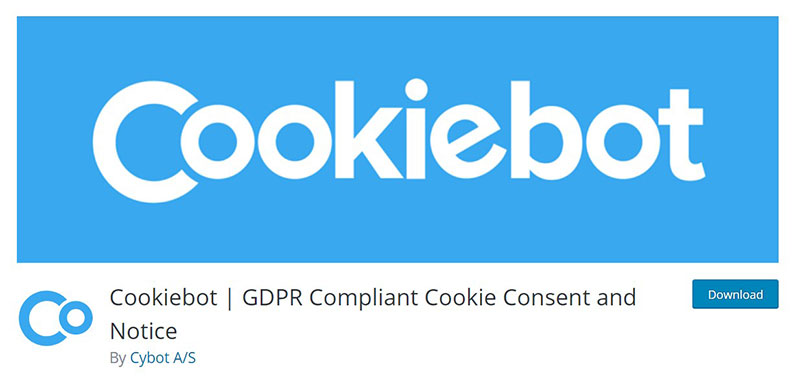 This plugin is perfect for WordPress cookie consent because it gives users the chance to choose from different categories. This means they will be able to easily withdraw or change their consent.
Ultimate WP GDPR Compatible Toolkit for WordPress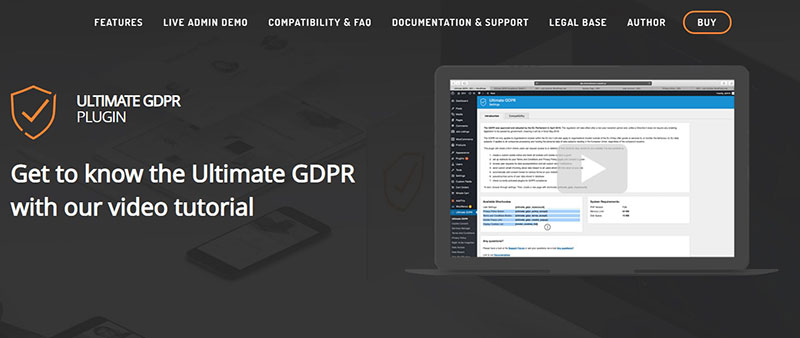 This is a premium plugin that helps you get your website GDPR compatible with just a few clicks. The plugin has all the data needed and it will keep your website safely within the terms of the recently launched data protection laws.
GDPR Cookie Consent Banner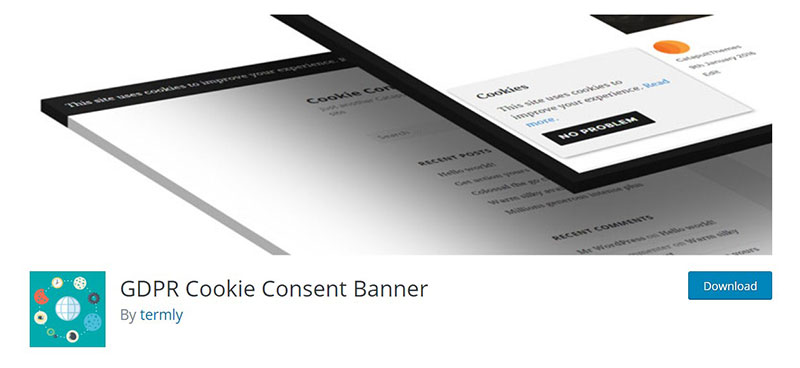 GDPR Cookie Consent Banner is a great plugin to use for your WordPress cookie consent. It offers a consent banner together with a cookie policy page and it's an absolute breeze to set up.
Conclusion on WordPress cookie consent plugins
No matter your type of WordPress site (company website, forum, personal blog, etc.),you need to pay attention to WordPress cookie consent and any other regulations that come with GDPR. Failing to do so may result in harsh penalties levied against you.
Luckily, there are a ton of plugins available that you can choose from for just this purpose. It's important to note that you might not need all the functionality of any given plugin, so choose accordingly.
If you enjoyed reading this article on WordPress cookie consent plugins, you should check out this one about WordPress payment plugin.
We also wrote about a few related subjects like WordPress scheduling plugin, WordPress coming soon plugin, WordPress popup plugin, WordPress archive plugin and WordPress timeline plugin.