As its name implies, a comparison chart maker allows you to create insightful graphics to compare two or more items. If you work in business, you have probably used this type of data visualization before.
It enables companies to identify similarities and differences in data sets. This way, it is easier to make better, more reliable, and informed decisions. Besides, they complement business reports, deepening analysis.
Thus, utilizing comparison chart template makers comes as a natural choice. With these tools, you can create your comparison chart in just a few clicks. You also access a wider variety of graphs in less time.
Yet, they require some investment and, at times, might present a long learning curve. So why should you choose to use them? How can you pick the one that best fits your needs?
Find out below what elements compound a comparison chart and how to use it in your organization. Also, discover why you should resort to a comparison graph maker and which are the 11 best tools you can use.
Breaking Down Comparison Graphs
A comparison chart is a flexible representation that can adapt to your needs and goals. You can create several diagrams for a single situation, type of product, or service. You enlarge your perspective to encompass more than one criterion or point of view.
Eye-catching comparison charts apply to both personal and professional scenarios. Here are three example areas where they provide needed support:
Sales: Before making a purchase, they allow you to compare products and services, ensuring sensible choices.
Management: Business owners can perform regular check-ups on their operational performance. The charts compare past and present data. Additionally, they can assess progress according to preset KPIs (Key Performance Indicators).
Marketing: They track promotion channels and their results. Hence, they distinguish which marketing efforts are more effective and which need adjustments.
The elements presented in your charts will vary according to their specific goals. They might include a table as their base format.
This structure eases your understanding of the analysis.
Tables usually feature columns with descriptive headers. The first column lists characteristic traits. The following ones state whether or not the situation, product, or service evaluated meets those attributes.
You might find tables that have check marks and others that use figures or numbers. Regardless, most use a contrasting color scheme for visual appeal and facilitated interpretation.
Why You Should Use a Comparison Chart Maker
A comparison chart maker enables you to create specific, purpose-driven graphics. These representations compare data related to two or more products or services. They highlight their contrasting and corresponding points.
With comparison charts, readers have access to facilitated comparisons to make more reliable decisions. Using a comprehensive tool to build them gives you access to various types of comparison infographic templates.
You can choose any representation format, from pie or bar charts to Venn diagrams. The choice will come down to your product or service specifications and your goals for the graphic. Here are some other reasons to use them:
Simplified representations: You achieve better results in less time. Plus, templates you can customize include features to foster efficiency and understanding.
More engaging graphics: You can include smooth animations and interactions in your charts. You get access to varied color schemes to highlight your information.
Less manual processes: Chart makers integrate with other platforms. Thus, you can import all the data instead of inserting it manually.
The 11 Best Comparison Chart Template Makers By Type of Software
Plugins
wpDataTables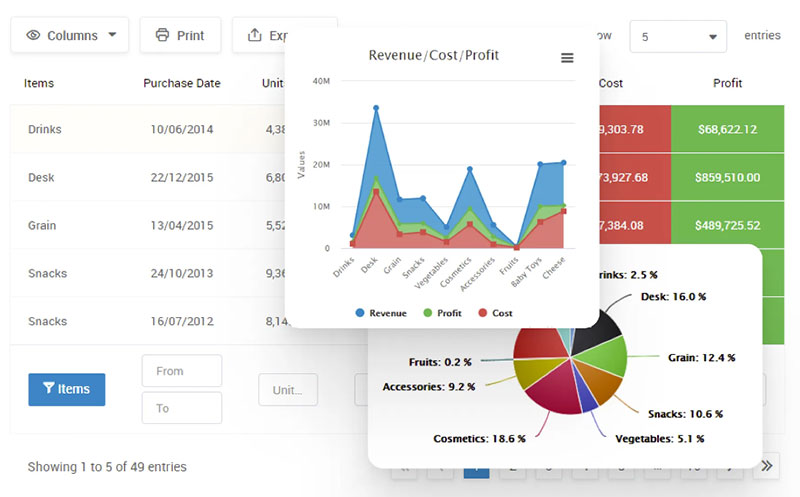 Let's get this straight. wpDataTables is more than a tool, it's your new design partner, making chart building a breeze.
Easy as pie: Drag, drop, boom! Instant chart.
Speedy Gonzalez: Why waste time when wpDataTables gets it done in a flash?
Laser sharp: No more blurry charts. wpDataTables keeps it crystal clear.
Hold up, there's more. Ever tried making changes to a chart only to mess up everything? Yep, we've all been there. With wpDataTables, this becomes a thing of the past. Real-time edits are no longer a pipe dream but your new reality. Add a row, change a color, switch the data, all on the fly, and watch your chart evolve before your eyes!
But that's not all, wpDataTables is like the Swiss army knife of chart makers. It doesn't just stop at comparison charts. Pie charts, bar charts, line charts – you name it, wpDataTables has it covered!
Worried about the look? Don't be. Customization options are off the charts (pun intended). Make your chart truly yours – colors, styles, fonts, and more. It's like a buffet, but better because it's all yours.
Best part? It's not going to break the bank. The value you get for your buck here is insane! Quality, convenience, and cost-effective – it's the whole package!
So here's the deal. Are you ready to kick manual charting to the curb? Ready to step up your game? If your answer is yes (and it should be), it's time to let wpDataTables transform your chart game.
Let's do this.
Grab your copy of wpDataTables and start the revolution!
Go on, you know you want to.
ChartExpo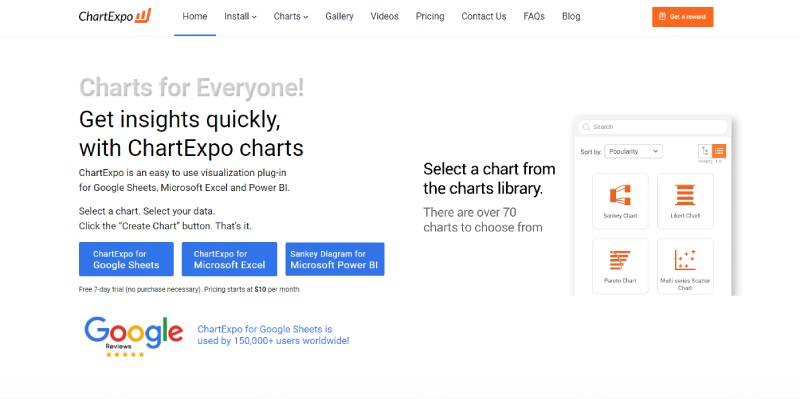 ChartExpo is a visualization plugin. It integrates with Google Sheets, Microsoft Excel, or Power BI to create a comparison chart in three easy steps.
First, pick a template from its varied selection. Then, select the data for the comparison. You can import the data from other platforms. Finally, fill out a quick form to configure your graph and click Create Chart.
Afterward, your comparison graph visualizations stay secure in the tool's framework. You can share them online or download them as images or PDF files. This process saves time and ensures reliable results.
Not requiring code or design knowledge means ChartExpo is easy to use, but it does not enable users to create templates from scratch. Thus, customization options, like icons and fonts, are limited. It offers a free seven-day trial period, after which you begin paying for a subscription.
Diagramming Applications
Lucidchart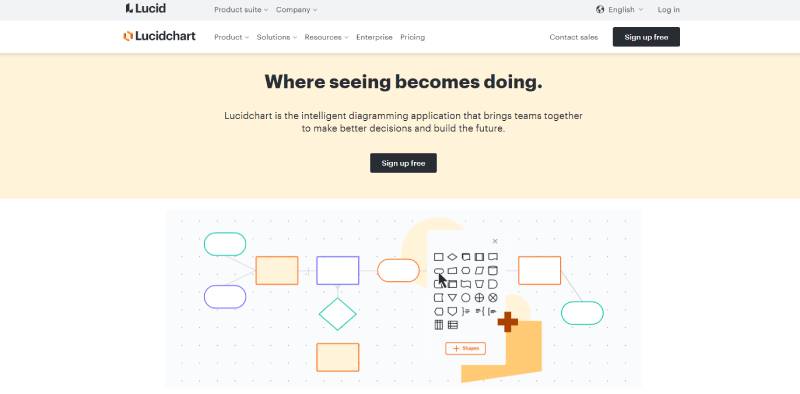 Lucidchart supplies users with team-focused resources to help you make better decisions and build the future. It allows coworkers to map their progress and the next steps for each project. Thus, they are always on the same page and can easily communicate.
This diagramming software has numerous comparison chart templates you can choose from. You can also customize their shapes and colors.
The software integrates with popular teamwork platforms such as Google Drive and Microsoft Teams. It offers valuable help to smooth your adaptation through its learning campus.
You can sign up to use Lucidchart for free. But the features in this version are regrettably insufficient for regular business operations. Hence, you should later subscribe to one of its monthly or yearly plans.
EdrawMax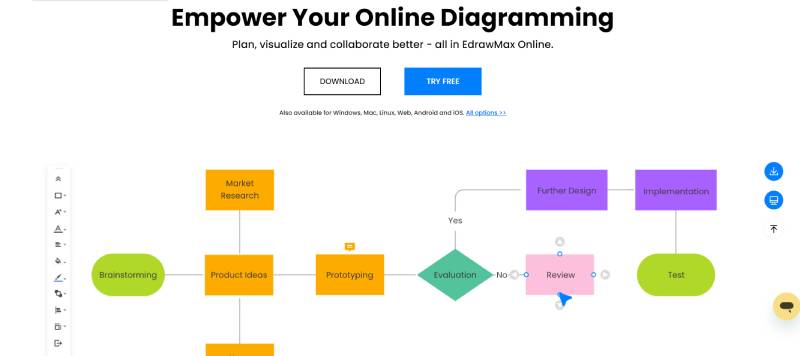 EdrawMax is an all-in-one tool, created by Wondershare, with which you can create your comparison chart online. These are its main advantages
It has thousands of comparison chart template options and symbols.
It is user-friendly, with a short learning curve.
You can easily find the graphic you need with the search options and filters in the library.
You can create a cloud-based workspace to improve teamwork and communication.
You can draw in vector art mode, which is the best way to alter template size without losing image quality.
It integrates with popular platforms to publish your graphics.
It keeps track of insightful template metrics, such as views and likes.
EdrawMax is not economical, but it delivers versatile plans. It does not allow you to save your diagrams in the cloud in real-time. Unlike other tools, you can not outline a project and divide it into stages for better management.
SmartDraw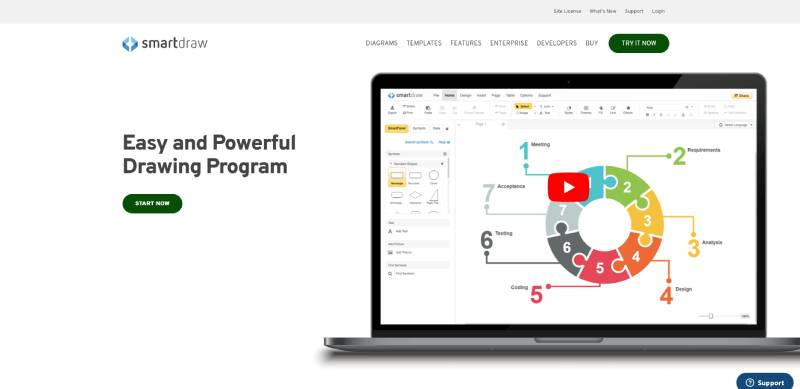 SmartDraw introduces itself as an easy and powerful chart maker. It is a versatile tool with customization and collaboration resources. Among other advantages, it delivers
A quick start: With its automatic formatting and vast diagram library, you can easily create a comparison
Integration with other tools: Whether you work alone or collaborate with a team, you can use SmartDraw's integrations. It merges with Google Workspace, One Drive, Atlassian, Microsoft Office, and other platforms.
Automation: With its functional extensions, you can build and enhance any template through automation.
A comprehensive software solution: This tool is valuable for independent professionals and enterprises. It even allows you to import Visio or Lucidchart files.
Users note that SmartDraw has lightweight sharing and collaboration capabilities. You can use its free online app to experiment with the tool and create a comparison chart online. Still, there is no free subscription plan available for this software.
Graphic Design Software
DesignCap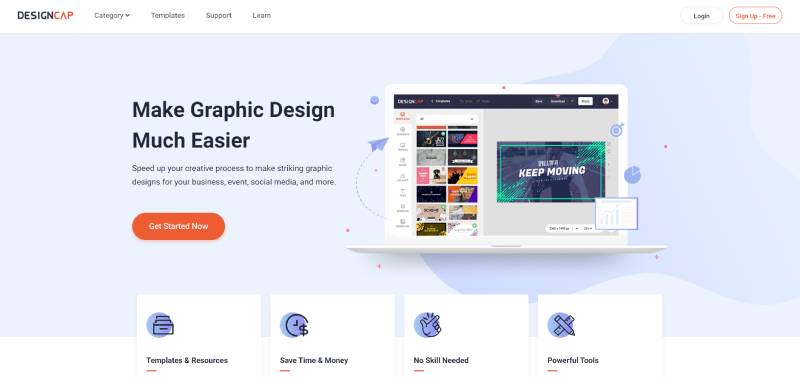 DesignCap is one of the most accessible comparison chart builder options on this list. It has three available subscription plans, including a free one with limited features. With its vast library of versatile templates, you can create content for your audience, from infographics to flyers.
It also helps you build presentations and social media posts. You will find different ideas for your graphics in its learning center. Plus, premium subscribers can upload the brand fonts they want in their comparison chart designs.
You can use DesignCap and customize your contrast maps regardless of having previous training. The tool has a smooth learning curve and many helpful resources.
Still, it shows some limitations as a chart maker software because of its focus on marketing. Users mention its narrow image bank and challenges in creating more complex graphics.
Piktochart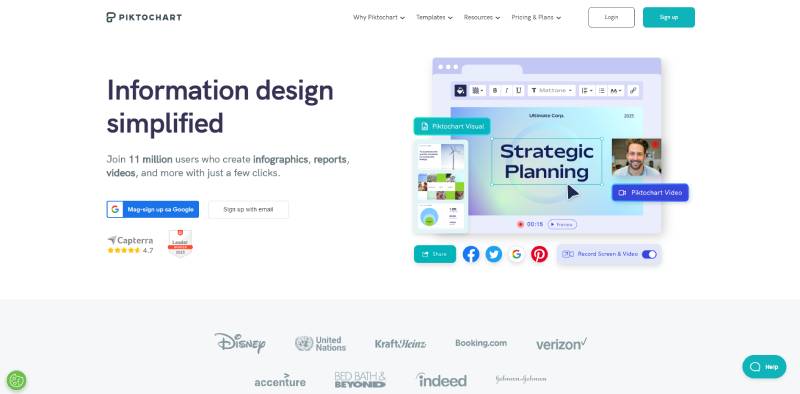 With millions of users worldwide, Piktochart brings a dynamic visual and video creation approach. Unlike other design platforms and apps, it has a smooth learning curve.
Its drag-and-drop editor allows you to start designing within an hour. With templates to fit a variety of situations, it is an excellent choice as a comparison chart maker. It includes
A broad selection of templates while maintaining the possibility to build your own.
Variety of graphic types and styles to inspire you when you create a comparison chart.
Premium subscriptions get extra security resources and customization options.
Several ways to download and share, such as PNG and PDF for images and PPT for video.
Like other tools, it offers a free subscription plan.
It has limited resources to help starters improve their visual communication.
It does not allow you to use your brand fonts and colors, and storage is minimal. You also won't have access to Single-Sign-On (SSO) and scant exporting options.
Other Online Platforms
Adobe Express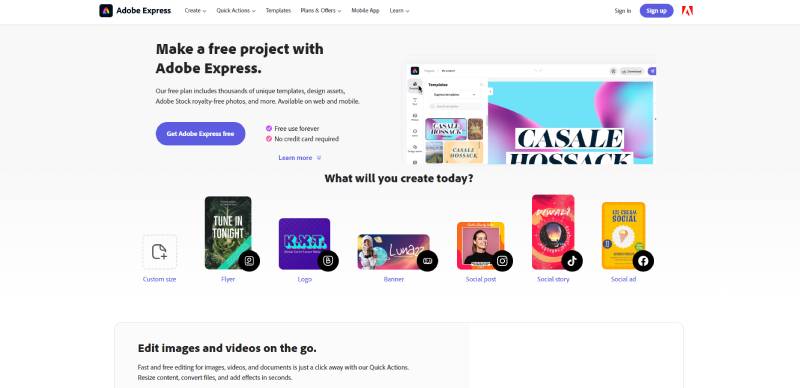 Adobe Express is an online and mobile app for creating a comparison chart to fit any situation. It is an excellent choice for comparing product differences on multiple e-commerce sites. Its most predominant benefit is flexibility, which is noticeable in various aspects, such as
Pricing: It offers a variety of subscription possibilities. It ensures you get the features you need while keeping expenses low. Plus, its free plan is one of the most comprehensive plans available.
Design: Adobe Express has thousands of comparison chart templates, so you do not have to start from a blank canvas. You can customize your graphics in-depth or through its Quick Actions
Publishing: Convert any file to your desired format and post it online or download it.
However, Adobe Express has some faults as a video editor, which can be an issue if you use video presentations often. It also displays a low image rendering quality.
Canva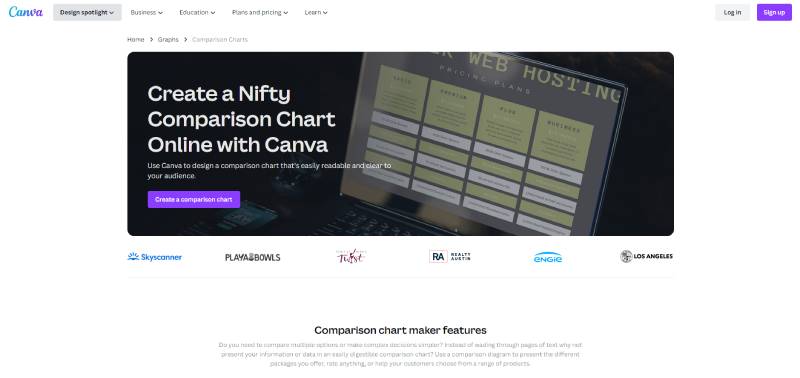 Canva is a renowned online design platform. It provides extensive resources for original posts, icons, and mockup images. Even if you are not a designer, you can use it to bring your concepts and ideas directly to your audience.
One of its many applications is comparison graph creation. These are some of its most significant advantages:
A short learning curve, with an active and supportive community to handle any challenges that arise
Native comparison chart template designs to facilitate construction
A streamlined chart-creating process in a single website
A share button for team projects and the ability to download, send, or publish your work from the Canva site
Chart embedment options for your reports, website, and presentations
Anyone can sign up for a free account with restricted resource access or opt for a paid subscription. Canva's storage capacity and accessibility are limited. If you experience Internet issues or the website is down, you must wait to access your comparison charts.
Infogram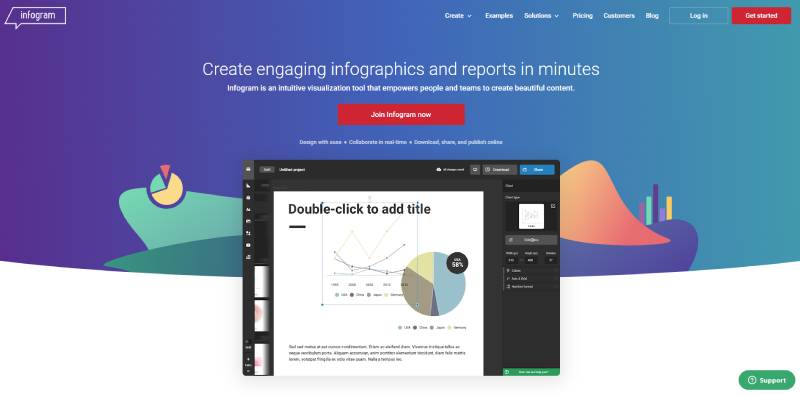 Infogram describes itself as an intuitive visualization tool that helps create beautiful content. As such, it emphasizes engagement and efficiency to capture your audience's attention and improve understanding. With it, you can
Strengthen your brand by including your brand fonts, logo, and colors.
Collaborate with your team members in real-time and access project version history. You can set up permissions by role and track the progress of the assigned colleagues.
Customize your graphics to fit your specific needs.
Animate your visualizations and include interactive elements to enhance them.
Measure your comparison chart online performance with insightful analytics.
Share your content online on social media or through the software plugin.
Infogram offers a wide range of monthly or yearly subscription possibilities. It has a free basic plan, but its resources are scarce. The tool also lacks support for mobile usage and has no developer-friendly features.
Visme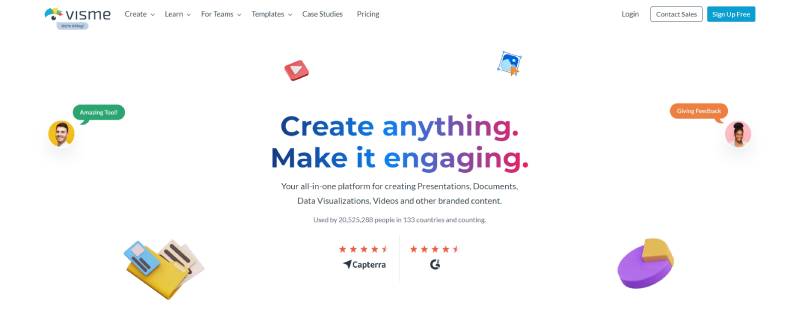 Visme is an all-in-one platform for creating documents, visualizations, and other branded content. Besides highlighting visual appeal, it also emphasizes interactivity.
This software uses a drag-and-drop building system to facilitate design. It has comprehensive solutions for teamwork, customization, downloading, and publishing.
Thus, this tool ensures your ideas and concepts efficiently reach your audience. Visme streamlines your creation processes on an organized interface that helps you manage your assets. It also integrates with other platforms.
You can subscribe to Visme Basic for free, but its features are scarce. It has low storage space and no charts and data widgets. Another drawback is the restrained collaboration resources for most paid plans.
FAQ on Comparison Chart Makers
What are comparison chart makers?
These are digital tools that let you create easy-to-understand visuals, showcasing comparisons between different items or concepts.
Think of them as simplified infographics, focusing mainly on comparisons. They're super handy in presentations, reports, or even on websites. Whether you're comparing products, showing data variations, or demonstrating changes over time, they've got you covered.
They are particularly effective in conveying complex information in a straightforward manner, making it easier to track and analyze KPIs (Key Performance Indicators) for informed decision-making.
How can I use comparison chart makers?
Most of these tools are designed with user-friendliness in mind. You'll typically start by selecting a template that fits your needs, then you customize it.
Adjust colors, fonts, labels, and of course, data points. The best part? You don't need to be a pro designer or data analyst. Just input your data, play around, and voila – a crisp, professional-looking chart is ready!
Are they all online-based or can I use them offline?
While many are web-based, offering a convenient, always-accessible platform, you can definitely find offline ones, too. Some programs, like Microsoft Excel, offer chart making functionalities.
However, they might lack the convenience and design variety provided by online tools. So it's a bit of a trade-off – pick what works best for you.
Is it free or do I have to pay?
A tricky one, this. Many chart makers offer free versions with basic features. However, if you want more advanced features, premium templates, or additional resources, you'll often need to upgrade to a paid plan. Always a good idea to check the pricing models and what's included in each tier.
Can I customize the charts?
Absolutely! The whole point of these tools is to allow you to express your data in the way that works best for you.
Change colors, sizes, labels, even the style of the chart itself. Sky's the limit! Well, as long as you're still getting the message across clearly.
Can I collaborate with my team on this?
Many online tools offer collaboration features. This means you and your team can work on the same chart, see changes in real-time, and leave comments.
Collaboration can make the process quicker and more efficient, especially if you're working remotely or handling big projects.
Can I use my own data or do I need to use predefined ones?
Your own data, of course! That's the whole idea. You input your unique data into the tool and it translates it into a visually appealing, easy-to-understand chart.
Some tools even let you import data directly from spreadsheets or databases – super handy!
How can I share the charts?
There's a variety of ways, depending on the tool. Download the chart as an image or PDF, embed it on your website, or even share a link directly to it.
Some tools even allow you to share the chart within presentations or social media platforms. Remember to check the sharing options provided by your chosen tool.
Are these charts mobile-friendly?
If you're creating charts for a website or a digital platform, this is crucial. Most modern chart makers ensure their outputs are responsive and look great on all devices.
But don't just assume – always double-check! You want your charts to be accessible and legible, whether viewed on a phone, a tablet, or a desktop.
Do I need any technical skills?
Not really, no. These tools are designed to be intuitive and straightforward. As long as you can input data and make choices about colors and styles, you should be good to go.
Some might have more advanced features, but they'll usually provide guides or tutorials to help you along.
Final Words on Choosing the Best Comparison Chart Maker
A comparison chart maker is the best way to build insightful graphics for professional or personal use. It allows you to create representations that identify similarities and differences in data sets.
As you know, efficiently comparing data is essential for any decision-making process. Thus, creating various comparison graphs ensures a more comprehensive perspective.
In this article, you have learned about the applications of a comparison chart. You explored the benefits of specific software to build comprehensive representations. Finally, you discovered the 11 best comparison chart online tools and analyzed their features.
Now you can confidently choose the best chart-making resource to fit your project needs and requirements. Remember to include your brand assets and adjust the functionalities, animations, and interactions. With these tips, all that is left for you to do is start designing.
If you enjoyed reading this article about comparison chart makers, you should read these as well: