Classified sites like Craigslist and Backpage have millions of listings and visitors each month.
However, classified sites can be difficult to set up and manage. The sheer number of items listed can be challenging to monitor and organize. A WordPress classifieds plugin will solve this issue. There are both free and premium options on this list depending on which features are required.
All the listed plugins, whether free or premium, have fabulous reviews online, and work smoothly with the latest version of WordPress.
Keep reading more in this article created by our team at wpDataTables and learn how to choose the best one.
WordPress classifieds plugins
Classified Listing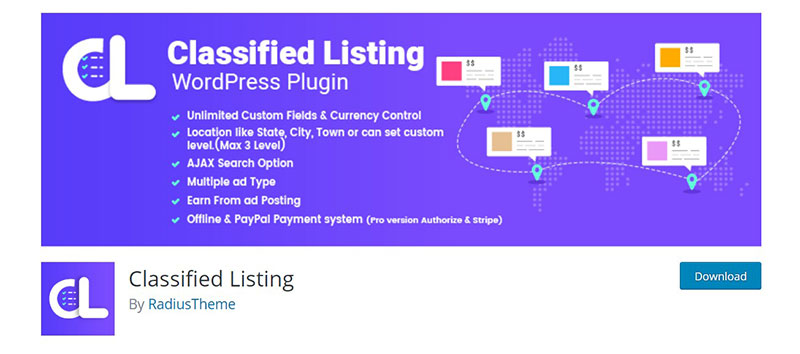 Classified Listing is a very comprehensive classifieds plugin. Its many features make it seem more like a premium than a free product, which explains its popularity. Classified Listing is well-designed and fully responsive to use. If you're creating a classified site, the image and picture quality will be important, and this plugin enables you to add images of any size.
You can set up the length of your listings' availability, and control the listing or detail view. You can also automatically approve each list or select manual approval. It links up well with social media accounts such as LinkedIn, Facebook, and Pinterest.
Classifieds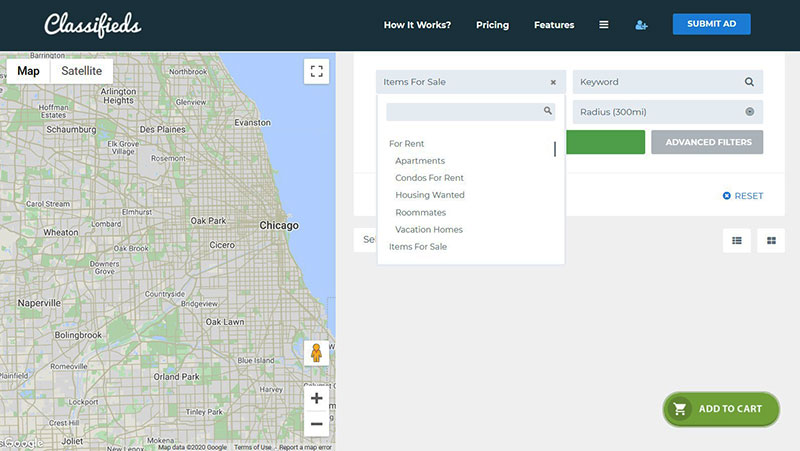 Classifieds is a popular and very promising premium plugin. It's the total package, with features for many different niches to further update and improve your classified or listing website.
Classifier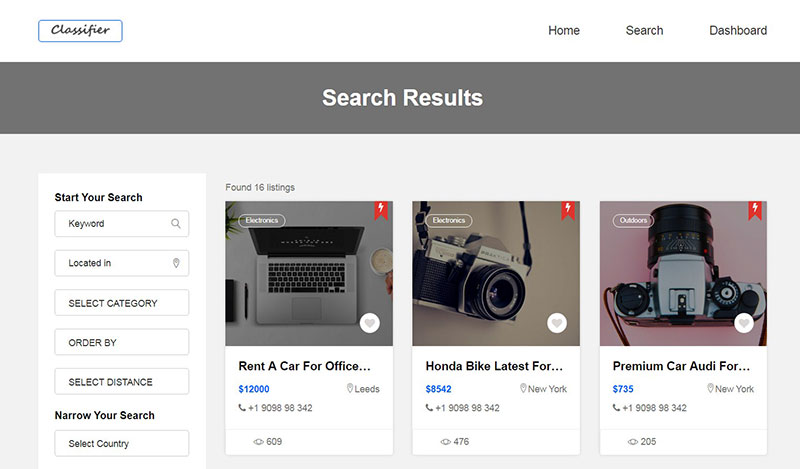 Classifier is an amazingly functional plugin. Add in a search bar that features location and category filters. Users will be able to list ads, browse by category, or see ads by location.
uListing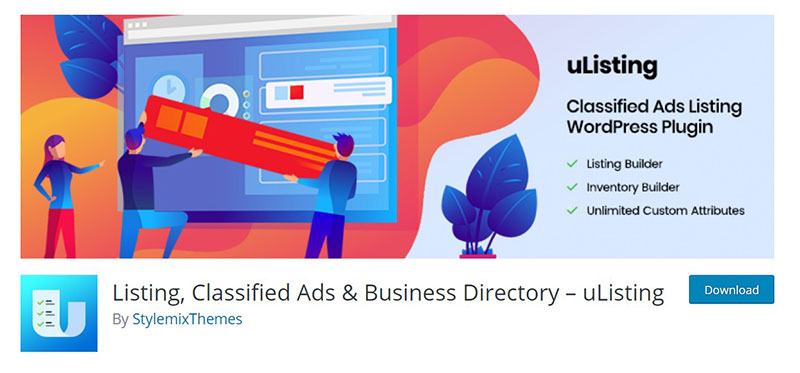 uListing will draw more income from your site, as it has plenty of features and can be used with the latest update to WordPress.
uListing is a free product which contains everything needed to create your classified site. The drag and drop builder makes it easy to edit your page and customize different elements.
The free version provides all the basics and the premium version offers even more functionality. Use it for a listing site and see your website soar.
Directories Pro
The Directories Pro plugin can help you to build a business directory similar to Google+ or Yelp.com. It's a popular plugin because it is responsive and functions well on both laptops and mobiles.
You can easily sort out your listing by the rating from views, and also search by review content, which is a unique feature.
ACADP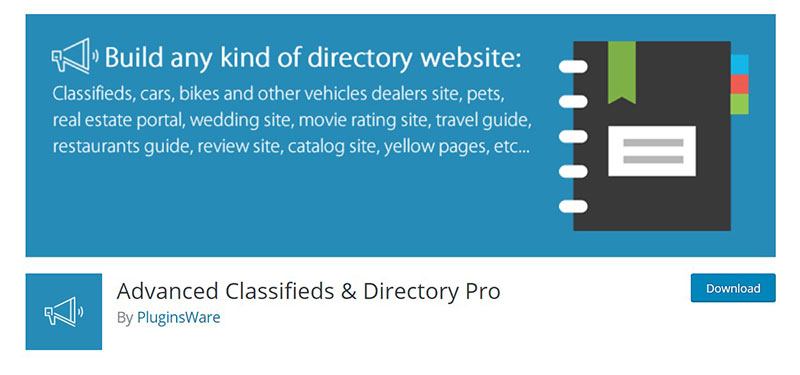 ACADP is a highly-rated professional classified directory. It has unlimited category levels and categories for any size of site. You can add custom fields for the niche categories on your WordPress website, including checkbox, text, select list, and radio.
It can be used for numerous locations, by adding any country and the scenario you desire. ACADP integrates seamlessly with Google maps for fantastic versatility and convenience.
WPAdverts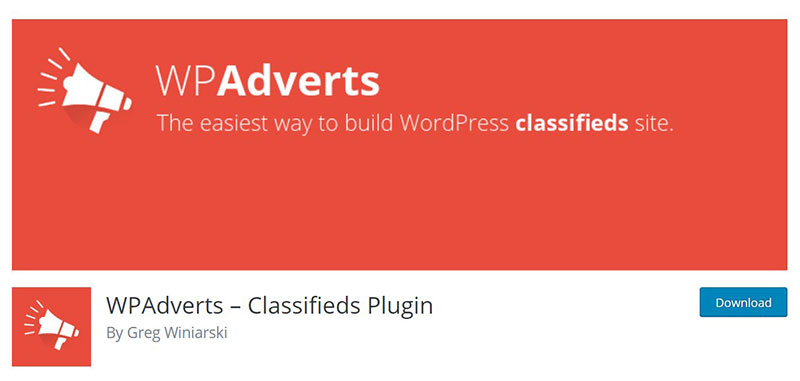 WPAdverts will take you only minutes to set up. It's extremely lightweight which is useful for your site speed, will look great on any kind of device, and displays categories effortlessly.
Users can put up their ad, edit, or cancel it later on if they wish. This classifieds plugin for WordPress uses bank transfer as the main payment gateway, and users are charged a fee to put up their ads.
Motors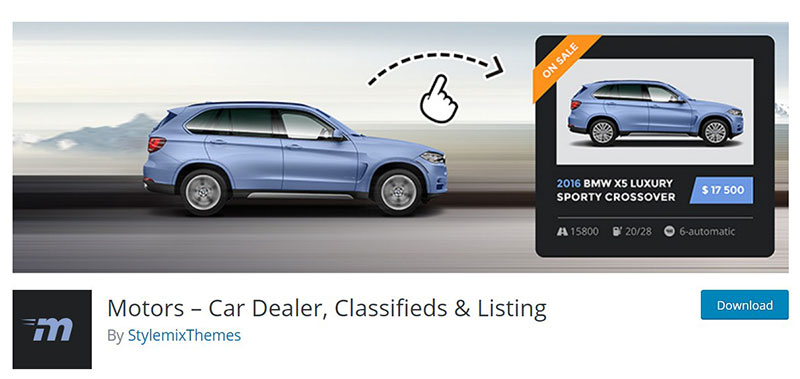 Many car dealership owners use Motors for their site. It allows you to list classifieds and was created specifically for car dealerships, with everything you need to create the perfect site for listing your cars.
The site is very professional, which will attract many buyers. You can add in new cars, all of the car details, including contact information, videos, and photos, and customize account profiles. Buyers and users can compare vehicles and will find the inventory amazingly easy to use.
AdForest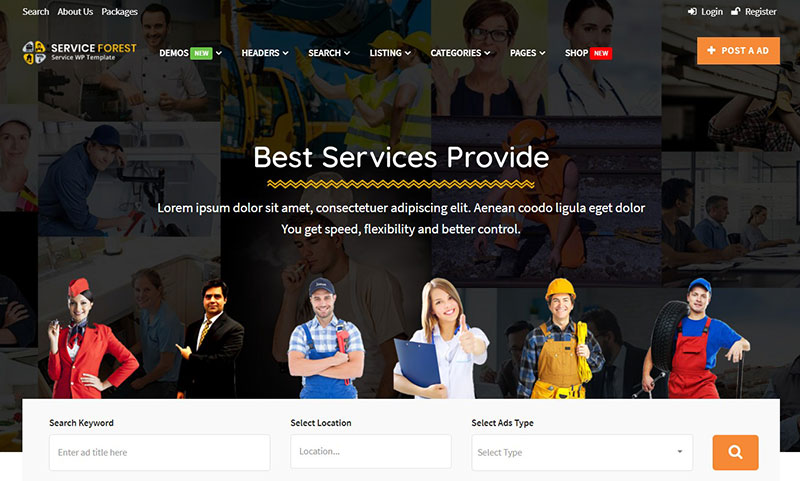 AdForest provides no less than 16 layouts pre-designed to craft your ideal homepage. Download the latest 4.2.0 version to get an excellent up to date plugin, with plenty of customization features.
Look at the site demos to familiarize yourself with the designs and listing types you can create.
Toolset Directory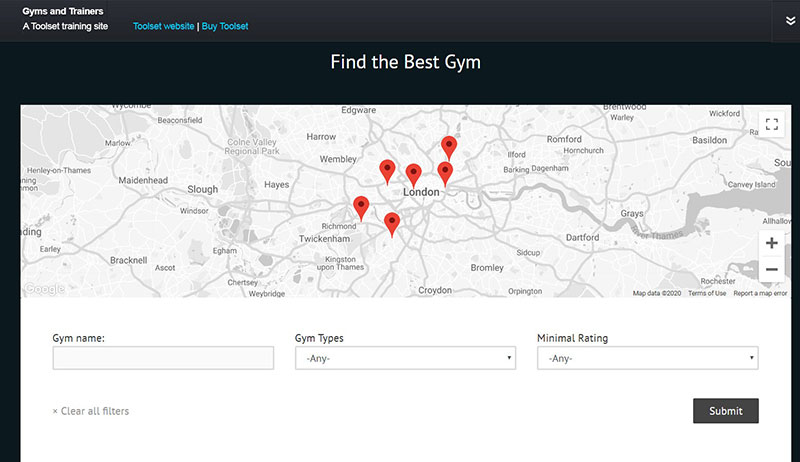 Toolset Directory has all the features required for an amazing site. Very little PHP coding knowledge is required to use Toolset Directory. Create a custom site with this plugin alone.
It's very popular amongst non-coders as you can create quite a complex website. Experienced programmers also like it because they save time on creating a site from scratch.
Web 2.0 Directory Plugin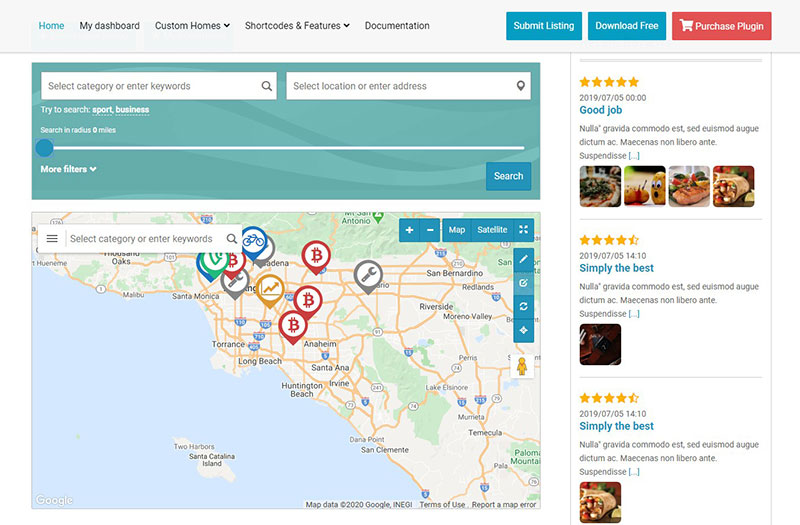 Transform your current site into a classifieds website by using Web 2.0 Directory plugin. You can add classified ads for boats, bikes, cars, and much more. It is loaded up with features, such as PDF downloads, images, Vimeo, and YouTube attachments. You can also print listings or use the bookmarking function.
It's SEO friendly and you can restrict ads on it. Web 2.0 Directory integrates with WooCommerce to take payments and it has a sleek front-end dashboard.
Advanced Classifieds and Directory Pro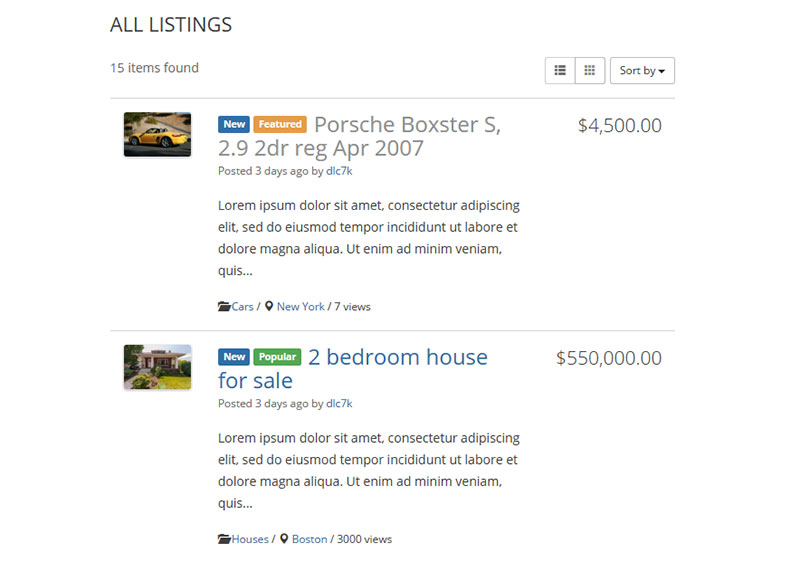 Advanced Classifieds and Directory Pro is a free, flexible, and high-quality WordPress classifieds plugin which can create any directory site you like.
You can organize listings and ads with unlimited categories, add in multiple subcategories, as well as set up as many custom fields as you need.
TerraClassifieds
TerraClassifieds is a basic and functional plugin useful for creating your listings website. Add in pages and ads, then edit them with ease. You can create and edit user profiles, and users will be able to register and log in. It includes an ad page, author view, and category view.
You will be able to show each category, including images, descriptions, subcategories, and titles. Add a text limit on descriptions so that users must be concise. Set the size of the search form depending on the user's device. Add up to 8 images per ad and customize how long an ad stays on the site.
AWPCP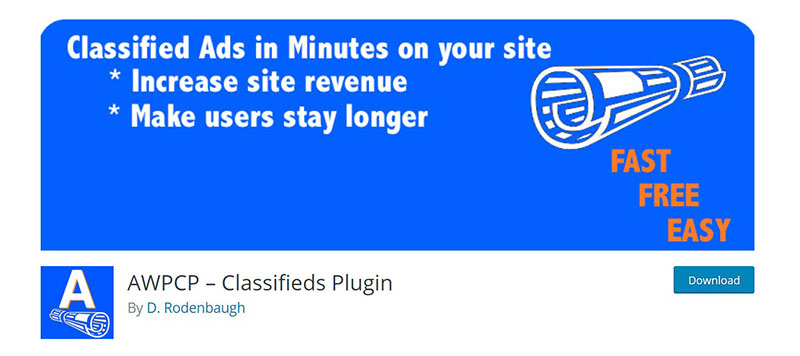 AWPCP is an exceptional and very popular WordPress classifieds plugin. It uploads images swiftly, edits, and develops your classified site. You can configure it to look how you want.
Use HTML to edit your site and you can also control the ads posted. Use the free version to experiment and then you'll likely want to upgrade to the premium version to access extra features.
FlatAds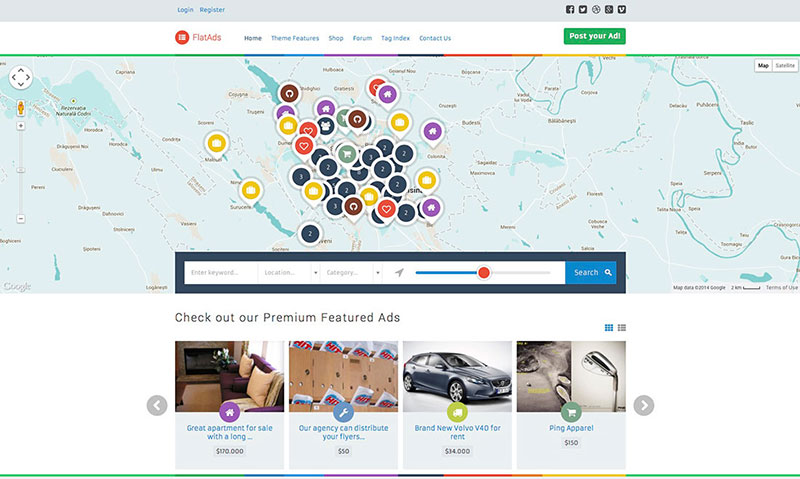 FlatAds is versatile and will create your classified site quickly. It is powered by Redux Framework and offers a clean, stylish design.
It can be used with any device the user chooses. It uses HTML5 and CSS3 frameworks to create your site and remain up to date. It has an integration option with Google Maps which can show people where your listings are located.
Directorist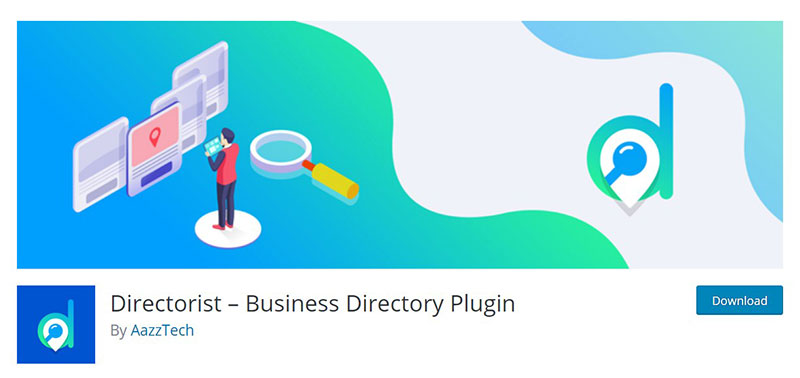 Directorist is a popular plugin with some amazing features including an incredible design, adding prices, toggle options, and feature listings. These help to create a user-friendly, modern site that's completely free to download and you can create many directories and ads.
Auto Listings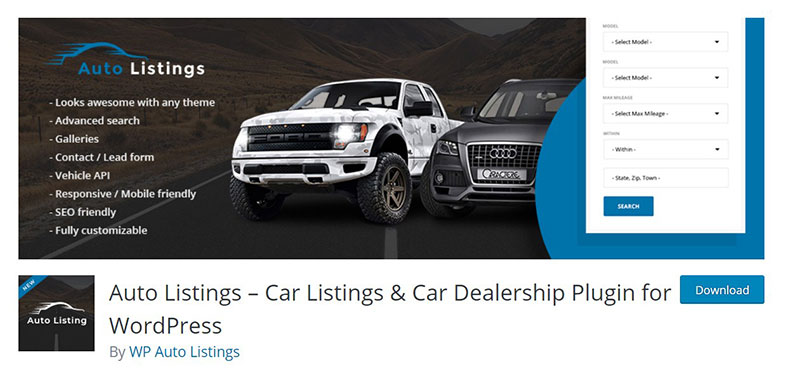 Auto Listings is a WordPress classifieds plugin designed for car dealerships and automotive listings. It offers advanced search functionality as well as the auto-population of car information, which makes it fast and easy to list cars on your site.
It contains vehicle data from 1941 to the present day for thousands of cars. Select make, model, and age, and the other fields will auto-fill. Add in the vehicle condition of used, new, or certified.
Ending thoughts on the best WordPress classifieds plugin
The fastest and easiest way of turning a general website into a classified listing site is to use a WordPress plugin. Custom coding can be a huge barrier for non-coders to create a classified site, however, these listed plugins don't require coding expertise, so you'll be covered no matter which type of listing site you want to create. Get online and take a look at some of the plugins above to find the most suitable for your needs.
If you enjoyed reading this article on best WordPress classifieds plugin, you should check out this one about WordPress table of contents plugin.
We also wrote about a few related subjects like WordPress catalog plugin, MLS WordPress plugin, WordPress RSVP plugin, WordPress documentation plugin, WordPress event registration plugin and WordPress document library plugins.