Documentation, such as manuals and guides, provide users with instructions in order to make better use of a product or service. A product's documentation has many forms, such as videos, lists, and other media.
Documentation plays an important role in the relationship between marketer and consumer since good documentation shows the marketer's care for the consumer's experience.
Documentation also eliminates the need for consumers to contact customer support. Statistics show most people prefer using a user manual to calling customer support for help.
How can you easily create documentation for your product? A WordPress documentation plugin helps with customer support services. Plugins help create documentation that will attract more customers and reduce support requests.
Here are 15 free and premium WordPress documentation plugins:
Free WordPress Documentation Plugins
Memphis Documents Library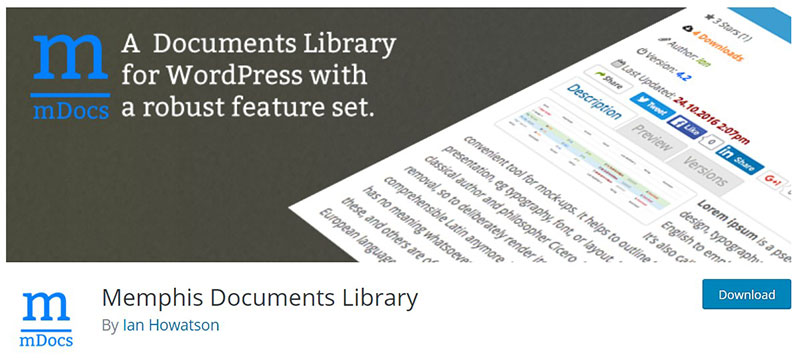 Memphis Documents Library is a WordPress documentation plugin that is useful for organizing and distributing files. It includes many features that create documentation.
Some features include:
Batch upload of files
Preview and thumbnails available
Ability to show files on other websites
View and revise older versions
Referential file methodology so that a file can be updated but the link stays the same
Social media buttons
File search
weDocs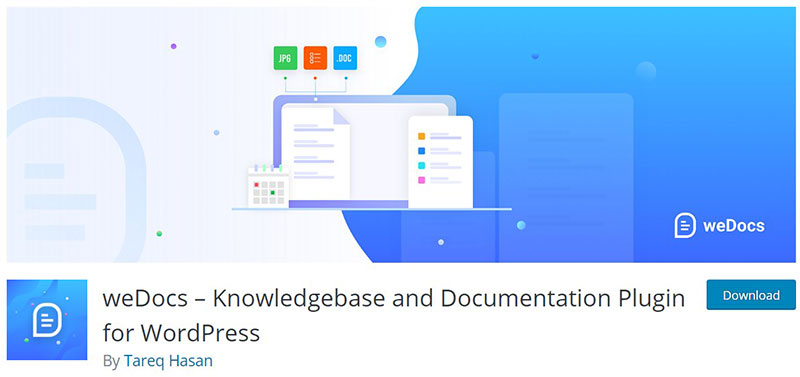 weDocs is a WordPress documentation plugin from weDevs. weDevs has created other popular plugins like Dokan Multivendor and WP User Frontend Pro. This plugin is a simple tool for creating and organizing documentation. The design is practical and simple. Users can add custom CSS to tailor and enhance their appearance.
Features of this plugin include:
Organize the documentation with categories and tags
Change the order of documents by dragging-and-dropping
Add a search option and a table of contents with widgets
Receive documents from external sites
Simple front-end appearance
Embed Any Document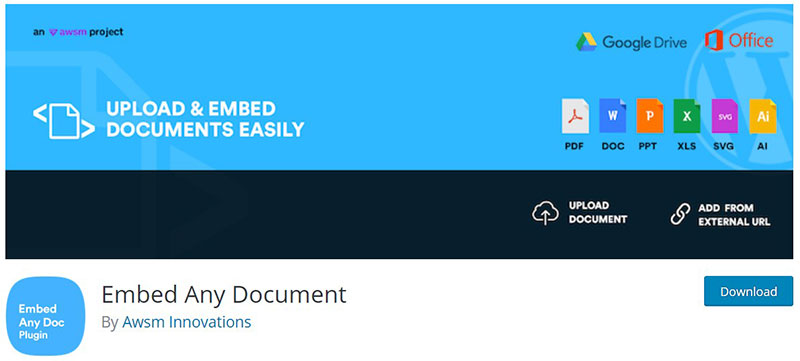 Embed Any Document allows users to embed documentation without using a third-party browser plugin. It uses Google Docs Viewer or Microsoft Office Online to display documents. Simply clicking Add Document, uploads documents into the media library.
Some more features are:
Responsive on mobile devices
Cross-browser compatible
Clean UI
Echo Knowledge Base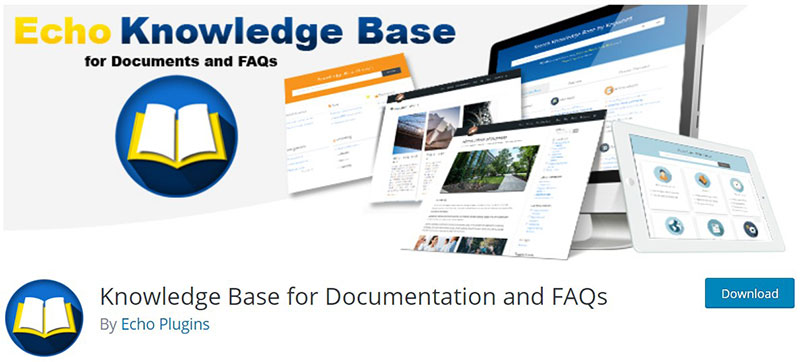 This plugin by Echo Plugins is a knowledge base for documentation and FAQ's. It is useful for creating professional and customizable documentation. It is flexible, simple, multifaceted, and produces professional results. Add-ons are available to extend the free version's features.
Several of its powerful features include:
Organize articles by category, alphabetically, chronologically, or in any other order
Wizard with twenty-six preset themes with different layouts, colors, and fonts
Five hundred icons
Instant search feature
Table of contents
Add tags and breadcrumbs, back buttons, and more
Users choose the URL
Coded for SEO
Responsive design
Sixteen color schemes
Simple Documentation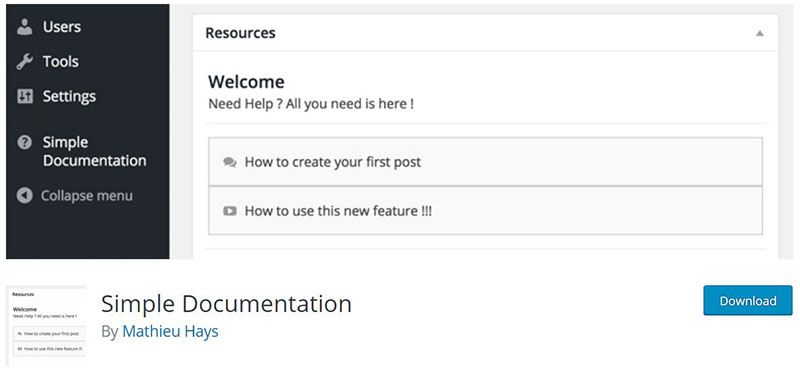 Simple Documentation is a plugin that provides a simple way to create documentation that allows users to share four different types of content. They are links, videos, notes, or files.
Features include:
Add, edit and delete content
Choose the number of items displayed on a page
Customize the widget title and welcome text
WP Help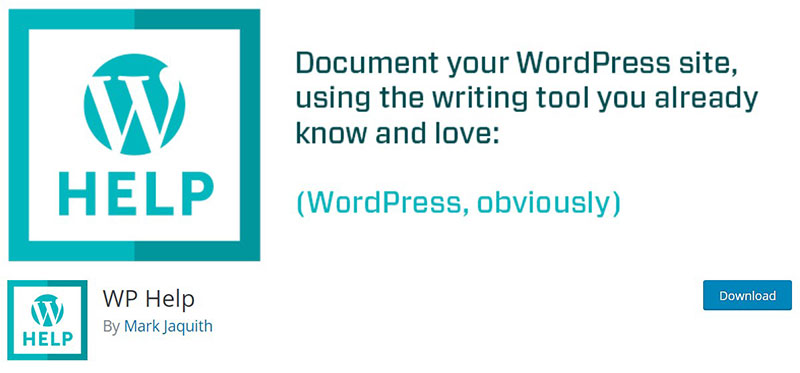 WP Help is a plugin powered by custom post types that helps users create, edit and arrange documentation with WordPress. It is especially practical for many clients using multiple sites since document changes are automatically updated.
More features include:
Customization
Organization
Updates
Smarty Pants Plugins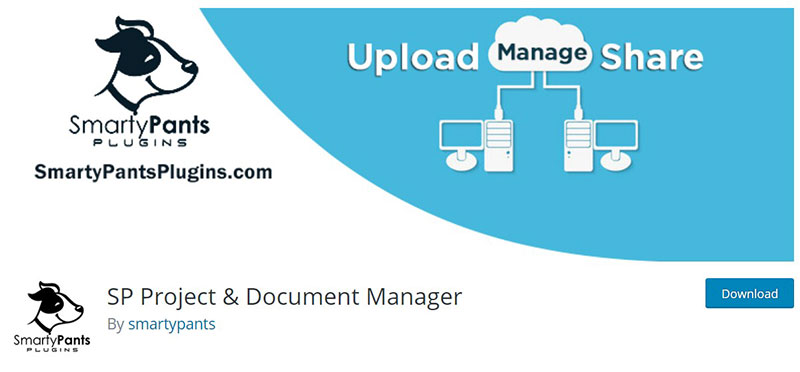 SmartyPants Project and Document Manager is another free plugin with many useful and powerful features. This plugin allows users to create, manage, and organize several types of documentation. These include documents, records, files, videos, images, and more.
Its list of features include:
Manage and upload an unlimited number of files
Unlimited folders and subfolders for organization
Security features requiring a login to download files
Advanced email editor to customize emails
Manage files remotely
Freemium WordPress Documentation Plugins
BetterDocs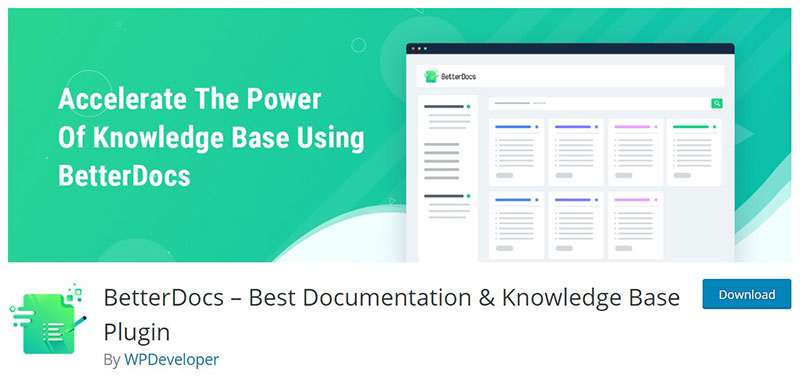 BetterDocs is a plugin with a clean, comprehensive interface made by the creators of Essential Addons for Elementor and WP Scheduled Posts. Users can start by using the free version, and the premium version offers more features.
The top features of the free version are:
Premade templates
Shortcodes and widgets to customize documentation pages
Live search so visitors can find the exact documents they need
Automatic table of contents for easy navigation
Drag-and-drop organization
Some premium features include:
An answer bot helps visitors search documentation through a live chat widget
Analytics track and evaluate page views
Create multiple knowledge bases
Documentor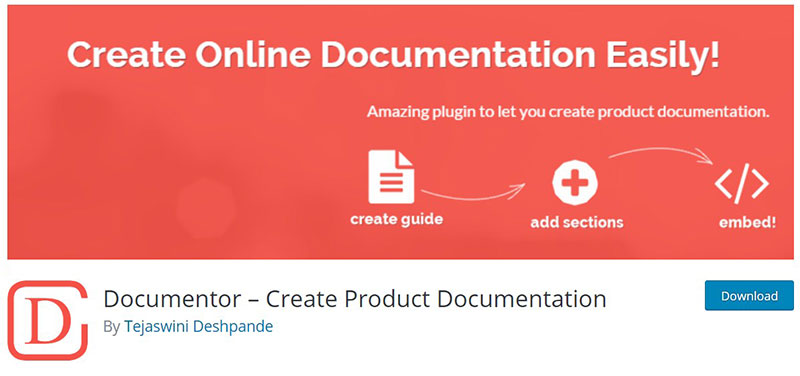 Documentor is also a popular plugin that helps create WordPress documents and manuals. It has a free and premium version. It is an excellent plugin for beginners because of its intuitive design. This plugin was made to save developers' time. It allows users to create professional documentation in a short amount of time with full customization.
Additional features of the free version include:
Add sections as posts or pages
Customize color and font
Embed documentation files to a website by default
Reorder or delete sections
Custom links
The premium version includes:
Multiple skins
Live preview for editing
Unlimited documentations
Premium WordPress Documentation Plugins:
Document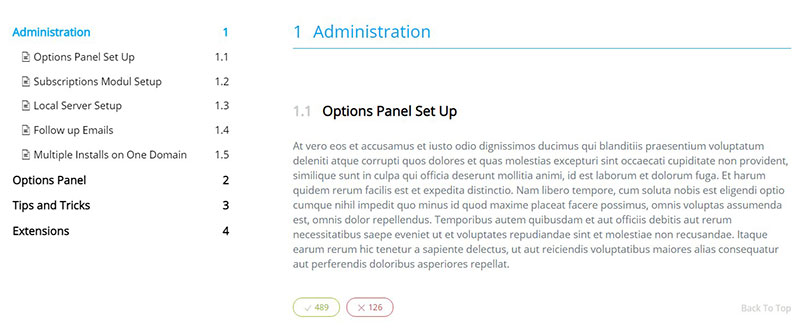 This premium WordPress documentation plugin builds and maintains manuals and guides. It is used to create product and service manuals as well as for frequently asked questions (FAQs) and internal company documentation.
Features of this plugin are:
Multiple documentation pages
Voting feature
Responsive design for all mobile devices
Custom CSS field
Automatic sidebar navigation updates based on scrolling
Help Scout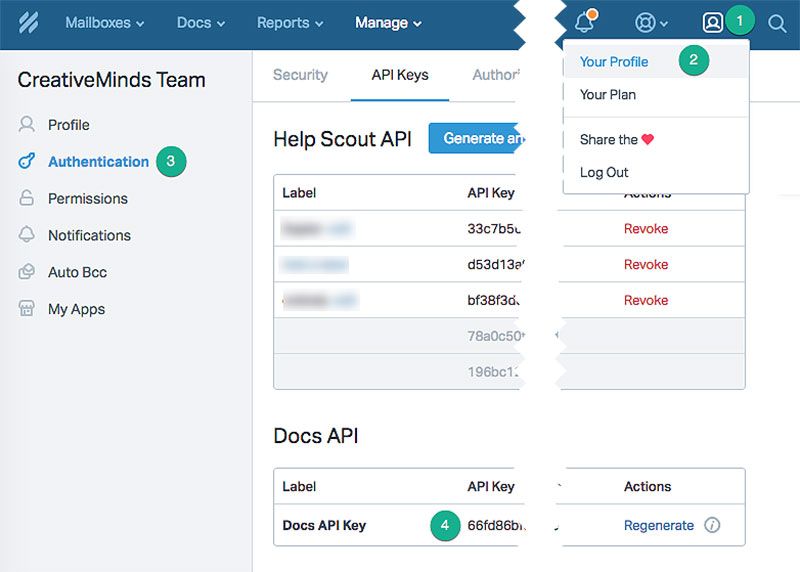 HelpScout Docs Portal is a plugin that uses the latest HelpScout API and connects to a user's knowledge base. This plugin displays knowledge base articles on WordPress posts and pages with shortcodes. This plugin is useful for a help center, an FAQ page, and a knowledge base hub.
Features of this plugin include the following:
Organized to show the whole content of collections and categories
User can create multiple knowledge bases
Documentation embedded into product pages
Search feature
X Docs WordPress Product Documentation Creator
This WordPress documentation plugin allows users to create online and offline documents with ease, without having to download extra themes.
The features of this plugin are:
Create multiple documents
Convert to PDF
Export HTML and CSS
Multiple themes available
Knowledge Base by PressApp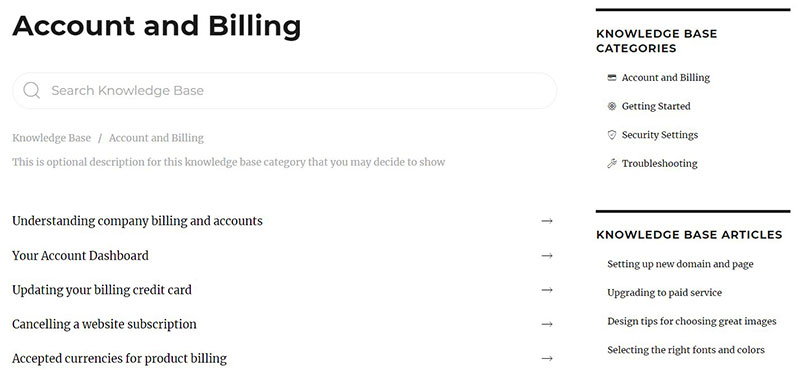 This is an advanced plugin for creating documentation to decrease customer service requests and lower customer support costs. It is useful for creating knowledge bases, FAQ documents, internal company documents, and more.
The top features include:
Drag-and-drop organizer
Gutenberg blocks ready
Custom slugs
Live search
Responsive design
Helpie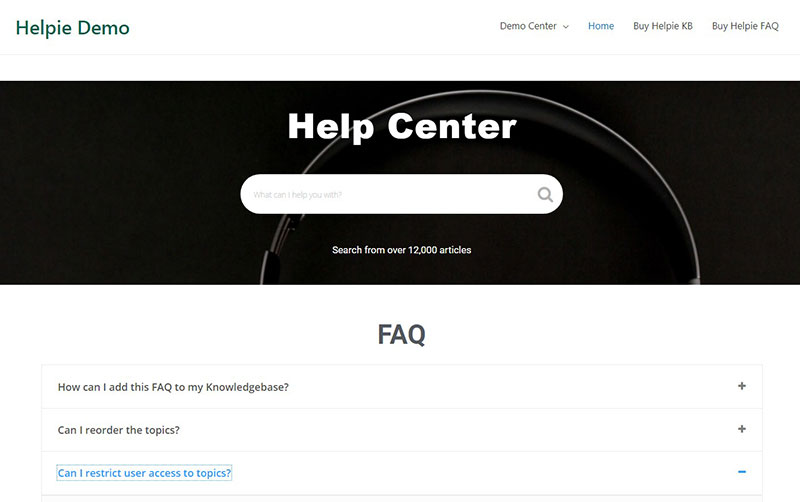 Helpie is a WordPress documentation plugin that helps teams create product documentation, knowledge base, and Wiki websites. It provides tools to streamline collaboration, organization, and updating of documents for the team.
Some features included are:
Analytics, insights, and actionable feedback
Frontend editing
Live search with instant results
Interactive table of contents on every article page
Control of who can view, edit, and publish content
Branding and styling options
Widgets and shortcodes for customization
Translation ready
WP Clever FAQ Builder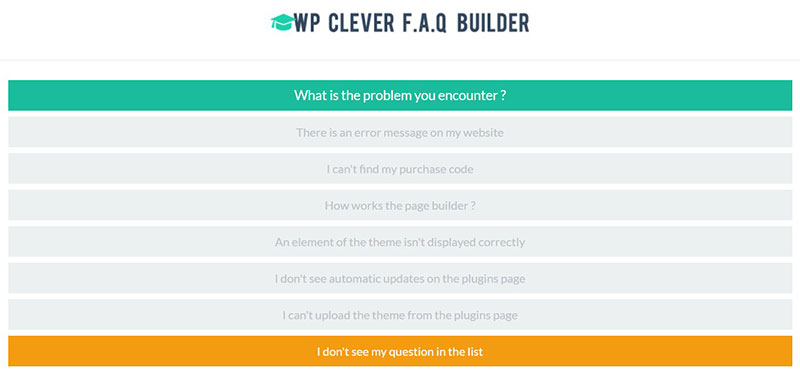 This plugin allows users to create FAQ pages. It provides multiple ways to present the content, including classical formats or complex formats. The purpose of this tool is to provide customers with specific answers to their questions.
More features include:
Unlimited number of FAQ's
Customizable
Customers can ask new questions if they can't find the answer
Drag-and-drop organize feature
Responsive to mobile devices
Intuitive backend
Shortcode and visual composer integration
Heroic Knowledge Base Plugin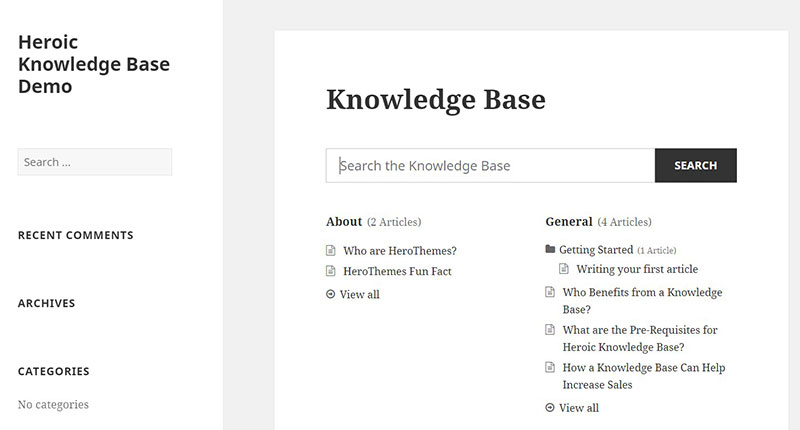 Heroic Knowledge Base Plugin is well-known and used by popular websites and businesses, like USC, Pagely, and crazyegg. This plugin allows users to create a knowledge base that provides instant answers to consumers' questions. It is a flexible, well-coded, developer-friendly plugin with a high rating from users.
Some of the other powerful features are:
Article feedback allowing consumers to rate articles helpful or not
Analytics to help improve the content
Drag-and-drop feature to organize and reorder content
Attach downloadable files to articles
Widgets for customization
Mobile friendly
Categories and tags
Custom slugs
Regular updates
Ending thoughts on WordPress documentation plugin
Documentation is effective for providing better customer service and morale. Good documentation answers consumer's questions and properly explains the use of a product or service. Documentation saves money and time spent attending to many customer service calls. Since customer service is valued, documentation attracts more consumers.
Using a WordPress documentation plugin is the best way to create and organize documentation. The above plugins are the top free and premium documentation plugins available. Businesses of all sizes can benefit from these documentation plugins and their powerful features. All of the plugins above successfully produce professional documentation that will satisfy customers.
If you enjoyed reading this article on WordPress documentation plugin, you should check out this one about WordPress table of contents plugin.
We also wrote about a few related subjects like WordPress RSVP plugin, MLS WordPress plugin, WordPress catalog plugin, best WordPress classifieds plugin, WordPress event registration plugin and WordPress document library plugins.