While doing business online may be a modern phenomenon, there are some ideas that are timeless, for example, the idea that first impressions are crucial. Customers will often decide whether or not to buy a product within seconds, based on how presentable a website is. If you use WordPress, there are many useful WordPress catalog plugins to keep your page clear and professional, thus creating good first impressions.
Why use a WordPress catalog plugin?
WordPress powers around 37% of the internet, and its flexibility and customizable tools make it outstanding. By default, WordPress is not set up to accommodate an e-commerce space, however with multiple plugin options available, you can ensure your products integrate into your WordPress site by using catalogs.
This article created by our team at wpDataTables shows the comprehensive list of the best WordPress catalog plugins available.
The Best WordPress Catalog Plugins
Product Catalog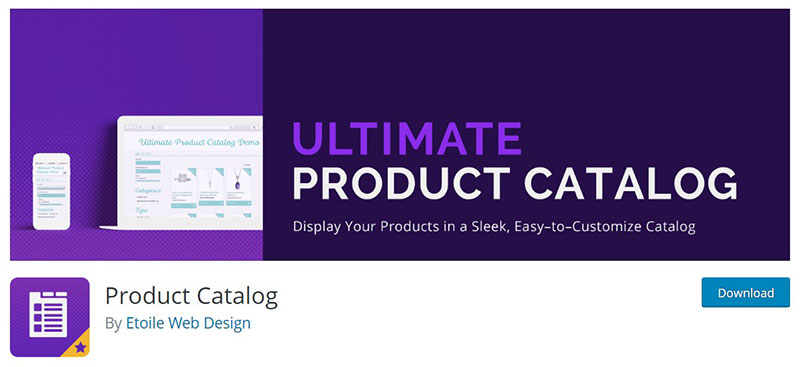 This is an uncomplicated catalog plugin with responsive formatting. Product Catalog is specifically designed to show a list of products cleanly and to optimize the customer's browsing experience.
It is developed for use with the Gutenberg block style of editing in WordPress, and so is designed to last.
It has excellent catalog display features. For example, layouts can be switched without reloading the page. It has a powerful built-in product sorting system, which allows you to set sales prices. This is an all-round great catalog plugin.
WP Product Gallery Lite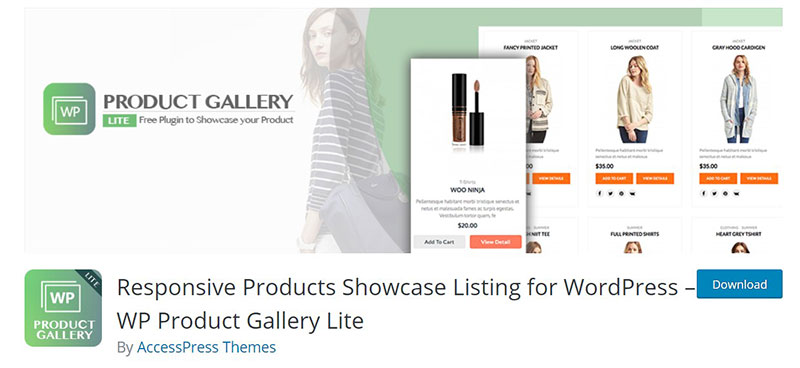 WP Product Gallery Lite is one of the most customizable and effective product listing plugins available. It has the benefit of supporting Easy Digital Downloads and WooCommerce, as well as offering a multitude of layout design options. Choose from grid, carousel, or list layouts to display your products in the most effective way.
WooCommerce Product Table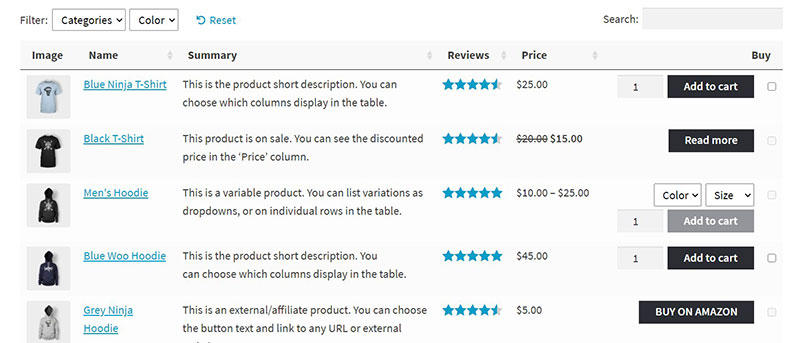 Supported by WooCommerce, this plugin allows you to easily display product tables on your WordPress site.
It is an ideal choice for those running a site for a restaurant, product reviews, or a wholesale store. It includes a useful filtering option to allow your customers to search for specific items.
Catalog for WooCommerce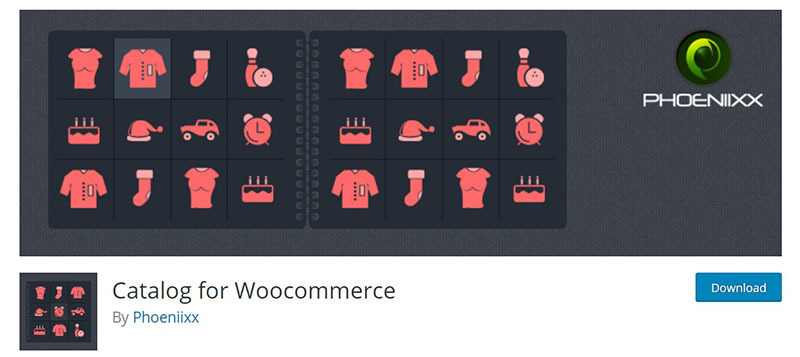 The Catalog for WooCommerce plugin immediately changes your e-commerce site to a catalog format, organizing your products into lists for you.
It also features powerful customization options, including custom colors, pop-ups, price tags, review hiding, and ratings.
YITH WooCommerce Catalog Mode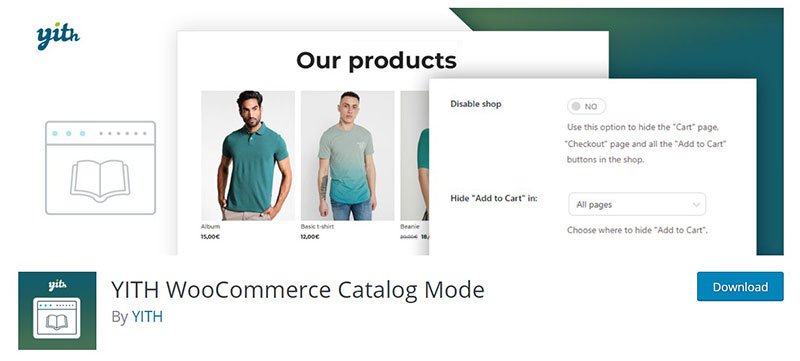 YITH WooCommerce Catalog Mode offers tools to improve the design of your site through enhanced customization.
As part of the YITH Essential Kit for WooCommerce, this plugin is a great tool for any online businessperson.
Arena Products Store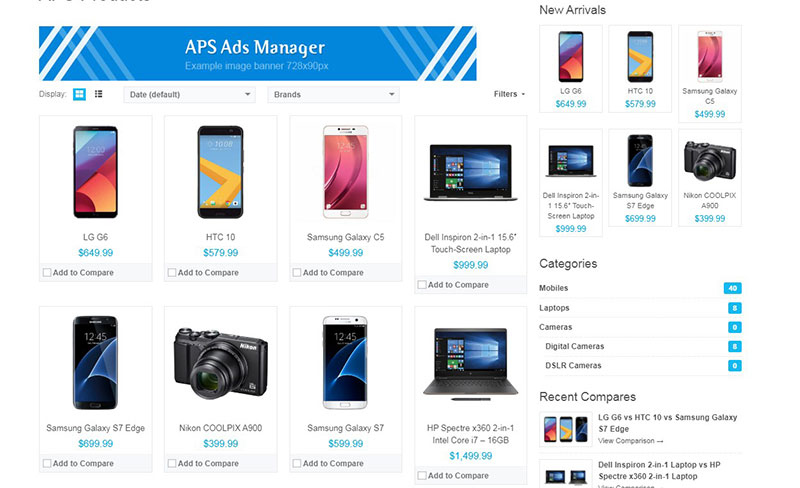 Arena Products Store allows you to sort your products in categories based on features, groups, and many more attributes depending on the product, and thus create a detailed catalog for your products.
WooCommerce Extra Product Options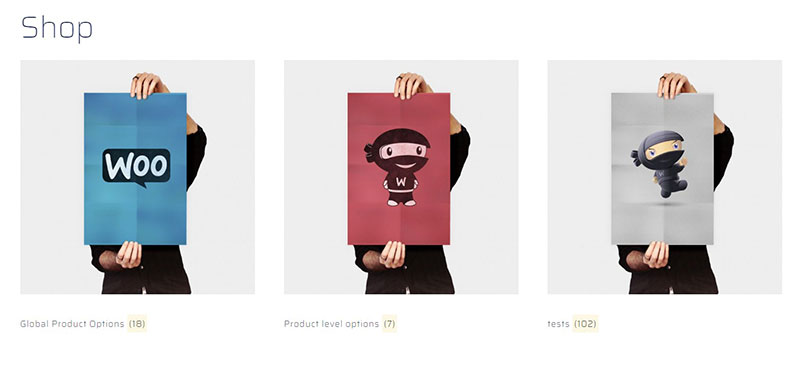 WooCommerce Extra Product Options is extremely customizable, offering the choice to add extra fields such as checkboxes, a radio button, date and time, and many more. You can also show fields based on the products themselves.
WooCommerce Extra Product Options is compatible with other plugins including WooCommerce Subscriptions and Catalog Mode, allowing seamless integration with other useful tools for your site.
WC Catalog Enquiry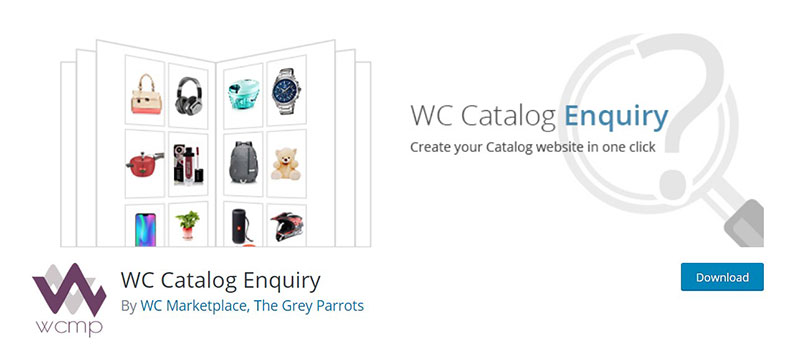 WC Catalog Enquiry is a particularly flexible plugin, enabling you to choose whether it sorts your products into a full catalog or a partial one. It has many useful features that enable you to host your shop and product catalog, such as receiving product inquiries directly from the customer.
Woo Product Showcase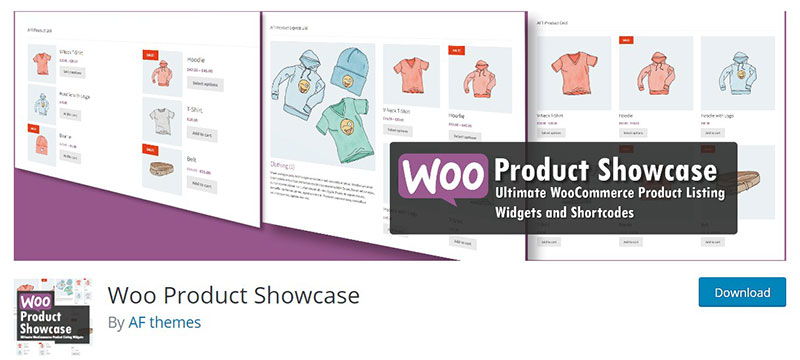 Woo Product Showcase is a free plugin, allowing for multiple widgets and shortcodes, which help display your products in either a grid or list view.
You can include product descriptions and category thumbs for a professional online retail space.
Posts Table Pro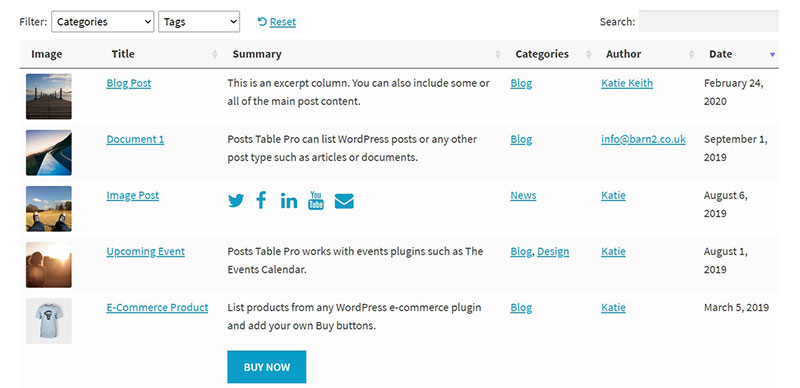 Posts Table Pro easily sorts your content in searchable tables, making the design of your site clear and easy to navigate as soon as you install it.
You can also include website content such as blog posts, pages, images, and even videos. If your website is more than an online store space, then this plugin will be useful.
Hey, did you know data can be beautiful too?
wpDataTables can make it that way. There's a good reason why it's the #1 WordPress plugin for creating responsive tables and charts.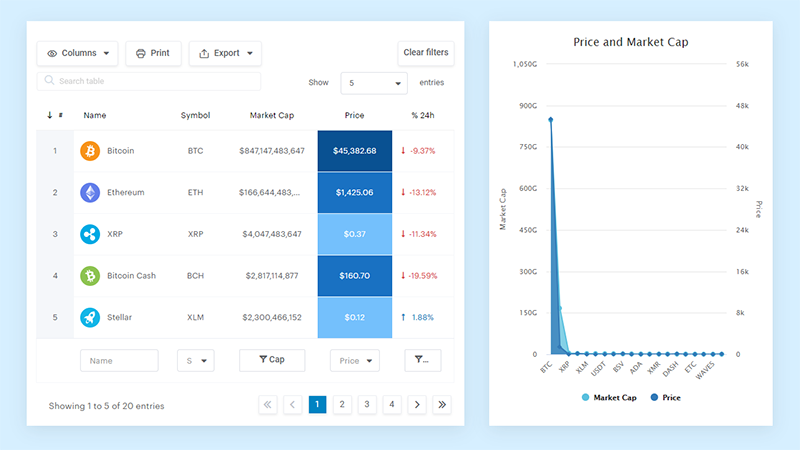 And it's really easy to do something like this:
You provide the table data
Configure and customize it
Publish it in a post or page
And it's not just pretty, but also practical. You can make large tables with up to millions of rows, or you can use advanced filters and search, or you can go wild and make it editable.
"Yeah, but I just like Excel too much and there's nothing like that on websites". Yeah, there is. You can use conditional formatting like in Excel or Google Sheets.
Did I tell you you can create charts too with your data? And that's only a small part. There are lots of other features for you.
WP Catalogue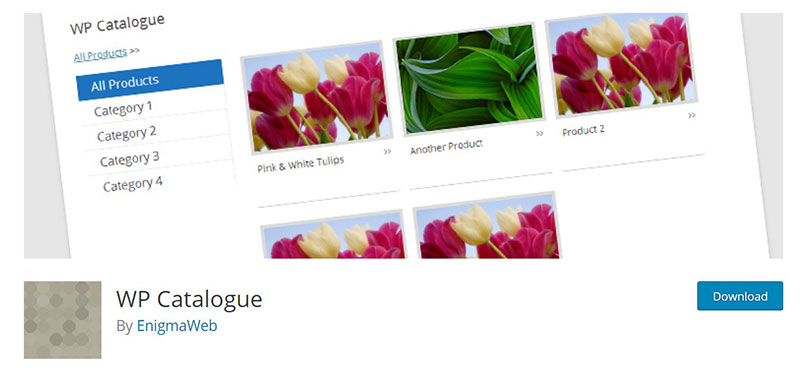 This is one of the best-known WordPress Catalog plugins, with a proven track record of creating great catalogs for websites. It designs product catalogs to be as simple and clear as possible, speeding up page loading as well as providing an excellent customer experience.
It also has great customization tools, including unlimited page creation, full browser compatibility, breadcrumb installation, drag and drop features, a variety of color schemes, and many more.
Ultimate Product Catalog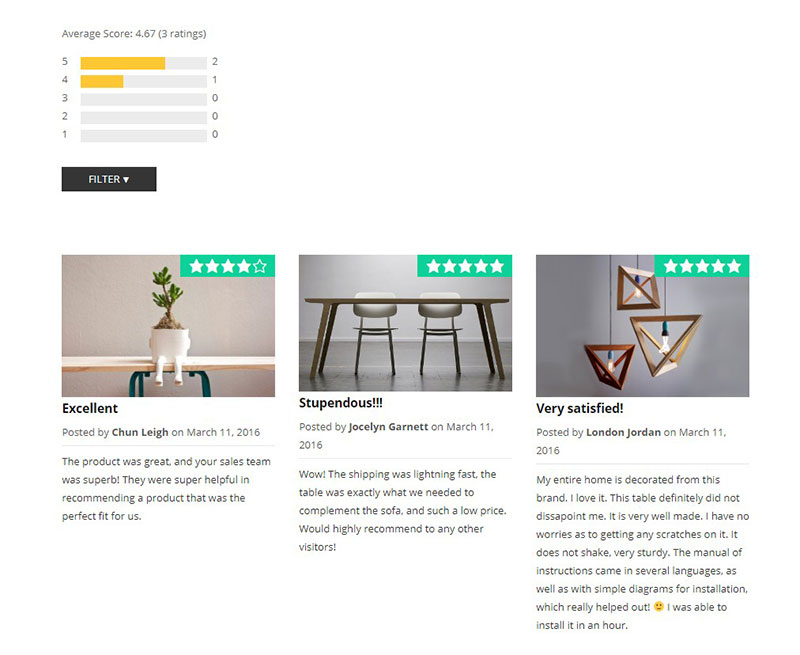 Ultimate Product Catalog is one of the most customizable plugins available. It allows you to choose the product name, description, price, image, and more. It also provides support for three simultaneous catalog layouts, allowing rapid switching without having to reload the page.
Combine that with support for Lightbox effects and you have a WordPress Catalog Plugin that will give you a clean and professional site.
eCommerce Product Catalog Plugin for WordPress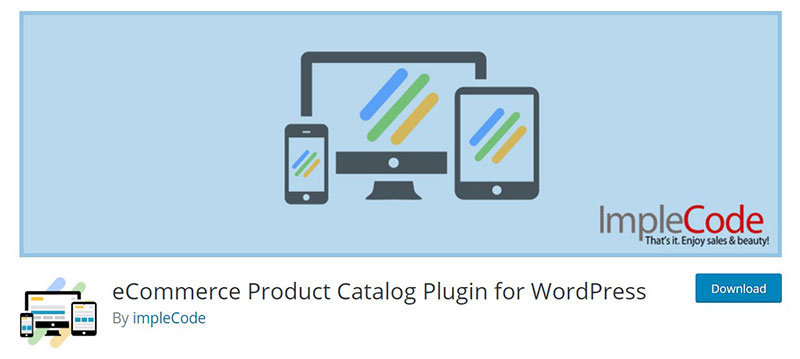 This free plugin will create beautiful product catalogs easily for you, with the added feature of buyers being able to request a quote.
Choose where to display products, add multi-level categories, tags, and multiple catalogs for a brilliantly functional online store.
ShopConstruct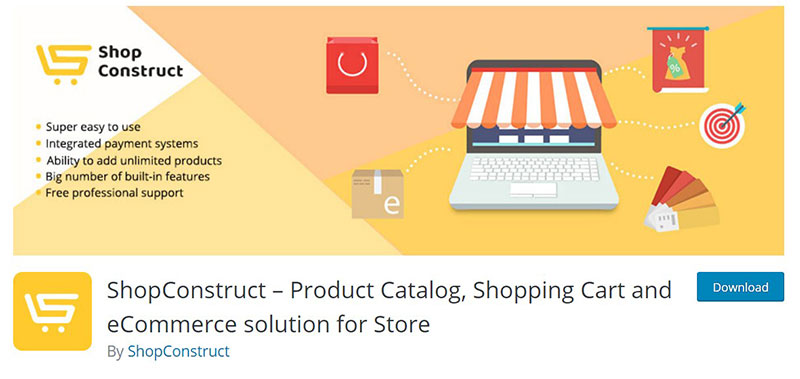 This is a well-respected shopping and online business plugin useful for beginners. It gives you the tools to create your online store and manage it all from one place in a straightforward platform.
The catalog functionality also supports an extensive range of product types, from physical goods to digital and downloadable items.
WooCommerce Customizer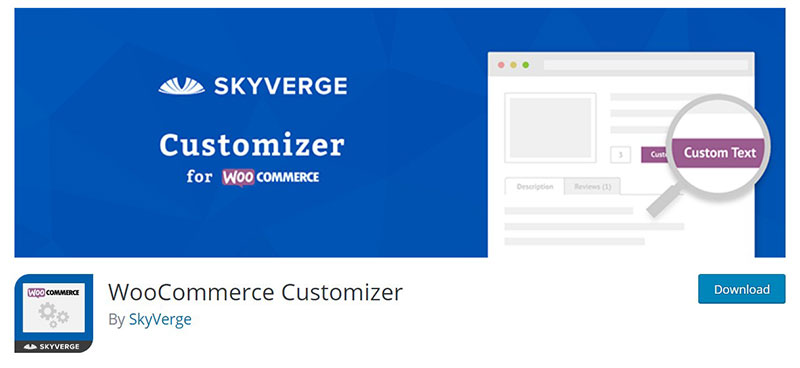 While WooCommerce is great for customization, the user will often need to use PHP code to adjust settings.
This great plugin offers a settings page, so you can interact and adjust your customization settings without using any code at all. This plugin will perfectly complement other plugins, and is excellent for those new to eCommerce.
WordPress Catalog

WordPress Catalog offers all the standard features for creating catalogs no matter what your subscription is.
While the full suite of customization features are reserved for those with paid subscriptions, the free version still offers all the main options needed to set up a great product catalog for your site.
Ecwid eCommerce Shopping Cart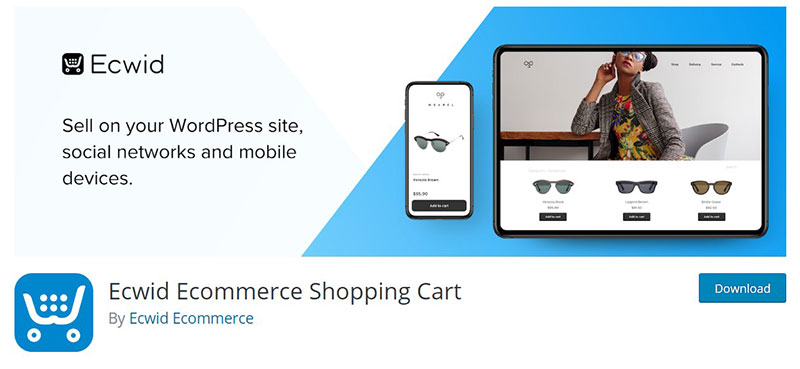 This WordPress catalog plugin is integrated with some major shipping companies such as UPS, USPS, FedEx, and international carriers. The latest version also has greatly improved page load speeds, SEO Url, and widgets.
It also includes easy Shopify to WooCommerce product migration, sitemap integration, and a certified secure shopping cart, thus is perfectly suited to online stores that sell and ship physical goods.
Spider Catalog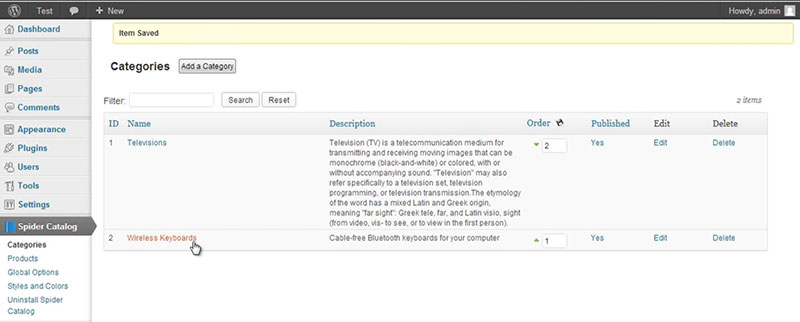 Another, Spider Catalog is a trusted catalog creator that lets you easily create and display product catalogs effectively in the most convenient way for your customers.
WooCommerce Product Filter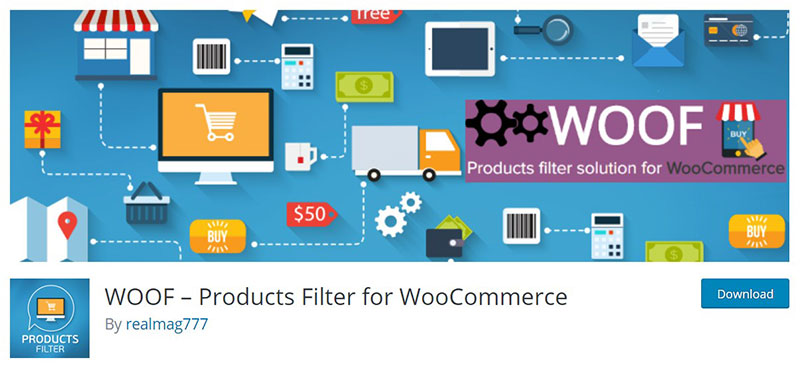 This plugin focuses on allowing you to filter your products easily. Enable your customers to see lists of products based on whatever criteria they desire, from color, price, and many more. The WOOF extension API enables you to customize your filters as much as you like.
However, please note that this plugin does need some more advanced coding skills to operate the more high-level customs options. However, if you don't know PHP the basic options are usually enough for most users.
Ending thoughts on these WordPress catalog plugin options
All of these plugins offer useful tools, many of which can be integrated with each other. However, it is important to explore which one is best suited to your site. If your online store primarily sells physical products, then you will likely have different needs from a store that sells digital goods.
In this list of the nineteen best catalog plugins includes choices for everyone. If you require full customization but don't need integration with physical shipping companies, there is an option that will undoubtedly work for you. If you need to focus more on shipping and less on cross-platform product migration, you'll choose a different plugin.
The most important thing is that you think about what your store needs, then choose the best plugin.
If you enjoyed reading this article on WordPress catalog plugin, you should check out this one about WordPress table of contents plugin.
We also wrote about a few related subjects like MLS WordPress plugin, WordPress RSVP plugin, WordPress documentation plugin, best WordPress classifieds plugin, WordPress event registration plugin and WordPress document library plugins.