Survey data visualization is extremely important when it comes to reporting and analysis. Therefore, you need the best tool you can get.
A good data visualization tool will include features that help people understand survey results. This information can be used to establish business strategies.
For a great survey data visualization, you need a tool that turns figures and facts into comprehensive graphs. Moreover, they need to tell a story. Data visualization tools are also great for optimizing marketing efforts. Thus, you can understand your results and make clever decisions.
To help you out, this article contains a list of survey data visualization tools for you to use.
wpDataTables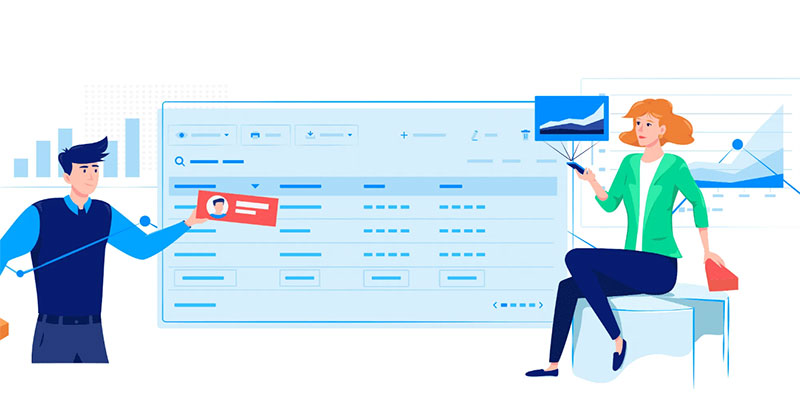 First, we have the leading survey data visualization tool in the market. People choose it because it's flexible and user-friendly. Besides, it comes with plenty of resources and runs on any WordPress website.
If you want to visualize a survey results report in a way that the audience will appreciate, use the wpDataTables Forminator integration to build charts for your survey results report. These work well with Forminator PRO and wpDataTables Premium and their advanced features.
To get started, go to wpDataTables and click "create a Table." Then select "Create a table linked to an existing data source," and tap "Next".
Select "Forminator Form". Then choose a quiz, poll, or form from the "Choose a Forminator Form" select-box.
When the box "Choose fields to show as columns" appears, select the quiz, form, or poll fields to use as columns.
We detailed this process further in an article that you can check out.
All in all, wpDataTables allows you to insert tables much easier. With the time you've freed up using wpDataTables, you can focus on clients and important business matters.
You'll love the fact that this WordPress plugin is compatible with several data entry software. This includes XML, JSON, Excel, and CSV. The best part is that you don't need to be a coding expert to use it.
After creating a poll/form/quiz, you can begin the creation of your wpDataTable. With special add-ons, you can showcase your data through attractive charts.
Survey Maker
WordPress Survey plugin is a great tool for making surveys on WordPress. It's easy for beginners and doesn't need any coding skills. You can choose from various survey templates and customize them. All you have to do is write your questions, or you can use existing ones and adjust the templates to fit your needs. You can create different types of surveys and even make them show up as a chat, a pop-up, or create special surveys that work best for you.
This survey maker lets you create as many questions, sections, and surveys as you want. If you want to create surveys anonymously, export and import them, and get clear insights the Survey Maker is all you are looking for. You can design a contact form quickly and display it for your website visitors.
If you go for the premium version, you can get even more features. You can use 22 different question types, send emails to people taking the survey, and connect with Google Sheets, Zapier, Mailchimp, or other integrations. You are free to set limits on how many times someone can take the survey, and who can take it based on their role. So, if you need to make advanced surveys, don't waste time and use the Survey Maker plugin to create high-level surveys in a very short time.
Infogram

Check out this drag-and-drop tool for visualizing survey data. Moreover, users don't have to be design experts to create interesting data visualizations. You'll find Infogram to be helpful when preparing infographics, reports, social media posts, dashboards, and maps.
Keep in mind that Infogram doesn't gather your data directly. Instead, you need to record it on a different platform and then import it. Once this step is done, you can choose how your data visualization will look.
Feel free to export your data to different formats. This includes .PDF, .PNG, .JPG, .GIF, and .HTML. Infogram also supports interactive maps and visualizations.
When the time comes, you'll have to embed your graph into your WordPress website. This is easy thanks to a specific plugin.
To sum up, Infogram is excellent for all types of users. You can be a savvy designer or a newbie, either way, Infogram is intuitive. The drag-and-drop features surely play an important role in this, equipping you to create awesome designs.
Visualizer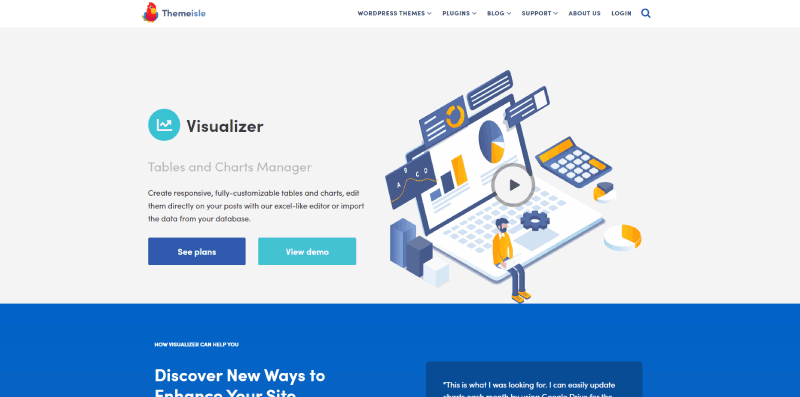 A simple way to add data visualization to your website is to use Visualizer. With this WordPress plugin, you can embed different chart types with no hassle.
This table manager provides an all-in-one solution to insert graphs and charts into your entries. Build customizable and responsive graphs, charts, and tables. Then, edit them in real time. The possibility to import data from CSV files and Google Sheets is a big plus.
You'll find Visualizer particularly useful if you're new to data visualization. It comes with a free version which is great for beginners.
SurveyMonkey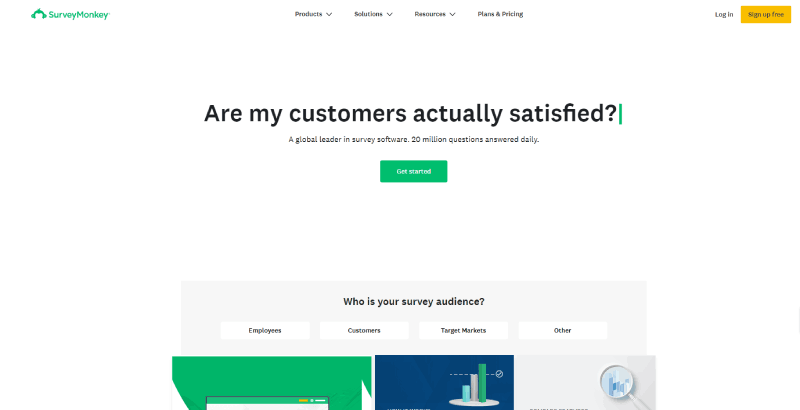 If you want to track survey results, SurveyMonkey is your best option. This company focuses on survey tools exclusively. You'll find its survey templates to be of great help. What's more, there are plenty of options for you to choose from.
Users know that survey research must be carried out cleverly. Each question is important and can affect the survey results. Moreover, you have the option to customize surveys with your logo, themes, and colors.
SurveyMonkey is a terrific tool for visual data analysis showing real-time results. Share your insights and create striking presentations. Also, sharing is possible without giving full access to your account, which is a great way to present survey results safely.
Finally, download your survey data visualization in different formats like CSV and PDF.
Visual.ly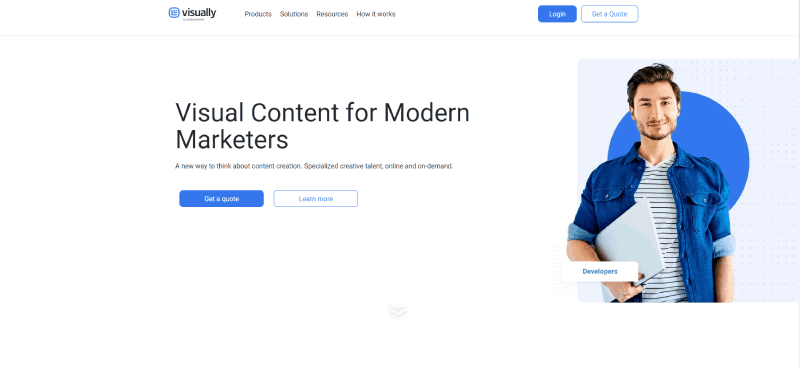 If social media is an important part of your strategy, Visual.ly has a lot to offer. You can create reports to illustrate your survey results and use plenty of social-media-friendly elements. This includes e-books, infographics, and videos. Thus, you'll have attractive data visualization-type posts.
With an impressive network, Visual.ly allows you to illustrate your project's outcomes. Since Visual.ly has a creative team, it becomes easier to import and export data. You can even share your data sources with third parties.
All in all, Visual.ly allows you to easily create graphs with the highest quality.
Jotform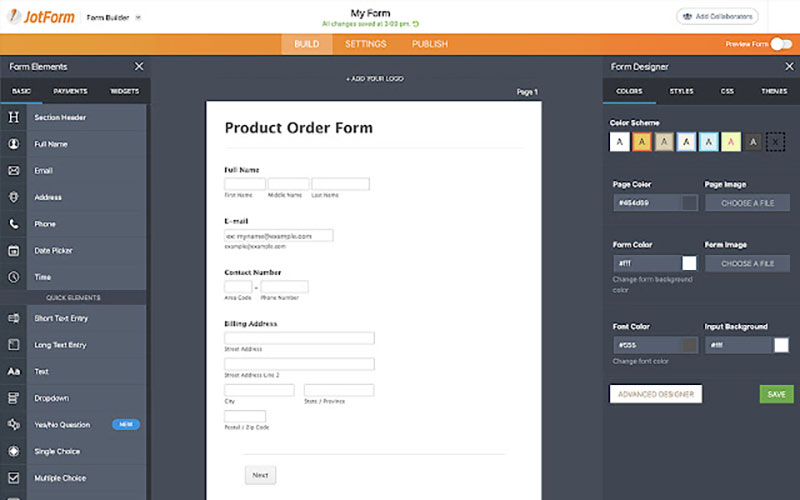 Jotform comes with a friendly interface. Offering a wide range of templates, Jotform enables you to build anything you want.
Jotform includes 29 fields to make creating your form comprehensive. You'll even find rare fields like product lists and fill in the blanks fields.
The platform is user-friendly, as it lets you add advanced features through widgets. Feel free to add PDFs and checkboxes, collect signatures, and accept reservations. This is possible thanks to the plugin's integration with DocuSign.
Use your survey data to its fullest potential by accessing reports and analytics. Jotform's analysis features are excellent. Use this to delve deeper into your data sets, and you can make informed decisions.
Moreover, you can visualize your data in the blink of an eye. Also, convert survey responses into stunning reports. This is the best way to obtain powerful insights.
datapine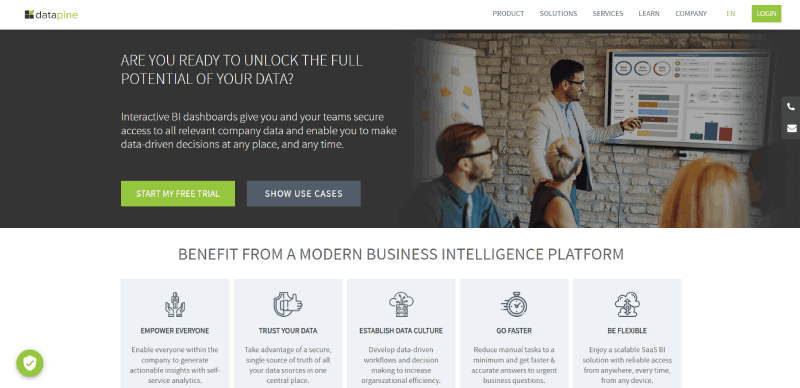 Access interactive charts and dashboards with datapine. You'll find a comprehensive solution to survey data visualization. This plugin accompanies you through every step of the process. So, from integration to reporting, you'll have the best ally.
With datapine, there are a plethora of options to visualize survey results. Integrate external and internal data sources and visualize them from one place. For this, interactive charts are quite useful.
There are different charts to use: classic, line, column, and bar charts. More advanced elements are available. This includes maps, bubble charts, gauges, and waterfalls. Moreover, create these with just a few clicks, thanks to datapine's drag-and-drop functions.
The possibility to filter collected data is a big plus. Thus, you can adapt your data visualization to answer critical questions or support a discussion.
ChartBlocks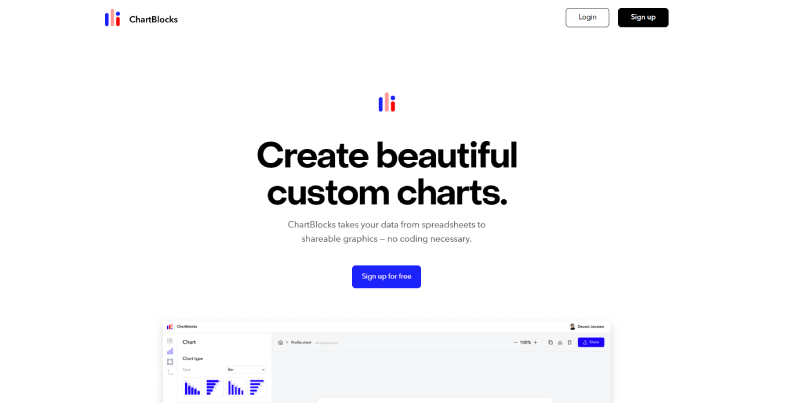 With ChartBlocks you can import from different data sources through an API. You can also extract data from live feeds. However, the import process is more complex than with other plugins, especially if there are automated extensions or modules to work on specific data.
With this application, you can fully customize your data visualization. Also, creating your charts is easy, thanks to the building wizard. Feel free to pick the necessary data and then import it.
The possibility to create different chart types is quite useful, and they are fully responsive. This is not a minor feature, especially if you need to embed your data visualization into various websites. You'll be certain that your charts look great on any device.
Finally, Chartblocks has several plans at reasonable prices. Such a characteristic is not bad at all, especially for beginners.
Tableau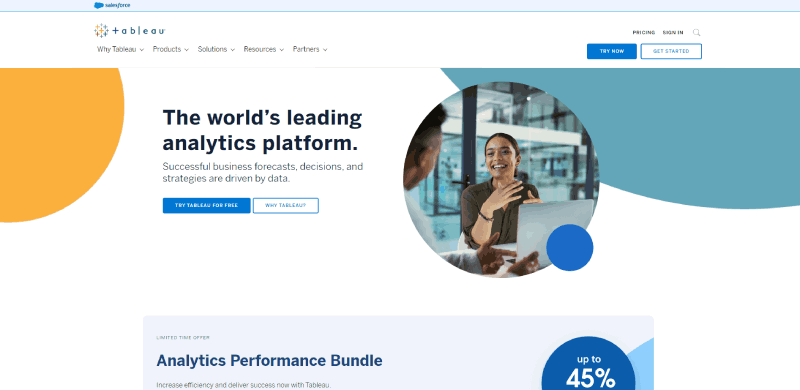 Tableau allows you to build excellent visuals for your survey results. Although it's mostly used by large companies, it has flexible plans. There's a personal license,Tableau Creator, and a completely free version, Tableau Public.
With Tableau, users can analyze vital data and create useful reports. It also comes with a drag-and-drop interface that will simplify the process.
Here are Tableau's main data visualization products:
Desktop versions
Server version
Online version
Keep in mind that Tableau is not the best alternative for beginners. There's a tutorial available so that you can get the most out of this plugin.
BizViz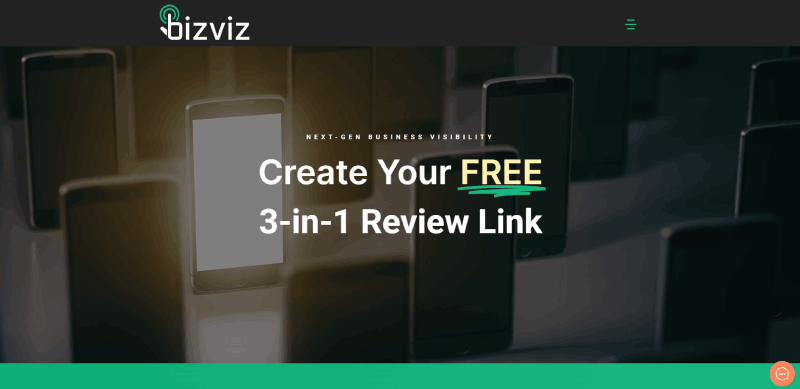 If you want to create real-time surveys, this is the perfect option. BizViz is the right plugin to help you with this task.
Get relevant insights related to your business. Also, assemble data from several sources both structured and unstructured. It is a perfect plugin that provides all kinds of analytics: prescriptive, predictive, diagnostic, and descriptive. Access all this data through mobile devices, PCs, or from the cloud.
Being a comprehensive solution, BizViz helps you in the process of collecting data. Then, you can process it, analyze it, and make use of it.
Besides processing information from structured and unstructured data sources, it comes with many other features. For example, you can enable monitoring, use cloud computing, and protect your data sets.
Zoho Survey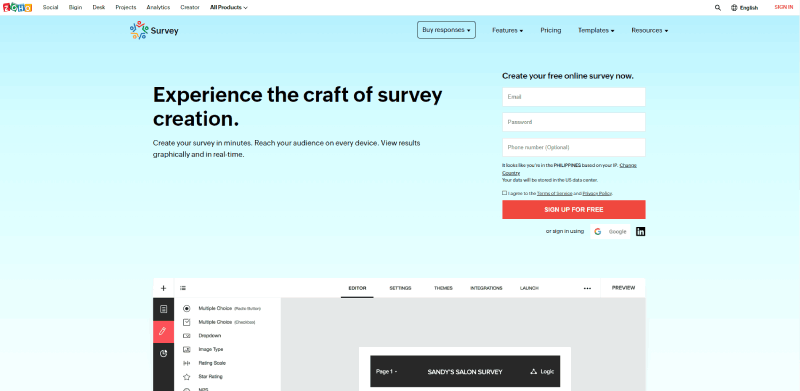 Are you looking to build survey questions directly on your platform? Try Zoho Survey. This option comes with more features than the free plugins. Also, it's ideal for handling large amounts of survey responses.
Make informed decisions by visualizing clear trends in your present survey. Then, access great data visualization through Google Sheets.
Zoho Survey is great for those who have previous experience. Some of the graphics are quite complex and include a lot of branching and skipping. Moreover, the software handles these types of graphs quite well.
For those who don't have enough experience yet, Zoho Survey offers online training. It is an excellent survey data visualization tool for business owners.
Sisense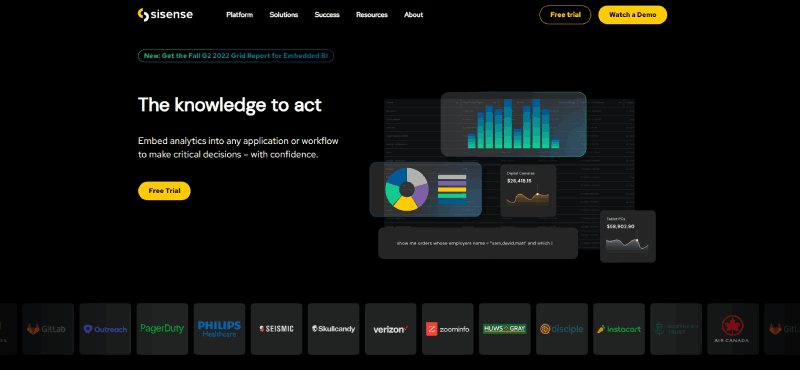 Get the best insights for your business with this tool for visualizing survey data. Although it's technically for dashboards, Sisense's features let you do more than that. With Sisense, you can visualize large data sets.
Its API allows you to create analytics with any type of data, which is a great source for large companies. This plugin is especially useful for players in the manufacturing and health sectors.
Managers can build their dashboards to suit their needs. Thus, they can track all kinds of data. If you're not tech-savvy, Sisense supplies an intuitive solution. It includes scatter plots, visualization widgets, and Sankey diagrams.
IBM Watson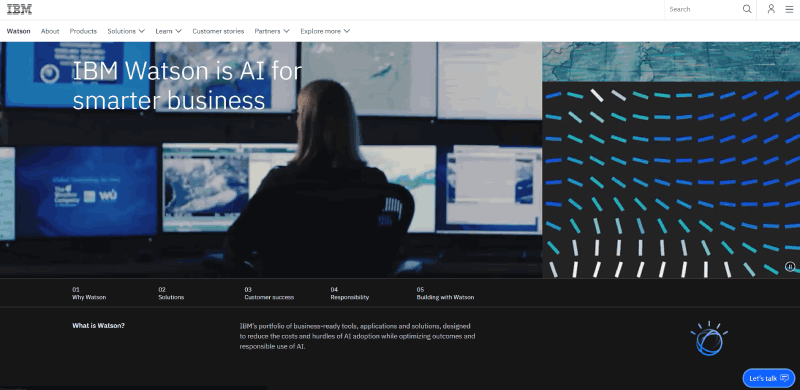 This plugin was named after its founder, Thomas Watson. As one of the best data visualization tools, this option uses high-end analytical elements. It also uses AI to detect patterns from unstructured and structured sources.
IBM has done a great job at leveraging Natural Language Processing, thus creating a powerful data visualization tool. It's ideal for self-service and easy processes.
Besides texts, IBM can analyze numeric data. Thanks to this, you can find insightful patterns and trends. One of its best features is the use of machine learning technology. Thus, you can build innovative models and predict future results.
To sum up, IBM Watson comes with premium features, like multiple devices, NLP, self-service dashboards, and predictive analytics.
SurveyLegend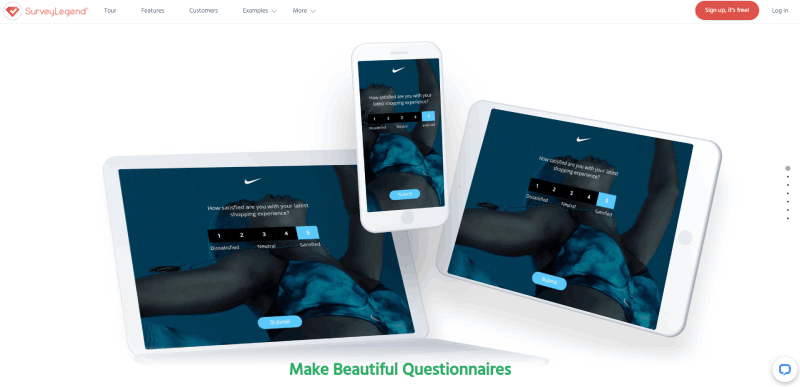 Visualize data as the survey responses arrive with this awesome real-time tool. Survey Legend was geared for you to receive results and feedback instantly. As soon as survey respondents enter their answers you can see the data arriving. Simply interact with data through filters and sort out elements. Export your information and create attractive charts. You'll find several ready-made themes to help you design your graphs.
Check out the wide variety of reports. With them, you can get meaningful insights from the collected data. Finally, present survey results in horizontal and vertical charts or NPS Gauge.
Venngage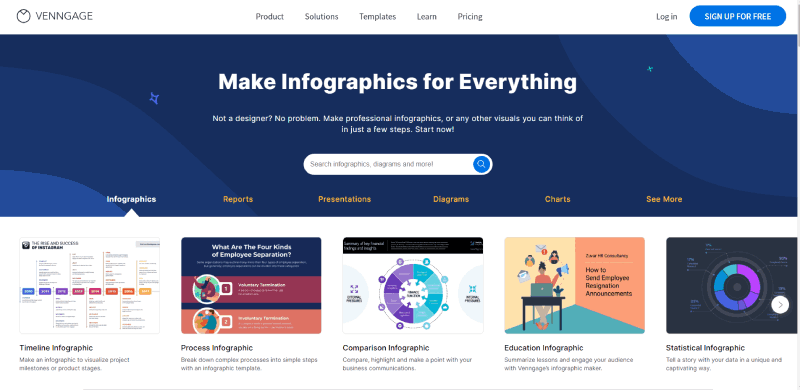 Ideal for beginners, Venngage brings an innovative solution. Thanks to its simple interface, users can create charts even with no previous experience. Its templates allow you to create graphs in as little as 15 minutes.
Moreover, you can choose from over 1,000 survey data visualization templates, which makes the process easier. With Venngage you can build engaging reports. Draw valuable insights through images, icons, colors, and customized fonts.
Start by copying your data and pasting it into the survey software. Then, you can easily create your charts.
Google Charts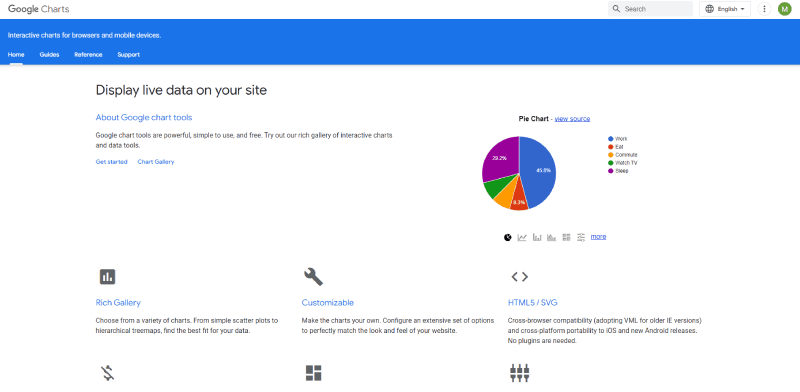 Google Charts is one of the best free data visualization tools. With Google Charts you can create interactive graphs and embed them online.
The software works with dynamic data with outputs based on SVG and HTML5. In other words, Google Charts run on browsers so that you don't have to add extra plugins. You can use a variety of sources like Google Fusion Tables, SQL, Google Spreadsheets, and Salesforce.
Presenting survey results is easier than ever, thanks to the various chart types. You'll find scatter charts, maps, bar and column charts, treemaps, histograms, timelines, pie charts, gauges, and others. Simply use CSS to fully customize your data visualization.
Google Charts is a great option for those who know some coding and want a free solution. Also, use it with large data sets through an SQL database.
Microsoft Power BI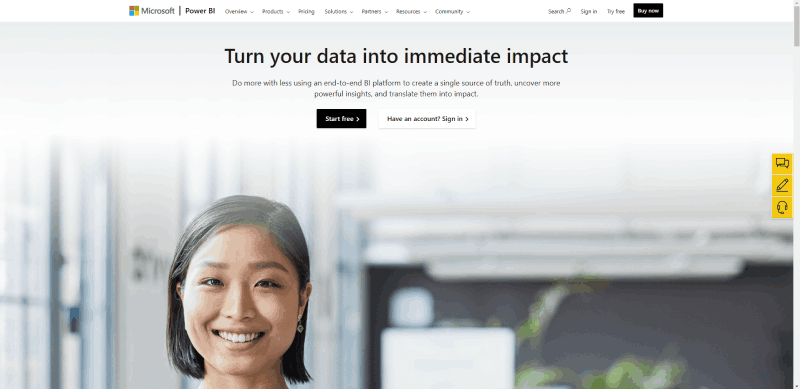 Microsoft Power BI is Microsoft's powerful data visualization tool. You can use it both on a cloud or install it on your premises.
With Power BI, you'll find a variety of features that support several databases. This includes Oracle, PostgreSQL, Google analytics, Teradata, Adobe Analytics, Github, SQL, Excel, and Azure. If you choose the enterprise plan, you can create stunning survey data visualization. This will allow you to make fast decisions based on real-time insights.
The possibility to create different types of reports is a big plus. View your information and interact with your data on mobile devices also. For this, use the Power BI app available on Microsoft Store, Google Play, and Apple Store.
All in all, this software comes with excellent features, like easy integration with applications, high security, and a comprehensive dashboard. Also, Power BI has no memory or speed issues and is compatible with all Microsoft products.
Plotly

If you want to choose the best survey data visualization tools, Plotly is one of them. It comes with full integrations with analytics programming languages. Users choose Plotly because of its collaborative work options. It also lets you disseminate, modify, and share data. Plotly is easy to access both from your premises and the system's cloud.
Use its wide graphic library to create quality graphics. This software also offers online tools for analytics, graphics, and statistics, both for teams and individuals. Its libraries include Julia, Python, Perl, MATLAB, R, REST, and Arduino.
Some of its best features are online chart editing and high-quality image export. Also, it provides an interactive interface, and the server hosting makes sharing easier.
GetFeedback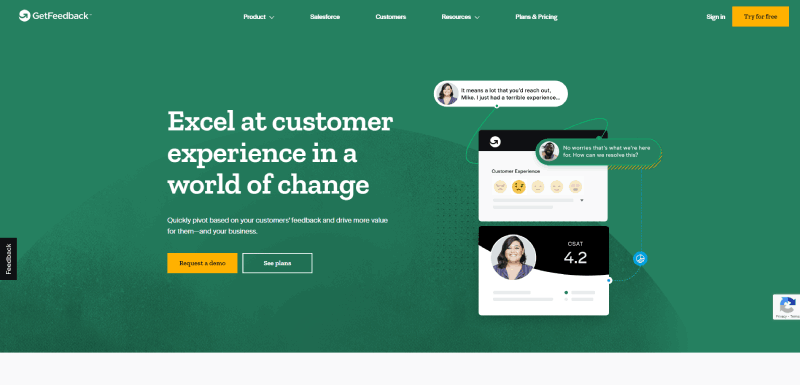 Every company needs to understand its audience, and tools like GetFeedback help them do this. No matter the size of your company, this survey data visualization software comes with useful features.
Build interesting surveys to improve the customer experience. Also, collect data from different channels to get better results.
GetFeedback comes with essential features, including responsive formats, logo branding, email integration, and A/B testing.
Finally, its real-time dashboards allow you to optimize your analysis. You can leverage benchmarking tools to generate internal reports for stakeholders.
If you liked this article about survey data visualization, you should check out this article about dynamic data visualization.
There are also similar articles discussing text data visualization, table data visualization, infographics and data visualization, and effective data visualization.
And let's not forget about articles on visualizing Google Sheets data, misleading statistics, data visualization skills, and what data visualization to use.