Very few websites offer textual content only. Usually, there is at least one form of media content on the site, whether it is videos, images, tables, or other visual content. Media content is beneficial for your site, but the problem arises when there is too much.
Then, your site looks messy, and the flood of new media pieces can make it very confusing. This situation requires a good WordPress media library plugin, which helps you easily sort and store your media content. WordPress doesn't cover this scenario, however many third-party creators and developers have designed some excellent WordPress media library plugin options..
These are very important for organizing and sorting your material, and preventing it from cluttering your site and harming your design. This article created by our team at WpDataTables will recommend the best WordPress media library plugin options for your media folders.
Top WordPress Media Library Plugin Options
FileBird – WordPress Media Library Folders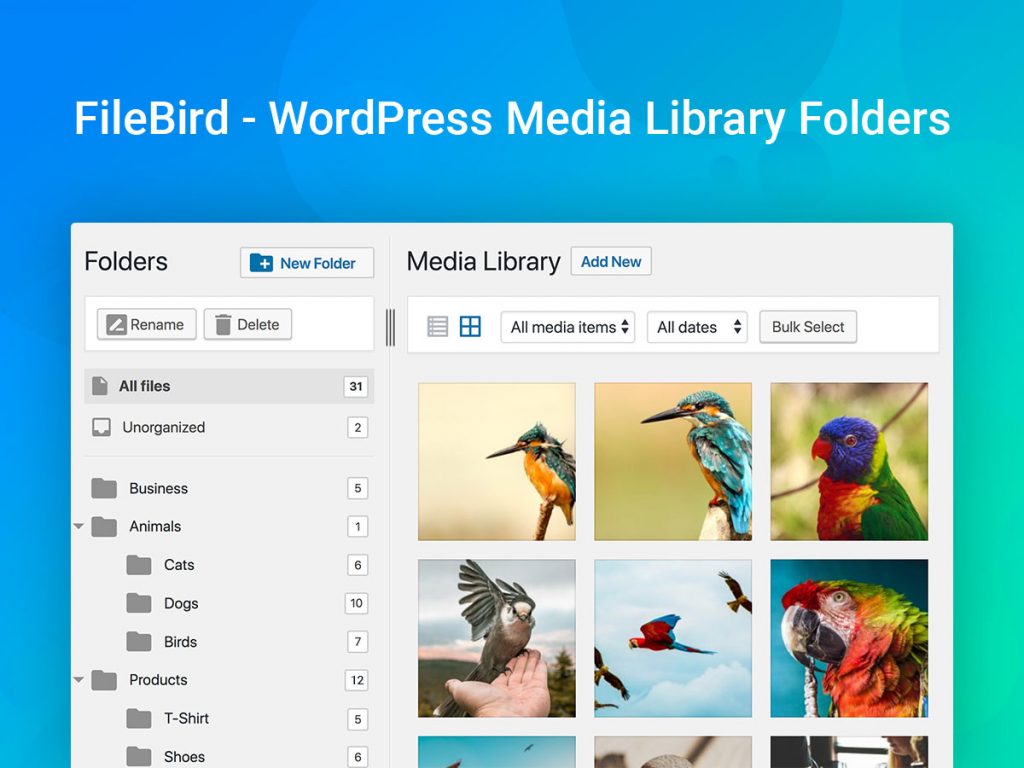 FileBird is a great file manager to help you organize your WordPress media library professionally. This smart plugin saves you tons of time on the WordPress admin dashboard.
FileBird comes in a free version and premium version. Both are super easy to use and include powerful features. FileBird now provides us a better experience to create folders and arrange files in a drag and drop interface. Bear in mind that FileBird just creates virtual folders, which means all your media files are intact and still keep their own permalinks.
Main features:
Smart context menu: right-click to multiple actions

Drag-and-drop interface: arrange any files and folders in a blade

Full compatibility: with all popular page builders and image optimization plugins

Fast migration: import all folders from Enhanced Media Library or Media Library Folders

Upload files to a specific folder

Multiple languages support

Browse files in image block via FileBird UI

And many, many more!
So if you're an active blogger, photographer, publisher, e-commerce business, or digital agency, FileBird media library folders plugin is a must-have. Check it out now!
Real Media Library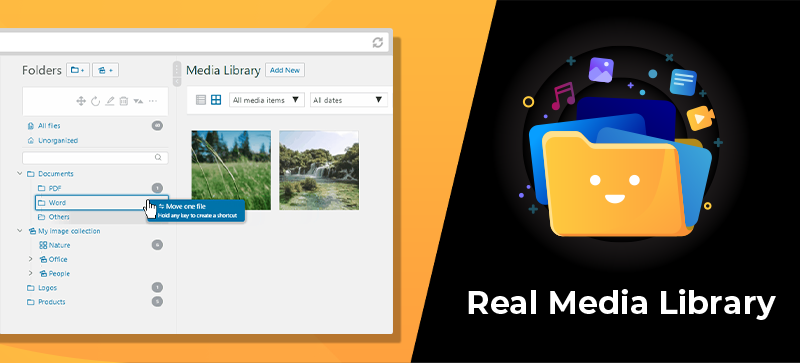 Buy Real Media Library PRO | Download Real Media Library (free) from wordpress.org
We start with the best WordPress plugin for media library folders: Real Media Library. The plugin helps you to organize thousands of uploaded files into folders, collections, and galleries. It is a file manager that integrates everything you need directly into your WordPress media library. And for the case that you are not an English native speaker, but is translated into nine major languages.
In addition to the large number of great features built right into the file manager, Real Media Library offers several free add-ons and the premium add-on Real Physical Media. Real Physical Media uses the (virtual) folder structure created in Real Media Library and mirrors it in your wp-content/uploads/ file and folder structure. This is not only useful if you work with FTP, but also an SEO optimization that helps your website to get a better ranking in Google and other search engines.
Features:
Folders, collections, and galleries to organize uploads
Shortcuts to avoid duplicates in your media library
Runs with great performance even with > 10.000 uploads
Automatic reordering of upload (e.g. A-Z by filename)
Integration with popular plugins like FooGallery and Justified Image Grid
Compatibility with all major page builders, themes and a lot of plugins
Translated into nine languages
SEO benefits from physical file reordering (with Real Physical Media add-on)
And much more.
WP Media Folder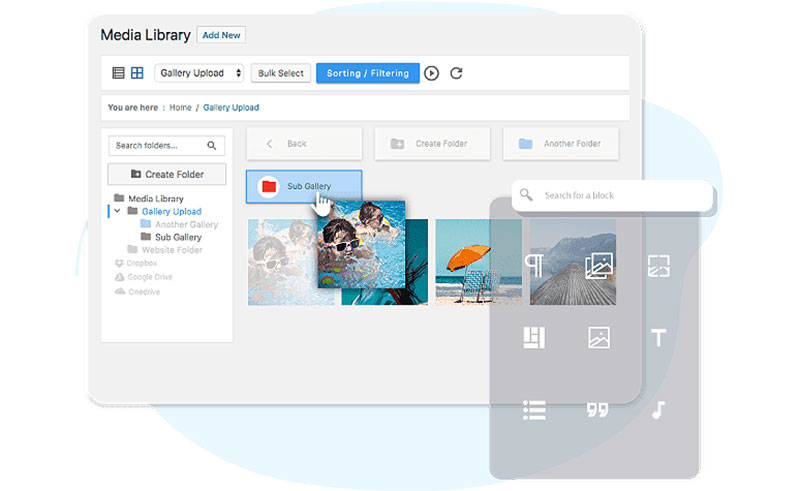 This WordPress media library plugin lets you sort your media files into folders, which is an easy and effective way of controlling and organizing your media files. The process is uncomplicated: simply drag the files you want to move and drop them into the relevant folders.
The plugin is highly compatible with other plugins and pieces of software, so it won't create a mess on your site. It features a cloud connection for Google Drive, Dropbox, OneDrive, and Amazon S3, giving you further control over your media files.
Media Library Assistant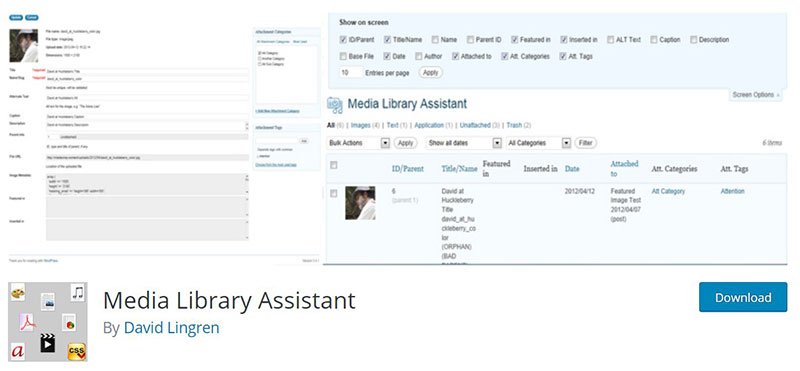 The Media Library Assistant uses shortcodes to sort and manage your files, which enable you to easily add media files to your site.
You can completely shape their appearance because you can edit taxonomies, which makes the search feature uncomplicated, and utilizes multiple search filters, such as the slug, ALT text, image captions, and others.
The plugin is highly compatible with other plugins, and also with Jetpack. It supports various languages, and you can easily add thumbnails, slideshows, and other media types to your gallery.
WP Media Folders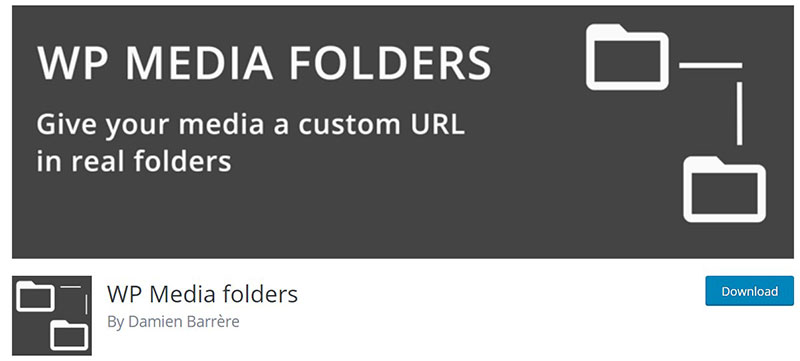 This WordPress media library plugin is high quality, refined and effective, organizing your media files into folders and subfolders very efficiently.
It utilizes several search filters including the file size, file type, file title, and various others, which make it easier to search for files.
There is a free version and a pro version. The free version has plenty to offer but the pro version is much more refined and feature-packed.
Enhanced Media Library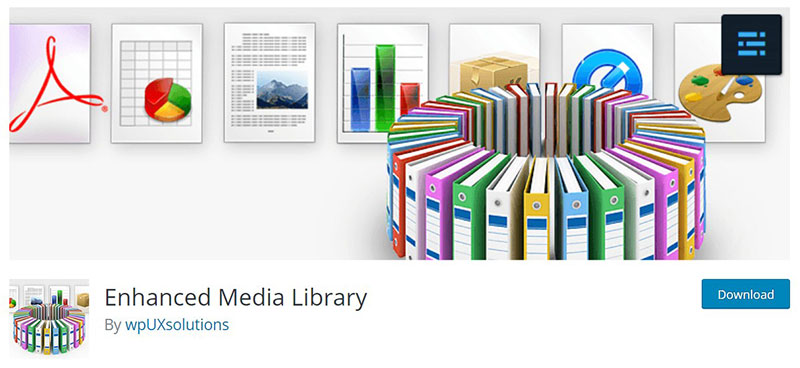 This plugin is excellent for those who have many different types of media files in all different categories. You can sort your files according to the category they belong to, and easily assign various tags and categories to the media files.
The plugin enables you to specify the categories during the upload process itself. Then, the files are moved into the specified categories, which allows you to easily find your preferred media file whenever you need it.
The category options are endless, which is very useful for those who have thousands of various files.
Folders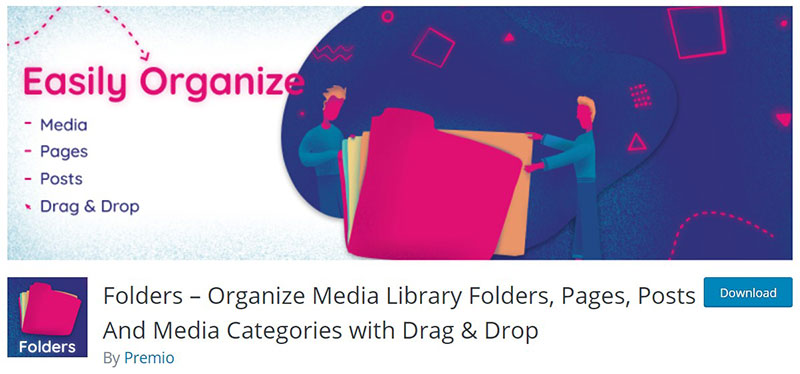 This is one of the most useful WordPress media library plugin options to organize media files. It utilizes folders to organize and sort your files, as well as your pages, posts, and other things on your site.
Above all, it is completely free and very functional, feature-packed and comparable to other premium plugins. All different types of files can be managed here, including text, image, or video files.and
it features a drag and drop interface that lets you organize your site very easily.
Media Library Organizer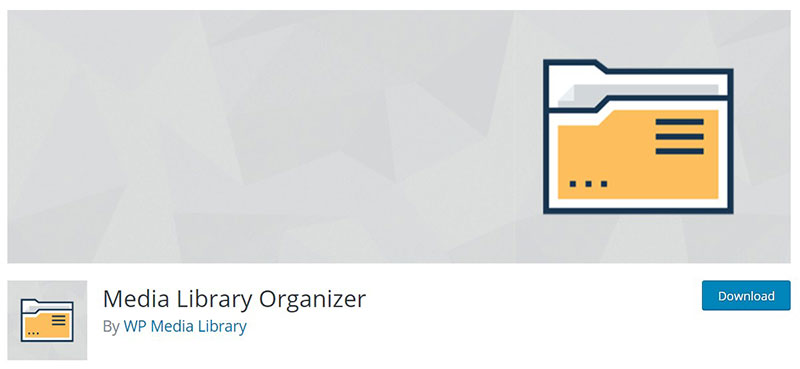 This Media Library Organizer is a simple but very powerful tool. The UI is very intuitive and easy to understand, even for beginners. You can easily categorize your files, such as photos, videos, and all other media types within your library, to your preferred parameters, such as file names, file size, and dates.
Imsanity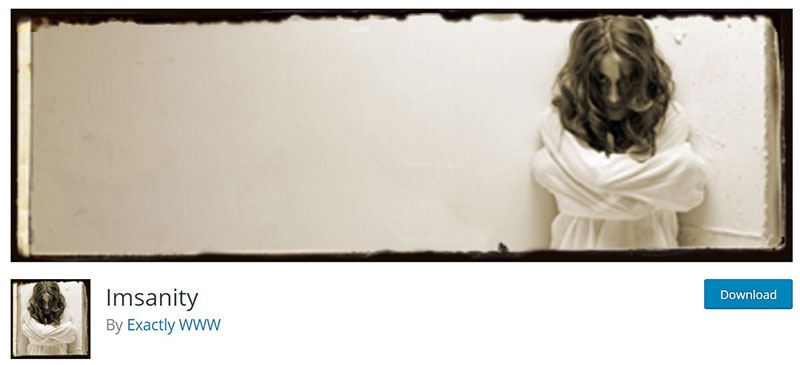 The name sounds interesting, but it works against insanity on your page. This plugin is especially useful for those who are struggling to contain large files with high-resolution elements.
This plugin will automatically resize and compress your files, and make sure your site is fully compatible with your more demanding media files. If you want to use high-quality images and videos, but you are worried about their size, this tool is perfect.
FooGallery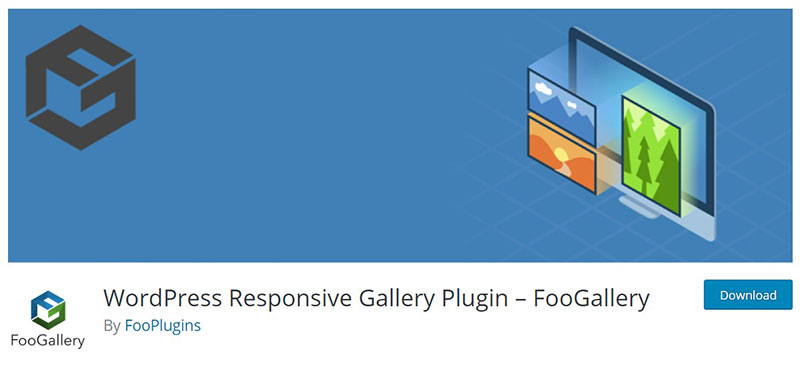 FooGallery is a free and quality WordPress media library plugin. It effectively optimizes your site and organizes your media files, for both the back and front end solutions.
With a little time and effort, and zero outlay, you can take advantage of various galleries to create this stunning library of visual content, which will certainly pique the interest of your customers.
The free version is absolutely packed with useful features, including lazy loading, gallery widget, drag and drop facility, and albums. It is also compatible with Gutenberg, the platform used by many WordPress users. You can create stunning galleries that will work seamlessly with your site, providing outstanding user experience.
Media Cleaner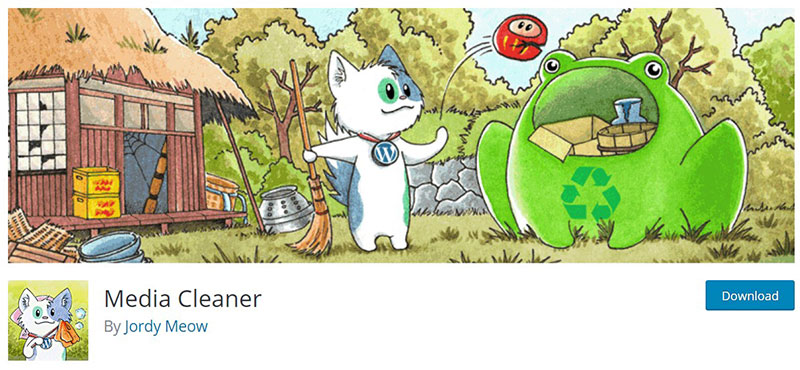 The Media Cleaner is a very effective media library cleaning tool which allows you to delete and manage all the images and videos, including the ones that you no longer need. You can then add new files instead of the old ones.
The plugin does this alone. It will scan the site and select which files are not being used. Then moves these files into the internal trash bin, where you can choose which ones to delete.
Media Library Categories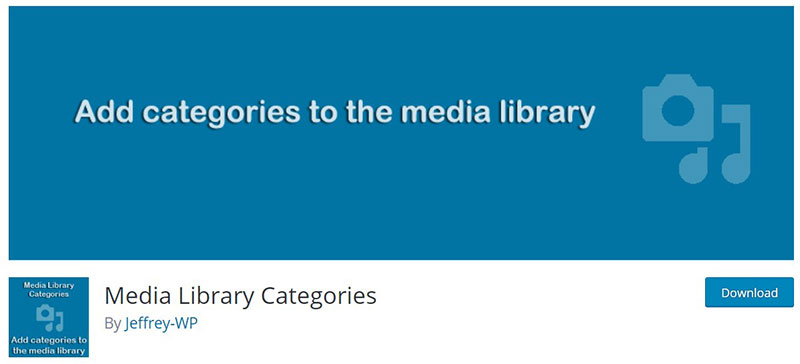 This tool allows you to sort your files into categories, which makes your site much easier to manage and your media files will not be in the way. You can add categories to the site, then sort all these files into categories. It is a very useful tool for improving your media library.
Ending thoughts on these WordPress media library plugin options
There are some excellent WordPress media library plugin options available, depending on your individual needs.
If you enjoyed reading this article on WordPress media library plugin options, you should check out this one about WordPress google reviews plugin.
We also wrote about a few related subjects like WordPress file upload plugin, WordPress news plugin, SoundCloud WordPress plugin, WordPress team plugin, WordPress button plugin and WordPress contest plugin.