You can make your site more interesting to visitors and keep them coming by improving the content, the SEO ranking of the website, increasing conversions, and surprisingly, having an archive.
In fact, many people might be interested in the archive of your website posts and articles, for which you need a WordPress archive plugin. Archive pages are often overlooked by WordPress users, as they think it makes little difference. However, a good archive page can boost your SEO ranking and help your visitors to find the older page content.
So you need a good WordPress archive plugin that makes your old content appear on the archive page. This can improve user experience and decrease bounce rates.
This article created by our team at wpDataTables, the #1 WP plugin for creating tables and charts, will discuss the following WordPress archive plugin options that are the best around, including 8 free and 3 premium to choose from.
Top Free Archive WordPress Plugins
Archive Page

The Archive Page plugin uses shortcodes to let you create unique and appealing archive pages for your site. You can use up to eight shortcodes in a variety of languages.
These can be displayed in monthly or yearly archives. You can arrange the posts by dividing them by blog posts, post categories, post tags, and authors, as well as displaying a list of published pages.
Overall, this is a very good free WordPress archive plugin. It is also possible to add attributes to the archives, define headings, the number of items listed, and select list types.
Collapsing Archives

Based on Javascript, this WordPress plugin option offers a lot for free. It allows you to display the archive on the sidebar of your site, and arrange them by months or years.
You can choose to collapse or expand the archive from the sidebar which allows you to save space and display the archive in a visually attractive way.
Genesis Widgetized Archive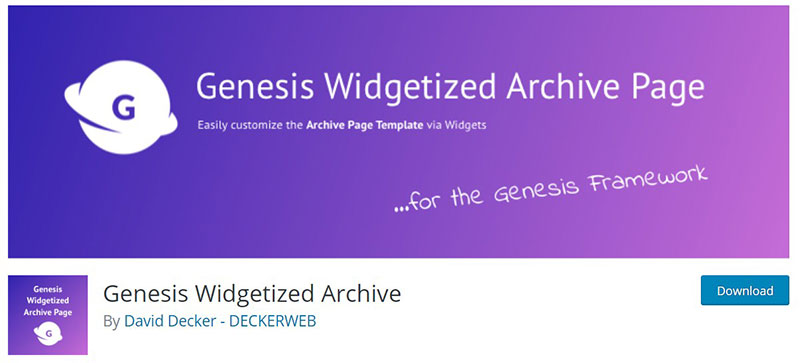 This lightweight WordPress archive plugin allows you to display the archive in a very appealing way in the form of a widget that you can fully customize.
This lightweight plugin option won't affect the speed of your website and is very functional.
Simple Yearly Archive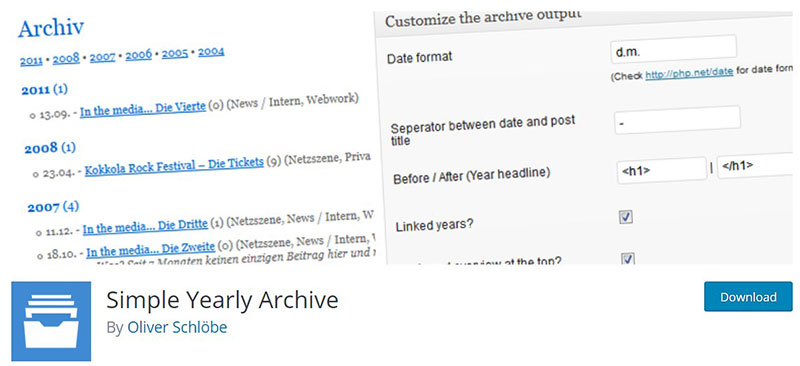 The next in this WordPress plugins list allows you to organize the archive by year. It is very intuitive and easy to use, even for beginners.
You can also customize the archive page in many ways. For example, you can change the way that the dates are displayed, choose whether to display the likes and comments and choose to display excerpts from the posts and thumbnails for posts.
This is arguably one of the best free solutions for displaying your archived articles. However, it is only suitable for blog posts and not pages or websites with multiple static pages.
Annual Archive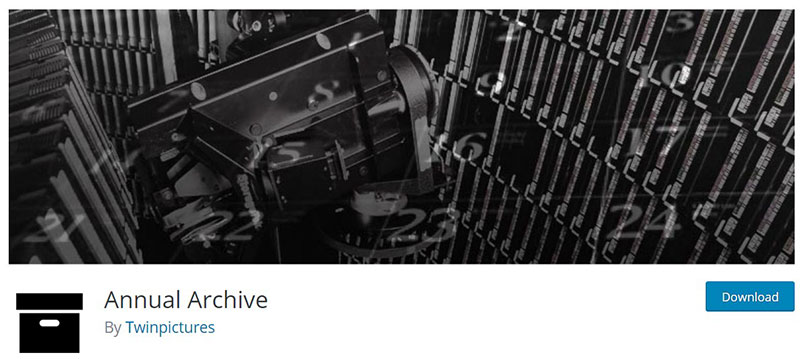 This WordPress archive plugin uses a shortcode to create a unique plugin experience. There is an option to display your plugins in a sidebar, sort the plugins by date, and store the archive posts daily, weekly, and monthly, or even yearly. It's a very good sidebar widget option for your archive.
Compact Archives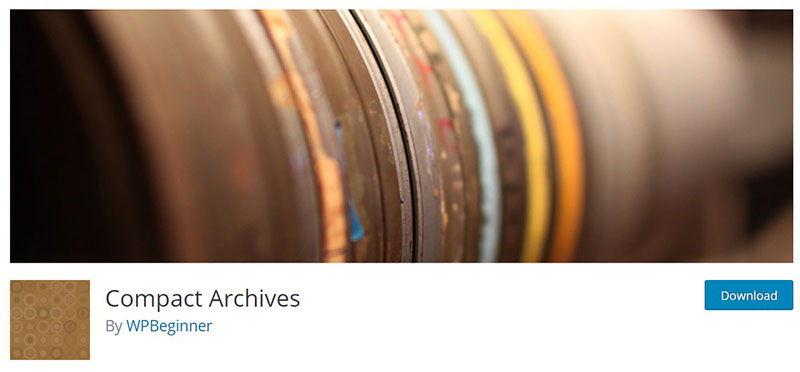 If you prefer to keep your archive posts compact rather than sorting them in a long archive list, this plugin is a good choice. The default WordPress archive plugin works well for newer pages, however, this plugin is excellent for established pages, to control all your files.
Your archive list will grow as you make more articles and posts, so it's important to manage the archive properly. This WordPress archive plugin makes it easy. The archive will be displayed in a very compact and visible way with plenty of space for other elements.
smart Archive Page Remove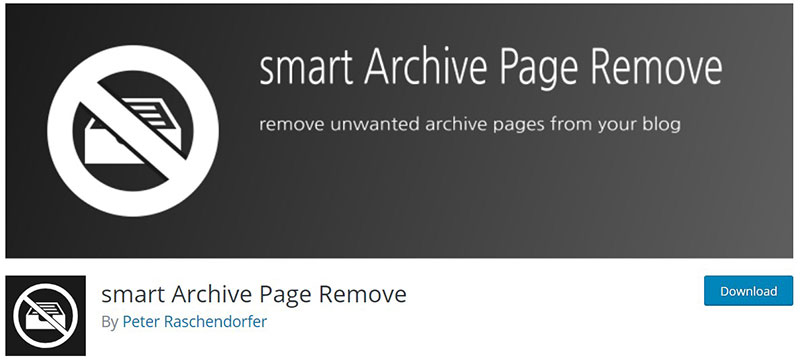 The smart Archive Page Remove is a very functional free plugin that will let you manage your archive posts by allowing you to delete them. This is an excellent plugin if you want to manage your old posts and decide what to keep and what to delete.
This WordPress archive plugin also provides a solution when your archive pages have a 404 error.
Clean My Archives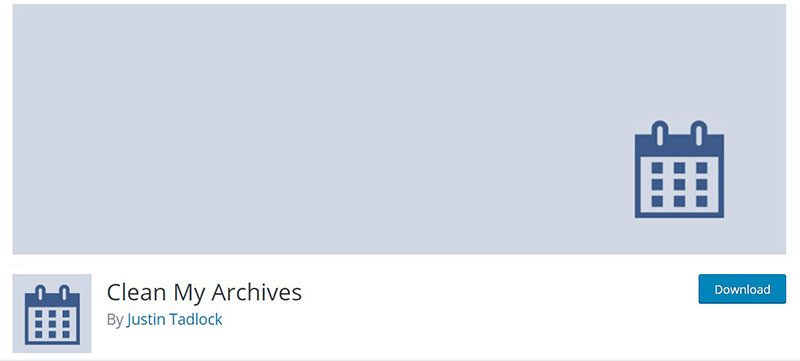 This simple but effective archive made by Justin Tadlock, uses shortcodes, and you can adjust it very easily to your archive posts, including lengthy ones.
Its simplicity means you can set it up quickly and easily, and it doesn't have a settings page. You only need to install it and add the shortcode to the website.
Premium WordPress Archive Plugin Options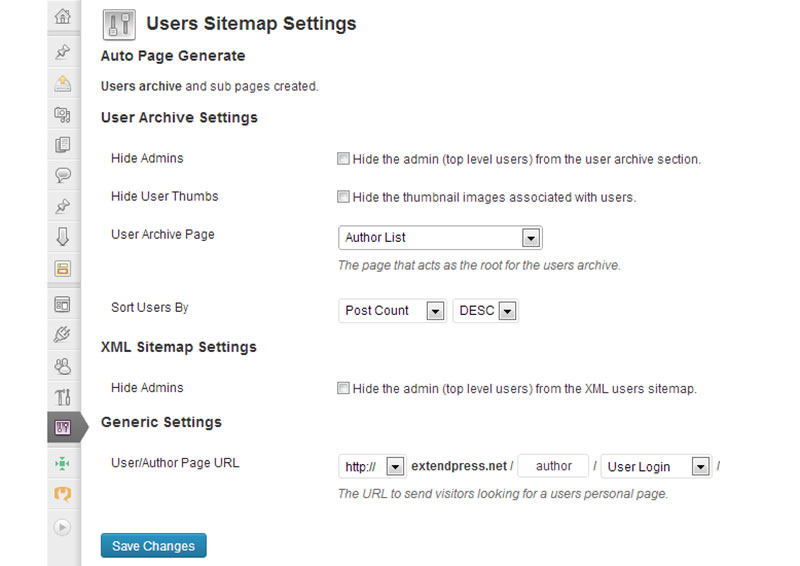 Of the premium options, this plugin is certainly worth the money. Its main advantage is enabling you to easily change the appearance of your archive by making it more appealing.
This means searching for posts within the archive is very easy, using only a couple of clicks. The plugin also has a useful sitemap for the archive page to help locate all the posts.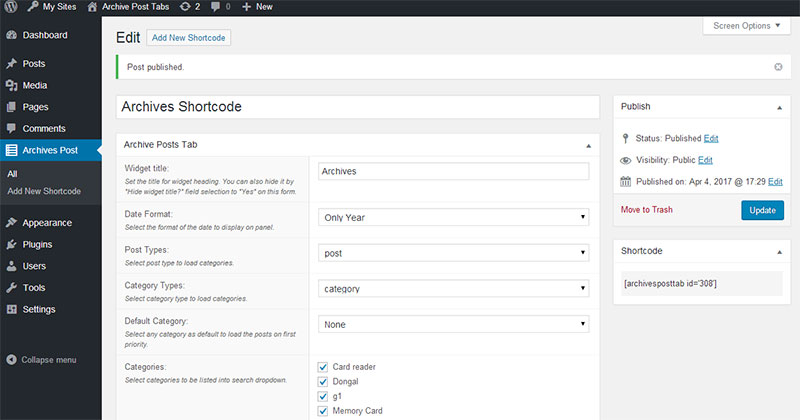 This powerful plugin is great value for money. You can use it on a homepage, and sort the posts by month, year, and by dates.
It uses ajax rendering for quick loading up of the posts, and they look great. You can also add unlimited archive tabs to the content area.
Posts Table Pro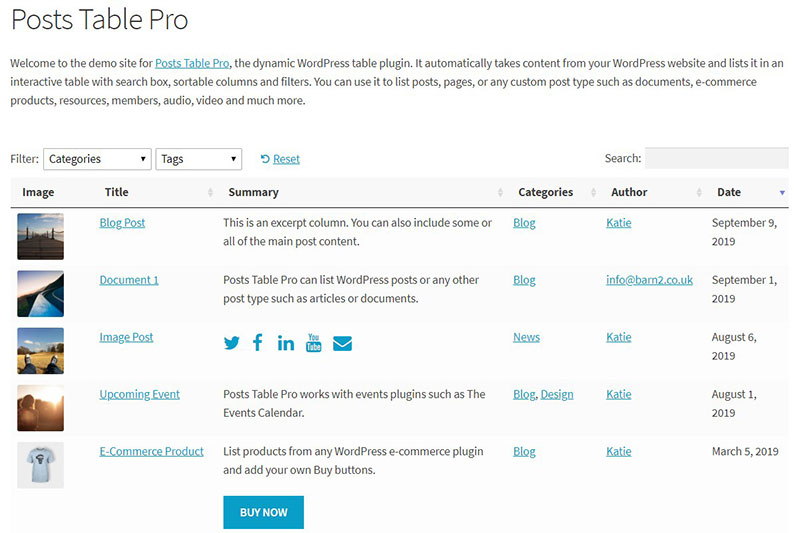 This WordPress archive plugin sorts the posts in a table, so they are locatable using a table filter.
All your archive blog posts, pages, and other content can be sorted into tables, which is an excellent way of organizing your old content.
FAQs about WordPress archive plugins
1. What is a WordPress archive plugin?
Website owners can organize and present their website material in an archive fashion using a WordPress archive plugin. The plugin makes it simpler for users to browse the site by giving them a handy option to retrieve prior posts, articles, and other content.
2. How do I install a WordPress archive plugin?
You can access your WordPress dashboard and browse to the "Plugins" area to install a WordPress archive plugin. Then, look for the archive plugin you wish to install by clicking "Add New." Once you've located it, simply click "Install Now" to add the plugin to your website.
3. Can you recommend any popular WordPress archive plugins?
WP Archive-Sitemap Maker, Easy Yearly Archive, and Compact Archives are a few of the most well-liked WordPress archive plugins. To assist you in organizing your stuff and setting up a productive archive system, these plugins provide a variety of functions and customization possibilities.
4. How do I configure the settings of a WordPress archive plugin?
You can customize the WordPress archive plugin's settings by navigating to the "Settings" area of your WordPress dashboard after installing it. You can alter the look of archive pages, decide which content types to include in the archive, and more based on the plugins you've installed.
5. What types of content can be archived using a WordPress archive plugin?
Posts, pages, custom post kinds, categories, tags, and other content types can all be archived with a WordPress archive plugin. With the plugin, website owners can establish a hub where all of their website's content can be accessed by visitors.
6. How can I customize the appearance of my WordPress archive using a plugin?
The majority of WordPress archive plugins have built-in customization features that let you alter how your archive pages look. Your archive pages can be customized to reflect the style and branding of your website by changing the colors, fonts, and layout.
7. Are there any free WordPress archive plugins available?
A lot of free WordPress archive plugins are available, yes. WP Archive-Sitemap Maker, Compact Archives, and Easy Annual Archive are a few well-liked alternatives. These plugins include a variety of capabilities and might assist you in developing a useful and well-organized archive system without having to pay any money.
8. Can I use a WordPress archive plugin to create a sitemap for my website?
Yes, you may use some WordPress archive plugins to produce a sitemap for your website, such WP Archive-Sitemap Generator. The pages of your website are listed in a sitemap file, which makes it simpler for search engines to scan and index your website.
9. What are the benefits of using a WordPress archive plugin?
Many advantages, such as better website navigation, a better user experience, and greater search engine exposure, can be attained by using a WordPress archive plugin. Also, it might make it simpler to retrieve older posts and articles and help you organize your content.
10. How do I ensure that my WordPress archive is properly indexed by search engines using a plugin?
You can use an SEO plugin like Yoast SEO or All in One SEO Pack to make sure that search engines properly index your WordPress archive. You can use these plugins to make sure your archive pages are included in the sitemap and are optimized for search engines. Moreover, you can submit your sitemap for indexing to Google via Google Search Console.
Ending thoughts on these WordPress archive plugin options
Having a good WordPress archive plugin is necessary for managing your old content.
Hopefully, you will be able to find one for your needs from this list of free and premium plugins.
If you enjoyed reading this article on WordPress archive plugins, you should check out this one about WordPress payment plugins.
We also wrote about a few related subjects like WordPress popup plugins, WordPress coming soon plugins, WordPress scheduling plugins, WordPress cookie consent, WordPress booking plugins, and WordPress timeline plugins.