Businesses offering services rely heavily on accurate appointment scheduling. This can be challenging if you are doing it manually, especially across different channels such as email, phone, and in-person.
How do you collate it all into a schedule that makes sense and is easy to keep up with? If your business website is based on WordPress, the answer is simple: incorporate all scheduling into one place with a WordPress scheduling plugin.
A well-developed plugin will let your clients book their own appointments online. This will greatly reduce your admin time and avoid double booking. Clients love it, too, and making your booking system available on your site can greatly increase the number of repeat customers.
WordPress scheduling plugins are a convenient way to avoid human error and simplify your processes. In this article by our team at wpDataTables, we discuss just a few of the wide range of options on offer. Read on for the list!
WordPress scheduling plugin options
Amelia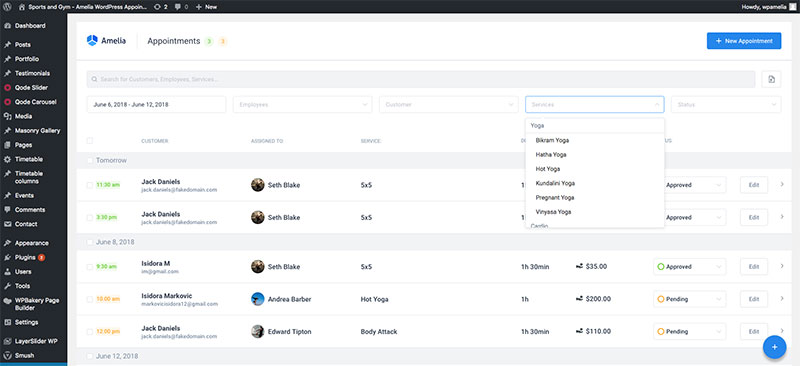 Amelia is a feature-packed WordPress scheduler plugin that works flawlessly with WordPress sites of all kinds. It has a minimal, yet powerful interface designed to ease your workflow, automate repetitive tasks and make appointment booking a breeze for customers.
In order to book a spot, the complete user interaction takes a few clicks with this plugin. Moreover, it includes PayPal and Stripe, perfect for those who want to pay in advance and reserve their place. You can even have SMS and email notifications so that nobody forgets about an appointment.
As a business owner, you can monitor KPIs and analyze other important data to keep a pulse on your business. Amelia is a straightforward, no-nonsense plugin and an amazing option for those who want an around-the-clock solution for their scheduling options.
WP Simple Booking Calendar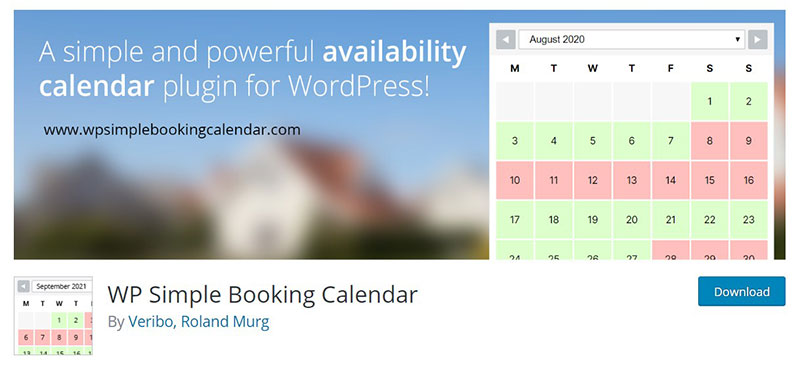 As the name suggests, WP Simple Booking Calendar is simple. Easy to use and intuitive to navigate, it provides a hassle-free solution to your scheduling woes.
This is a great tool for those with services available on certain dates. Your customers can see at a glance when your service is available and contact you to snap up an open date. The tool does not actually let customers book but it's a good basic way to show availability for all types of purposes.
There is a free version where you get to use all the basic features. However, the more advanced features require you to pay for the premium version. These features include advanced publishing and editing tools.
Simply Schedule Appointments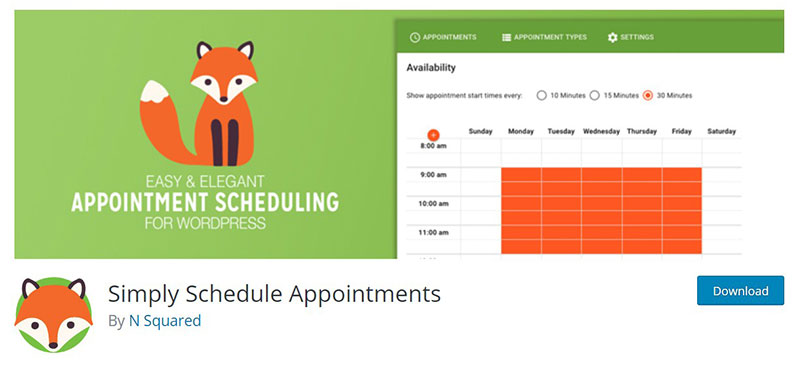 This WordPress scheduling plugin lets you easily take appointments through your website. No need for emails or a game of phone tag. It comes in 3 different editions: Basic, Plus, and Professional. If you want to take payments online at the time of booking, you'll find that feature in the Professional edition.
On the back end, the setup is simple. With easy installation and management, you will drastically minimize your admin time with this great tool and it will free you up to do more of what you love.
This will suit those in any industry that requires appointment booking, from software consulting to beauty salons and everything in between.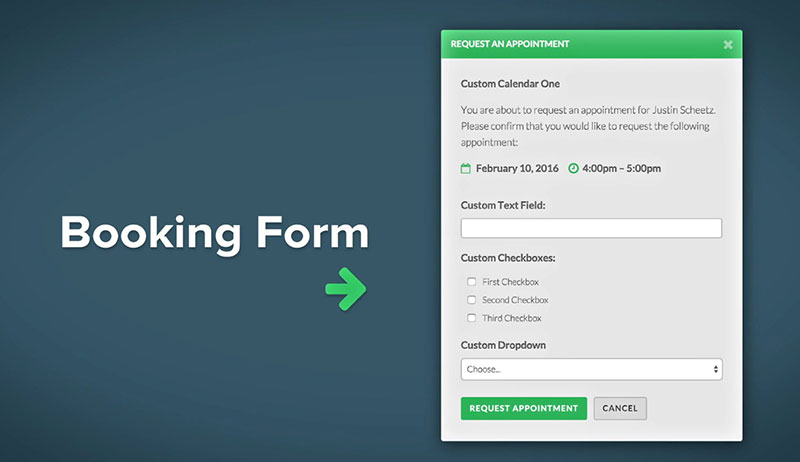 Booked is a WordPress schedule plugin which is relatively cheap at $49. This price includes any future updates to the software. This means that if the plugin gets some fab new features next week —you don't need to pay extra to access them.
The tool is particularly good for businesses needing to schedule appointments for multiple staff. For example, personal trainers or doctors. Each employee is assigned to a calendar and then users can schedule an appointment with the right person. Each user gets to create an individual profile to attract more customers.
10to8 Online WP Booking System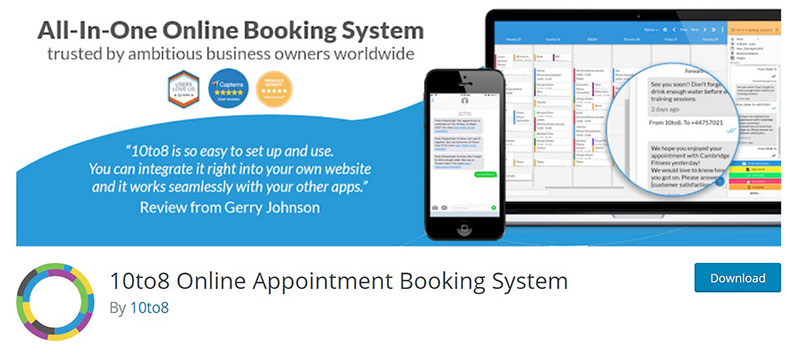 10to8 is a multifunctional WordPress scheduler plugin. It allows users to book their own appointments online so you can cut down the time you spend taking appointments and managing them manually.
This WordPress scheduling plugin is also user-friendly when it comes to your clients. It will reduce the chances of someone not showing up by sending reminders by text and email. In fact, it does this both for employees and customers which keeps everyone on the same page at all times.
It also offers a 2-way client chat so that people can make requests such as a change to their appointment. It syncs with iCal, Google, and Outlook for ease of use.
BirchPress

WordPress appointment scheduling has never been easier than with BirchPress Scheduler Pro. This WordPress scheduling plugin will handle all your appointment booking for you. Website visitors can check your availability and book their reservations online at a moment's notice.
It's user-friendly and works on any mobile device seamlessly. As it syncs with Google, iCal, Outlook and other calendars, you (and your clients)will never be out of the loop again.
BirchPress also offers email reminders that are customizable to suit your business.
Start Booking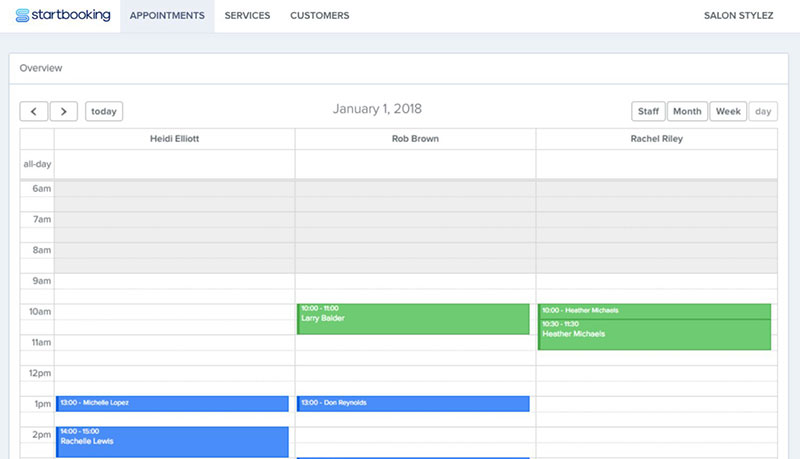 Start Booking is a straightforward WordPress scheduling plugin. The scheduling software is top-notch and the developers have ensured that you'll need very little time to manage the calendar using this plugin's smart booking technology.
With features such as class and group bookings, multi-user staff management, and an advanced calendar system, you will be able to set up your own sophisticated scheduling solution without even breaking a sweat.
It's easy to see why this is one of the best appointment scheduling plugins for WordPress. It also integrates seamlessly with platforms such as Google Analytics, Mailchimp, and Google Calendar.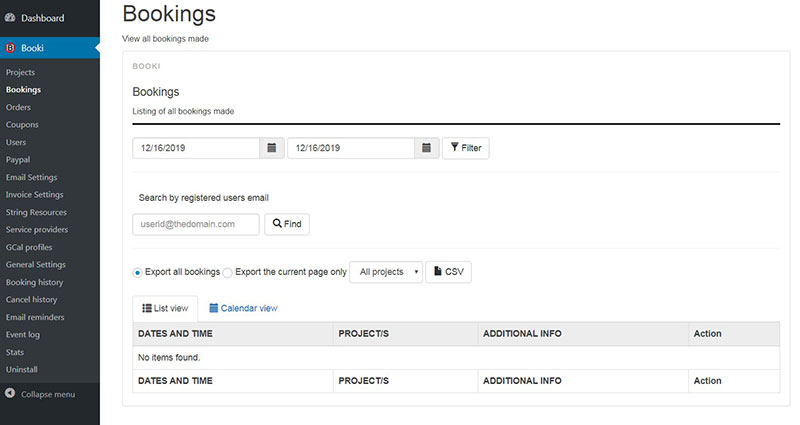 Booki is a WordPress appointment scheduler that has the advanced feature of enabling online payments via PayPal Express. So not only take appointments but receive payments through this next-generation tool.
You can also enable the book now, pay later option for users. It's great to be able to have both options available since not everyone is comfortable paying in advance in some cases.
For quick reference of your bookings, it shows an informative stats page. This is highly useful as you can provide both your clients and service providers with a summary of the booking details online at any time.
SuperSaaS – Online Appointment Scheduling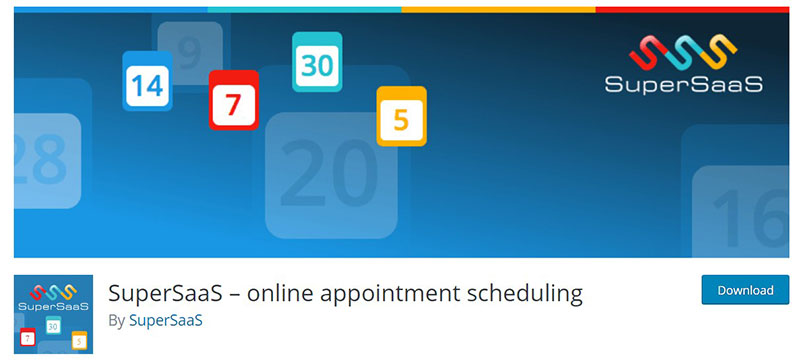 SuperSaaS is a WordPress scheduling plugin suitable for any size of business. Its free version, unfortunately, shows ads and only lets you offer 50 appointments. The premium plans remove the ads, allow more appointments, and enable iCalendar integration.
Timetable and Event Schedule by MotoPress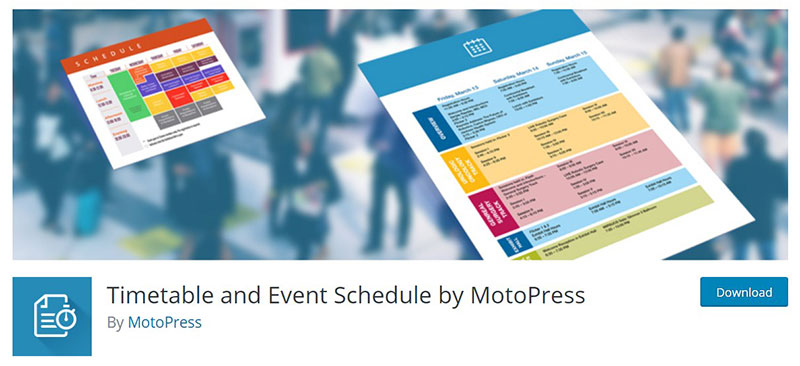 Next on the list is Timetable and Event Schedule by MotoPress. It was developed to help businesses create schedules for either single or multiple events. This WordPress appointment scheduling plugin allows you to customize the look of each event and add a description.
The upcoming events widget on this tool gives a clean way of showing more information and your visitors will appreciate the event filtering feature to view only the events they want to see.
WP Booking Calendar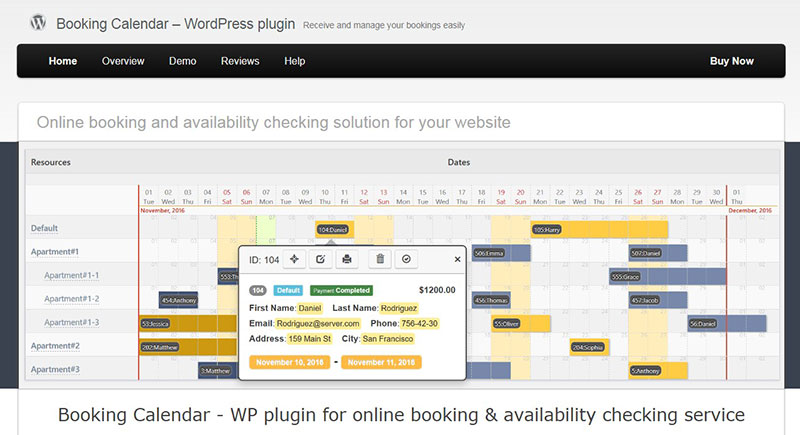 WP Booking Calendar is a popular WordPress scheduling plugin used by thousands of businesses. It allows users to search available services for specific days and times. They can even pay online for those services.
On your end, you'll enjoy the ease of getting email notifications for new appointments. You can manage the bookings through the admin panel with ease. The free version offers all the basics, but the premium version is pretty popular too.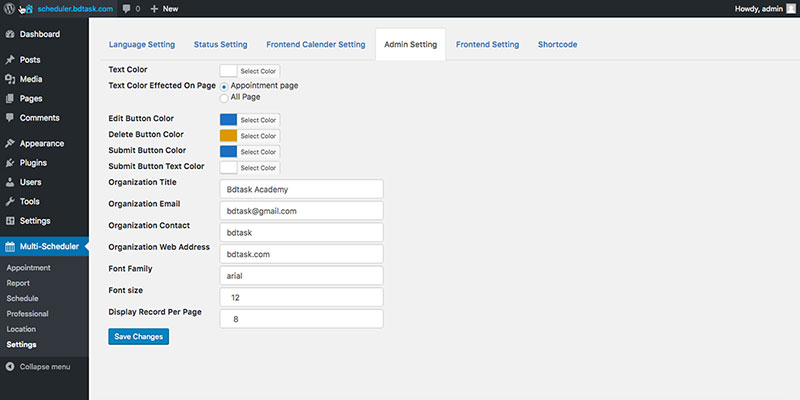 Another WordPress appointment scheduling plugin is Multi Scheduler. This plugin offers a wide array of features that simplify the process of using a scheduling plugin. Whether your business is a gym, salon, or holiday home, Multi Scheduler will suit your needs perfectly.
This user-friendly system is supported in all browsers. The admin panel is totally customizable and easy to use, even for the most non-technical user.
Event Monster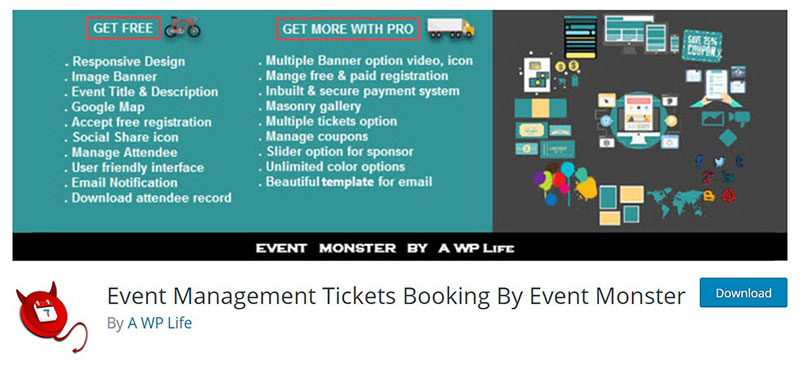 Take the stress out of event management with Event Monster. This WordPress schedule plugin comes with both free and pro options. The free version is fairly comprehensive. It allows you to upload a logo and image, edit the description and banner style, and it shows you an attendee list.
It also gives you the option to use CSS to apply your own design. The pro version features even more customizable options.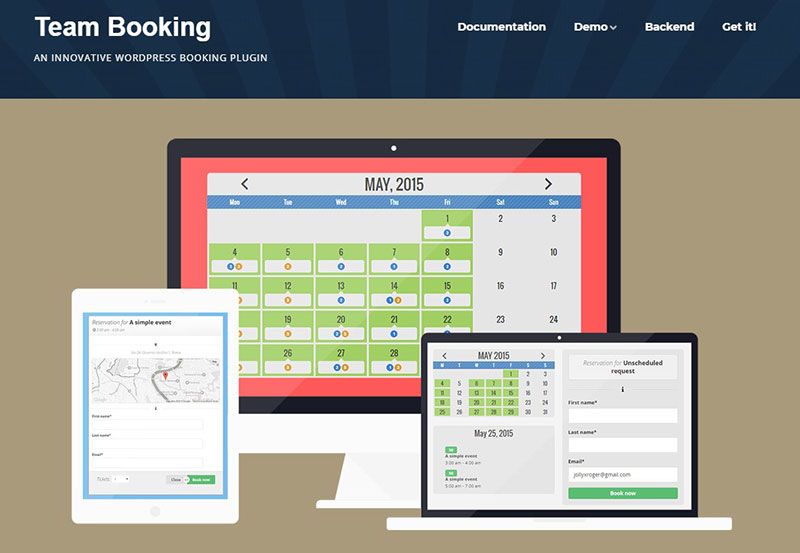 At just $28, Team Booking is one of the most affordable WordPress scheduler plugins out there. There are many affordable options but this one is different. It utilizes Google Calendar to create an appointment on a free slot. Then when someone books it, your calendar updates automatically.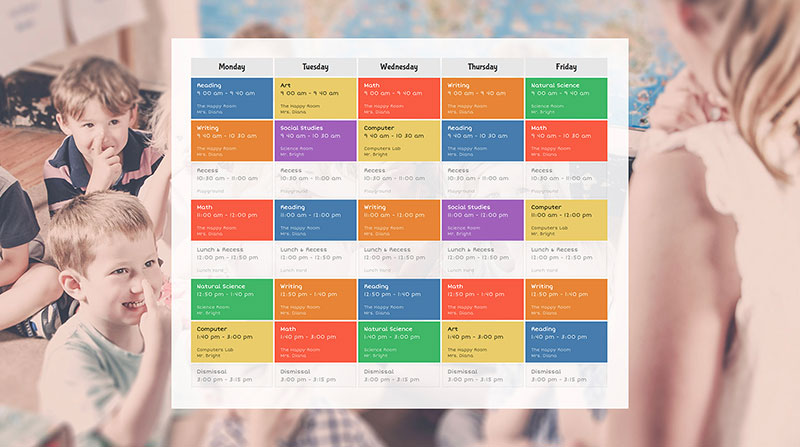 With 12 available schedule styles, Events Schedule is a highly adaptable plugin. You can change the style depending on your business. Even if you only have basic knowledge of WordPress, it'll take mere minutes to set up your scheduling system.
The creators of this plugin are strong believers in continuous improvement and enjoy solving clients' problems. If you want to choose a brand that listens, choose Events Schedule.
FAQs about WordPress scheduling plugins
1. What are WordPress scheduling plugins and why are they important?
The publication of articles, pages, and other content can be scheduled by users using WordPress scheduling plugins so that it will happen automatically at a later time or date.
This is particularly helpful for time-constrained bloggers, content producers, and marketers who want to keep a constant publishing schedule without having to manually generate content.
WordPress scheduling plugins can also aid in maximizing the engagement and reach of content by helping to time its publication.
2. Can I schedule posts, pages, and other content types with WordPress scheduling plugins?
Yes, the majority of WordPress scheduling plugins enable users to schedule additional WordPress content kinds, such as custom post types and pages, in addition to posts and pages.
Additionally, some plugins provide more granular scheduling options, such as the ability to schedule certain sections of a post or page, or material for particular categories or tags.
3. Which are the best WordPress scheduling plugins available in the market?
Hands down, Amelia is the best one. It's crucial to select a plugin that best suits your goals and budget because each one has a unique set of features and advantages.
4. How do I install and configure a WordPress scheduling plugin?
A WordPress scheduling plugin can be set up in the same way as any other plugin.
Easily locate the plugin you want to install by going to your WordPress dashboard, clicking on Plugins, and doing a search. Once the plugin is loaded, you may customize its settings to suit your needs. This often entails setting up the scheduling options, selecting the content types to schedule, and configuring notifications and reminders.
5. Can I schedule social media updates with WordPress scheduling plugins?
It's true that some WordPress scheduling plugins allow you to schedule posts for publication on Facebook, Twitter, LinkedIn, and Instagram.
By using this function, you can simplify the management of your social media accounts and make sure that your material is posted at the best possible time for your audience.
6. Are there any free WordPress scheduling plugins available?
Sure, there are a number of free WordPress scheduling plugins available, including Editorial Calendar, Future Posts Calendar, and WP Scheduled Posts. These plugins are appropriate for tiny blogs and websites with simple content publishing requirements because they provide basic scheduling functionalities.
7. What are the key features to look for in a WordPress scheduling plugin?
A WordPress scheduling plugin should have a variety of content kinds supported, flexible scheduling settings, social networking platform integration, notifications and reminders, and performance tracking and analytics.
8. Can I customize the schedule settings for different time zones with a WordPress scheduling plugin?
Absolutely, the majority of WordPress scheduling plugins allow users to alter the schedule settings for various time zones, which is especially helpful for businesses or websites that are worldwide or multinational and have viewers from various time zones.
9. Are there any compatibility issues with WordPress scheduling plugins and other plugins or themes?
WordPress scheduling plugins may have compatibility problems with other plugins or themes. Check the plugin documentation to make sure the plugin is compatible with the WordPress version, theme, and other plugins you have installed in order to prevent any conflicts.
10. Can I track the performance of my scheduled content with WordPress scheduling plugins?
Sure, you can track the engagement, reach, and other metrics of your planned content using the performance tracking and analytics capabilities offered by several WordPress scheduling plugins. This can assist you increase the efficiency of your content marketing initiatives as well as your publication strategy.
Ending thoughts on the top WordPress scheduling plugin options
As you can tell, there's a huge amount of choice when it comes to picking a WordPress scheduling plugin. However, you should keep in mind that not all these plugins are created equal, nor will they all meet your own specific booking needs.
Our advice is to narrow down the list based on the summaries provided and then take some time to test out your preferred options. It always pays off to get a feel for a plugin first before deciding on it, and especially before forking out money for a premium option.
Once you've settled on an option and set up your own online booking system, you will be amazed at the increase in business productivity, no matter what industry you're in. Not only that, but your client satisfaction will go through the roof, thanks to the professionalism, peace of mind, and ease of use that sophisticated scheduling software provides.
If you enjoyed reading this article on WordPress scheduling plugins, you should check out this one about WordPress payment plugins.
We also wrote about a few related subjects like WordPress coming soon plugin, WordPress popup plugin, WordPress archive plugin, WordPress cookie consent, WordPress reservation plugins, and WordPress timeline plugins.