Seeing your history of accomplishments is always cool and it gets even more interesting when we talk about the history of a brand.
This is why a WordPress timeline plugin is often used by companies, organizations, and even individuals with their own personal brand. Adding a timeline can be a great idea for your website because any visitor that is interested in who you are can instantly (and visually) understand your brand story.
If you use WordPress, the best thing to do is to go for a responsive timeline on your website with the help of a WordPress timeline plugin. These plugins are available in different designs and customization options that can create and add a visually appealing timeline post without touching any kind of code.
Many WordPress timeline plugins come with a shortcode generator so that you can easily add it to any relevant section of your website.
This article created by our team at wpDataTables is here to help. Keep reading if you want to see some of the best timeline options that you can use for your WordPress site.
When you need a timeline in WordPress
Timelines in web design can be used for many different reasons. Businesses, for example, use a timeline in their site to show the history of the company. Startups can use them to show their roadmap and individuals can use them by showing their portfolio and awards.
If you have your own WordPress website then you have many options for creating a timeline. Of course, you can always code your own from scratch (or hire a web developer to do it), but not everyone has the resources for that. Instead, it's far easier to use a WordPress timeline plugin.
The advantage of adding a cool timeline is that you will be able to tell a story by providing all your accomplishments in chronological order. And, you can create one in WordPress without having any background in web design.
Some instances where timelines work well are:
Company websites where the evolution of the business can be displayed
Portfolio sites where you want to show off your work experience
About page, when you want to show any relevant past achievements or milestones
9 best WordPress timeline plugin options
Cool Timeline Pro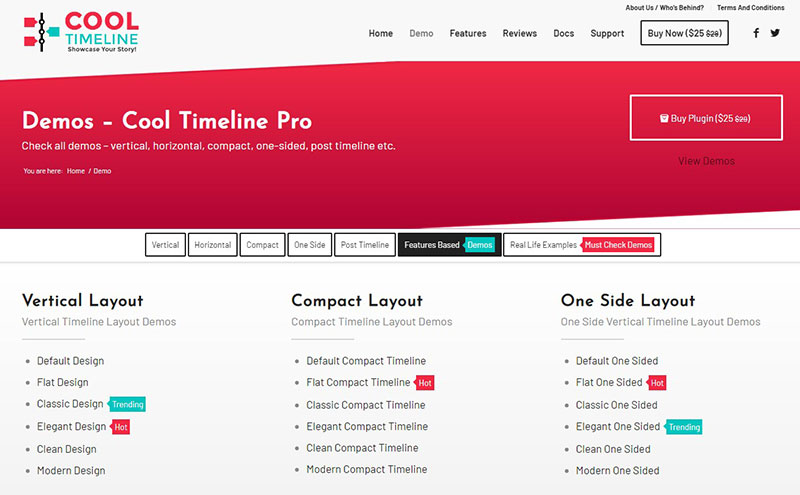 This WordPress plugin can work great with your website when you want to set up a cool timeline. It has all you could ask for from such a plugin, including a responsive design that you can use on any device. Once installed, you will be able to create vertical and horizontal timelines.
This is a great way of showing the history of your company or even better to create a timeline for your blog posts and display them in a unique way. By navigating through its settings, it is easy to choose an appearance that fits your site.
Timeline and History Slider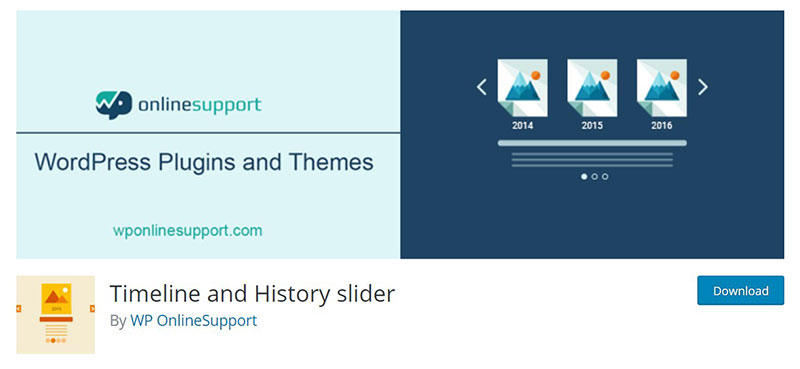 Another WordPress plugin that was made to help you out is Timeline and History Slider. It has many features and you can easily add or modify and display history or timeline sliders.
Similar to a WordPress post, the title, content, and images can be changed easily according to time. You can also create a Timeline Slider menu tab. Even though it is made for more advanced WordPress users, don't be discouraged; you can still give it a try to see what you can achieve with it.
Everest Timeline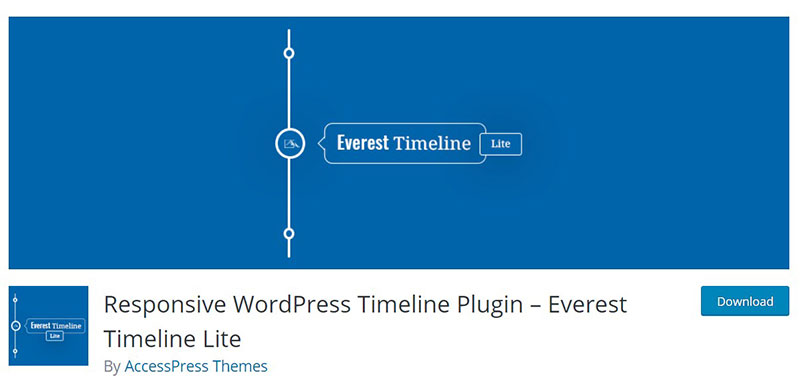 This is a free WordPress timeline plugin that can help you show the story of your brand with the help of a nice timeline. It has a few templates that you might go for —2 vertical timeline templates and 2 horizontal timeline templates.
Everest Timeline comes packed with different styles of timelines together with Facebook and Twitter layouts. It also works great with images or videos and audio content as well.
WP Timeline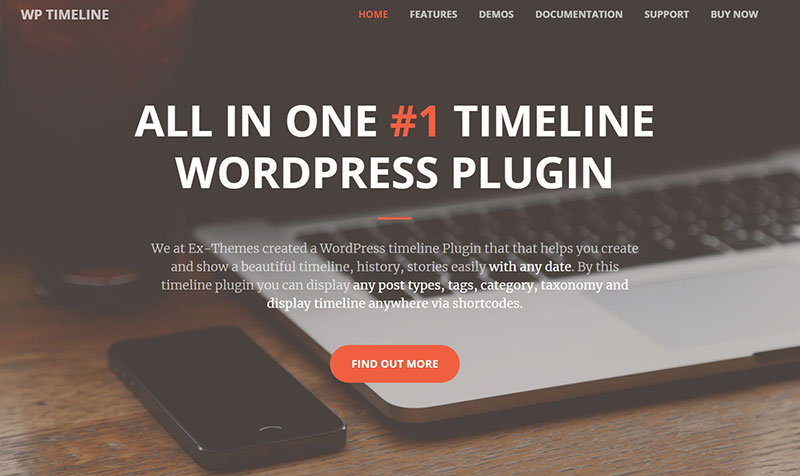 WP Timeline offers you the freedom to easily organize what information you want to display on your website timeline. This WordPress timeline plugin helps you display different content forms by using the timeline format, so you can get really creative.
More than that, the WP Timeline plugin can help you create as many timelines as you want for your project.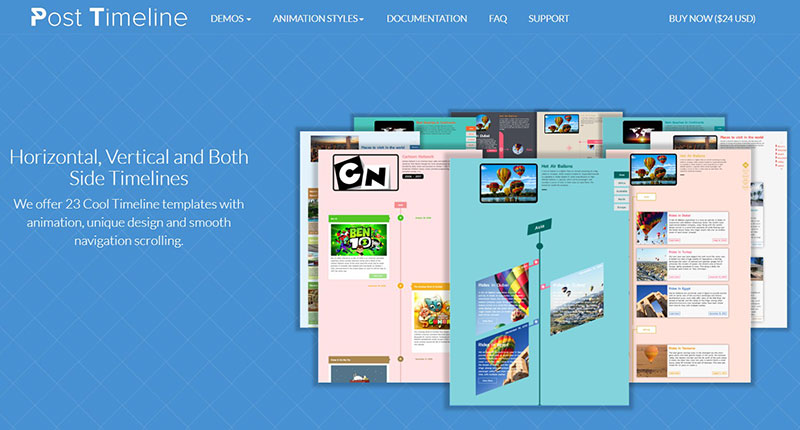 Post Timeline is mainly used for displaying your posts in a neat timeline format. This plugin can help you by offering you the possibility to create your own style and design. It is one of the more well-known WordPress timeline plugins and is enjoyed by all kinds of users.
It also has a back-end template manager that comes with this plugin as well. This is helpful in helping you see how the timeline is going to look on the page.
Timeline Pro
Timeline Pro is a free WordPress timeline plugin that works great for beginners but also advanced users. It doesn't have that many templates to create different kinds of timelines but it offers everything you would expect from a beginner point of view.
It is made in HTML and CSS so it can work easily with your WordPress site, no matter how complex it is. Consider it a fully responsive and lightweight plugin that you can add anywhere on your WordPress site by using shortcodes.
TimelineExpress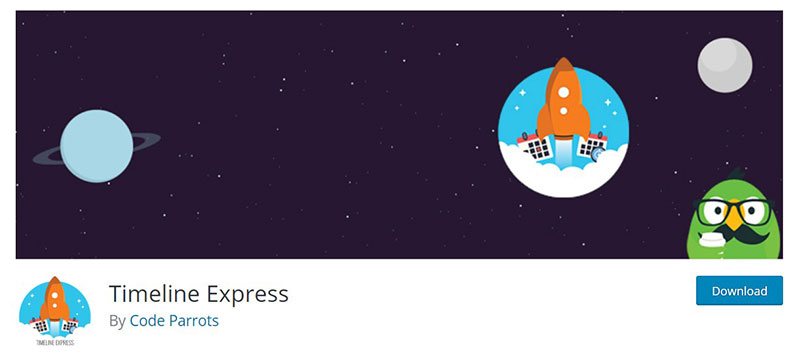 TimelineExpress has a lot of positive user ratings and it has been installed more than 10,000 times. If you want a good WordPress timeline plugin that can help you out you have to consider this one.
It is also free so you don't have to spend any money to get it. If you want you can even add animations to your timeline, which your users will absolutely love.
This WordPress timeline plugin can also work on different browsers so you don't have to worry that the work you do is not going to be compatible with any other browser.
Viavi WordPress Timeline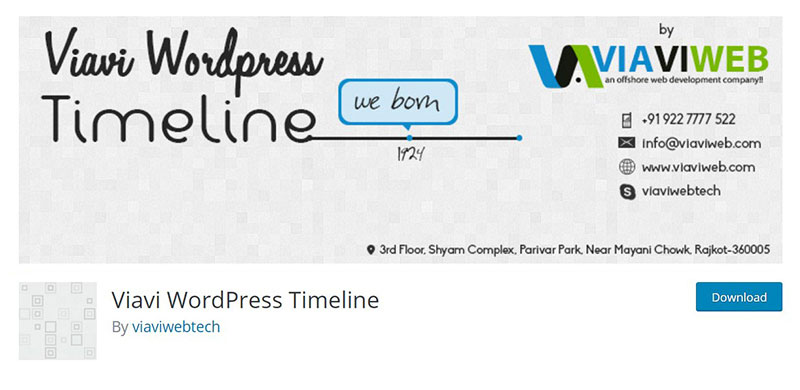 Last on our list is the Viavi WordPress timeline plugin that can be perfect for somebody that wants to show work progress and present an event timeline.
The design of the plugin is modern and it looks simply amazing. Being a responsive plugin means you will be able to set your timeline to look great on desktops, mobiles, and even tablets.
FAQs about WordPress timeline plugins
1. What is a WordPress timeline plugin?
An add-on that enables users to make a timeline on their website is a WordPress timeline plugin. It offers a simple method for quickly and attractively presenting chronological events, postings, or milestones. Users can design their own timelines and include multimedia elements like photographs, movies, and audio by using a timeline plugin.
2. How do I install a timeline plugin on WordPress?
Users can search for a timeline plugin in the WordPress plugin repository or a third-party plugin marketplace and install it on their WordPress site. They can download and install a suitable plugin on their WordPress website as soon as they locate one. As an alternative, they can use the WordPress plugin uploader to manually upload the plugin.
3. What are the benefits of using a timeline plugin on my WordPress site?
A timeline plugin can provide a website with a dynamic and interactive component, increasing user engagement. Also, it might make it simpler for users to follow the content of the website if the information is organized and presented in a clear and succinct manner. A timeline plugin can also enhance the website's general design, giving users a more pleasing visual experience.
4. What are some of the best WordPress timeline plugins available?
Timeline Express, Nice Timeline, WP Timeline, and Everest Timeline are some of the top WordPress timeline plugins on the market. These plugins provide a range of capabilities, including customizable designs, support for multimedia material, and simple event management.
5. Can I customize the design of my timeline using a plugin?
Absolutely, the majority of WordPress timeline plugins give users the option to change how their timelines look. Customers can select several themes, layouts, and color schemes to match the identity of their website. To further alter the timeline's design, they can add custom CSS, change the font, size, and style of the text, and more.
6. Is it possible to add multimedia content to my timeline using a plugin?
Indeed, the majority of WordPress timeline plugins work with multimedia files like photographs, videos, and audio. The timeline can be enhanced by users by adding media assets to their milestones or events. Even more sophisticated multimedia functions, like gallery support, image cropping, and video embedding, are provided by certain plugins.
7. How do I add events to my timeline using a plugin?
Users can create a new event or milestone and enter information such as the title, date, description, and media files to add events to a timeline using a plugin. Additionally, they can select from a variety of event tags and categories to help organize and filter their timeline. A visual editor or a drag-and-drop interface are two features that some plugins provide to make creating events easier for users.
8. Are there any free timeline plugins available for WordPress?
It's true that there are a lot of free timeline plugins for WordPress, including Timeline Express, WP Timeline, Nice Timeline, and Everest Timeline Lite. These plugins are appropriate for small enterprises, blogs, and personal websites because they provide a variety of functions and customization choices.
9. How can I ensure that my timeline plugin is compatible with my WordPress theme?
Users should check the plugin's documentation and support forums for compatibility details to make sure a timeline plugin is compatible with a WordPress theme. To prevent conflicts with other plugins or custom code, they can also test the plugin on a staging site or in a local development environment. They can also ask for help from the plugin's support staff.
10. Can I use a timeline plugin to create a visual representation of a project's progress over time?
Sure, you may make a visual representation of a project's development over time using a timeline plugin. Project deadlines, achievements, and milestones can all be added by users as events or milestones to the timeline. To show off the project's results, they can also add multimedia assets like pictures, videos, and papers. A timeline plugin can assist in updating stakeholders on the project's schedule and progress.
Wrapping up these WordPress timeline plugins
Finding the right WordPress timeline plugin that you will use on your site can be difficult. Most of them are free, though, so spend some time trying them all out with the timeline info you want to present.
Some of them work better with vertical vs. horizontal timelines, and other plugins fit different kinds of sites better than others. Remember that a plugin marketed for one type of timeline can also be used for most other types of timelines, so don't restrict yourself unnecessarily.
If you enjoyed reading this article on WordPress timeline plugins, you should check out this one about WordPress payment plugins.
We also wrote about a few related subjects like WordPress cookie consent, WordPress scheduling plugin, WordPress coming soon plugin, WordPress popup plugin, and WordPress archive plugin.