This article created by our team at WpDataTables will examine what are the best WordPress button plugin options.
Buttons such as log in or CTA buttons are a very important part of your website. They can improve your conversions, but if they fail, they can harm your profits.
They benefit your sales as well as providing an entryway to other parts of your website, such as blog posts, or registration forms. These buttons should be attractive so that they appeal to users to click them and there are many very good WordPress button plugin options.
WordPress button plugin options
WordPress Button Plugin MaxButtons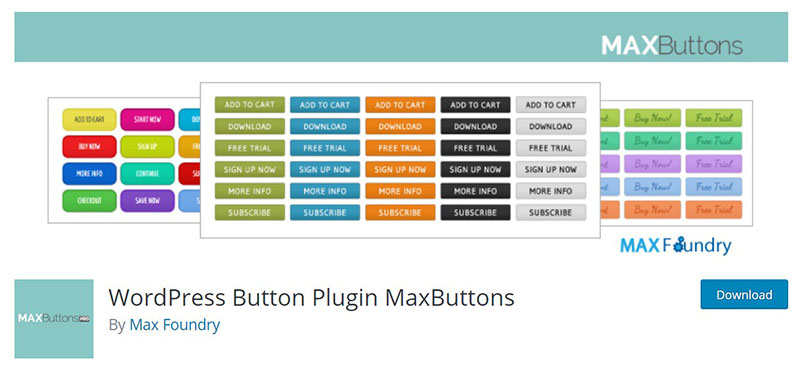 This is a highly recommended plugin for buttons. It is dedicated completely to buttons, with endless options. You are able to customize by changing colors, gradients, and the overall design of the buttons.
Creating buttons is very simple. The first step is to create your button layout, and then upgrade that layout based on your preferences. You can change the font, the padding, the radius, and the colors, using the menu in your editor.
Shortcodes Ultimate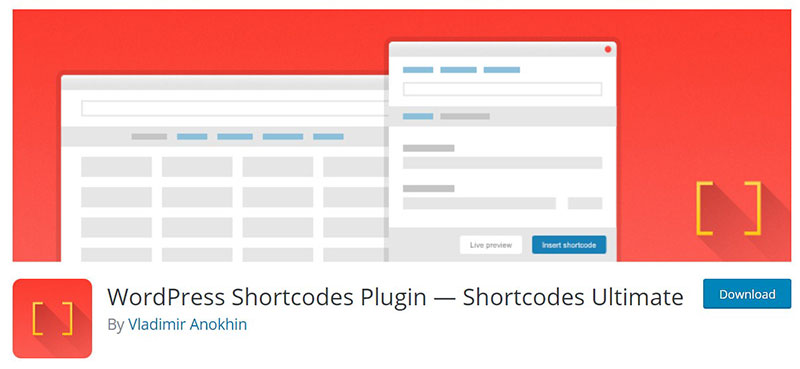 Although the name suggests that this plugin is primarily geared towards shortcodes, this is not the case. In fact, it offers a very strong editor for creating various buttons for your site. The plugin has 9 different pre-made button styles to choose from, and you can then customize these styles completely.
You can create presets with your design work on the styles, and simply use the presets the next time you need to use it for buttons. Adding the buttons to your page is easy with this reliable tool.
Buttons X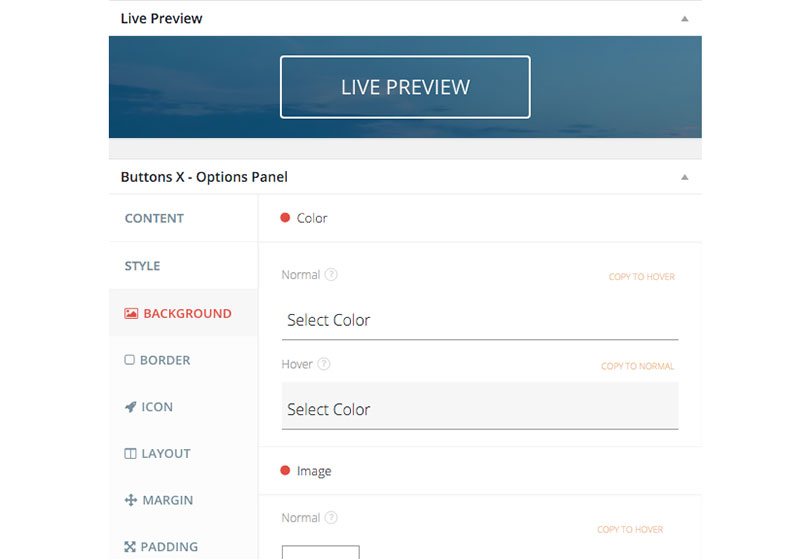 This WordPress button plugin will provide you with unlimited customization options for buttons. There is a seemingly endless array of customization options and all the options look great on various designs.
The features included in this plugin are exceptional. There are demo buttons at the start, and you can simply choose one that looks close to what you want. Then, you can customize almost everything about the button – the text, the colors, the sizes, shapes, and everything necessary to create stunning and appealing buttons.
Standout CSS3 Buttons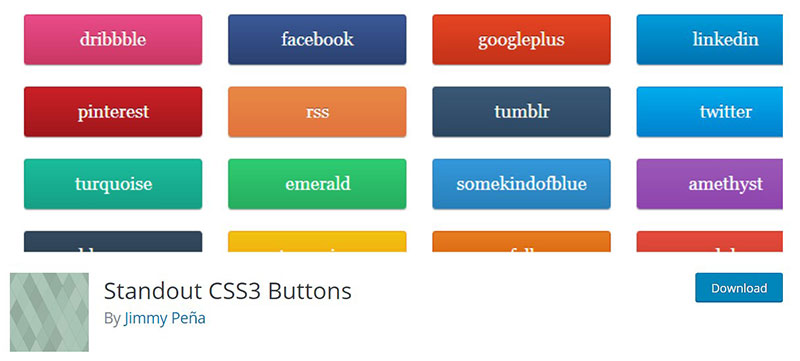 This WordPress button plugin uses shortcodes to highlight the buttons on your website. The buttons are available in the CSS3 style, which allows for a lot of creativity. Even though there are preset options, you can still customize the buttons in many different ways.
Creating these buttons does not require much coding knowledge, even though they are CSS3 buttons. Everything is handled by the plugin, and all you have to do is to decide on the design of the buttons.
WordPress Calls to Action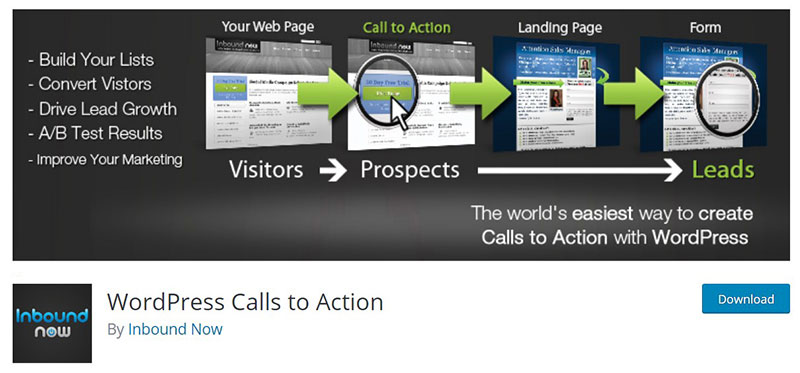 Call to action (CTA) buttons are perhaps one of the most important parts of your site. They invite users to respond to your call to action, and they can lead to better conversion rates. However, at times, these buttons can appear unresponsive and damage the user experience on the site.
This does not happen with the WordPress Calls to Action buttons. This plugin gives its users fully customizable templates to work with. You can change the background colors, fonts, to button sizes and shapes.
This button plugin also helps you track your conversions and allows you to easily perform AB testing. It works well with WordPress Landing Pages and WordPress Leads.
Forget About Shortcode Buttons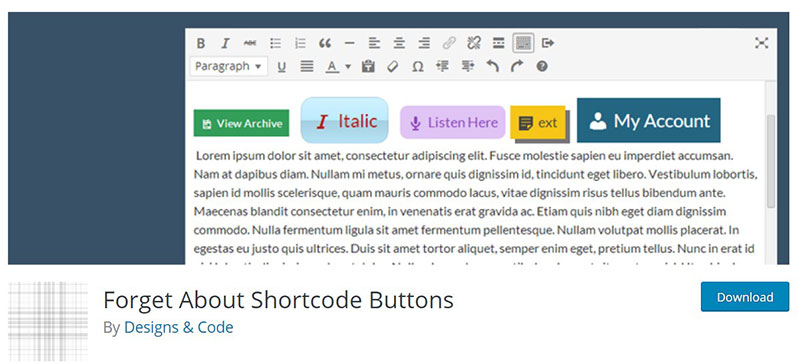 This plugin lets you create buttons and then add them to your site without using shortcodes.
It can be a very time-consuming job, but adding buttons is very easy. The interface of the plugin is very simple and allows you to create some very attractive button designs. You can add several interesting visual components, including Dashicons and Font Awesome icons.
The major advantage of this plugin is its simplicity.
Elementor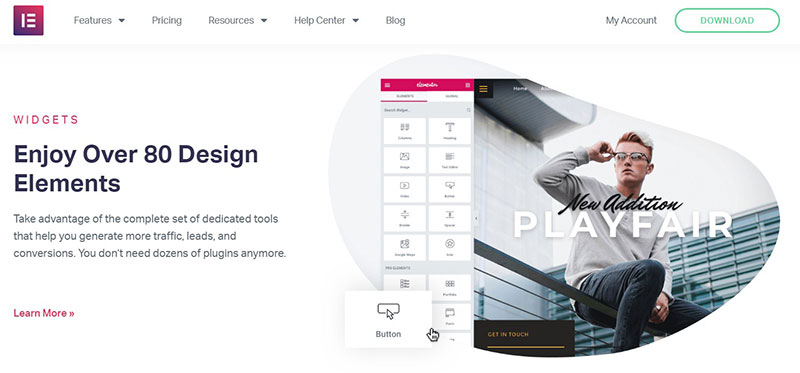 Elementor is a page builder that lets you create responsive pages as well as the ability to create and add responsive buttons to your site. Even though iit's not a plugin primarily geared towards buttons, there are a surprisingly high number of customization options.
You can easily control the spacing between the buttons, the text of the buttons, and the target URL. There are also other standard customization options, such as colors and borders.
Ad Buttons

For sponsored links, you can decide to wrap them up into buttons that will be displayed on your site, which is how many WordPress sites operate; through sponsored links and paid ads. This WordPress button plugin allows you to easily wrap your sponsored links and paid ads into buttons.
These visually appealing buttons will encourage users to click on them. It also brings you stats about the ads, as it measures how many times the ad has been clicked.
Simple Side Tab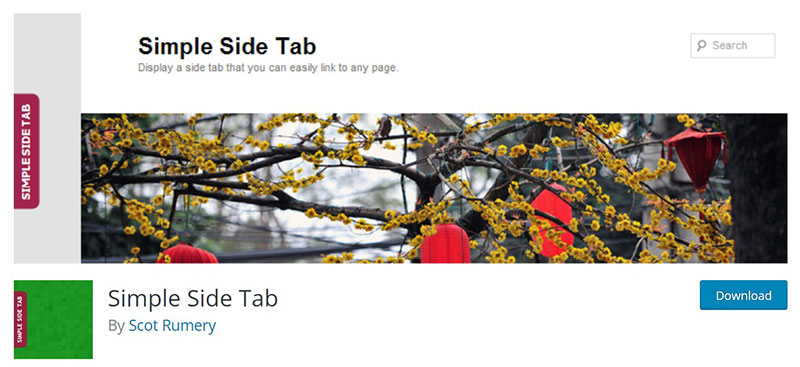 You can add a vertical tab on each side of your browser with this WordPress button plugin, which will stay there all the time, even as the user scrolls down the site. It is simple to use, and effective for displaying various links and buttons.
As it is attractive and suited to mobile devices, it should bring many benefits to your site. It might help you improve your conversion rates, and with some work and patience, you can create a visually stunning sidebar.
You can decide to put whatever you want on this side tab, including links, buttons, visual content, or text..It is fully customizable, so you can alter the color with simple CSS customization. The plugin is built with CSS.
Button Pro – CSS3 Buttons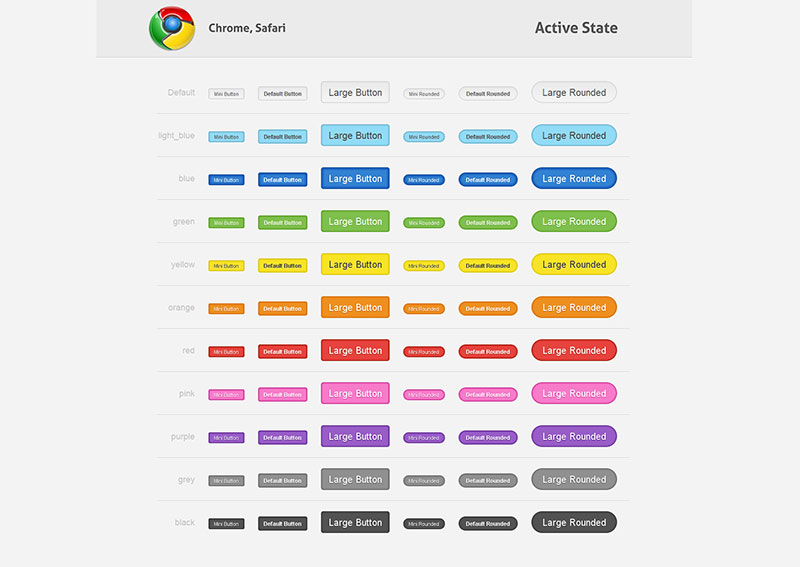 This WordPress button plugin also offers CSS3 buttons which many users prefer because they are very popular and highly customizable. The plugin was created and designed by CodeCanyon, a reputable developer known for providing quality software.
Some knowledge of CSS helps, however it can be done even by those who are considered beginners.
Ultimate Blocks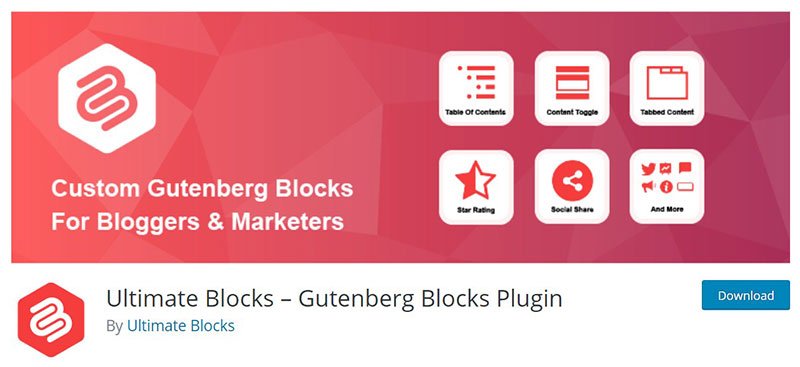 Developed by the team at WPLeaders, this is a Gutenberg project that allows you to create and manage blocks of content. You can also create and customize buttons, as well as block widgets.
Blocks are at the center of this plugin. There are 17 different blocks to choose from, and they will create visually stunning designs for your page. In addition, you can easily customize them to make them even more appealing to your visitors.e.
The hallmark of the plugin is its simplicity. You can easily add and customize the buttons and blocks to add to your page. It is free and compatible with Gutenberg, so worth investigating.
Easy Social Share Buttons for WordPress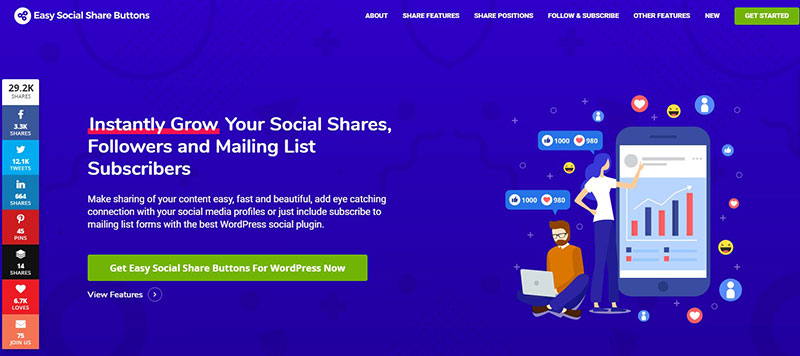 This WordPress button plugin has plenty of button options for sharing on social media. Buttons are essential to grab the customers' attention if you are looking to increase your presence over social media platforms. This plugin focuses solely on social media buttons and no other kind.
It offers an impressive array of buttons to connect you to 45 different social media platforms, including all the main ones, as well as 48 templates for you to customize these buttons.
Stackable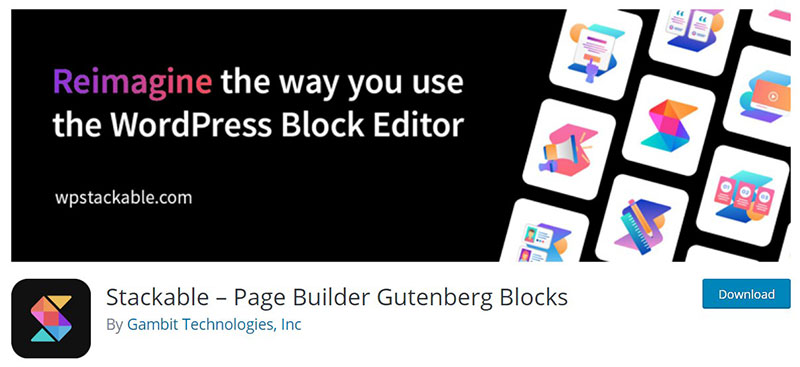 Stackable is a relatively new plugin that allows you to create and edit blocks with the Gutenberg editor. It also features the button block, where you can create and customize your buttons.
The advantage is that you can customize these buttons, and then easily add them anywhere on the site.
WordPress Shortcodes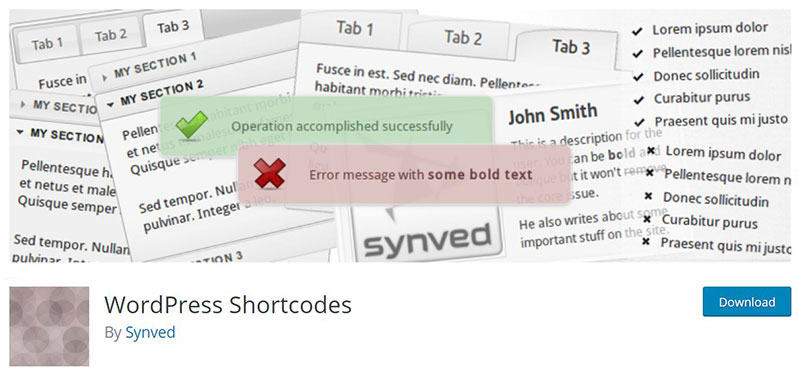 This plugin offers 26 different shortcodes for creating buttons, tabs, accordions, and other elements on your page. It is compatible with WordPress, with a good range of customization options. It's a simple but effective plugin.
Hello Bar

Hello Bar is a very popular plugin for good reasons. It is a free plugin that lets you create modal popups and call-to-action pages, and the buttons that go with it. It features a cloud-based tool that generates the code, which you can then paste into the plugin to create notification bars and other pieces. It is a very good, free option for easily increasing your conversions.
FAQs about WordPress button plugins
1. What is a WordPress button plugin, and what does it do?
Website owners may simply design and customize buttons for their websites using a WordPress button plugin. These buttons can be included as call-to-action buttons, social media buttons, or download buttons, among other things.
2. How do I install a WordPress button plugin on my website?
Go to the "Plugins" area of your WordPress dashboard to install a WordPress button plugin. Click "Add New" after that, then look for the button plugin you wish to use. Click "Install" and then "Activate" after you have located the plugin.
3. Are WordPress button plugins easy to use for non-technical website owners?
Absolutely, the majority of WordPress button plugins are made to be easy to use even by individuals without a technical background. A lot of plugins provide drag-and-drop editors and editable templates that make it simple to design buttons with a polished appearance.
4. Can WordPress button plugins be customized to match the look and feel of my website?
You can change button colors, fonts, and styles, as well as add hover effects and animations, using the majority of WordPress button plugins. This enables you to develop buttons that blend in with the branding and layout of your website.
5. What are some of the most popular WordPress button plugins, and which one should I choose?
Buttonizer, Simple Social Sharing Buttons, and MaxButtons are a few of the well-liked WordPress button plugins. Your unique demands and preferences will determine which plugin is ideal for you. When making a choice, make sure to compare features, cost, and user reviews.
6. Can WordPress button plugins be used to create different types of buttons, such as social media buttons or call-to-action buttons?
Indeed, you can create a range of various buttons using the majority of WordPress button plugins, including call-to-action, share, and social media buttons. Some plugins even include pre-made themes for particular kinds of buttons.
7. Are there any free WordPress button plugins available, or do I need to pay for one?
WordPress button plugins are offered in both free and premium versions. Paid plugins frequently have advanced features like analytics and A/B testing while free plugins may just offer basic features and capabilities. Take your budget and the features you require into account when selecting a plugin.
8. Can WordPress button plugins improve my website's user experience and conversion rates?
Absolutely, by making it simpler for visitors to take action—like subscribing to a newsletter or making a purchase—WordPress button plugins can boost your website's user experience and conversion rates. You may compel users to interact with your content and perform the desired action by making attractive, obvious buttons.
9. What are some of the advanced features available in premium WordPress button plugins?
Analytics, A/B testing, and interfaces with other marketing tools, such as email marketing platforms and CRM systems, are some of the sophisticated capabilities offered in premium WordPress button plugins. You may use these characteristics to make your buttons as engaging and conversion-friendly as possible.
10. How do I troubleshoot issues with my WordPress button plugin if it's not working properly?
If your WordPress button plugin is giving you problems, try deactivating and then reactivating the plugin to see if it fixes the problem. Also, you can look for incompatibilities with your website's theme or other plugins. Contact the plugin's support staff for additional help if the issue continues.
If you enjoyed reading this article on WordPress button plugins, you should check out this one about WordPress google reviews plugins.
We also wrote about a few related subjects like WordPress team plugins, SoundCloud WordPress plugins, WordPress media library plugins, WordPress file upload plugins, best WordPress booking plugins, WordPress news plugins, and WordPress contest plugins.