You may have seen a blogger host a giveaway or contest of sorts, and thought to yourself: "that looks interesting, how did they do that?" If this has piqued your interest, you can do this yourself via a WordPress contest plugin and, hosting a contest via such a plugin can make your life much easier.
Giveaways are a good way to boost your reputation and increase the conversion rate. It doesn't have to be anything special, and even the simplest things can bring good results. All you need is a good WordPress contest plugin if you are running your site on WordPress, and a worthy item to give away.
Having a good plugin for giveaways is especially important for those who do contests and raffles on a regular basis. This article created by our team at wpDataTables is here to help. continue reading to choose from any of these excellent WordPress contest plugin options.
WordPress contest and giveaway plugin options
RafflePress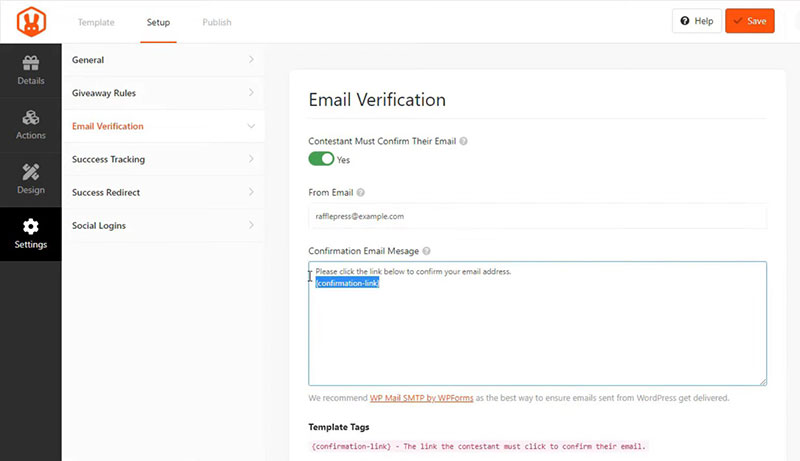 RafflePress is an outstanding plugin, used for creating very effective and attractive giveaways on your WordPress site.
You can download this WordPress contest plugin to widen your email list for email marketing, increase your conversion rates as well as enhance your social media numbers. There are also social media sharing options that you can utilize.
An advantage of using social media for these raffles is the fact that all entries are verified via the email that was used on the social media platform.
If you want to create viral, built-in giveaways and raffles, this is certainly one of the best plugins to go to.
Photo Contest WordPress Plugin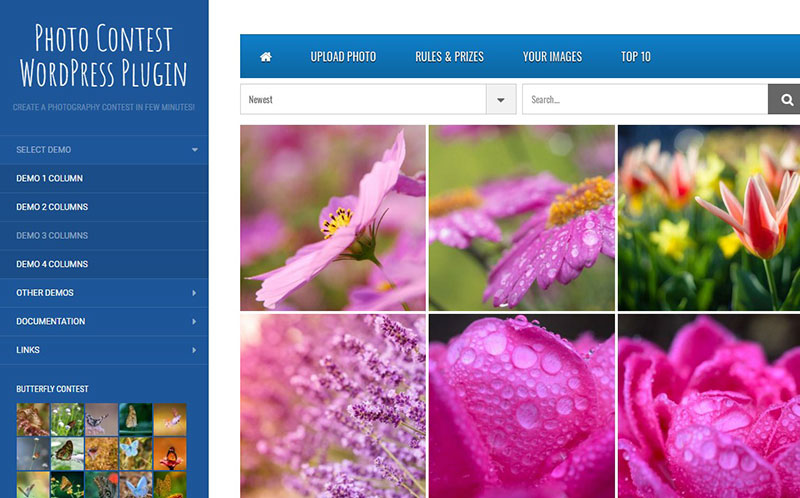 If you focus your giveaways on photography contests, look no further than this WordPress contest plugin. Photography competitions are created very easily, and you can incorporate the giveaway on your site, or you can decide to create a separate site. A very secure choice for running photo contests and a good alternative to putting the photos on your Facebook photography page and asking people to add likes or comments there.
The plugin is also highly flexible. Users and viewers vote for their favorite photograph, and the one that gets the most votes wins. Then you can use whatever metrics you find the most appropriate and completely tailor the contest to your needs.
It works with the latest WordPress version, and with almost any free and premium theme within WordPress. The plugin also covers Buddypress, and it's GDPR ready so you will be able to send email notifications out.
Social Contests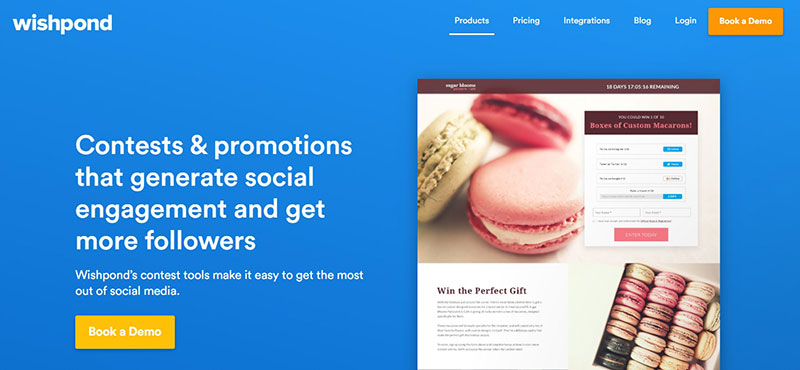 This is one of the most versatile WordPress contest plugin options. Social Contests enables you to host a variety of different contests, including vote contests, sweepstakes, photo contests, essay contests, referral promotions, and more. However, you will need to buy the Wishpond plan to host the contests.
This plugin allows you to share the contests on social media sites, such as Facebook, Twitter, Instagram, and others. Furthermore, it handles mobile integration very nicely so your users can join the contests straight from their mobile devices. This plugin is very effective at adding new users to your email list. The plugin is available in 35 languages, making it an international choice.
Responsive Poll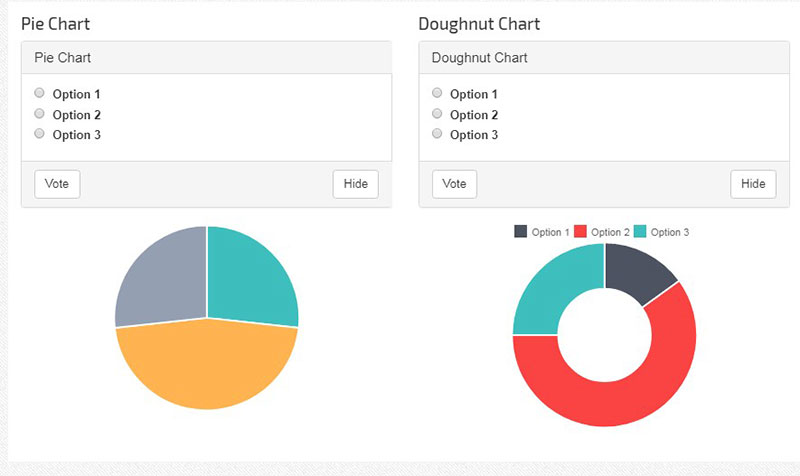 For those looking for something with better design options, this WordPress contest plugin is a good choice. You can choose the way the poll results are displayed with several different animations.There are many other customization options that enable you to create awesome visual effects and choose how your polls will be displayed.
Other customization options include choosing the type of poll – charts, pies, lines, and radar charts.. The plugin is very easy to use and install, is compatible with the latest WordPress version, and it will work perfectly with any other plugins that you have installed for your site.
Gleam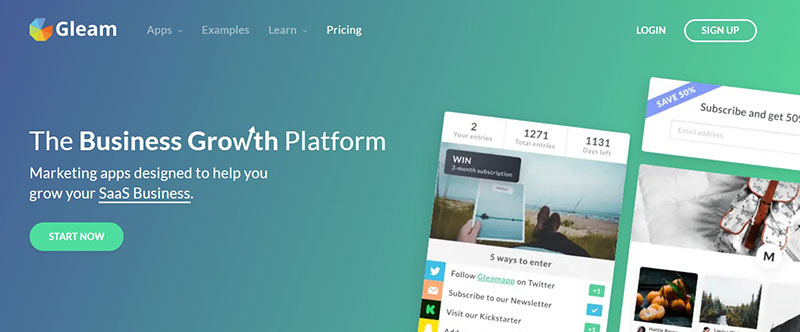 For good reason, Gleam is one of the most popular WordPress contest plugin options. It might be intimidating to set up for beginners, but the results make the effort worthwhile. Website owners are able to set up giveaways and raffles, and it also works as a referral marketing campaign.
It features a setup wizard that allows you to connect emails and social media profiles to your giveaway, as well as enabling you to create a separate giveaway site, or have the giveaway implemented on your site.
Gleam is a good WordPress contest plugin, whether your aim is to improve your conversion rates, or widen your mailing list, or increase the number of users.
ContestFriend For WordPress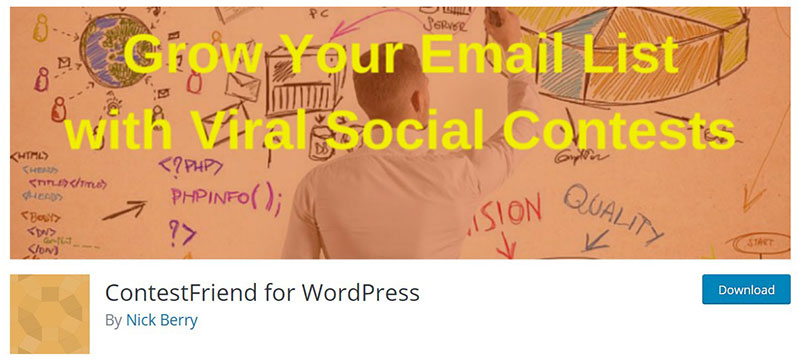 ContestFriend is an excellent option if your aim is to create a very good contest but prefer not to dedicate much time to it. It lets you create a contest very easily, and the contest will be as attractive as any other. You can easily add HTML tags and your own text markup to create additional layers.
The plugin allows you to customize and create visually stunning contests and polls. You can choose your own background, the width, the description, and the headline text.
These giveaways will attract new users to your site, as well as satisfy your existing customers. You can easily increase your mailing list with integrations such as MailChimp, AWeber, CampaignMonitor, or GetResponse.
Video Contest WordPress Plugin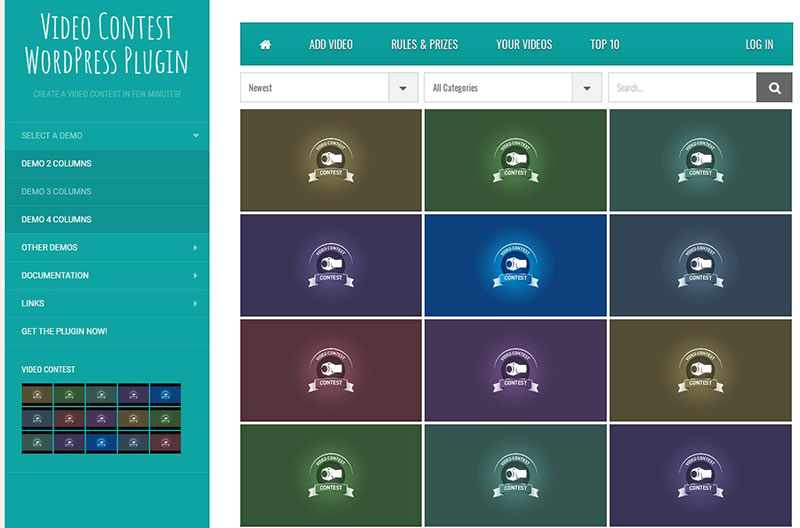 This plugin is similar to the Photo WordPress contest plugin, but only for videos. You can create a very good video competition on your site, or choose to host a separate site for the giveaway.
It enables you to have almost full control over the contest, including customizing and controlling comments, votes, new submissions, and more. This plugin is also very good if you use BuddyPress and it takes preventive measures to protect your site against fraud and spam.
Wishpond Social Contests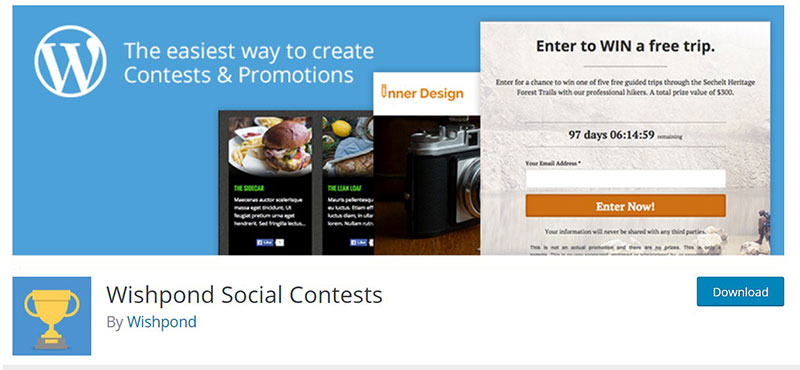 Wishpond is primarily a free contest plugin, but also has premium options to choose from. The free plugin includes many options, enabling you to host sweepstakes, promotions, contests, and all other types of giveaways and prizes.
Analytics are included within the plugin, which allows you to control the plugin completely, and obtain additional information about it.
Show-Down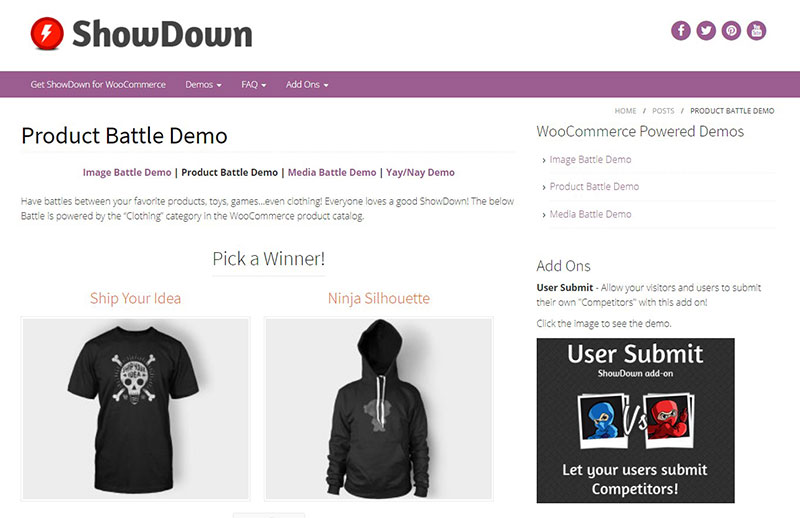 Show-Down is a very effective and responsive plugin to use for creating image contests and various other types of contests. You can also host various other competitions with this plugin and it includes features such as translations and an appealing design.
One small disadvantage is the lack of email notifications for winners, so you have to contact them on your own.
Rafflecopter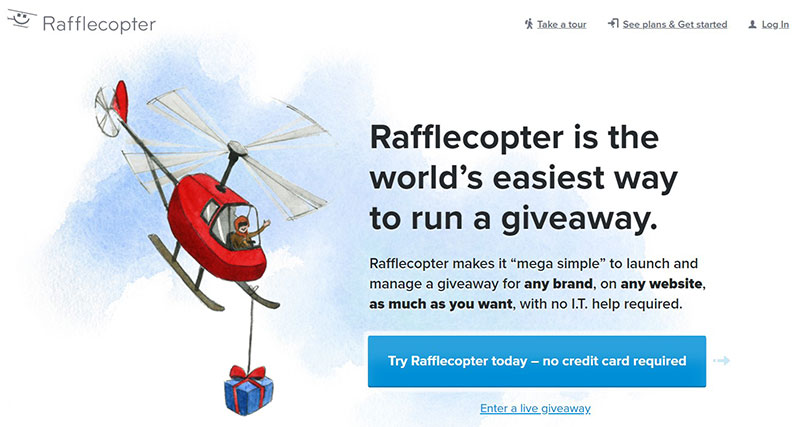 This popular, simple but effective app lets you create various kinds of competitions, including raffles and giveaways.
Using a code snippet, a contest is added to your site which can also be integrated into your social media profiles. It works with multiple mailing platforms, which will help you increase your emailing list very easily.
This plugin includes multiple customization options such as backgrounds and custom images.
Contests Plugin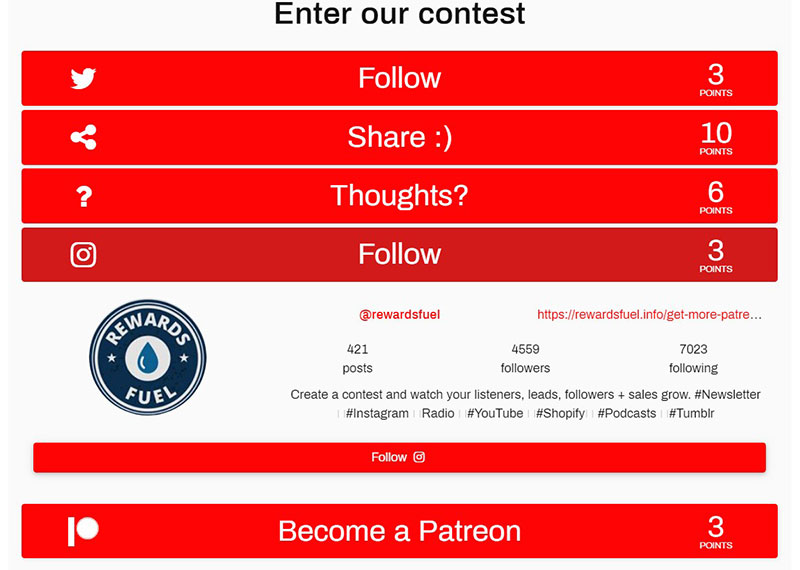 This plugin offers very good social media integration which will make your contests viral. It is an engaging contest plugin that will offer your users a higher chance of winning if they fulfill certain conditions.
It is a very nice plugin for sharing contests on your social media. Your users will stay engaged with the various tasks of the contest and you can share it on Instagram, Facebook, or Twitter. Both the free and premium versions have multiple possibilities.
Image/Video Contest Generator WordPress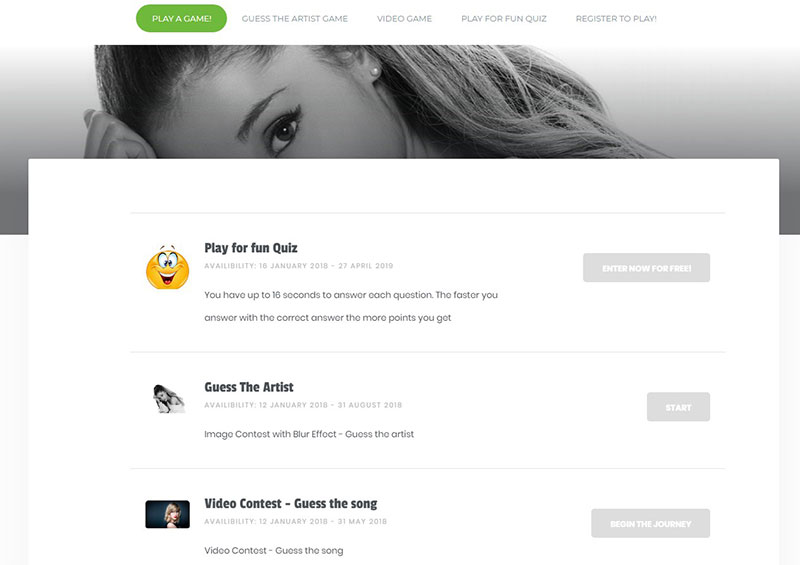 The main advantage of this WordPress plugin shines as it enables you to host both video and image contests as well as to add high-resolution images and videos. Also, there are many options to edit your contests and share them on social media.
FAQ on WordPress contest plugins
How do I choose the best WordPress contest and giveaway plugin for my website?
When it comes to selecting the right WordPress contest and giveaway plugin, it's all about your specific needs. Start by considering your goals, like lead generation or engagement.
Think about features like sweepstakes management, social sharing, and GDPR compliance.
Take a look at popular options like WooCommerce giveaway extensions or contest analytics tools. Reading reviews, seeking recommendations, and trying out a few options is the best way to decide which plugin aligns with your vision.
What are the key features I should look for in a WordPress contest plugin?
You want a WordPress contest plugin that covers your bases.
Look for features such as participant tracking, bonus entry options, social media integration, and user engagement tools. GDPR compliance is essential, as is the ability to create stunning contest templates.
Make sure it's easy to manage entries and pick winners randomly. Customization and seamless integration with your existing website are also critical for a successful giveaway.
Are there any free WordPress contest and giveaway plugins worth trying?
Absolutely! If you're on a budget, you can find some awesome free contest and giveaway plugins for WordPress. Consider options like WP freebies distribution or sweepstakes software for WordPress.
While they may not have all the bells and whistles of premium plugins, they can still help you run engaging contests and giveaways. Just be sure they meet your core requirements and offer the features you need.
What's the importance of GDPR compliance when running contests and giveaways on WordPress?
GDPR, or the General Data Protection Regulation, is a crucial consideration. When you're collecting user data, you need to ensure it's done in compliance with data protection laws.
Look for plugins that offer GDPR compliance features to help you manage personal data, inform participants about data usage, and give them control over their information. Staying on the right side of data privacy regulations is essential for your website's reputation and legal standing.
Can I use WordPress contest plugins with my WooCommerce online store?
Yes, you can! WooCommerce giveaway extensions can be a game-changer for your online store.
They seamlessly integrate with your e-commerce site, allowing you to run contests and giveaways that boost customer engagement and sales. You can offer free products, discounts, or other incentives to your customers, driving more traffic and sales.
These plugins provide a powerful way to enhance your online store's marketing efforts.
How can I make my WordPress contest or giveaway go viral on social media?
Going viral is the dream, right? To achieve this, make sure your WordPress contest and giveaway plugin includes social share options. Encourage participants to share the contest on platforms like Facebook, Twitter, and Instagram.
Use engaging visuals, captivating captions, and irresistible prizes to entice sharing. Influencer partnerships can also help spread the word. The more shares you get, the wider your contest's reach, increasing its chances of going viral.
What are the best practices for increasing user engagement in WordPress contests and giveaways?
User engagement is key. To enhance it, create a seamless experience for participants with features like bonus entry plugins and interactive giveaway tools. Keep the process simple and enjoyable.
Regularly update participants on the contest's progress and maintain an open line of communication. Respond promptly to their inquiries and feedback. The more engaged your audience is, the more successful your contest or giveaway will be.
How can I track and analyze the performance of my WordPress contest or giveaway?
Measuring your contest's success is vital. Look for a WordPress contest plugin that offers robust contest analytics. Track metrics like participation rates, referral sources, and conversion rates.
Analyze which aspects of your contest or giveaway worked well and which areas need improvement. Use this data to refine your future strategies, ensuring each campaign is better than the last.
What are some creative ways to use WordPress contest and giveaway plugins to boost my website's growth?
Think beyond the basics! Use your plugins to run WordPress referral contest systems to encourage participants to refer friends. Consider organizing event-based giveaways tied to specific occasions or holidays.
You can also use contests to gather valuable feedback from your audience, helping you improve your website or products. Get creative and explore unique ways to use these tools to fuel your website's growth.
Can I integrate email collection into my WordPress contest or giveaway for future marketing campaigns?
Absolutely! Email collection contest plugins are an excellent way to build your email list. Encourage participants to provide their emails as part of the entry process.
Ensure that participants understand how their data will be used and provide an option to subscribe to future updates. This way, you can nurture these leads and include them in your future marketing campaigns, turning contest participants into long-term, engaged customers.
If you enjoyed reading this article on WordPress contest plugins, you should check out this one about WordPress Google reviews plugins.
We also wrote about a few related subjects like WordPress button plugin, WordPress team plugin, SoundCloud WordPress plugin, WordPress media library plugin, WordPress file upload plugin, and WordPress news plugin.