Downloading a WordPress news plugin can make starting up a news website easier than ever before.
WordPress news plugins are the best option, because they provide a sleek layout, and display news right on the homepage.
With WordPress news plugin you can create a news ticker, feature top stories, and be listed on Google News. Add a reel to feature specific site content, or add products for an e-commerce store.
WordPress News Plugins
There are plenty of plugins to choose from, and this article will discuss the best premium, free, and freemium plugins available. Premium plugins remain affordable and have several advantages, such as being able to show news posts and include a page builder.
Keep reading in this article created by our team at wpDataTables to discover the best WordPress news plugins.
Epic News Elements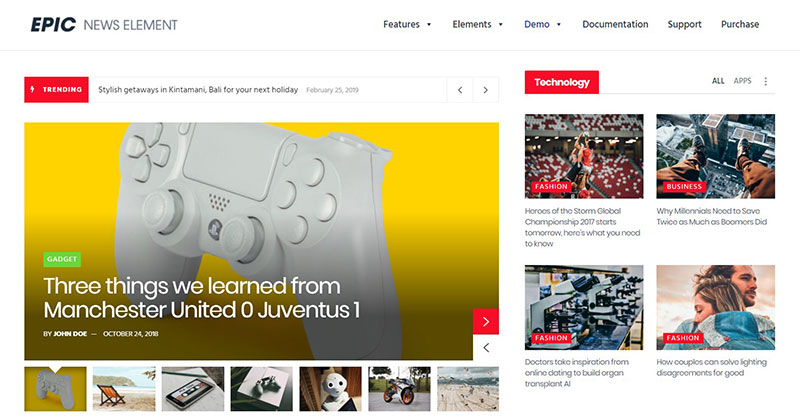 Epic News Elements is a fantastic WordPress article plugin to turn your site into a stylish website.
It comes with over 70 easy-to-use elements. These include post carousels, post grids, and sliders. Integrate it with the WPBakery and Elementor page building plugins to enable these features.
If you already use Elementor on your site, downloading Epic News Elements gives you 70 more elements to use. This is a premium plugin with a shortcode generator, eliminating the need for a page builder.
WP News and Scrolling Widgets Plugin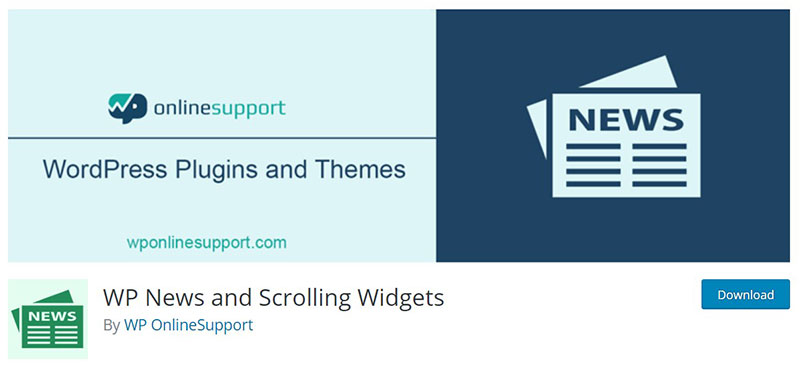 WP News and Scrolling Widgets is a great WordPress news widget. This plugin, will enable you to create custom posts and add a news section. It includes a custom shortcode and can be used with the Gutenberg shortcode block to easily customize the news section.
WP Latest Posts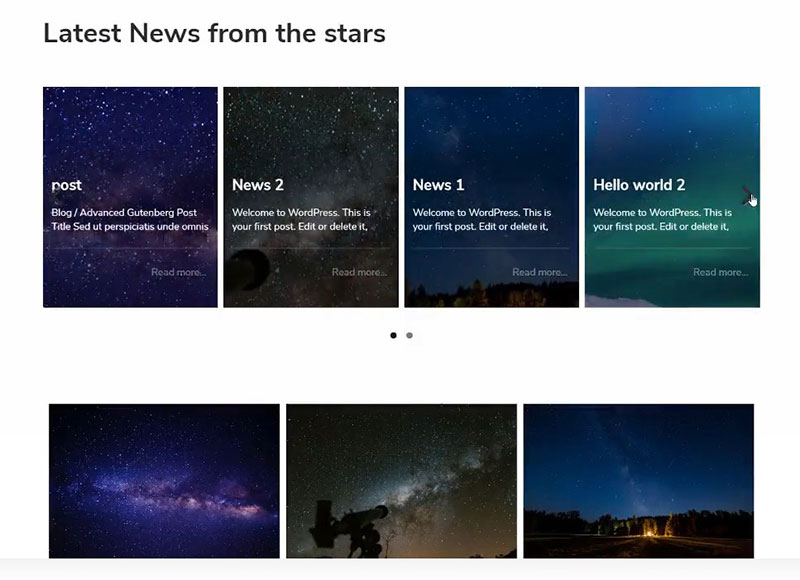 A marvelous news plugin for WordPress is WP Latest Posts that enables you to filter pages and posts to show as news on the site. It offers 6 beautiful themes that will suit your site.
It has automatic animation features, and can transfer content from a site to a slider. WP Latest Posts can show or hide elements as you please. The option to optimize images will reduce the time it takes to load the page. Use it with Gutenberg editor and create your own custom block for news.
Financial News Headlines

Financial News Headlines provides a news plugin with clean code and is quick to install. It is a WordPress articles plugin that's extremely simple to set up. It takes the latest headlines from different companies and puts them on your own website. It is an incredibly popular WordPress plugin because it is so well supported by sources like Seeking Alpha, Yahoo Finance, and Financial Content.
It comes with 6 templates to design your site perfectly. It can be used with unlimited news widgets. If you have enough time and financial resources, you can go ahead and create a news website that would cover everything: from politics to sports.
News Announcement Scroll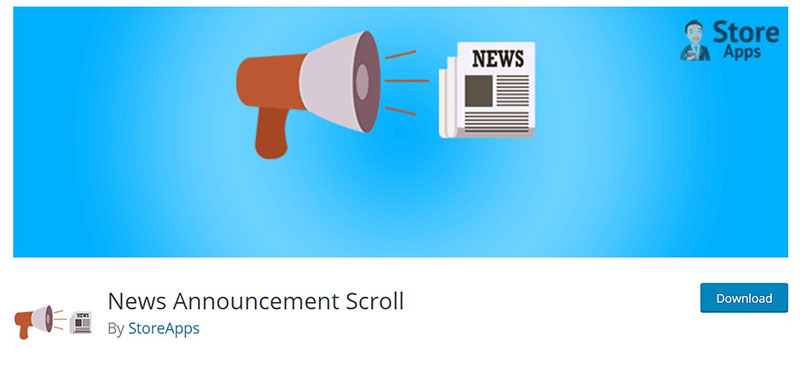 One of the best free WordPress news plugins is News Announcement Scroll. It displays vital announcements and events to your audience. It comes complete with a news scroller that will update your readers on what's happening on your site. News Announcement Scroll offers the option to add a link to the news. Also, it can share sale announcements, blog updates, and offer updates.
Vertical News Scroller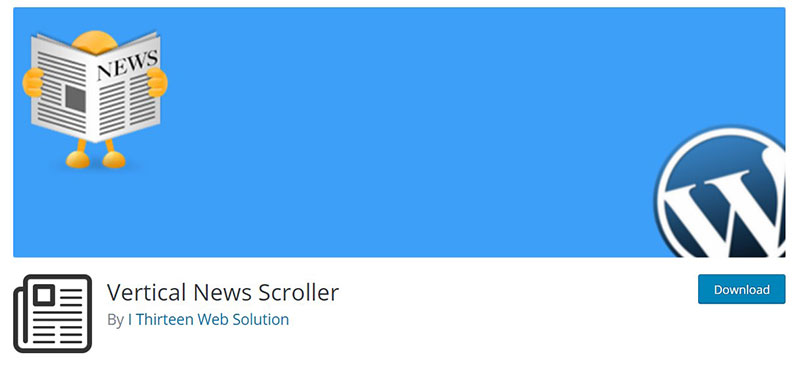 A great vertical news layout can be difficult to find. Yet Vertical News Scroller offers an exceptional vertical layout for any website. This news plugin is fully customizable by having the option to add new posts or edit and delete old ones. Show the title either with or without a caption.
If you need even more functionality, you can opt for the premium version. The free version, however, offers plenty of features.
Simple News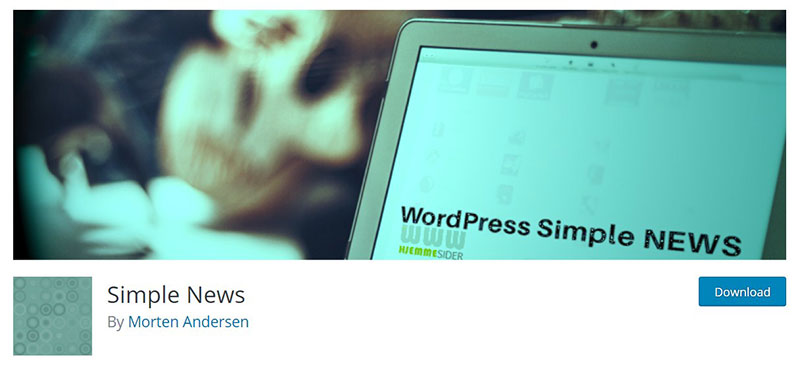 Simple News WordPress plugin is an extremely easy solution for news articles in a list format. It is lightweight and helps to create news post types. Publish and edit news articles just like any other post using the dashboard.
It includes a settings menu where you can edit image sizes, and change the CSS for how the news items appear. It has custom shortcodes, along with widgets that show the news on posts, pages, and a footer.
Ditty News Ticker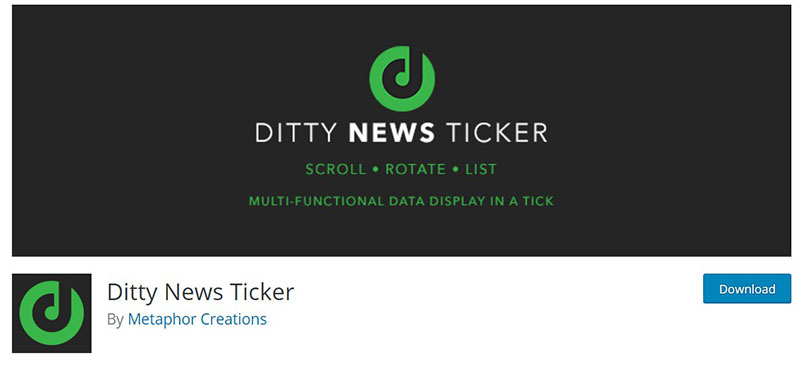 Ditty News Ticker is a multi-functional plugin that can create unique news tickers via widgets or shortcodes.
It comes preloaded with 3 modes of tickers: list mode, rotate mode, and scroll mode. It has a premium extension that can be added to receive news from RSS Feed, Twitter, Instagram, or Facebook.
WP News – WordPress News / Magazine Plugin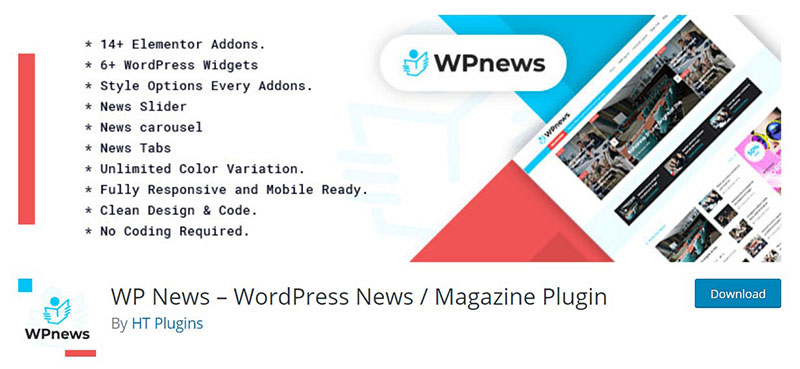 WP News is a useful WordPress news page, which creates a completely professional looking site using WordPress. WP News contains a news hero slider, custom styles, and widgets. You can also download an add-on for Elementor.
It's compatible with the newest version of WordPress. Download it from WordPress's official site or find it on your WordPress Dashboard.
Worldwide Breaking News Headlines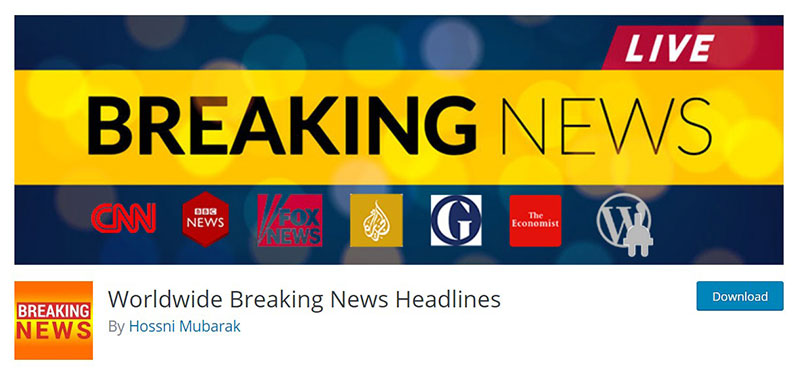 Worldwide Breaking News Headlines takes news headlines from around the world to display them on your page. It takes them from the most famous broadcast sites. Some of the sources it uses are CNN, The Economist, Fox News, and NBC News.
There is a free version available that loads quickly and is very responsive. Regulating how many news items showed in each section is made easy with Worldwide Breaking News Headlines. This plugin is simple to activate, install and set a custom title for the widget, and integrates perfectly with WordPress.
The premium version offers countless more features. The free version limits you to accessing headlines 15 minutes after the release, as well as limiting you to only 1000 open requests daily for this API key.
WP Easy News Scroller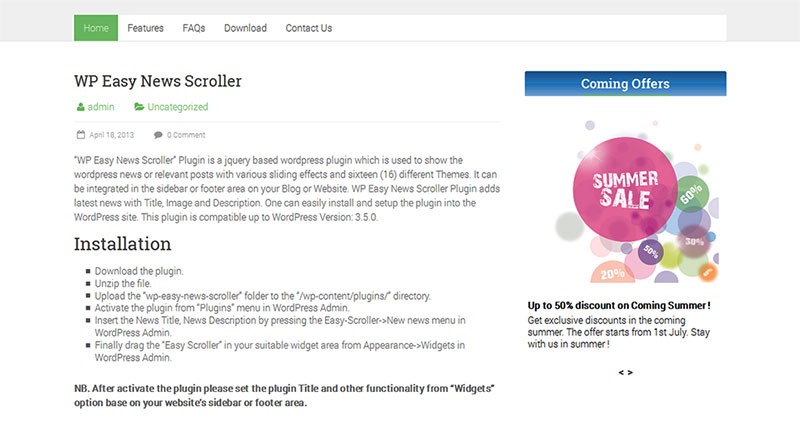 WP Easy News Scroller is a wonderful WordPress news plugin. Use it for news on a WordPress site or to add posts with impressive slider effects. The setup and installation process is very quick to add to a WordPress website. It's great for using in the footer or sidebar of your site.
This plugin provides a visual editor to help make your site look exactly how you want it. Then add in the latest headlines, with a description and image. It is flexible and can easily pair with other WordPress plugins.
Live News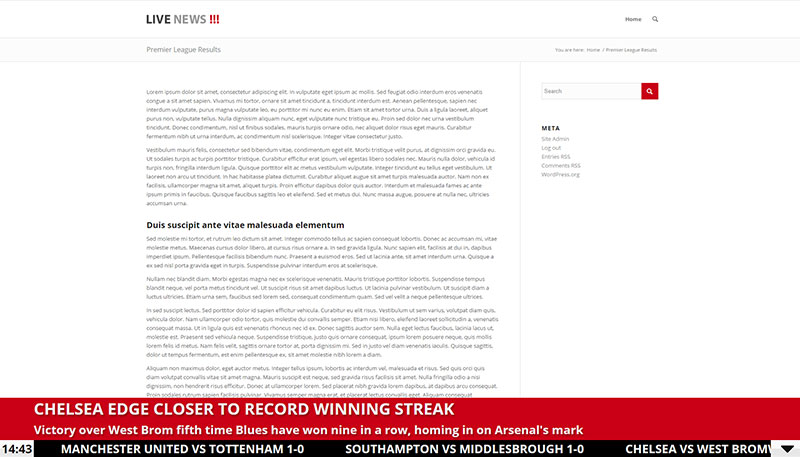 Live News helps you create an impeccable news ticker; a great addition to any website. It is a premium plugin that is completely customizable. Use the customization features to fit this plugin to your site flawlessly.
Add brand colors, change the font size or type, and choose where you want the ticker to be placed. Articles are set to automatically scroll over the header and/or footer of your WordPress site, you can also choose the scroll speed.
News & Blog Designer Pack for WordPress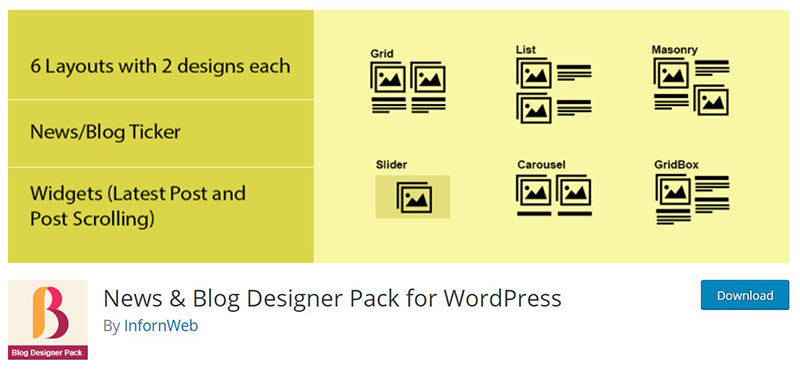 News & Blog Designer Pack is an all-inclusive plugin, that will help you craft a completely responsive blog or news post.
It supports the visual composer page builder, allowing you to make custom pages for your site. Configure each section of this plugin to suit your own style. News & Blog Designer Pack for WordPress offers a free version and a pro version. The pro version includes more features.
XML Sitemap and Google News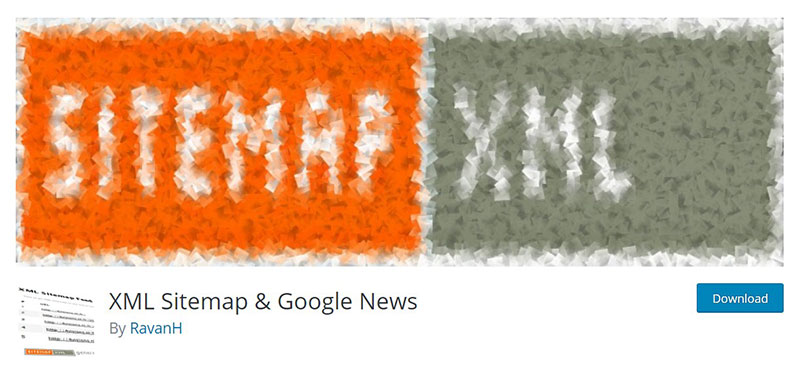 XML Sitemap and Google News are an advanced plugin to display the news. These feeds function dynamically with Google News sitemap and XML sitemap.
It works beautifully with many other WordPress plugins and can create fully custom feeds to suit your website. It is compatible with caching plugins for WordPress, which in turn aids in a fast site.
Newsomatic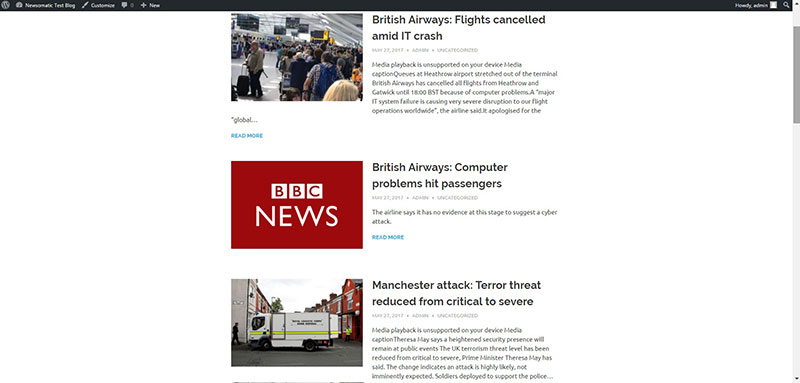 Newsomatic is a plugin that enables to design animated news feeds in just minutes. It is an add-on where the News API provides the content. It's perfect for blogging and automatic content publications. It will generate posts, but those can be customized.
Choose one of these WordPress news plugins and you'll have a fantastic news site.
If you enjoyed reading this article on WordPress news plugins, you should check out this one about WordPress google reviews plugins.
We also wrote about a few related subjects like WordPress file upload plugins, WordPress media library plugins, SoundCloud WordPress plugins, WordPress team plugins, WordPress button plugins, WordPress booking calendar plugins, and WordPress contest plugins.