No matter what type of table you're making, WordPress can be a difficult site to use, especially if you don't have HTML experience. However, it is essential that you find WordPress table plugins that work for you.
When you're looking for a WordPress table plugin, it can be overwhelming. Often a popular choice is that of the Tablepress plugin. It can seem like the best option with its huge customer base (over 800 thousand websites use it) and its fancy name. With both Table and WordPress combined, it would seem ideal.
Nevertheless, Tablepress is not the only option, nor is it the best one. If you want beautiful and responsive tables, you can find better options. Here are some Tablepress alternatives.
wpDataTables: the best TablePress Alternative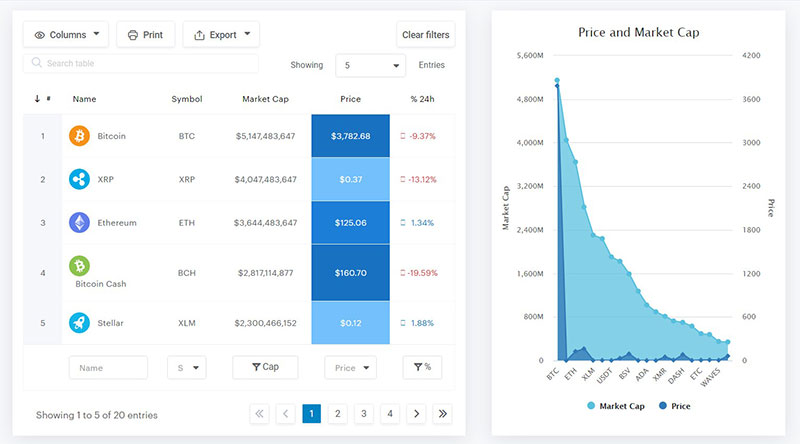 wpDataTables is the #1 WordPress table plugin. It allows site owners to build responsive tables, among other types of tables and charts.
And it's really easy to create a table:
You provide the table data
Configure and customize it
Publish it in a post or page
This table plugin allows you to seamlessly import data from a wide range of sources, including Google Sheets and Excel, as well as CSV, XML, and JSON files.
In addition, this WordPress table plugin includes a number of other common useful features that are frequently found within spreadsheet applications.
A few of the advanced features include:
The list of features for wpDataTables is insane. You should check out the features page that the table plugin has.
And here are some of the interactive tables you can create with it
You need to have a look at some of the other tables from the showcase section.
Statistics Tables with Charts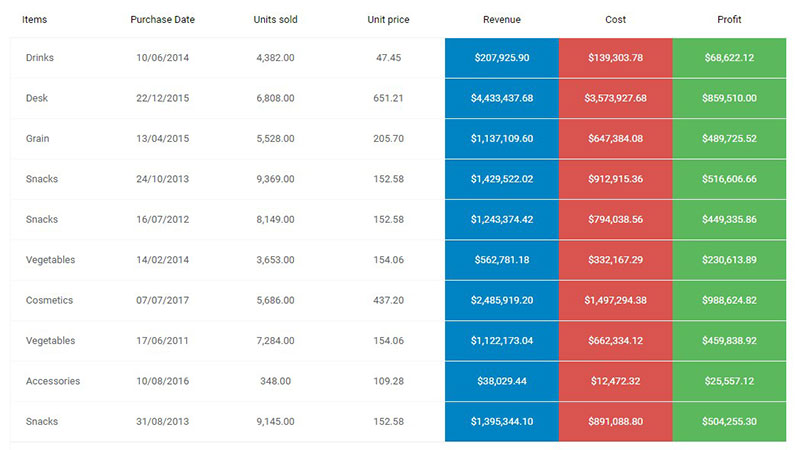 wpDataTables is used to generate a graphic representation of statistical data as charts.
Cryptocurrency Rank Table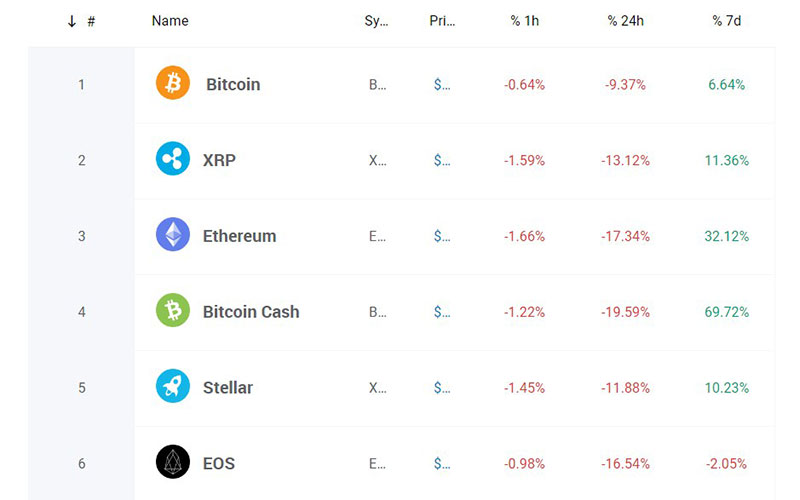 In this example, cryptocurrencies are ranked in a table using wpDataTables. You can add this type of crypto table to your site with a few tweaks.
Online Laptop Catalog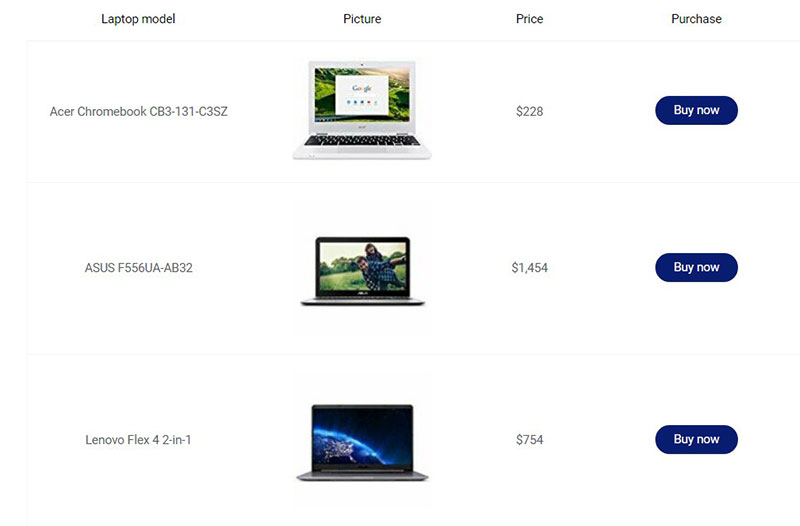 This table can be used for product comparison. For example, if you have a WordPress site where you are presenting and promoting products, the table can display the characteristics of the most popular products.
Financial Reports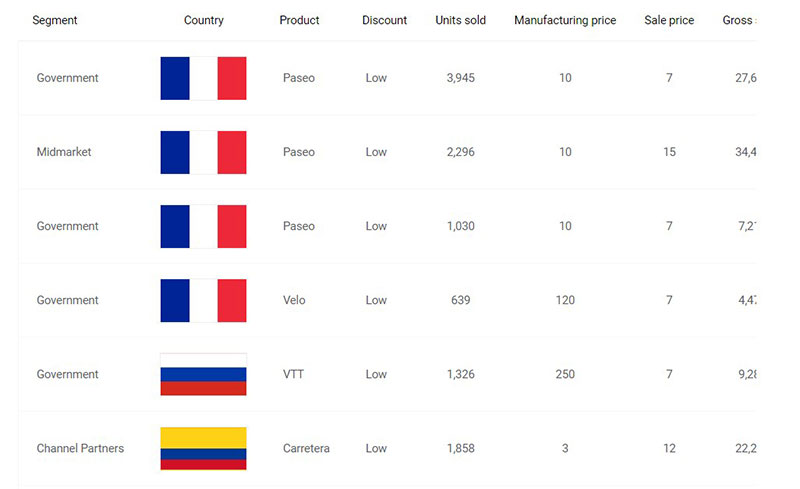 The plugin is used to create a table that shows financial data per country. Obviously, it can be adapted to presenting different types of financial data.
Book Catalog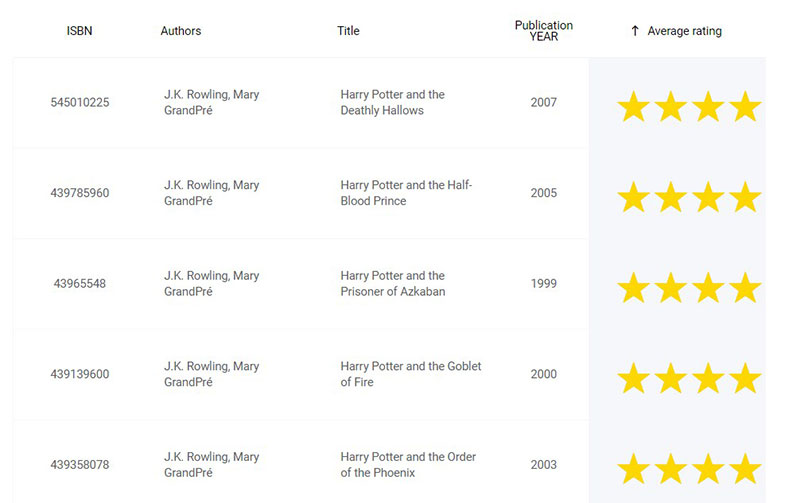 This table style works well for an affiliate site or an online book store.
Mutual Funds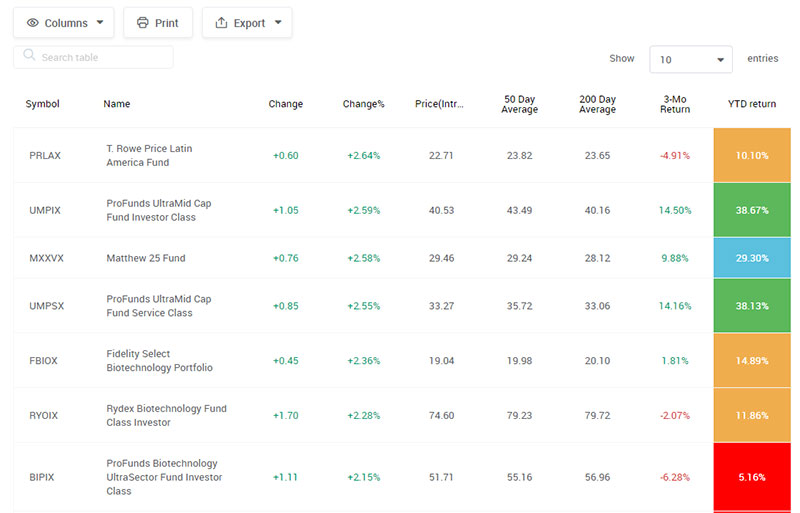 wpDataTables can create a list of mutual funds, sorted by performance.
Catalog of Drivers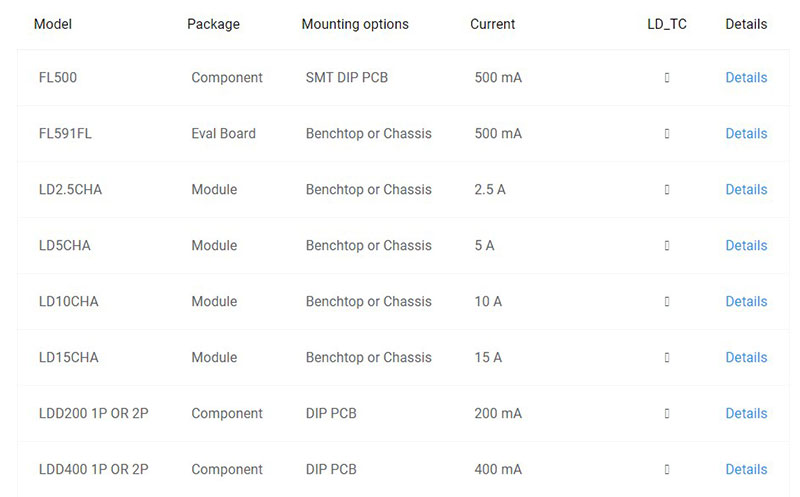 wpDataTables is used to show driver configuration.
Oh, and after all those table examples that you saw, it's worth mentioning that you can also convert the data from your tables into interactive charts.
For your charts, you can use the Google Charts rendering engine, if that's the one you're used to. However, you can also use other chart types like the Highcharts library, ApexCharts, or Chart.js.
If that didn't convince you to try wpDataTables, you can check out the other WordPress table plugins from this article.
WP Table Builder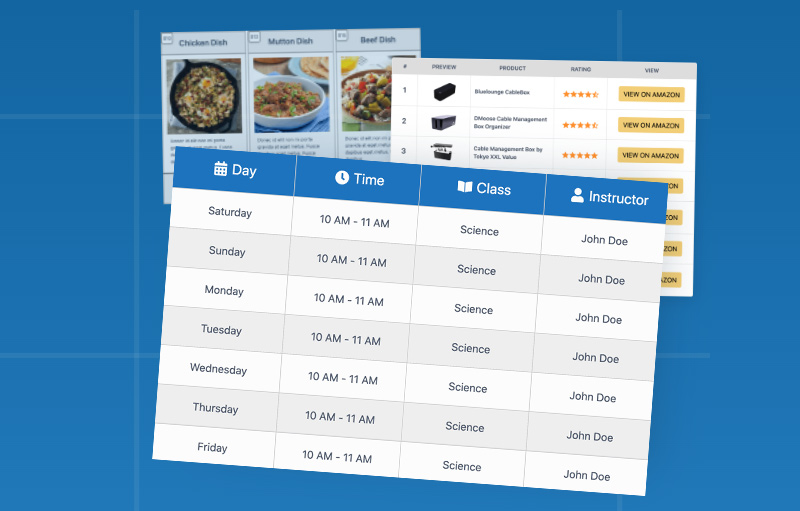 WP Table builder is a drag and drop table plugin that makes table creation very easy. You can either import data from CSV or XML files, or create data from scratch. You can export tables with either CSV or XML as well. You can place your data tables on pages or posts with a simple click.
Currently, WP Table builder offers 12 separate elements. These include text, image, list, button, star rating, custom HTML, shortcode, circle rating, icon, ribbon, styled list, and text icon. With these features, you can easily make beautiful and dynamic tables.
It also comes with a mobile option so you can create appealing tables for all devices.
Ninja tables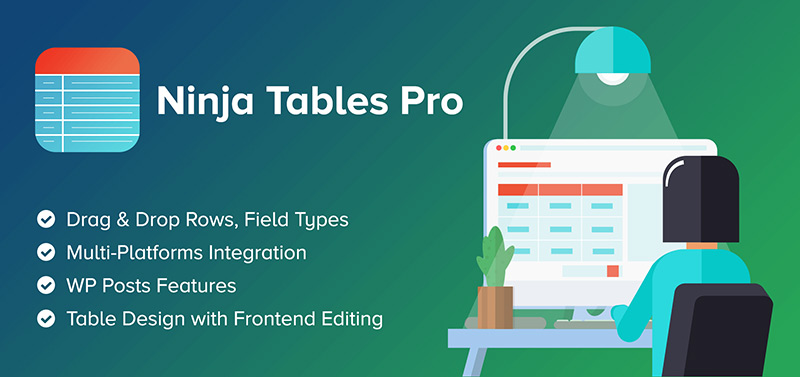 Ninja tables is a powerful WordPress table plugin. It has over 100 table styles and unlimited color schemes. It even includes three of the most popular CSS libraries on the market. It's SEO friendly, so the contents of your tables will appear in people's search bars or engines.
It has a fixed layout that features hover rows, and striped rows. It also has a host of table templates like data tables, foo tables, and bordered tables. You can also import data from other table plugins, and export tables in CSV or JSON formats.
The best feature of Ninja tables is its straightforward styling system. Ninja table's styling system is one of the best on the market. This means that if the aesthetics of your table is important this table plugin is an excellent choice.
WP Table Manager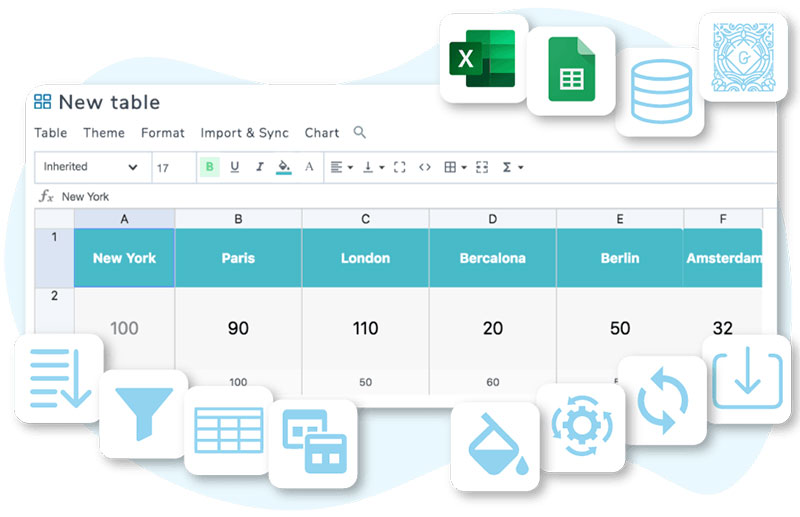 Rather than focus on table creation, WP Table Manager focuses on the accessibility of your tables. It creates a spreadsheet interface that can help manage tables.
With its many pre-built style themes you can create tables that are both dynamic and beautiful. You can decide to use any of the six distinct table templates. For example, to make a changeable data table, you can select the planning table and select the value you want to change.
WP Table Manager also allows table copying, which means you can copy and create tables with ease. You can also alter the colors of the rows and columns of your table.
You can also integrate WooCommerce, Page builders, or any other plugins that you want. Once integrated, you can import data from any of your created tables t into any of these other plugins.
TableGen

The TableGen plugin allows you to create tables rapidly via the WordPress dashboard or import a new table from a CSV file. The interface of the free version may be lacking, but the premium versions are fairly well priced.
The problem with this plugin is its lack of features. It is missing multiple important features compared to the already listed WordPress table plugins
However, it does come with some handy tools. You can generate HTML codes directly from within the admin panel, so you won't need to manually copy and paste anything into your website.
You can also choose between two different styles – one which uses CSS3 properties and one which relies on inline style.
Tablesome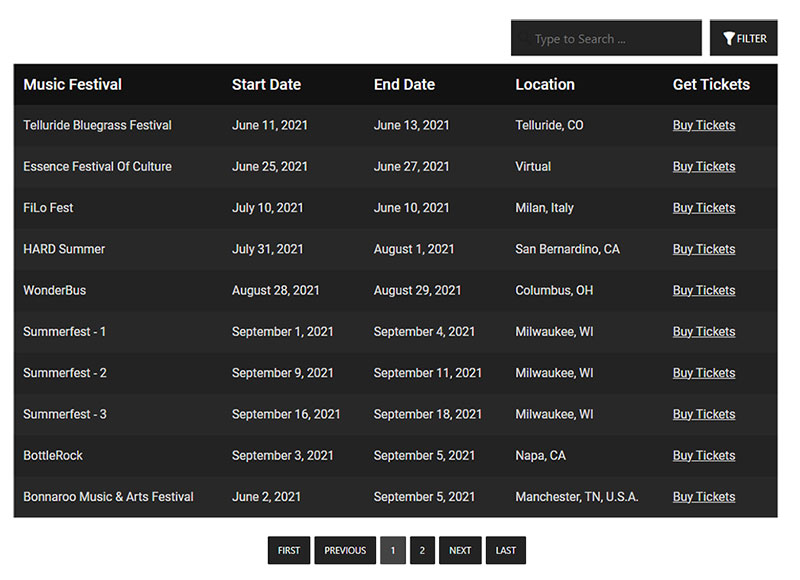 Tablesome is a very versatile WordPress table plugin that can create and manage any type of table. Some examples would be data tables, product catalogs, comparison tables, sports league tables, and so much more. It also comes with many of the keyboard shortcuts available in Excel or Google Sheets.
It has a simple interface allowing you to create tables with advanced styling options and responsive layouts. You can create tables with as many columns and rows as you want and use shortcodes to embed the table on any post.
Posts Table Pro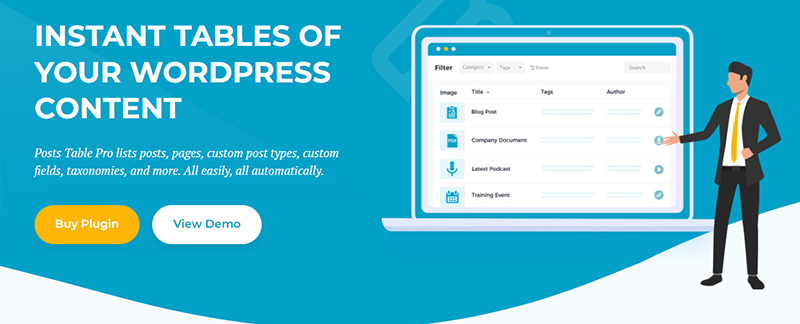 Posts Table Pro is different from the rest of these table plugins. You don't input data, instead, it generates tables posts, pages, or custom post types that already exist.
One of the best features of Posts Table Pro is its flexibility. It doesn't matter whether you want to edit your table for any of the other custom post types. An example of this isa table of downloadable documents in the document custom post type.
The Posts Table plugin is also great when it comes to media support. There are many options if you want to add audio files or other styles of media playlists.
The tables are generated with ease and can be managed from the front or backend of the site, depending on how hands-on you like to be when creating tables. You can even turn your tables into lists if you prefer.
League Table

League Table is a special type of table plugin designed for sports team rankings. Its main purpose is to display the current standings of teams in a league (hence the name, League Table). The League table plugin works perfectly for entering large amounts of data due to its simple and easy-to-use editor.
League Table is great at making responsive tables that can be easily used and edited, as well as creatingdynamic tables that change as you go. It has superb levels of customization, which allows you to display rankings exactly how you prefer. It's also multilingual ready, which means that your site can be enjoyed around the globe.
One downside of League Table is that all tables must be completely created inside of League Tables. It does not allow you to import tables from any other sources.
However, League Table is still very versatile, and it will do wonders for your league post, whether it's on a website or otherwise.
Data Tables Generator by Supsystic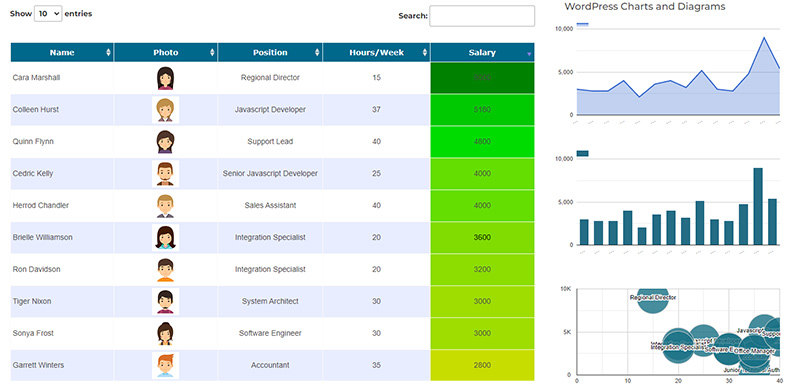 If you want a reliable paid/free plugin, Data Tables Generator by developer Supsystic is a good choice. This table plugin allows you to import data tables to your website and from there,edit, sort, and filter them. Data Tables Generator also specializes in mobile responsive tables, and also large amounts of data, and can manage thousands of rows and columns.
This table plugin includes features for adding colors and quality diagrams, graphs, and styles of charts.
You can also edit cells without using backend strategies. Simply click on the cell and edit the value.
Exporting and importing data is effortless with Data Tables Generator. You can import data from CSV, Excel, and Google sheets, and export it to CSV, PDF, XLS, and XLSX files.
Visualizer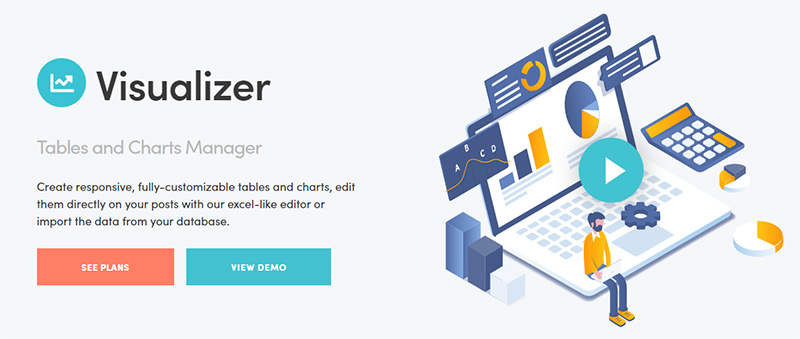 This table plugin has both premium and free versions, as well as a lite option on the WordPress plugin directory.
In their own words, the plugin uses Google Visualization API, DataTables.net, and ChartJS to add responsive and animated charts that are compatible with different browsers and devices.
Including an excel-like option in your WordPress blog is recommended, and Visualizer can work perfectly for this It's more focused on analytics and data tables, so if that is a priority this could be the best WordPress table plugin for you. One negative aspect of Visualizer is that its aesthetics are less attractive than others.
Supsystic offers a solution to WordPress's pricing tables. It is an alternative table plugin with some useful features. Some WordPress themes and page builders offer pricing tables, but if you need more, the Pricing Table by Supsystic plugin can help. Some of its features include:
Importing and exporting data from all of your tables.
Creating regular data tables with the plugin.
Gaining access to the CSS editor for full customization control over your tables.
Providing preset templates, support for unlimited columns and rows, and a layout for viewing on phones and tablets.
Kadence Pricing Table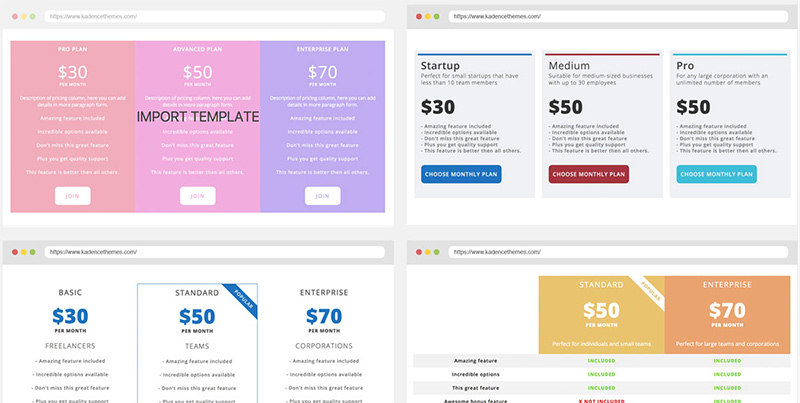 Kadence Pricing Table is a WordPress table plugin that specializes in custom pricing tables. Its intuitive user interface is uncomplicated and accessible with selectable fields.
You can choose between two different layouts; grid view and list view. Grid view displays each field horizontally while list view shows them vertically. Both of these are customizable, so you can change font sizes, borders, backgrounds, and more.
Which One is the Best of these Tablepress Alternatives?
In conclusion, remember that all these alternative Tablepress plugins can greatly assist table functionality on your WordPress site. Depending on your table preferences, all of these work well. wpDataTables is highly recommended. Its many features make it one of the best WordPress table plugins, and one of the best Tablepress alternatives on the market.
If you enjoyed reading this article on Tablepress alternatives, you should check out this one on creating a Google Forms results graph.
We also wrote about a few related subjects like how to create a survey table with wpDataTables and Forminator, how to design a table, how to create a heatmap table with wpDataTables, DataTables alternatives, JavaScript table libraries, and WordPress pricing table plugins.