You don't have to be an analyst to be able to include data on your website and in your posts. Adding WordPress charts to your website adds credibility to the information you are sharing. Visual representations are also an important way to complement written reports and illustrate the information you are sharing. There are excellent data visualization tools that enable you to easily add charts, graphs, and tables to WordPress.
These tools can help even the most inexperienced person to assess the data and draw conclusions that are supported by statistics. It is easy to create these visual representations using a WordPress chart plugin or a graph plugin. Plugins can help to streamline and virtually automate the process of generating graphs, charts, and tables.
This article will provide a list of the best chart plugins available for WordPress, and include details about how to use them and what superior features certain plugins offer.
While many offer the same standard features, certain WordPress chart plugins are purpose-built to accomplish certain tasks. As you'll see, you can choose a very basic plugin for beginners or an advanced plugin with many customization options, and everything in between.
WordPress Charts Plugins
wpDataTables
Easy Charts
Responsive Charts
Charts Ninja
WP Responsive Table
League Table
TablePress
Visualizer
CSS3 Responsive WordPress Compare Pricing Tables
Data Tables Generator
Google Chart WordPress Plugin
iChart
M Chart
WP Business Intelligence
Premium Charts for Elementor
amCharts: Charts and Maps
Inline Google Spreadsheet Viewer
Now let's look at them in detail.
wpDataTables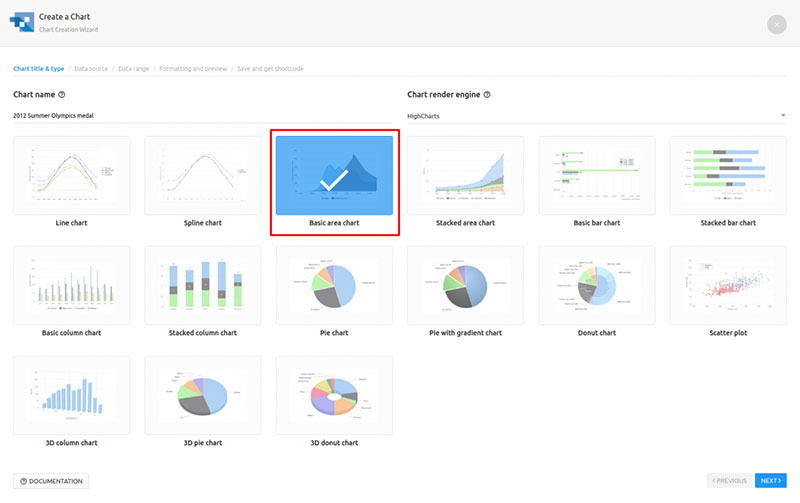 wpDataTables is the #1 WordPress table and charts plugin. It allows site owners to build responsive tables, among other types of tables and charts.
And it's really easy to create a table:
You provide the table data
Configure and customize it
Publish it as a table or chart in a post or page
This WordPress chart plugin allows you to seamlessly import data from a wide range of sources, including Google Sheets and Excel, as well as CSV, XML, and JSON files.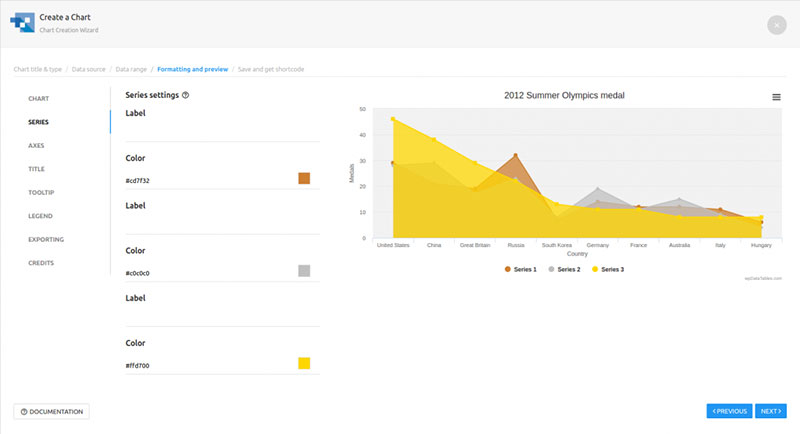 In addition, this WordPress table and chart plugin includes a number of other common useful features that are frequently found within spreadsheet applications.
A few of the advanced features include:
The list of features for wpDataTables is insane. You should check out the features page that the plugin has.
Here's a video on how to use Google Charts in WP with the help of wpDataTables:
We have similar guides for Highcharts and Chart.js.
And here are some of the unique charts you can create with it (Google Charts examples below)
Google Column Chart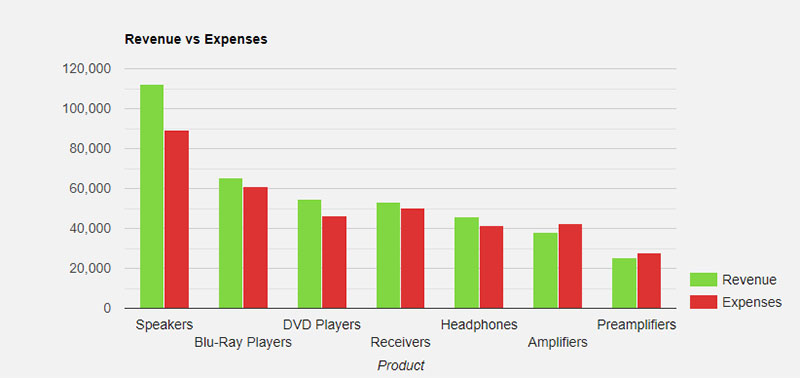 Column chart is a basic chart where series are rendered in simple vertical columns.
Google Histogram Chart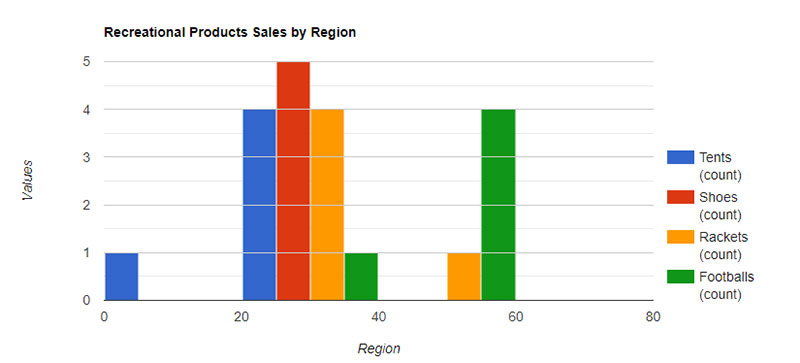 As Google explains: A histogram is a chart that groups numeric data into bins and displays the bins as segmented columns. They're used to depict the distribution of a dataset: i.e., how often values fall into ranges.
Google Area Chart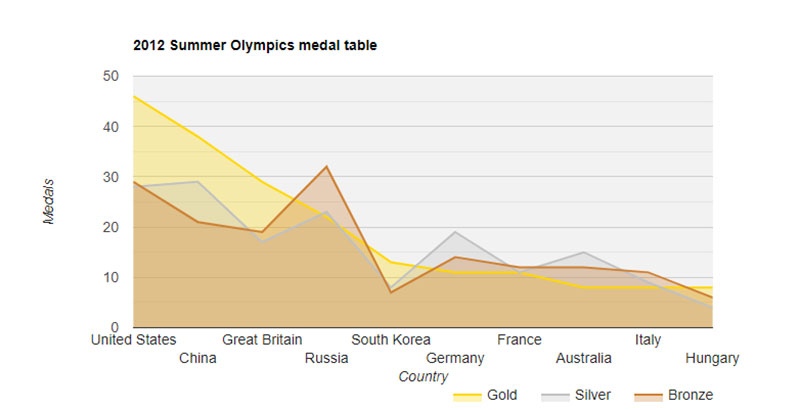 An area chart is similar to a Line chart, but the area below a series line is colored.
Google Pie Chart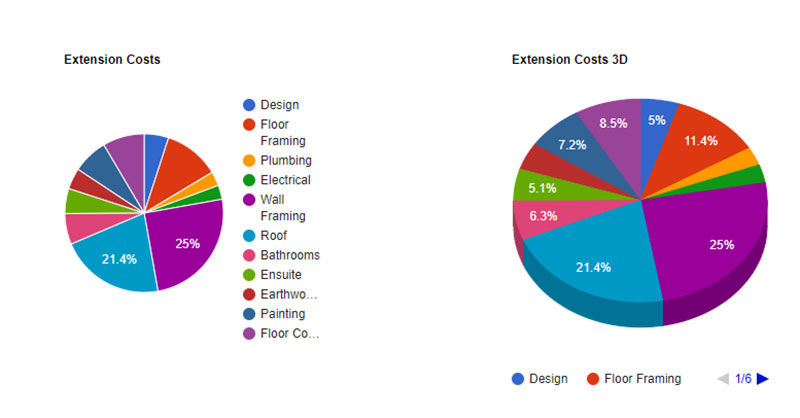 The Pie Chart renders the data in a "sliced pie" format, where each slice stands for one series entry(left pie chart).If you turn on option 3D, your pie chart will be drawn as though it has three dimensions (right pie chart).

This chart type is similar to a basic bar chart, but the series values are "stacked" to the right of each other in the horizontal bars.
Google Bar Chart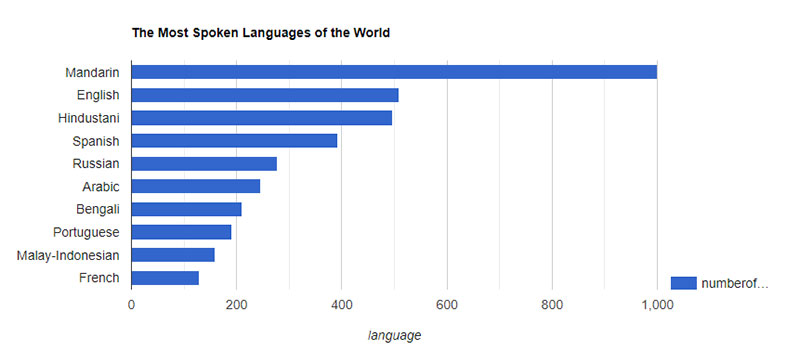 And lots more. You can check them out on our Google Charts examples page.
If that didn't convince you to try wpDataTables, you can check out the other WordPress chart plugins from this article.
Easy Charts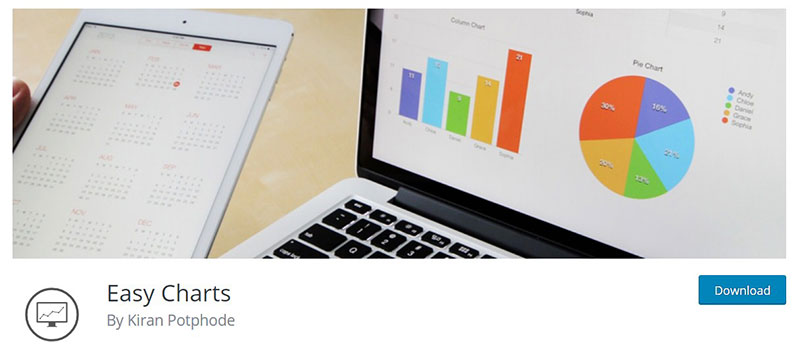 The free EasyCharts plugin is developed with the uvCharts Javascript library. It has twelve different chart types available:
Bar chart
Stacked bar chart
Step up bar chart
Percent bar chart
Area chart
Stacked area chart
Percent area chart
Line chart
Pie chart
Doughnut chart
Polar area chart
Waterfall chart
Data is added to a table that can be customized to suit your needs. It is easy to add columns and rows depending on the data set you wish to display.
Once your data is in the table and you're ready to create your chart, EasyCharts provides an impressive number of customization options. You can customize just about everything, including styling, margins, labels, typography, and captions.
There are also a few ways that you can add the WordPress chart to your website. One way is by using the shortcode that is automatically generated in EasyCharts. Another way is to use the EasyCharts button in the WordPress editor page, which allows you to choose the chart you'd like to insert. Finally, the information page in EasyCharts allows you to download the chart as an image, which you can then insert into your page.
Responsive Charts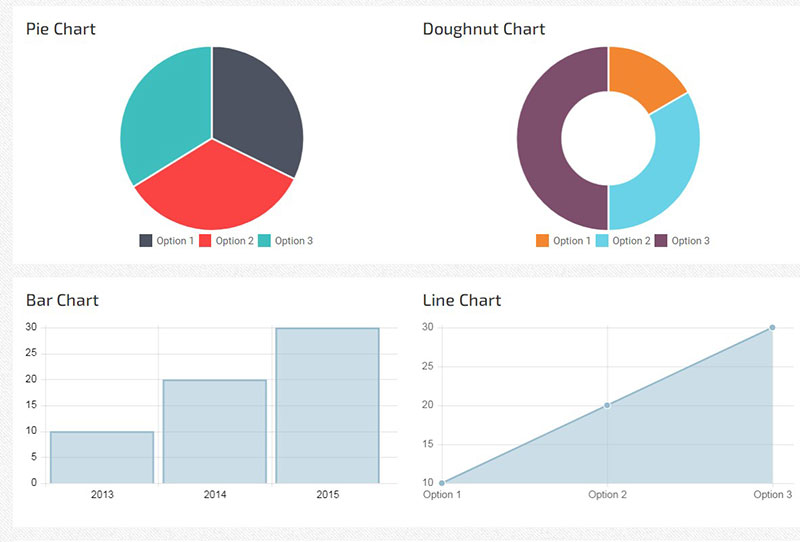 Responsive Charts is an affordable solution for generating interactive WordPress charts. It utilizes charts.js to generate the chart of your choosing. There are seven types of chart options included:
Radar chart
Bootstrap progress bar
Doughnut chart
Pie chart
Bar chart
Polar chart
Line chart
You can add your data manually and save different data sets at the bottom of the page. Alternatively, you can import a CSV file with your data. From there, you will choose which type of chart you would like and then customize it, including naming it, defining the width of the chart, padding, colors, typography, and margins.
Once you are happy with your chart, you can embed it into your WordPress site. Responsive Charts generates a shortcode that you can insert into your page. Alternatively, it can be added through PHP as a custom page template.
One of the disadvantages of Responsive Charts is that you cannot see your changes in real-time. You have to copy and paste the updated shortcode into your page and preview your page in order to see how it looks each time you make a change. The other drawback is that there is no free version of this WordPress chart plugin, only a premium paid version. However, it is a good option for visualizing large amounts of data with plenty of customizations.
Charts Ninja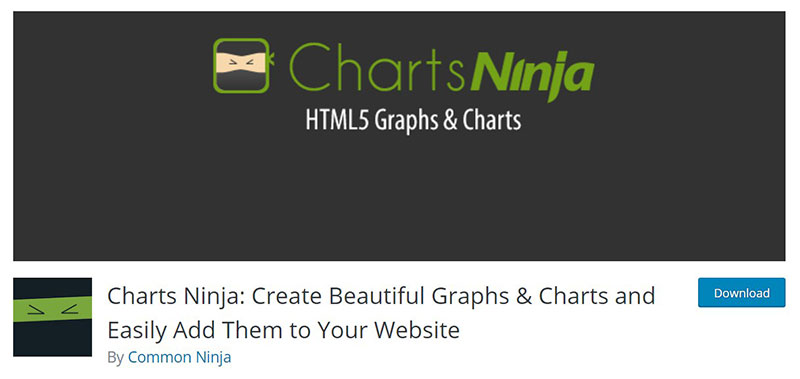 Charts Ninja is a free website for the creation of WordPress charts. After creating an account, you'll be able to enter your data into the website to generate a chart. The website will generate shortcode for your charts, which you will then add to the desired location on your WordPress site. The associated Charts Ninja plugin in WordPress is also free, which helps to convert the charts from shortcode into their visual representations.
Unfortunately, you will be limited to only bar charts and pie charts with a free account. There are also very few customization options. However, there is an option to pay $2.99 per month for access to more premium features, including additional chart types and customizations.
WP Responsive Table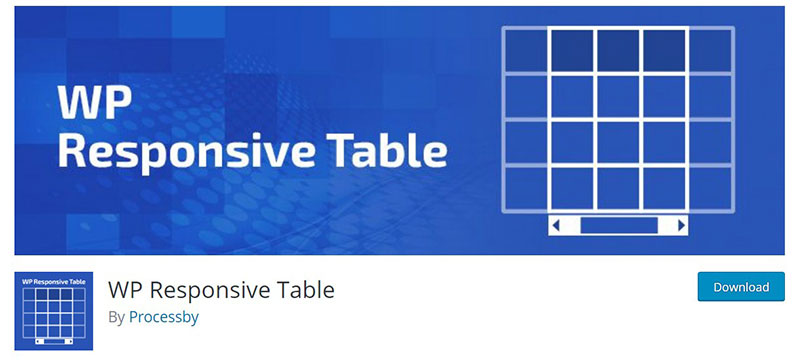 WP Responsive Table uses charts.js to create any of seven different types of charts:
Pie chart
Doughnut chart
Bar chart
Line chart
Radar chart
Bootstrap progress bar
Polar chart
It is an affordable WordPress charts plugin solution with a variety of styling options, including margins, padding, color schemes, typography, and more. The dashboard is responsive and can be scrolled horizontally, which is perfect for users with smaller screens or tablets.
You can add your data manually or by uploading a CSV file. WP Responsive Table has examples of CSV files and data templates, which will ensure that you can format your data efficiently before uploading it.
Inserting your WordPress charts into your website is also easy. Using the Classic Editor or the Gutenberg Editor in WordPress, you can use normal HTML to add the chart to your page, with no shortcode required.
League Table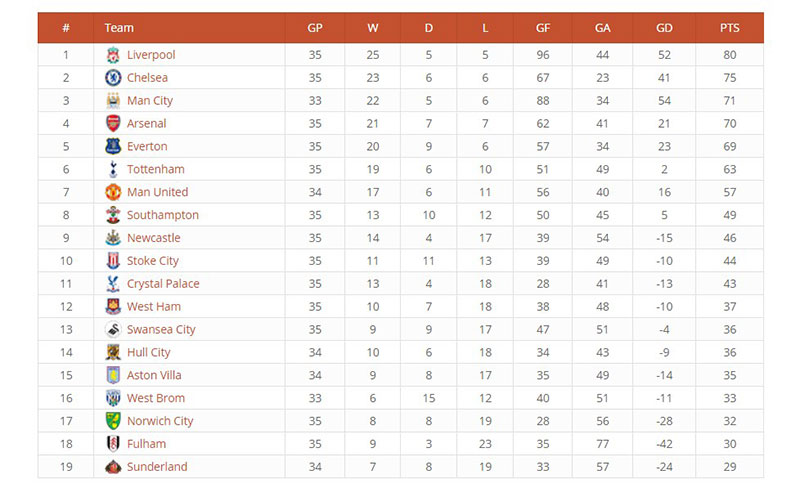 League Table is a relatively basic, but highly versatile, WordPress chart plugin. It is best for sharing statistics or doing a comparison in a simple data table. It also includes over 100 different table setting options, and can easily be customized to suit a range of needs.
The incorporated spreadsheet is interactive and allows users to migrate data from their external Excel or Google Sheets spreadsheet right into League Table. From there, the data can directly be manipulated, including using formulas or equations, sorting columns, highlighting cells, or even using custom code.
Users viewing the table on your site can also sort columns in order to view the data in a way that makes the most sense to them. Tables can be used across multiple sites and can also be multilingual.
TablePress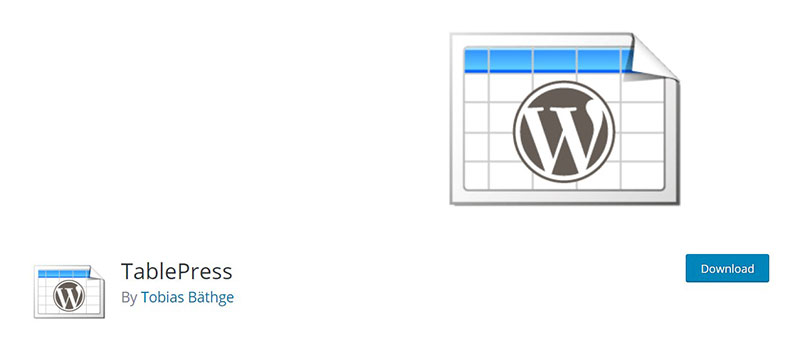 TablePress offers an interactive spreadsheet interface where you can manually enter the data for your table. In the spreadsheet, you can manipulate rows, columns, and cells by adding, deleting, combining, inserting, and duplicating them as you please.
To add a table, navigate to the TablePress interface and click on "Add New" and then select the "Table" option. On the right-hand side, you will see the chart data section where you can click on "Manual data" to manually enter your data into the table. You'll be able to customize your table by using CSS coding or choose from one of many free plugin extensions instead.
When you are ready to insert the table onto your site, copy the provided shortcode. Then, go to the page or post where you'd like the table to appear and paste the shortcode into the editor.
Visualizer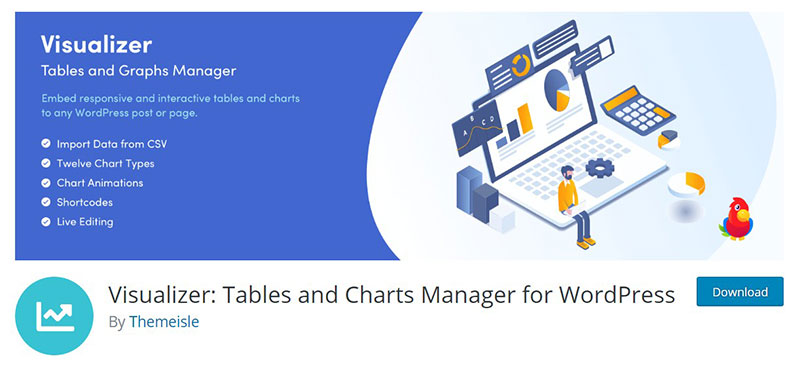 This WordPress chart plugin has both a free version and a paid pro version. The free version will be sufficient for most people. However, the pro version allows users to use an interactive spreadsheet interface to directly add and change data.
Visualizer is added to the Media Library in WordPress, where you can upload your data in a CSV file or an online directory, such as a Google Sheets spreadsheet. Compatible data types include: string, number, boolean, date, and time. You can then generate a chart that can be customized based on Google's Visualization API. It is possible to edit charts after they have been created as well as duplicate existing charts.
Finished charts are added to your WordPress page or post by inserting the provided shortcode.
CSS3 Responsive WordPress Compare Pricing Tables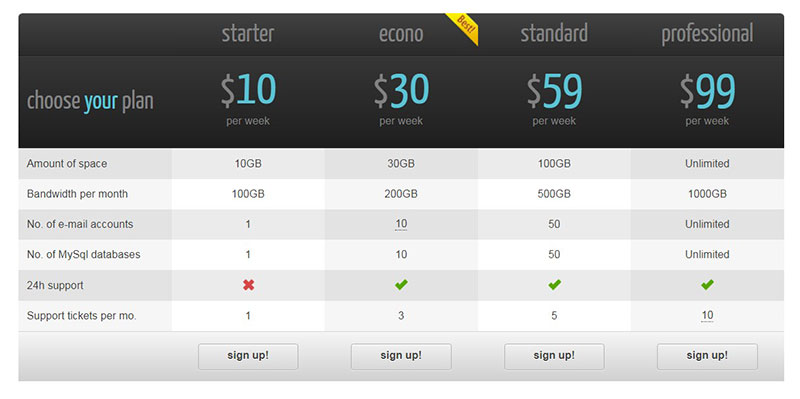 If your business offers different levels of pricing for memberships or if you want to create comparison charts, then CSS3 Responsive WordPress Compare Pricing Tables is a perfect solution. It can help to clearly articulate the different features of a tiered pricing system or a comparison of your competitors' prices.
Pricing tables created with CSS3 are highly customizable, with 20 different color options, 60 varieties of ribbons, and adjustable dimensions. Admin can even hide certain rows or columns from users so they cannot be seen on the front end. Changes are done in real-time, so you can see what they look like. This WordPress chart plugin guarantees a clean, organized, and modern-looking pricing chart.
There are no limits to the number of rows, columns, or tables that you can add. It is also responsive, making it perfect for mobile and tablet users as well.
Data Tables Generator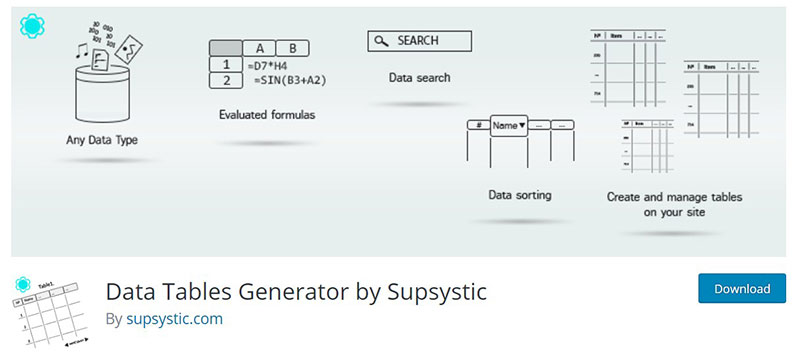 From the plugin creator Supsystic, the Data Tables Generator plugin offers both free and premium versions. However, only the premium version allows you to turn tables of data into charts and graphs.
This WordPress chart plugin uses Google Chart to create virtually any type of chart, including pie, bar, doughnut, line, and more. Start by simply adding your data using CSV, Excel, PDF, or Google Sheets. You can sort and edit the data in your table with no limit to the number of columns or rows. Adjust cells, columns, and rows in the table to your preferred color, size, and alignment among other customizations.
The ability to integrate WooCommerce is a unique feature included in this data table generator plugin, which makes it truly convenient to create a searchable table of your products that can also be sorted.
Google Chart WordPress Plugin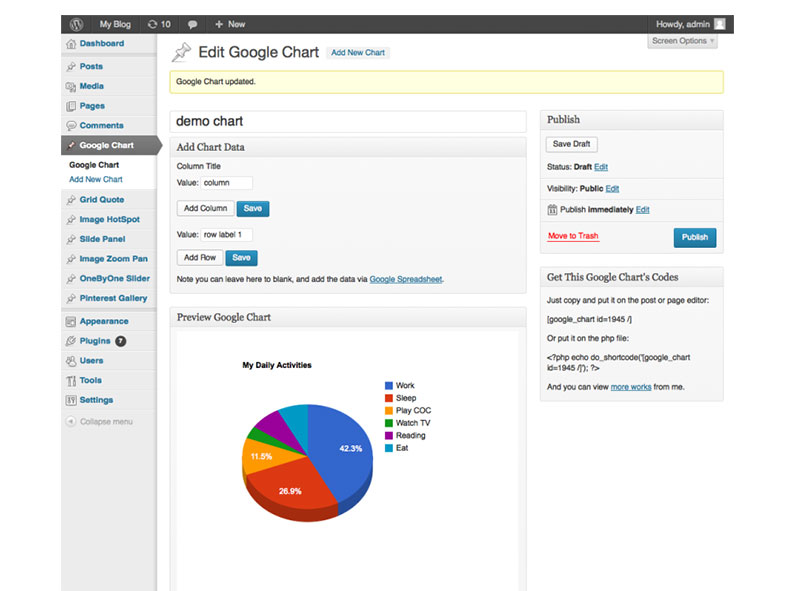 The Google Chart WordPress plugin allows you to use Google Chart to create responsive charts and graphs, which can then be embedded into your site. There are seven different chart type options and each can be highly customized:
Pie chart
Bar chart
Line chart
Column chart
Bubble chart
Area chart
Stepped area chart
Customizations can include 3D renderings, stacked charts, interactive or responsive features, images, and more. Google Chart is conveniently integrated with Google Sheets, making it incredibly simple to use data from an existing spreadsheet to create your charts and graphs. To use this feature, when creating a new chart, you will see an option to paste a URL to your Google Sheets spreadsheet.
Once you have created the chart or graph to your liking, you'll be able to copy shortcode and paste it into your chosen page or post.
iChart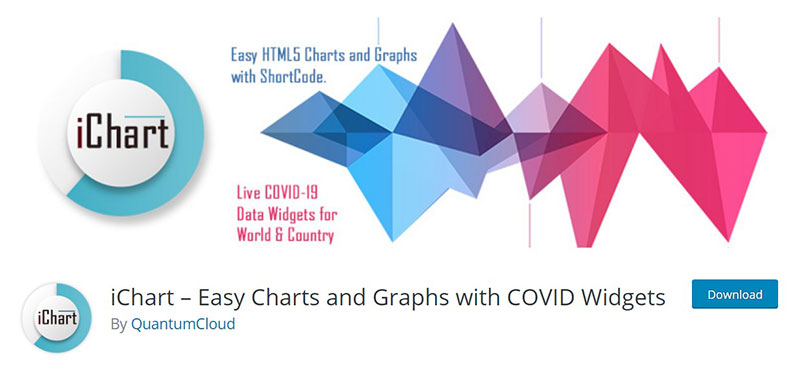 iChart is a very popular WordPress graph plugin found in the WordPress plugin directory. It allows you to create seven different types of charts and graphs: bar chart, pie chart, line graph, polar area, radar chart, or doughnut chart.
Each of these chart types can be customized to suit your needs. They are responsive on different screen sizes, such as mobile devices or tablets, and you can even include animations.
Charts can be optimized so that they are less than 5KB to make loading time more efficient. They can also be put into the sidebar of your website instead of on a page or post.
iChart is constantly evolving and implementing new features such as different color schemes, key tables, and widgets.
M Chart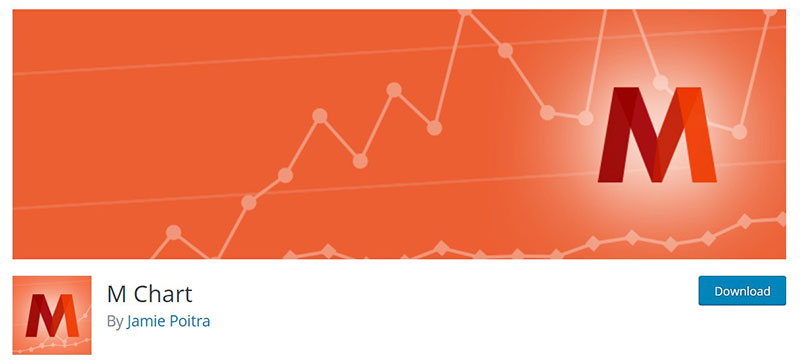 M Chart allows you to utilize Highchart or chart.js libraries to create the exact chart you desire. Choose from line charts, bar charts, pie charts, and column charts and once your chart is created, you can add it to your site using automatically generated shortcode.
The interactive spreadsheet in M Chart allows you to easily change and update your data, making the task of managing your data sets simple and convenient. Data can be added manually into the spreadsheet or you can import a CSV file. If you manually add data into M Chart, you can also conveniently export that data in a CSV file too, which is a unique feature.
WP Business Intelligence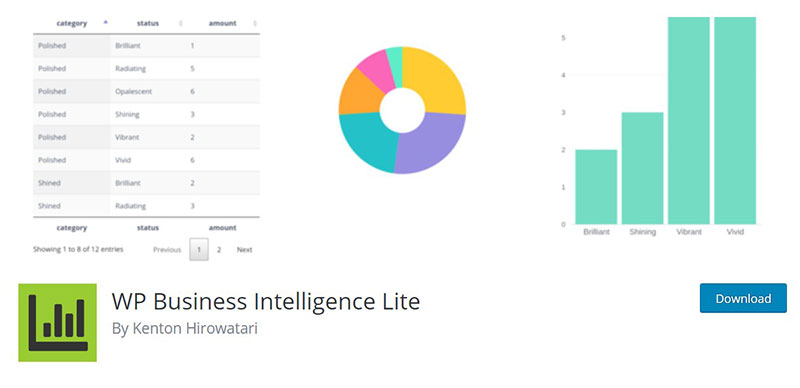 WP Business Intelligence is an excellent solution for displaying charts and tables that update in real-time. It is designed with a dynamic query concept in order to represent data in real-time as it changes and evolves. You can use any internal or external database sources for creating your tables and charts. WPBI will automatically retrieve the data from those databases as it changes and updates the charts on your website. It is compatible with spreadsheets and databases from MySQL, Oracle, Microsoft SQL Server, and PostgreSQL.
This is a handy reporting tool on websites that require the most current information. It also has a user-friendly front end interface where visitors to your site can customize the appearance of the table, or even download your data in CSV format.
Premium Charts for Elementor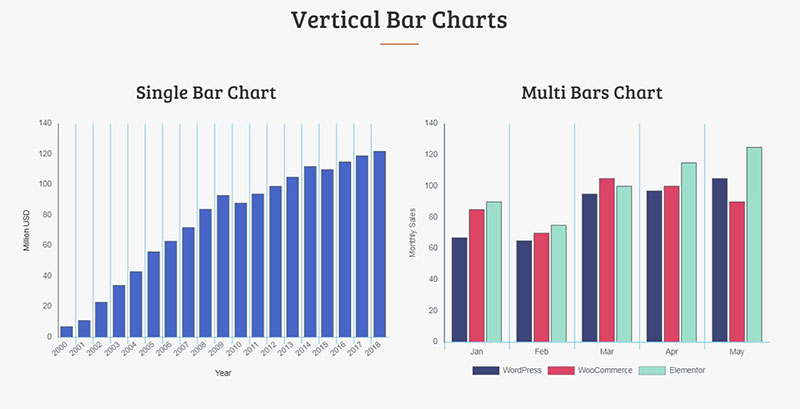 If you use the Elementor editor, then the Premium Charts plugin can help you build sophisticated WordPress charts and graphs. You can choose from seven different chart types, each of which can be customized to suit your purpose. You can see the changes you make to your chart in real-time as you build them in Elementor.
While the default scale for these charts is linear, it also offers the ability to create charts with a logarithmic scale. This is not common in most chart plugins and can be a handy tool to have. Choose from a variety of color schemes to complement the design of your site.
amCharts: Charts and Maps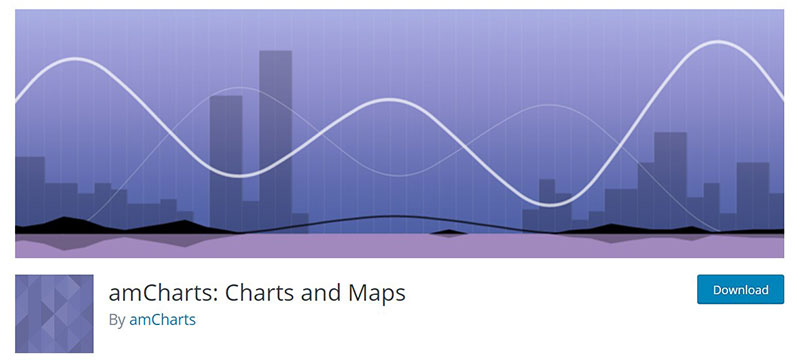 This WordPress chart plugin is intended for more advanced WordPress users. amCharts has historically been a very experienced charts and maps Javascript service. Choose from nine different chart types: XY chart, pie chart, sliced chart, Sankey diagram, radar chart, gauge chart, chord diagram, treemap, and map. These are unique chart types compared to many other plugin options.
As you design your charts and graphs, you can define the Javascript resource libraries, HTML, and Javascript. Javascript resource libraries can be from a remote or local source. Once you define these settings, you can select the data you wish to represent visually. If you decide to switch to a different type of chart, you can do that relatively simply. However, you will also need to redefine your preferred settings for the resources box, HTML, and Javascript box. Otherwise, they will reset back to the default choices based on your settings.
Inline Google Spreadsheet Viewer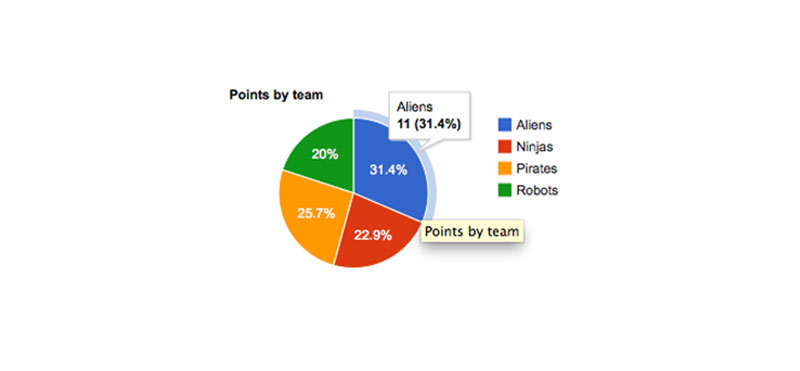 This WordPress chart plugin is unique in that you can use data sets that are stored in the cloud, including sources such as Google Sheets, MySQL, or a CSV file. The Inline Google Spreadsheet Viewer plugin generates interactive and customizable charts, tables, and graphs with your selected data.
You can choose to create a sortable table, a graph or chart, or a combination of all of the above. A built-in cache helps to decrease page loading time, which can be particularly helpful for small websites and businesses without a lot of server power.
Using data from a cloud source is especially handy for constantly changing data. The data in your representative table or chart will automatically be updated as it changes in your cloud-based spreadsheet or database.
Quick FAQ on WordPress charts
How do I create a chart in WordPress?
Simply use wpDataTables. You can check the documentation page on creating WordPress charts. Alternatively, if you still want to stay on this page, you can view a video version of this answer.
How do I add a chart to my website?
If you're using wpDataTables, you can simply copy-paste the shortcode generated after creating a table or chart and paste it into the post or page you want it to appear.
How do I create an interactive graphic in WordPress?
With wpDataTables, you have the best chance of creating an interactive graphic in WordPress in the form of an interactive chart.
How do I use Chart JS in WordPress?
In wpDataTables, when you select the type of chart library to use for your chart, you simply select chart.js. You can view the documentation page for this, or you can watch this video:
Ending thoughts on how to create great WordPress charts with these plugins
It is important to find a plugin that will best suit your needs when creating visual data representations. Charts, graphs, or tables can easily look disorganized and sloppy if they are not created properly. It is crucial to have a suitable WordPress chart plugin to generate visual demonstrations of the data, ensuring that your charts and tables are polished and organized.
In addition to choosing the right plugin to help your charts and graphs look their best, there are also plugins that can meet specific needs. Consider whether your visitors will appreciate having a searchable or sortable table of data. Perhaps if you create interactive charts, then it will be more useful in order for them to best understand the data. Some also have options for visitors to be able to download raw data from your website. Others can update your graphics in real-time from a cloud-based or externally-sourced database or spreadsheet.
If your brand follows specific visual guidelines or color schemes, you might require a plugin that will accommodate more aesthetic customizations. Most people will also have a better user experience with responsive plugins that optimize the size of your graphics for different screens.
Whatever your needs may be, one of these plugins is sure to help, as they are the best WordPress data visualization tools available for creating WordPress charts.
If you enjoyed reading this article on how to create great WordPress charts, you should check out this one about Chart.js examples.
We also wrote about a few related subjects like Highcharts alternative, WordPress Excel spreadsheet plugin examples, types of charts, WordPress pricing table plugins, and chart designs.