Or from the wpDataTables table settings page: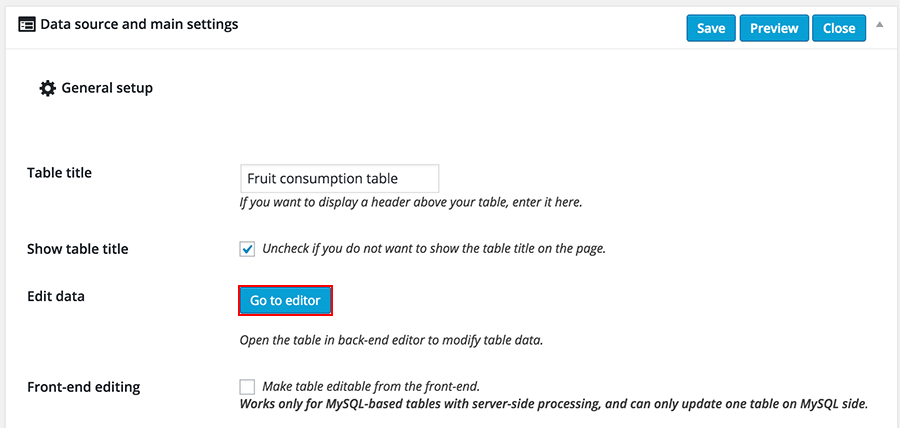 The back-end editor is very similar to the front-end table display / front-end editor, but it doesn't show the filtering or Table Tools block, and has a couple of additional features: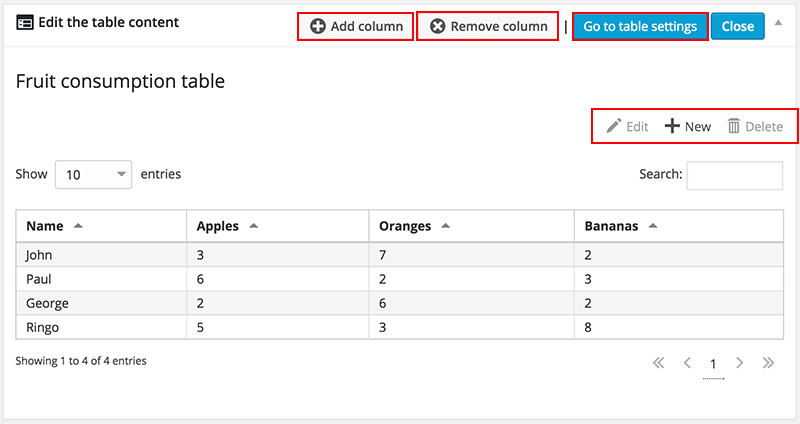 To add new row, click on the "New" button above the table, to edit a row first select it by clicking it in the table, and click the "Edit" button, to delete a row select it and click delete.
The editor popup is described in the front-end editor documentation section, and basically it is rendered the same way here.
Additional buttons that are specific for the back-end editor:
This button allows to add one more column to the table, if e.g. you forgot to add it while you created the table in Table Constructor wizard. It opens a popup: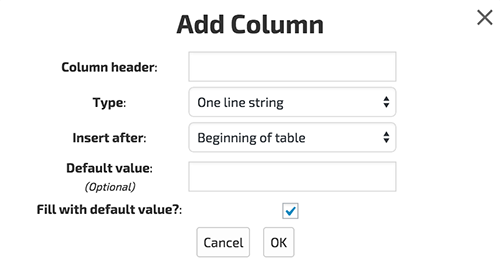 Column header – this will be used as the displayed table header.
Type – the data type, filter type, and editor input type for the future column. Refer to the Table Constructor documentation section for the full list of types with their details.
Insert after – here you can choose the position for your future column – after one of the existing tables, in the beginning of table, or in the end of table.
Possible values (available for one-line selectbox, and multi-line selectbox options) – here you can define all the possible values, separating them with a comma.
Default value – here you can optionally define a default value for the cells in this column.
Fill with default value – if you leave this checkbox enabled, all the cells for the new column in existing rows will be filled with the defined default value
When you click "OK" the column will be created and the page with the editor will be reloaded.
This button allows to completely remove a column from the table (alternatively you can just hide it in the table settings, but it is better to delete unneeded columns for optimizing page generation and load time).
This button opens a popup with a list of existing columns, and a confirmation checkbox for deleting the column. Removing columns cannot be undone!

The "Go to table settings" button opens the wpDataTables table settings page, where you can re-configure the table (enable responsiveness, filter, etc.) or the columns (order, displayed headers, and other settings).