URL link columns in wpDataTables
"URL link" columns are used to render hyperlinks that can be clicked to open pages within your website, or in external websites.
Rendering rules: If the content of the cells contains a combination of "two sticks" – || – everything to the left of this combination is used as an URL address for the link, and everything to the right as displayed text. For example:
https://wpdatatables.com||Check out wpDataTables
will be rendered as:
Check out wpDataTables
If the "||" combination is not found in the content, the entire content will be used both for the link and as the display value. For example:
https://wpdatatables.com
will be rendered as:
https://wpdatatables.com
Sorting rules: alphabetical.
Applicable filter types: text.
Editor input type: One-line edit, Attachment
Issues to note: sometimes issues may appear when you're sorting on URL columns that feature a complicated HTML structure.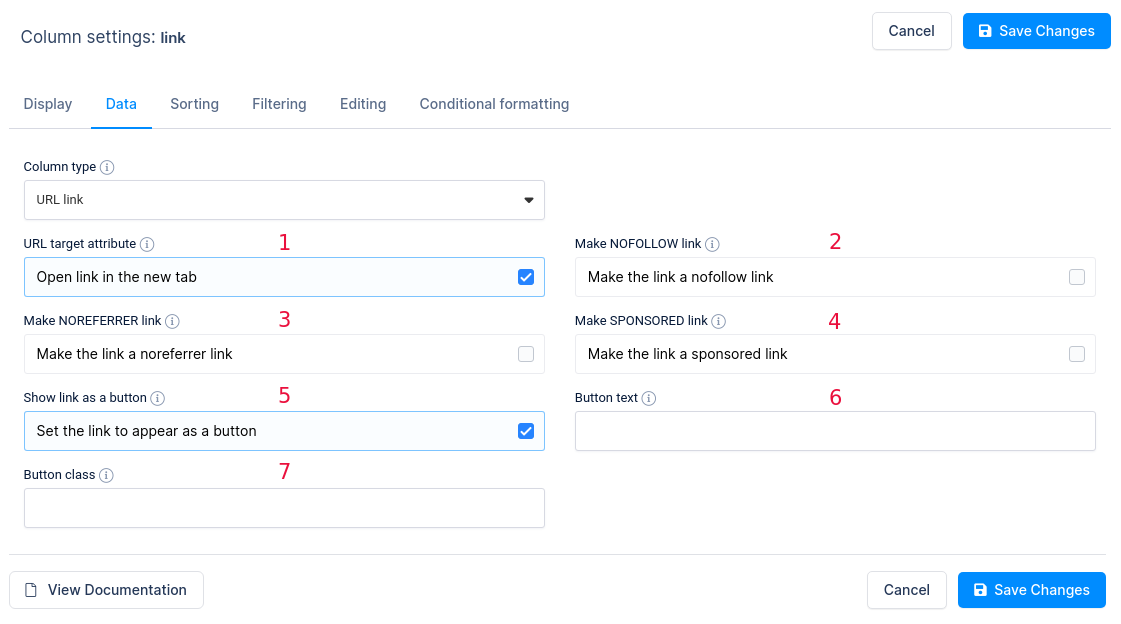 Additional settings for URL link columns are available:
You can configure how the link should be opened, in the new tab or the same tab.
Set NO-FOLLOW link or not
Set NOREFERRER link or not
Set SPONSORED link or not
This option allows you to display the link as a button.
You can set the button display text.
You can set the button CSS class.